Welcome back to my blog series, "Tablescaping 101!" I hope you enjoyed the first post, Place Setting Basics. In that post, I showed you a few variations on the basic casual and formal place settings, and we talked a little about the importance of a proper table setting.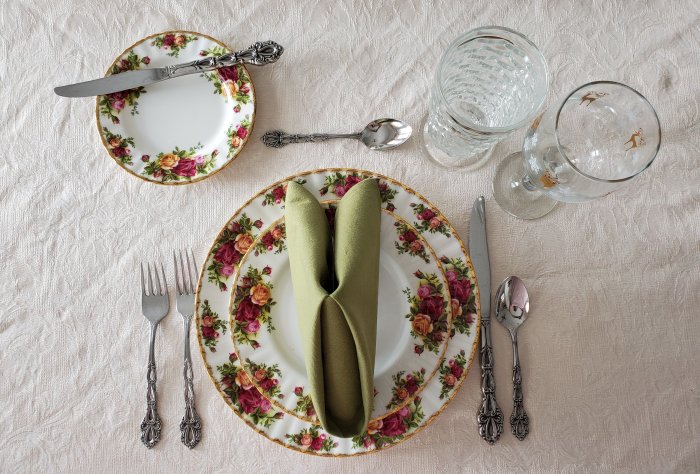 Now it's time to have some fun planning your next tablescape! It doesn't really matter if you're planning a table for two or for 20 – the principles are the same. Of course, pulling a couple of plates from the cupboard and putting them down on a placemat doesn't require much in the way of planning, and that's okay – there are days when we just don't have time for anything beyond the basics. (Not to mention days when we're lucky just to eat from the drive-thru bag!)
This planning guide, though, is for those times when you want to give a little more thought to design, theme, or aesthetic, and create a dining experience that's just a little more than ordinary!

By the way, my free Tablescaper's Checklist might be useful, especially for a larger gathering. You can download it here!

Here five tips and a bunch of suggestions for planning your next tablescape!
1. Who, What, Why?
A good plan starts with the number of guests, the reason for the gathering, and an idea of what will be served. Even if these elements do not themselves suggest a theme for your table, you'll need to keep them in mind as you plan your table design. Be sure you have seating, dinnerware, flatware, glassware, and napkins for everyone.
2. Choose a theme – it helps!
You'll want some sort of theme to guide your creative efforts. Here are some theme ideas to get you started:

A holiday – Thanksgiving, Christmas, someone's birthday, or maybe even something just for fun like National Teddy Bear Day. Visit the National Day Calendar website for something special happening most every day, week, or month of the year!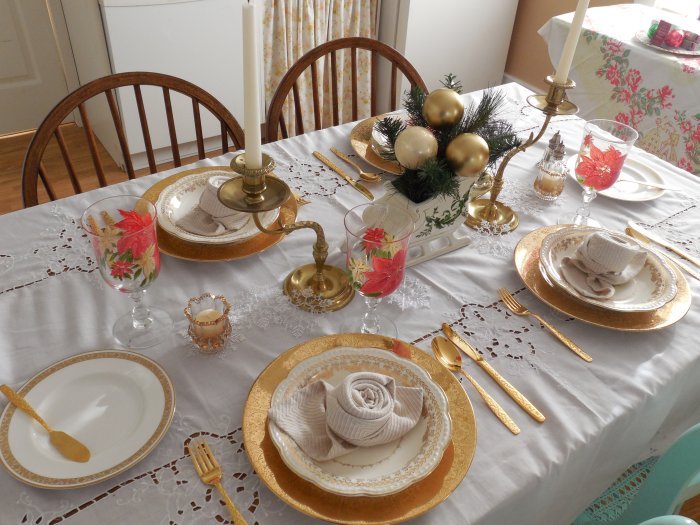 A color scheme – classic blue and white, school colors, red white and blue (or any nation's flag colors), pastels in Spring.

An "inspiration piece" – a favorite tablecloth, vase, or new set of dishes. This could also be a favorite song or movie, or something you incorporate into your centerpiece such as family photos or a small figurine.

A season – Winter, Spring, Summer, Fall, Faded Summer, Back to School… anything you characterize as a season can be a good theme!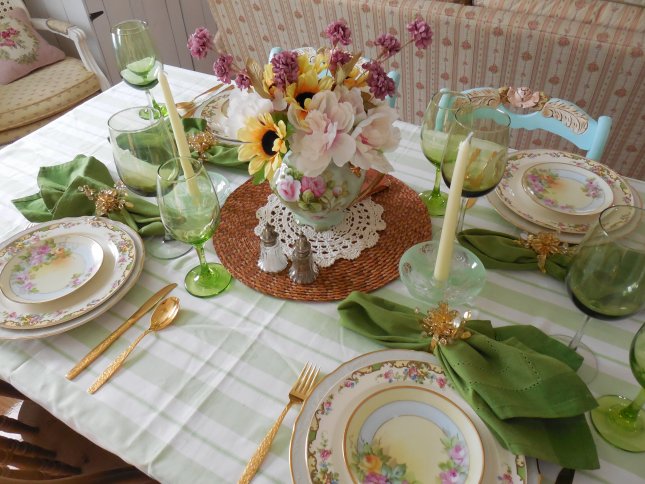 A locale– Paris, the beach, your hometown, a past or future vacation destination.

The food – a taco bar might suggest a Mexican theme; escargot – a Paris theme; spaghetti – an "Italian Restaurant" theme.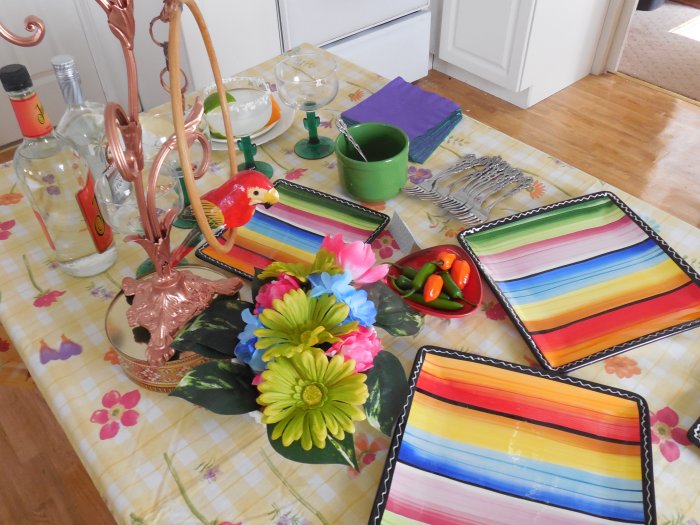 3. Elements of a tablescape
Beyond your theme, now it's time to think about the actual elements you'll use, and how many of each you will need. Dinner plates, salad plates, bread plates, dessert plates, soup bowls, water glasses, and wine glasses are the most common elements along with basic flatware. If something you're serving requires a special utensil, be sure you have enough of them for each guest. These elements should enhance your theme and complement each other.
Also, remember that things don't have to match to go well together! I shop for dishes primarily in thrift stores and other second-hand venues, where finding a full set of dishes isn't always possible (or even preferred). Therefore, I often buy things in pairs or sets of four. I've been known to choose two similar-but-different patterns in salad plates, or same-pattern-different-colors in a dinner plate, when I didn't have enough of one pattern or color to go around.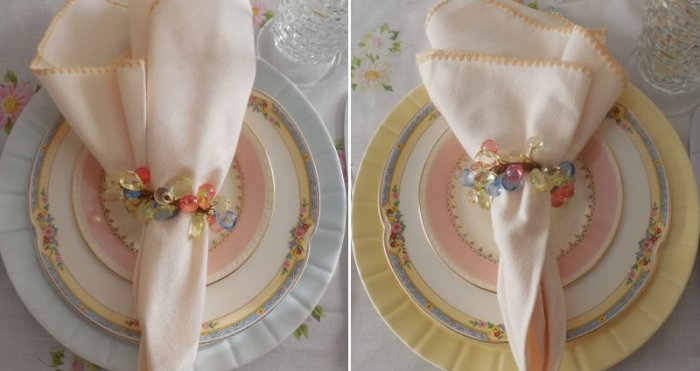 4. Plan your centerpiece.
A platter of meat was always the centerpiece at my grandmother's table, except at Christmas when she would have a beautiful arrangement of red carnations and white pine greenery, courtesy of the FTD floral delivery service. The centerpiece is where I tend to go a little overboard, but sometimes, simple is better: a vase or unusual container full of real or silk flowers is always beautiful! You could also incorporate interesting candlesticks or votive holders, or conversation starters such as thrift store finds, something hand-crafted, or even a garden hat.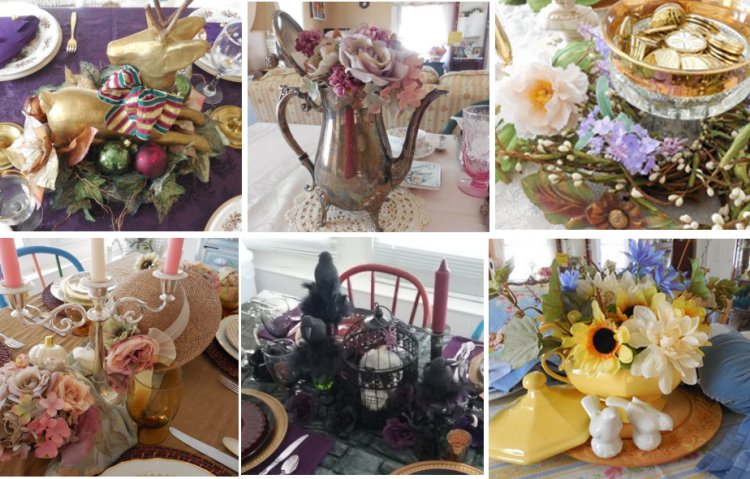 5. Consider the amount of space you have available.
I once was in awe of an amazing tablescape I saw online using the theme of bees. It was beautiful! So many "bee things," bee colors, and related decoration. But I quickly realized that with all the stuff on the table dedicated to enhancing the theme, there was no room for food! This seemed like an important lesson, and I resolved then and there that my tables would always leave room for the food. In my present home my only dining space is the eat-in kitchen. My table seats six, but I typically set it for four. There is plenty of room at either end for the serving platters and bowls. I'm also fortunate to have a small sideboard near the table. If you have a sideboard or buffet available, you can utilize that space for platters and serving bowls. Otherwise, you have to plan your tablescape to leave room for the food!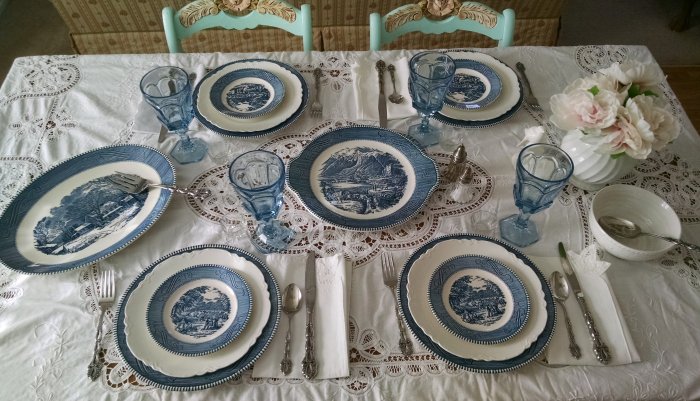 Hopefully this brief planning guide will spark your creativity, and the free Tablescaper's Checklist I mentioned will help keep you organized! Remember, you don't have to have a special occasion to set a pretty table. A favorite color, your everyday dinnerware, or even just cut flowers from the garden are all great reasons to get creative with your next table setting.
Next up in the Tablescaping 101 series: more about "the stack," and finding clever ways to mix-and-match your dinnerware!
Here's an image to use on Pinterest if you'd like to save this post for future reference!