Last year I did two tablescapes for Christmas – one was a woodland theme using "Christmas Ribbon" by World Bazaar, and one was a golden splendor of a thing using some unmarked (but probably Homer Laughlin) dinner plates that had a very wide gold shoulder. (These were two of my absolute favorite tables, by the way – you can see them here and here!)
This year I have a cute new "woodsy" pattern that I would like to use, but I also wanted to do one that was again more elegant. While most of my tables start with either the dish pattern or maybe an element of the centerpiece, this time I started with a beautiful tablecloth that was (of course) a thrift-store score a few months ago. It is a deep purple shade, like eggplant, with a damask pattern and some deep red and gray striping for a border. It was hard to capture the actual color… my phone did a better job than my camera (go figure!). But while the camera brought out the reddish tones of the tablecloth, the phone pictures were  more "flat" in capturing the lighting. At any rate, it turned into a very pretty table!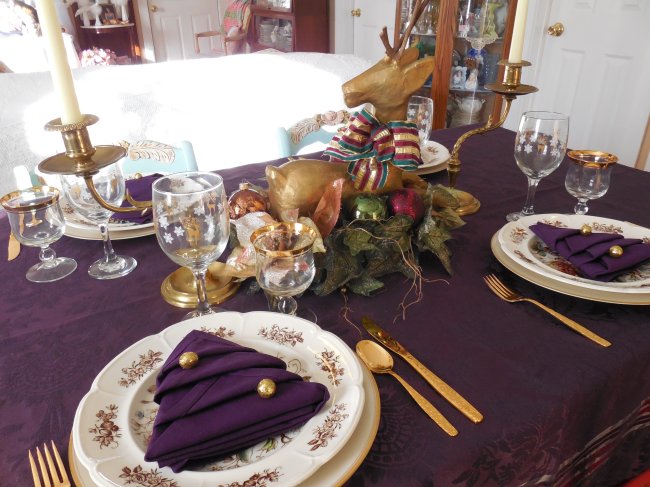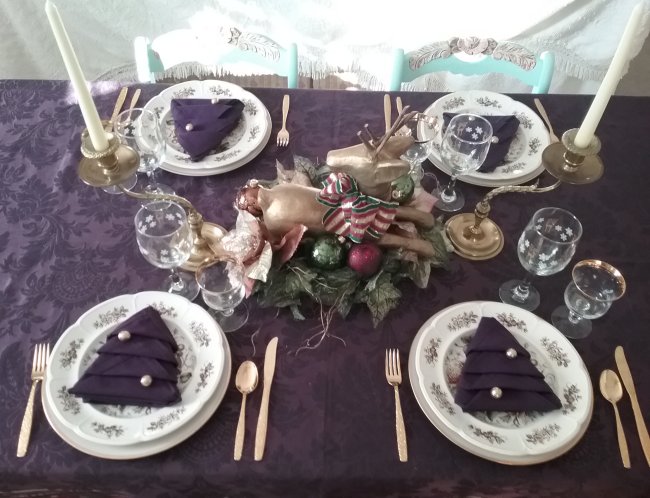 The dinnerware for this table was also kind of challenging… simple gold-banded ivory plates by Franciscan China almost became the main plate, but I wanted something with a little more of a design to it. Enter the "Windsor Fruit" pattern by Johnson Brothers, with those gorgeous deep purple grapes, and I felt like the plates helped carry through the color scheme.
Here is the Franciscan, which became the charger at each place setting with the gold band peeking out from behind the Windsor Fruit:
And here is the Windsor Fruit placed on top. The gold band peeking out from underneath gives this plate the look of "elegant abundance" I was looking for!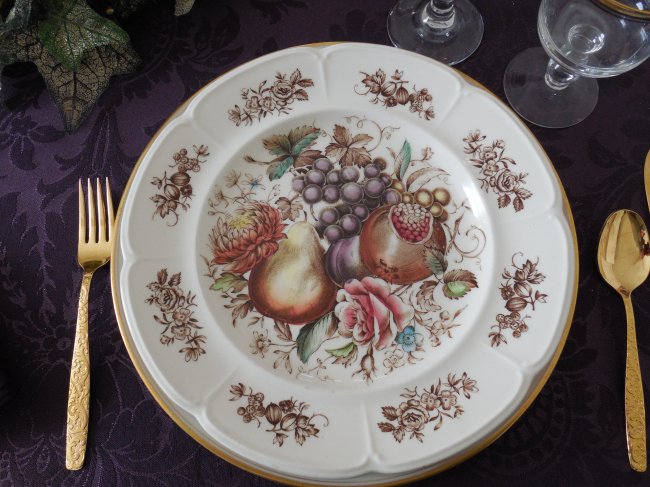 The flatware also echoes the elegant abundance mantra… it is Americana Golden Heritage by International Silver. This photo also captures the pattern in the tablecloth very well.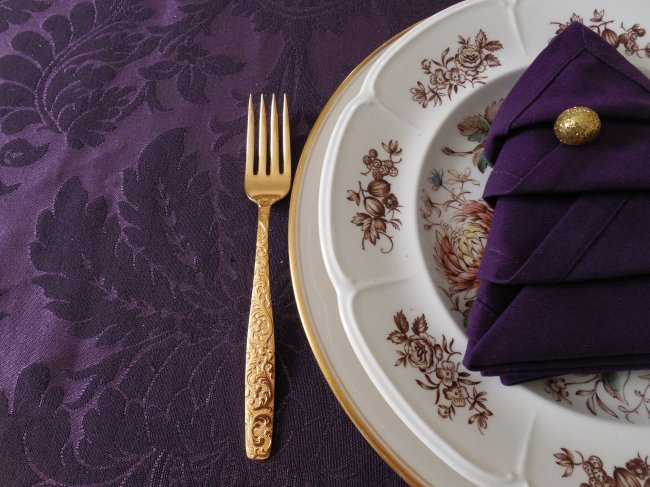 Also a challenge: napkins! I normally try to set tables with items already in my stash, but I literally had nothing that was both jewel-toned and elegant enough to go with this table. Who would be most likely to have deep purple napkins? Pier 1 of course! So off I went, and found a set of 6 dark purple buffet napkins in the clearance bin for $11.95!
After trying a couple of different napkin rings, I decided instead to do a Christmas Tree napkin fold. I then trimmed each tree with gold sparkly berries off of a Christmas floral pick. (I tried very hard not to break my arm patting myself on the back for this little stroke of genius… I mean seriously – decorated napkin trees? Brilliant! LOL)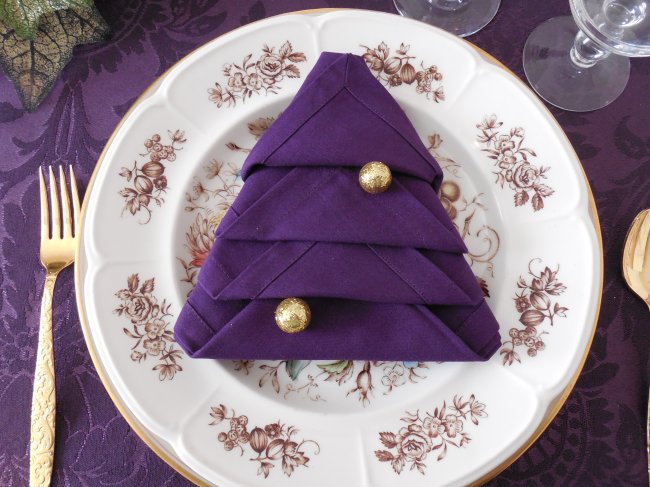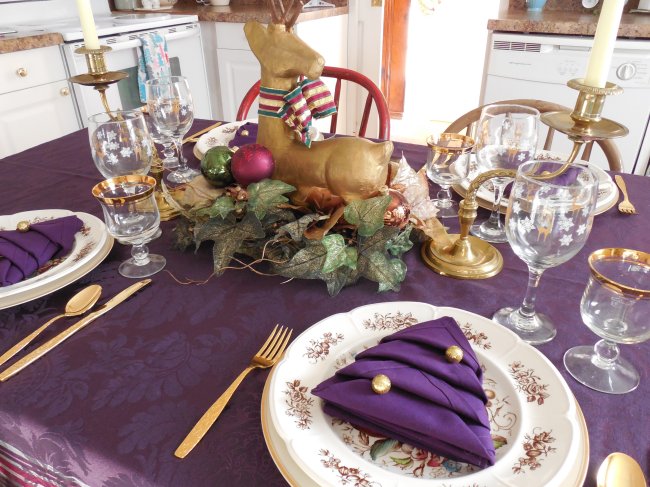 The centerpiece for this table was also an exercise in being lucky. Back in the 90's, when I was a young(-ish) woman trying on different decorating styles, I had fun one year acquiring paper mache deer from Michael's and then painting them gold. I think I had two of them. In my mind I could clearly envision one of them as the perfect centerpiece for this table. Unfortunately, one of the things that simply does not survive a whole-house flood… is paper mache.
With my table desperately in need of a gold-painted paper mache deer, preferably in a seated position, I again asked myself, "Who would be likely to have this?"  I tried a couple of thrift stores – they are just the kind of thing someone might donate during a home down-sizing project, I thought. But no luck. Then I thought of a consignment store not far from me called "Stuff, Etc." There are a lot of quality items here, but they are often more expensive because it's consignment rather than donated thrift. I stopped in on the off-chance, though, and voila! Exactly what I was looking for, and only $3.99! He even had a jewel-toned bow!  (Now that I think about it, perhaps I should have been buying lottery tickets instead of shopping for table elements…?)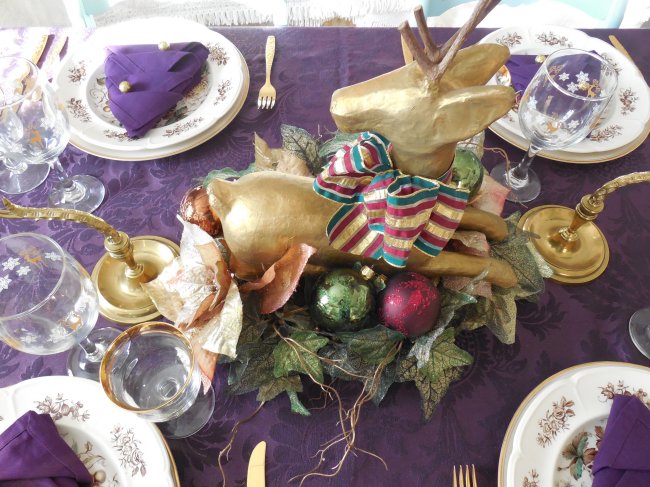 I nestled him in a favorite glittery garland of ivy, and added a few jewel-toned baubles and rose-gold poinsettias. He was perfect!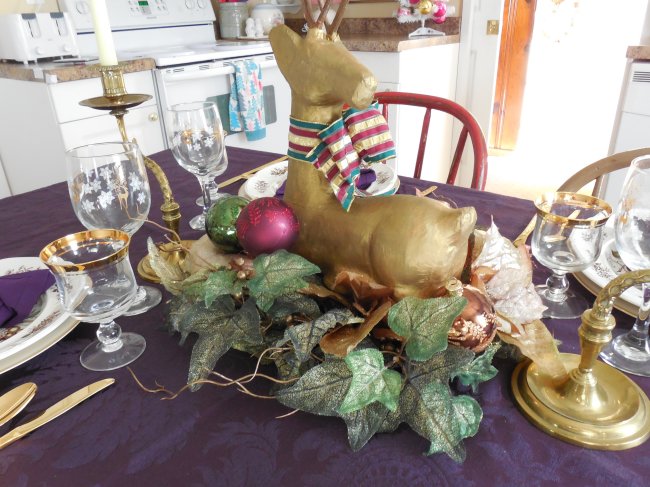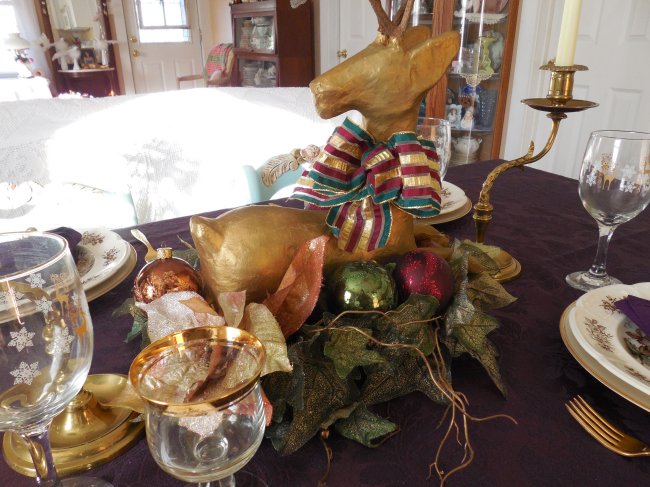 One element that wasn't a challenge for this table: glassware. I had two perfect sets, one with snowflakes and tiny gold deer, and one with a pretty gold double band.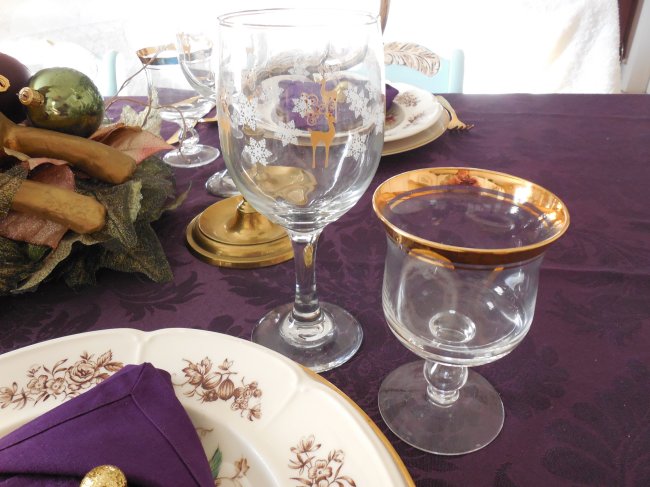 One of the lovely things that happened while I was photographing this table was that the daylight (of course) began to change – it happens quickly during these shorter Winter days – and it created some interesting patterns across the table. Here are a few purely gratuitous shots of the light and shadows I encountered as I shot.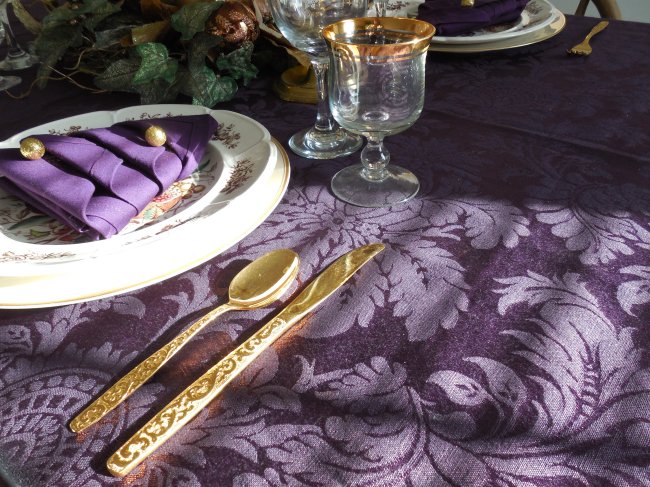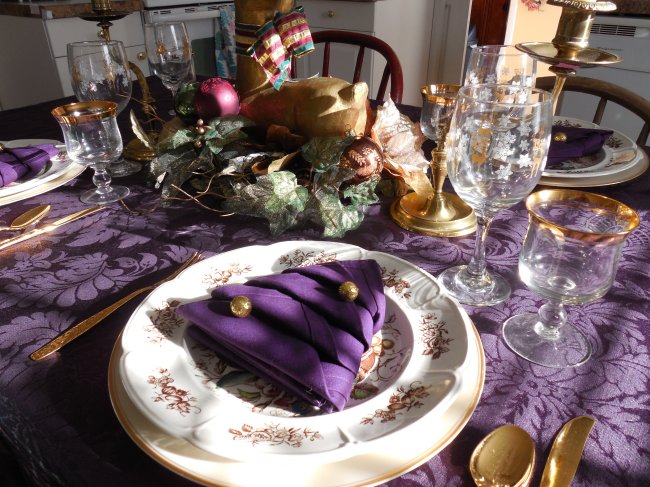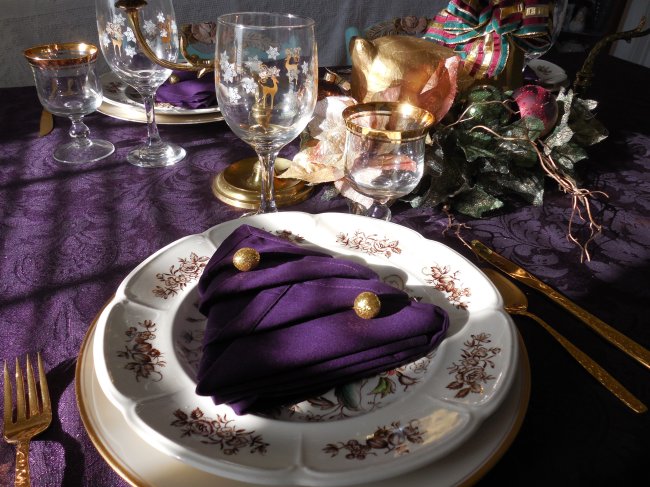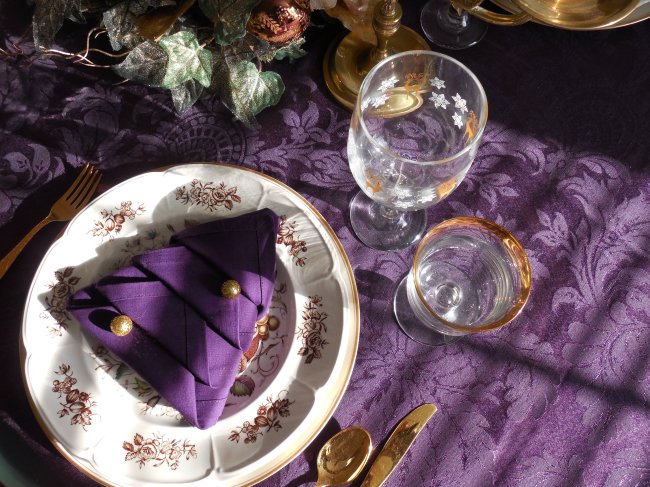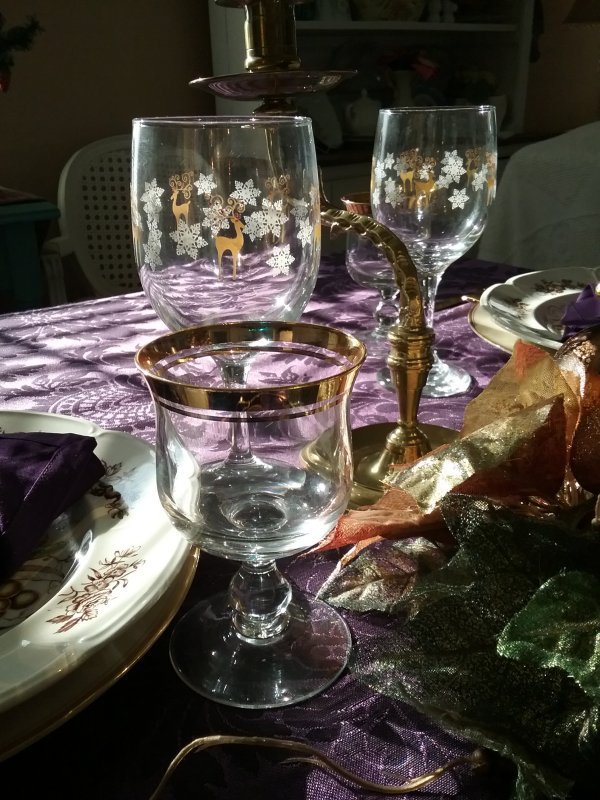 A couple more views around the table…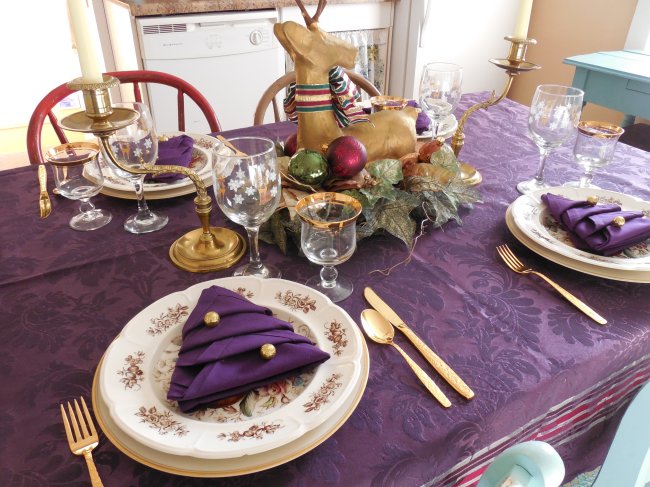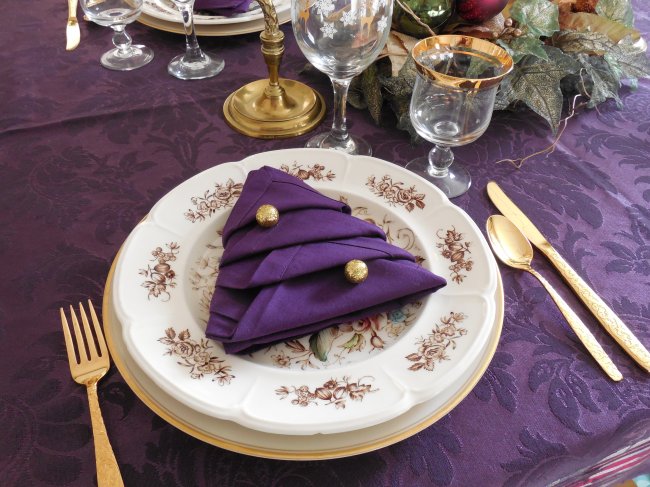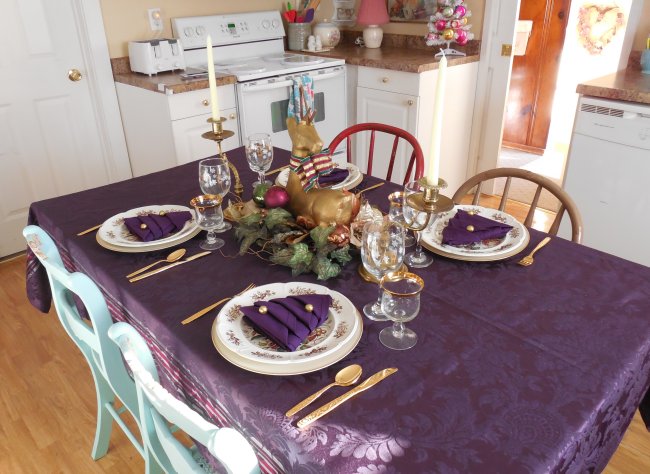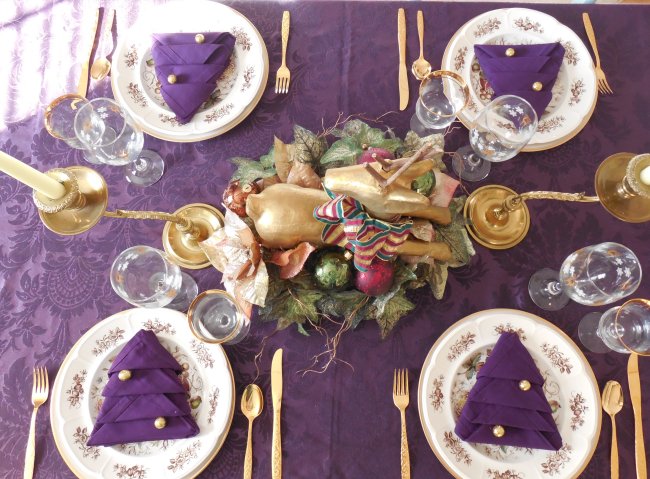 And the put-away shot, with everything gathered up. I like these shots because they serve as kind of an after-the-fact "mood board" for each table.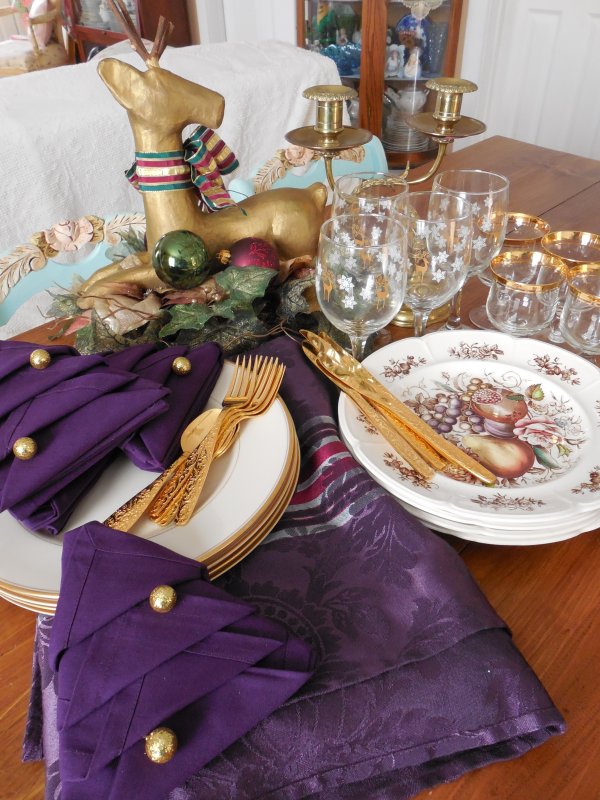 What do you think – too much purple? LOL I flip-flopped a lot on that question as I was building this tablescape, but in the end I think it captured just what I was looking for – elegance and abundance without being too fussy, appropriate for Christmas but more subtle than a Santa centerpiece.
Not that there is anything wrong with a Santa centerpiece!
I'm sharing this table for Tablescape Thursday over at Susan's lovely blog, Between Naps on the Porch.
Here is an image to pin in case you would like to save this tablescape for future ideas!