I've always been a project-starter, since ancient grade-school times when I would get bored and decide to "make a magazine" or write a short story or even get out Dad's circular saw and build a bookcase (age 16 – can't believe I did that, today I'm kind of terrified of saws!). These days I love to take on repurposing projects – start with something old and turn it into something new and useful – that's actually one of the cornerstones of cottage style!
Of course, Pinterest is a great source of ideas for this, but sometimes I can even come up with my own ideas. Here are a few of my favorite projects – although trust me, if a saw was involved, I probably had help!
Country style coffee table turned kids' activity table – This was a quick and easy repurposing project that I completed in just a few hours. We picked this honey-pine coffee table off the curb and it was in fine shape, just out-dated. I used chalkboard paint for the center section and Fusion Mineral Paint (lightly distressed) for the rest of it, turning it into a playroom table that kids could draw on – "sidewalk chalk for rainy days"!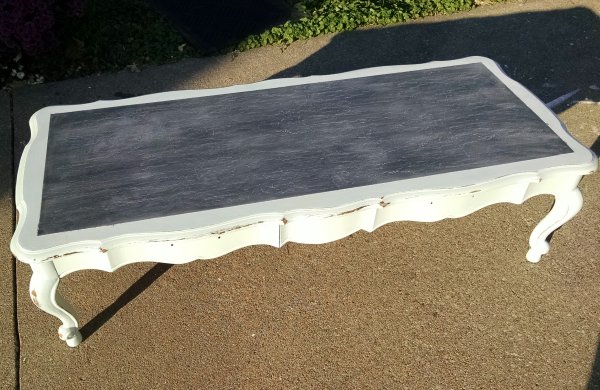 Sawhorse coffee table – This piece came about when I acquired a must-have white painted sawhorse and a right-sized barn door with perfect chippy patina. Two items you would not think belonged in the living room, but together they are perfect in front of my cottage sofa!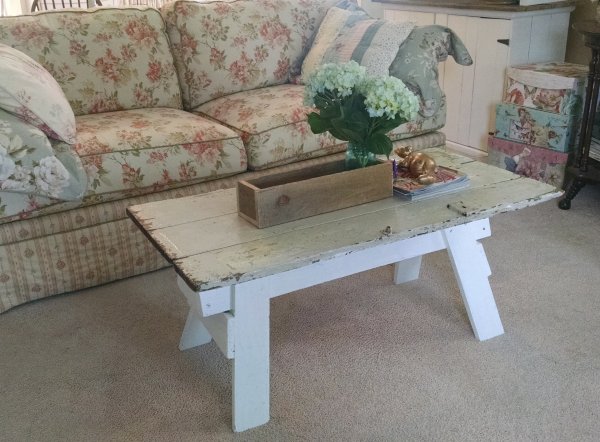 Kitchen uppers & vintage carsiding to custom dish storage – I freely and unashamedly admit it, I'm addicted to vintage dinnerware! And my kitchen cupboards (and homebuilt primitive hutch) were already full of my collected pieces, so I dreamed up a way to get additional storage for super-cheap: I sourced two matching kitchen upper cabinets in decent condition from the local Habitat for Humanity Re-Store, and had Greg join them together with some scrap wood and some cool old carsiding for the top. It makes for a perfect storage piece without sticking too far out in to the room, and the top adds a bit of vintage character.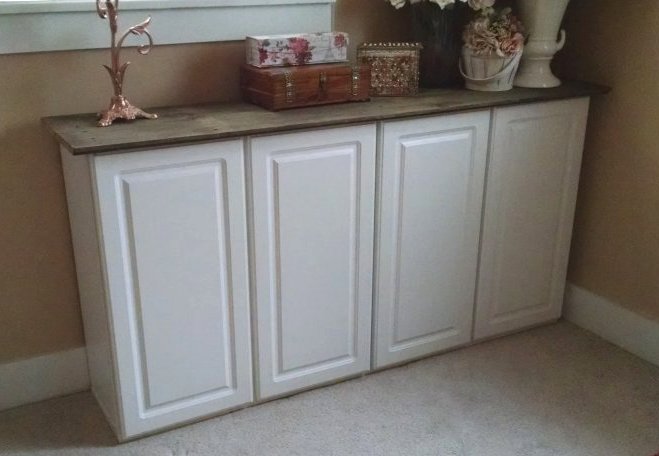 Pillowcase to cottage sink skirt – I wanted just a small touch of "cottage" in my rental house kitchen, so awhile back I took off the cabinet door under the sink and made a sink skirt. Then at the beginning of this year I decided it was time to change out the fabric, so I  used a standard pillow case with pretty details to make a new skirt. It's stretched across the opening on a tension rod. One of the easiest repurposing projects I've ever done!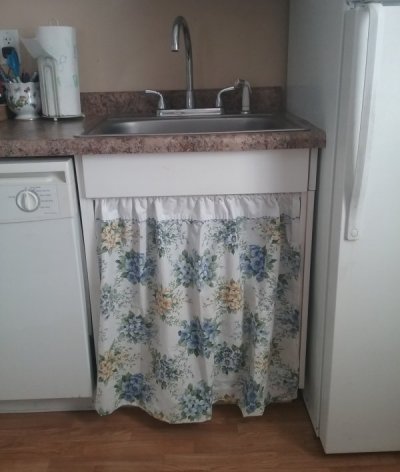 Old solid wood doors, pallet and trellis to outdoor garden structure – I really wanted to build a she-shed this year. But then I researched the cost and put the idea on the back burner. Then one night perusing my Pinterest board of garden junk, I saw that I had pinned something like this almost-shed. We had curb-picked some doors already, and bought a couple additional ones for $15 each… had a chunk of trellis already in my stash that we used for the roof, as well as curb-picked scrap lumber used to hold it together, and had all the décor already on-hand. We got the pallet floor for free from a local business. It's my almost-shed, built for under $50, and just as much fun!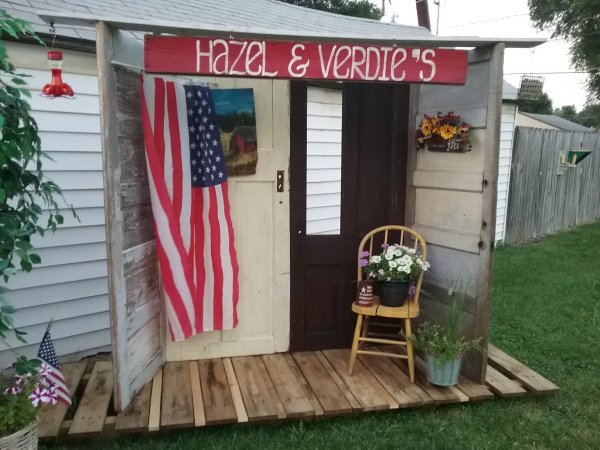 How about you – what is your favorite re-purposing project you've ever made? Do you do a lot of projects? Do you generally start them at 9 o'clock at night like I do? 🙂 I'd love to know!
Here's a Pinnable image in case you'd like to save these projects for future ideas!