Happy new year, friends! I hope your transition to 2018 was a good one. Mine definitely was – I was quite content to spend NYE and NYD at home, because of the absolute frigid temperatures here. It has been below zero for a few days now, and that makes me so much less likely to venture out when I don't have to!
I spent some time taking down most of the Christmas decor, and I have to say that as much as I loved all the fru-fru, I also like the fresh feeling once it's all put away. I work a regular 9-5 job so I had Monday off (actually on the 2nd I start a brand new job!), and I took the opportunity to complete the first DIY project of the year: I sewed a new skirt for the opening under my kitchen sink!
Here is the old one – nothing really wrong with it, as you can see, but I was just ready for a change.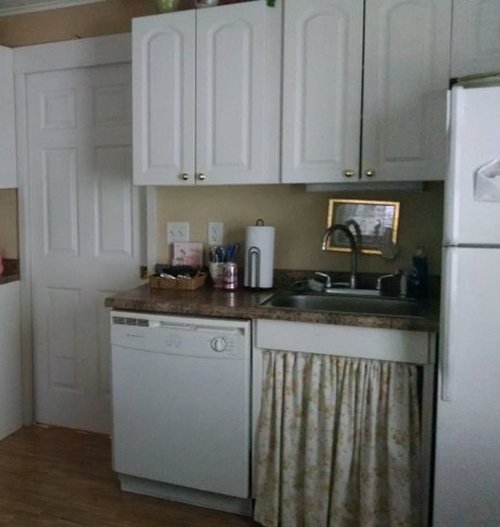 I had a bit of fabric all picked out but as I was putting laundry away I came upon this pair of sweet thrifted pillowcases.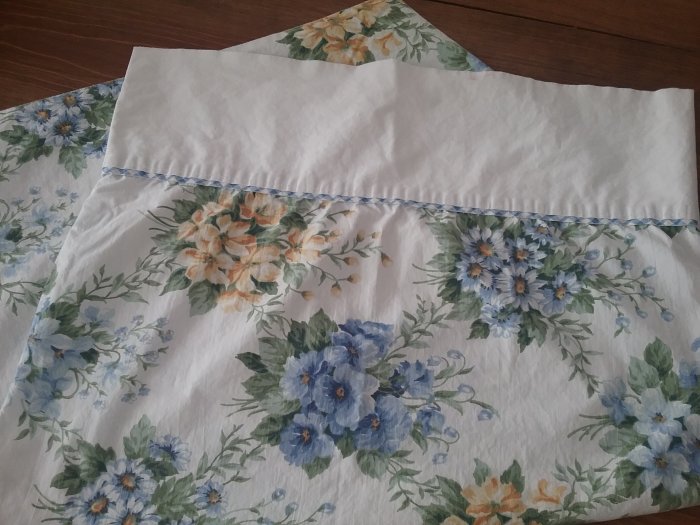 They have wonderful details, including a wide white border and the prettiest blue checked piping between the border and the main fabric. (They were a thrift-store find, two for $1.99; the brand is Liz Claiborne.)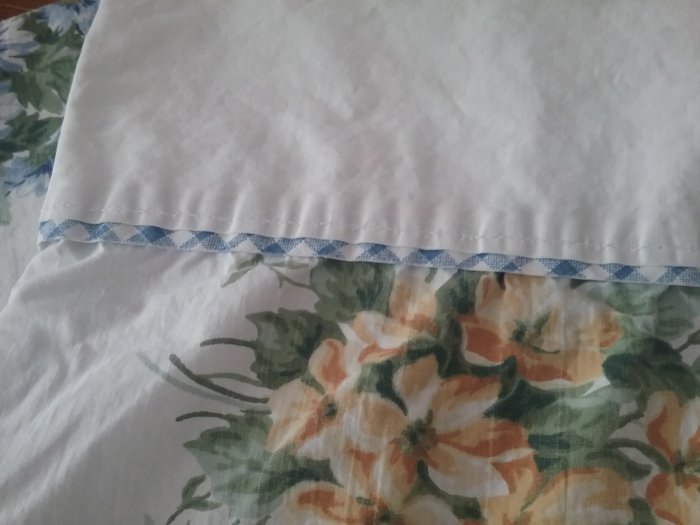 I realized that one of them, if opened up flat, would be just the right amount of fabric for a new sink skirt! The one I decided to use also had some sort of red stain on the border – I knew I could fold that part under to make a casing at the top, so it would never be seen.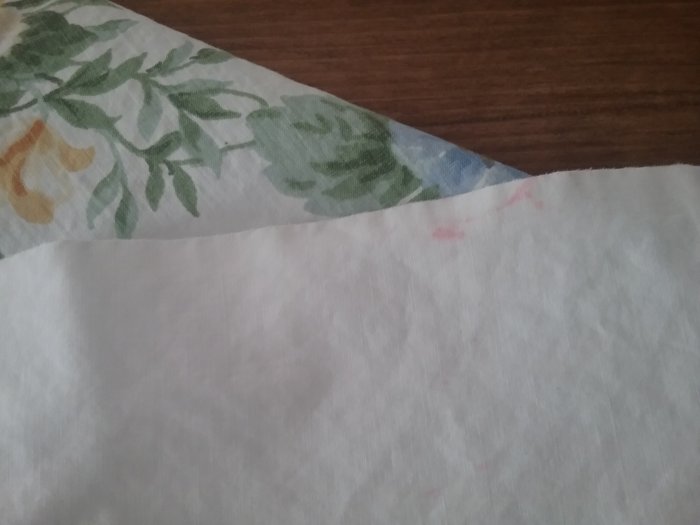 I started by cutting carefully down the side, eliminating the sewn side seam but not cutting away too much fabric. I opened up the bottom the same way so that I had a flat piece of fabric. Then I just hemmed up the two sides and bottom, and folded some over at the top to make the casing for the tension rod that is used for hanging.
So yes, it was just that easy, and took me less than an hour! Here's the finished skirt!  Isn't that piping pretty?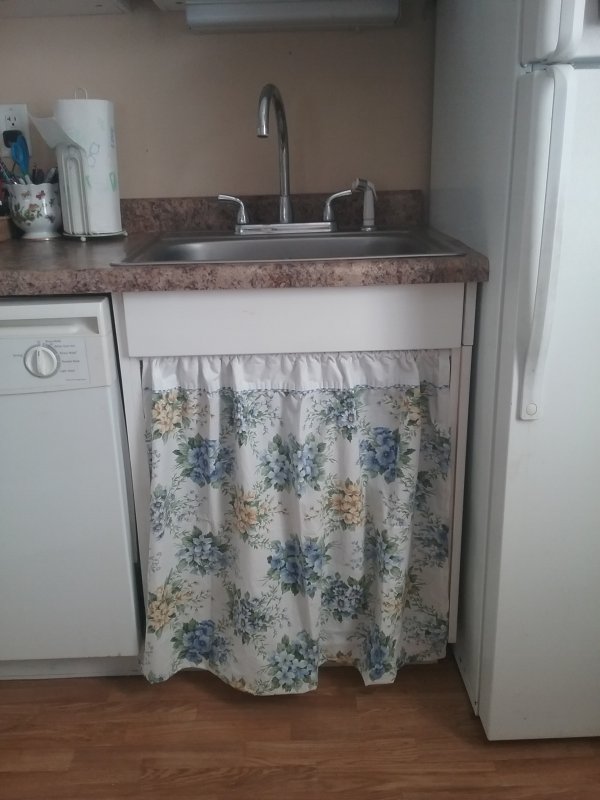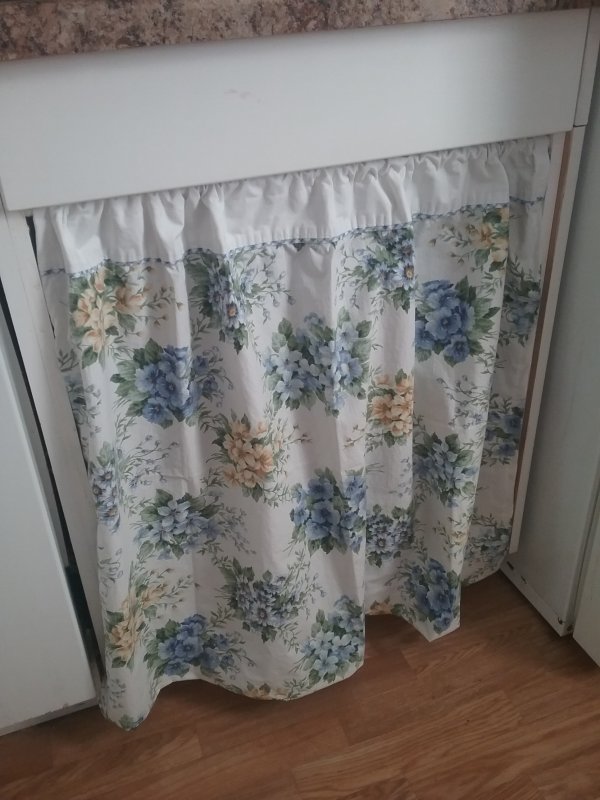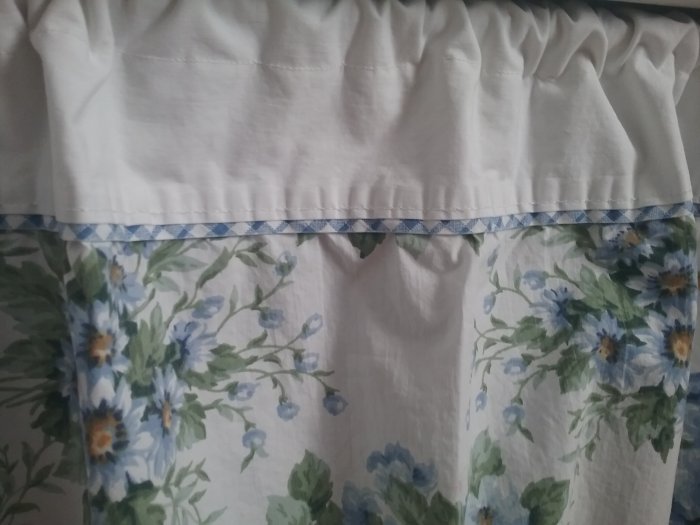 What a great kick-off to the year, to have one small project already done! How did you celebrate New Year's Day?
I'm sharing my cottage kitchen sink skirt at Feathered Nest Friday over at Courtney's beautiful blog, French Country Cottage, and The Vintage Charm Party at Cecilia's My Thrift Store Addiction.