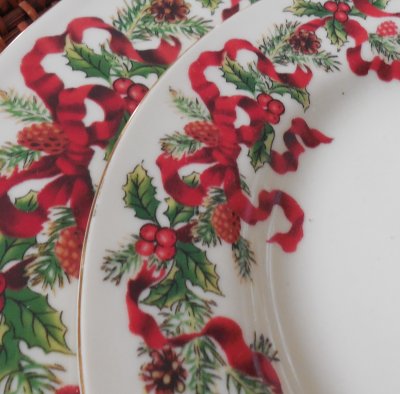 Y'all know my weakness is vintage dinnerware, right…? So three years ago, I noticed that a small second-hand store that I drive by every day had changed over their front window for the Christmas season. Front-and-center was a beautiful set of dinnerware – facing the street, right where I could see it.
One Saturday I ventured in to look at it – I was overdue for a visit anyway! The china was called Christmas Ribbon by World Bazaar. Not especially old, but it was service for eight. I could absolutely envision a lovely table using this pretty casual pattern, but while the asking price was reasonable at $50 for the set, it was more than I was willing to spend.
But the day after Christmas? This shop had a "50 percent off all Christmas" sign in the window… I've never turned my car around so fast in my life! Bought it all for $25… but by the following Christmas I had a vintage/antique booth (or two) and decided to try to sell half of it – service for four, at $25. I figured if I could make my money back on half of it, I could keep the other half for myself, free and clear.
Except it didn't sell. So THIS year… I actually took time to set a pretty table with it – and it's every bit as beautiful on the table as I thought it would be! It seemed to lend itself to a woodland feel, as the pattern features not only pretty red ribbon, but also holly leaves and berries, evergreen branches, and sweet little pine cones.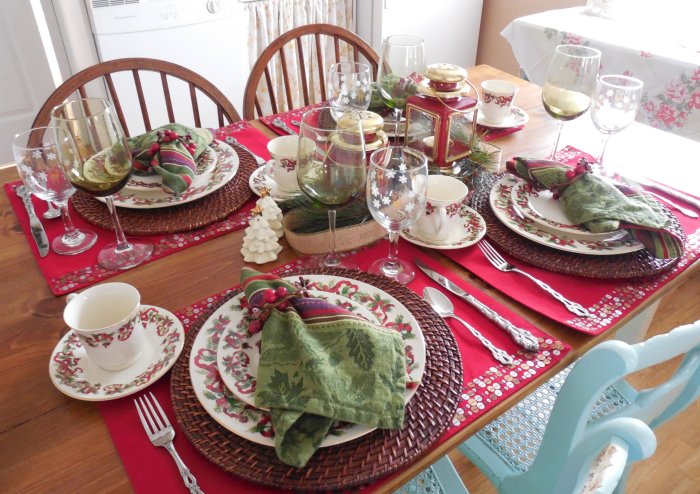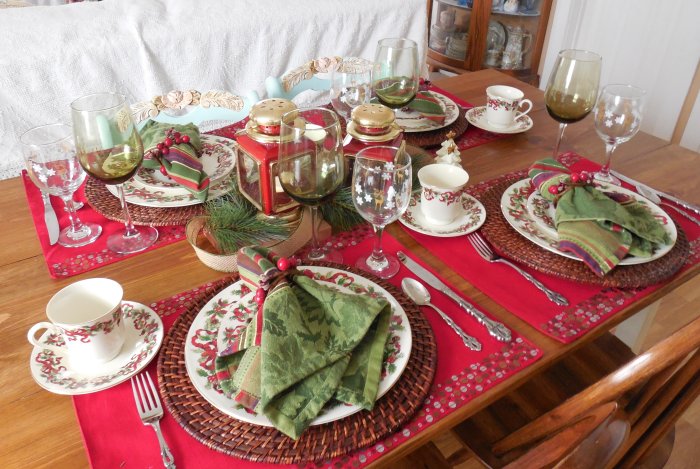 For a centerpiece, I used two little red metal lanterns – one was missing its base that holds the candle, so I improvised and set in a votive holder. The faux greenery was clipped from a bit of garland in my stash, and the burlap ribbon (also in stash) added to the natural feel of the table.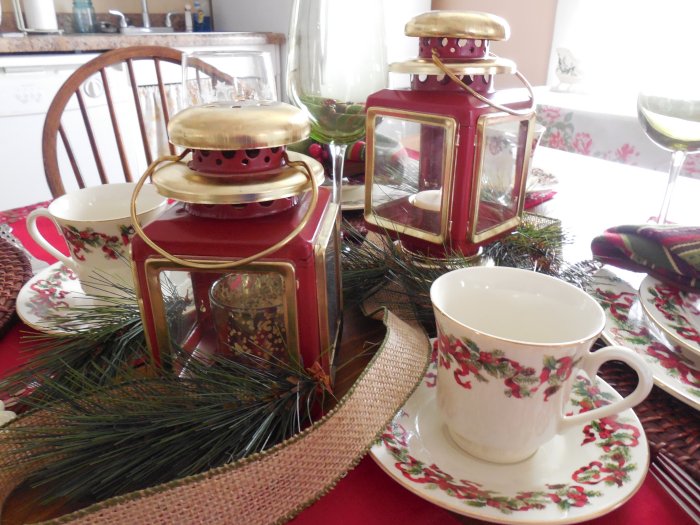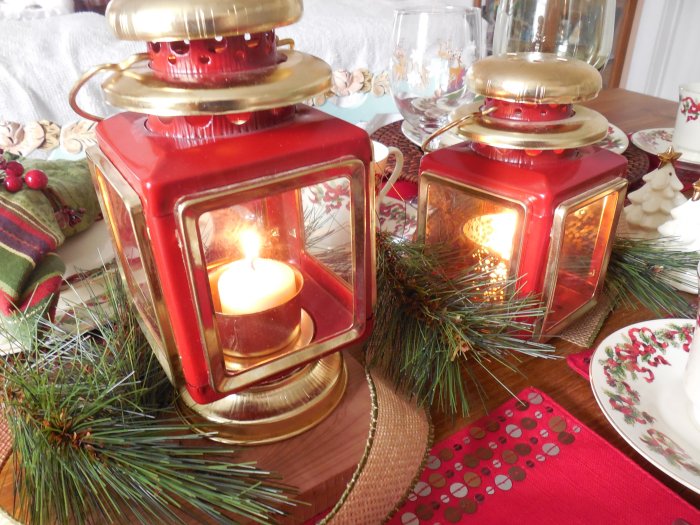 Here's the place setting –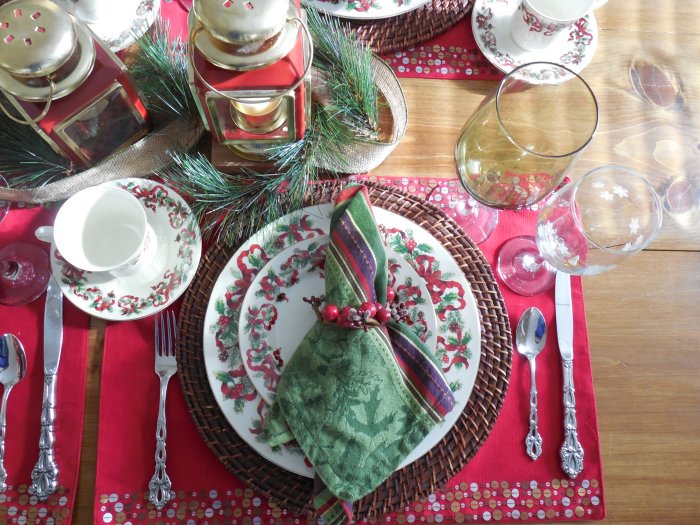 A pretty napkin with twig-and-berry ring –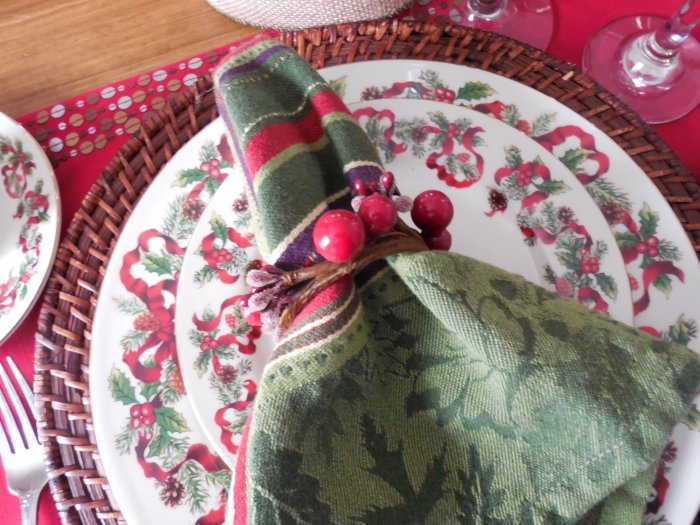 "The stack" includes salad and dinner plates.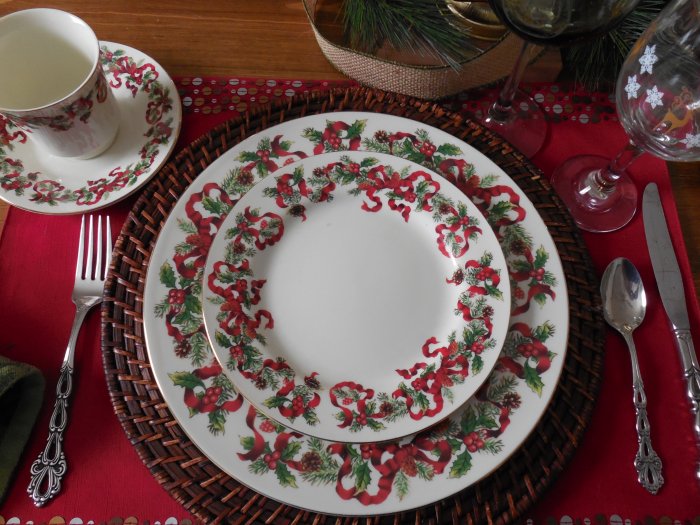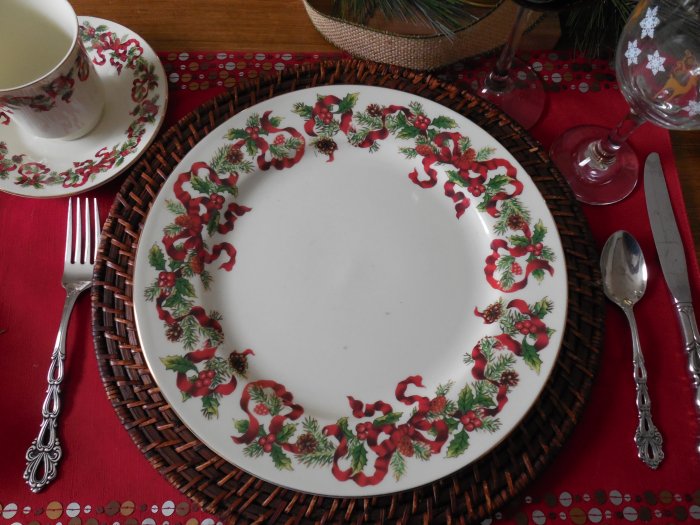 These chargers were used recently in my Thanksgiving table. They were a thrift-store find. The pretty placemats – which I think add a little sparkle to the casual feel of the table – were a gift from my daughter a few years ago.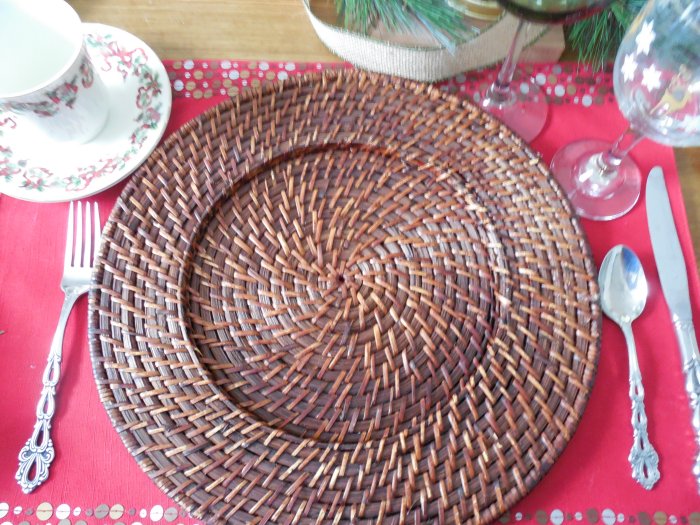 A close-up of the border pattern –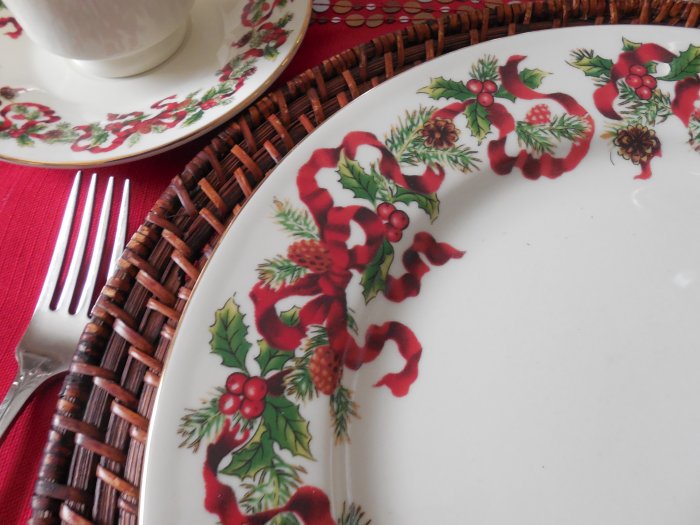 Our stemware consists of two pretty sets from Dollar Tree.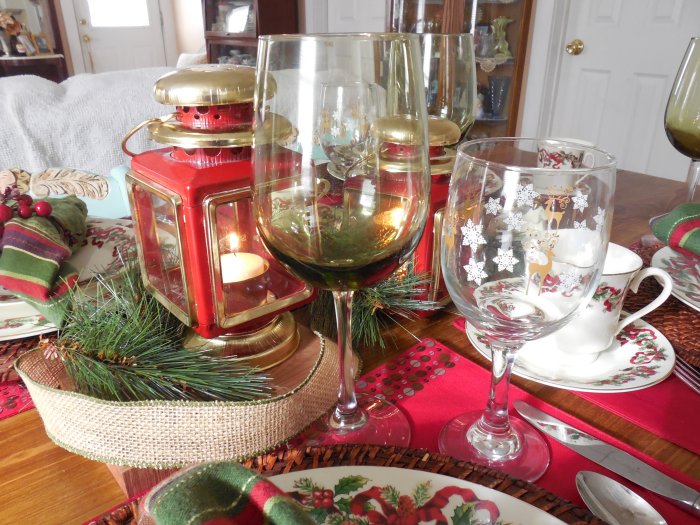 Here's a closer shot of the glass on the right – isn't that deer just so festive? He manages to be both woodsy and elegant!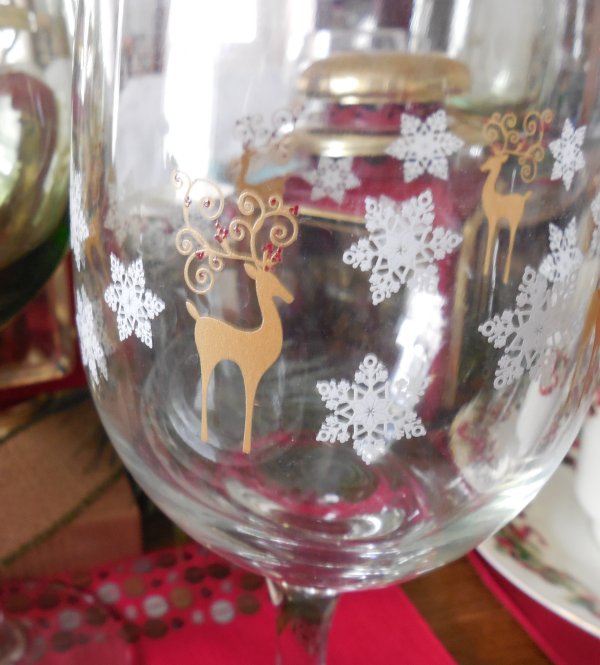 The place settings also included a cup and saucer.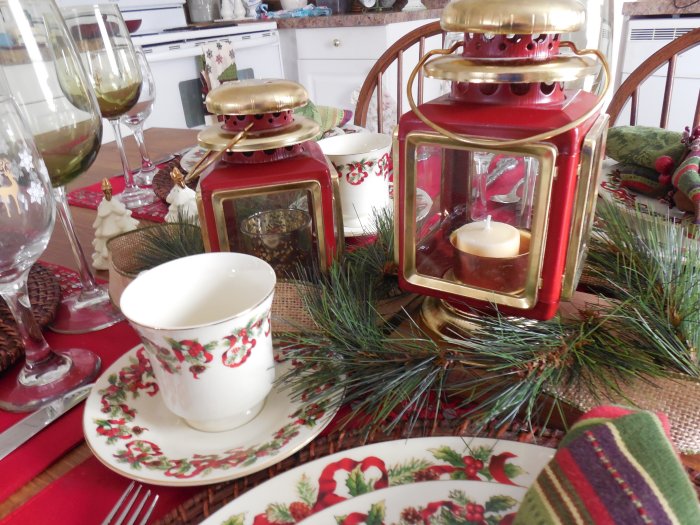 Our salt-and-pepper set is by Formalities – pretty ivory Christmas trees topped with gold stars.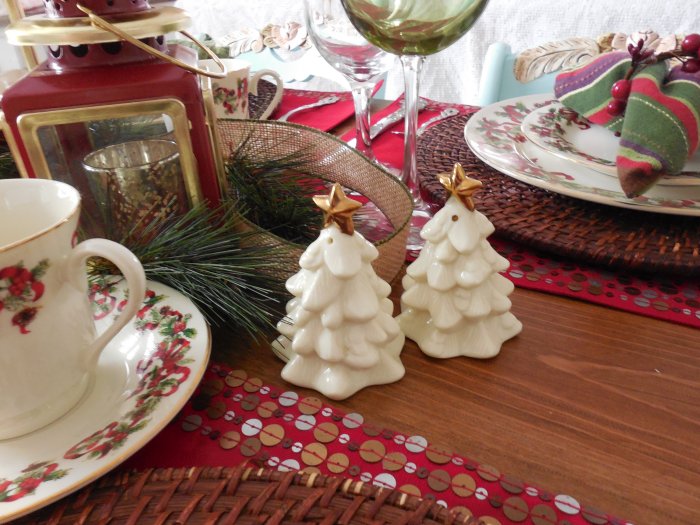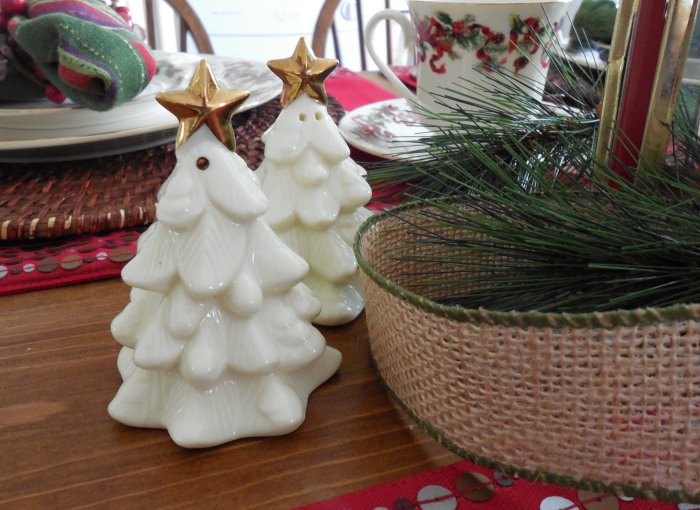 A few more views around the table…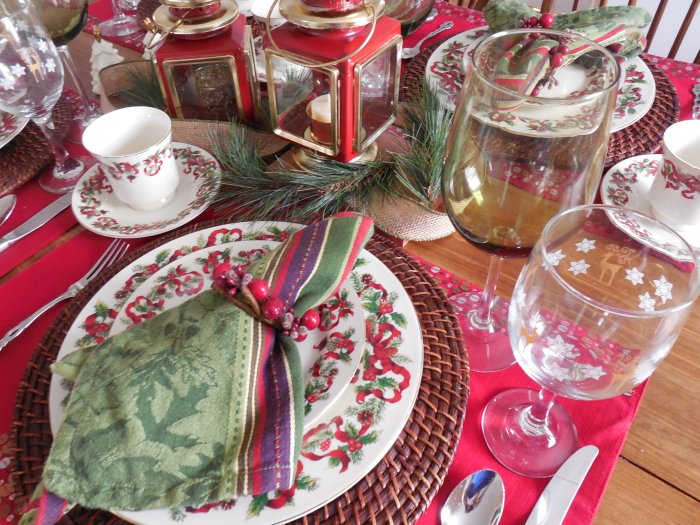 .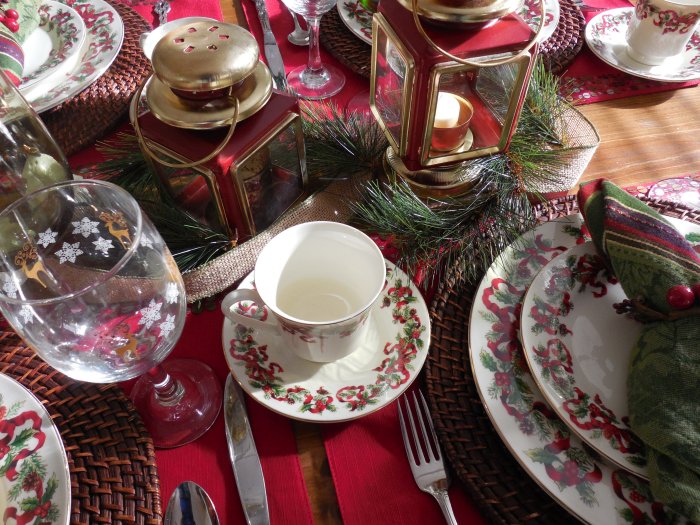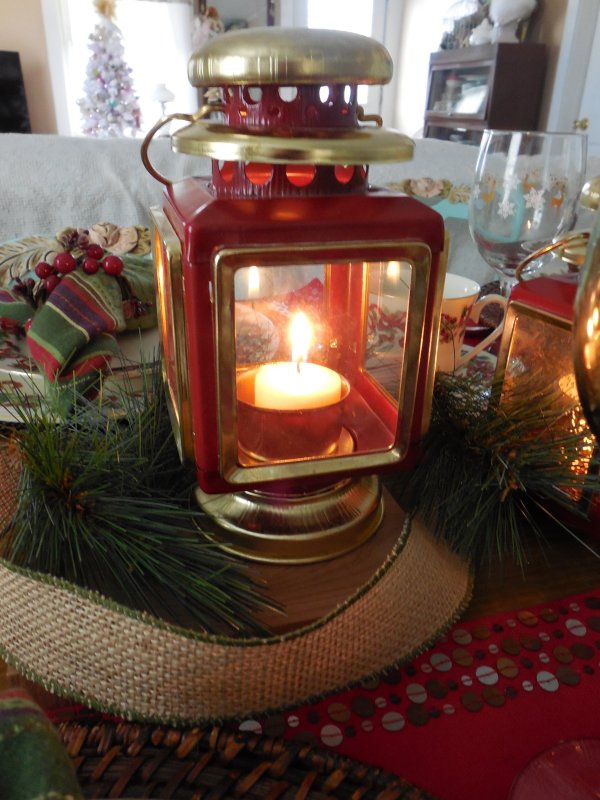 A bird's-eye view –
And of course, the "put-away shot" of everything ready to go back into the cupboards.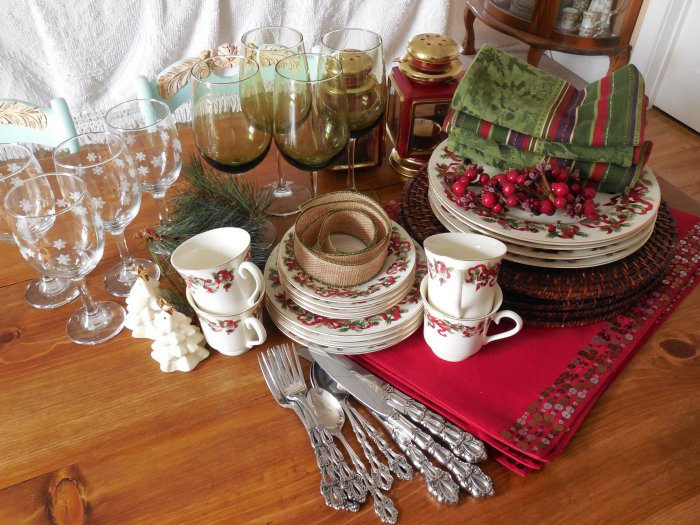 Oh – except for the china! I had it listed on Facebook Marketplace, and the day after this photo shoot, I sold it – service for 8, for $50. It only took me three years to double my money! (Shhh, don't tell anyone, but I might be having a bit of seller's remorse.)
I'm linking with Jann's wonderful holiday link party, "A Dish Addict's Christmas", as well as Susan's "Tablescape Thursday"! Be sure to click through for so much more Christmas table inspiration!
Here's a Pin-able image if you'd like to save this table for future inspiration!