I set this Provence-inspired blue and yellow table late last Summer and somehow never did a blog post about it! I can hardly believe that myself, because it very quickly became one of my favorites! Maybe it's best that I didn't share it until January – we need all this sunny, summery blue and yellow right about now!
Love pretty tables set on a budget? Please join me over in my Facebook Group, Thrifty Tablescapers, and let's share tablescaping ideas!
The idea for this table began like a lot of my other tables: with an item I acquired at a Goodwill store. Can you guess what it was? I knew it would someday be fabulous for a blue-and-yellow Provence tablescape, but it took me many months to collect the rest of the elements to pull it all together. I'm very happy with the result: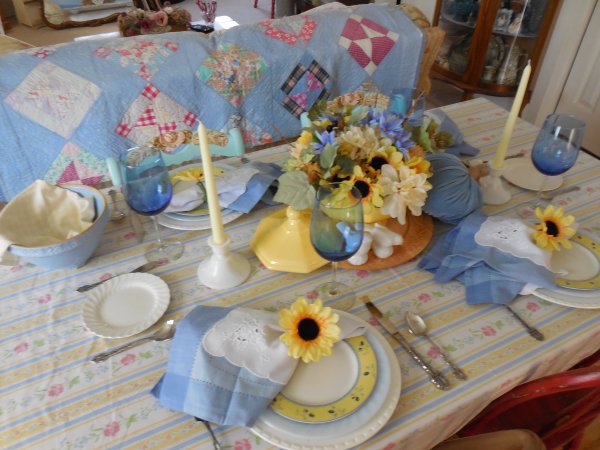 I am a huge fan of using flat sheets for tablecloths – I collect them from thrift stores (after checking carefully for stains, of course!) and have a dresser drawer full. This one is twin-size and incorporates the blue, yellow, and white color scheme perfectly – with dashes of pink thrown in because why not!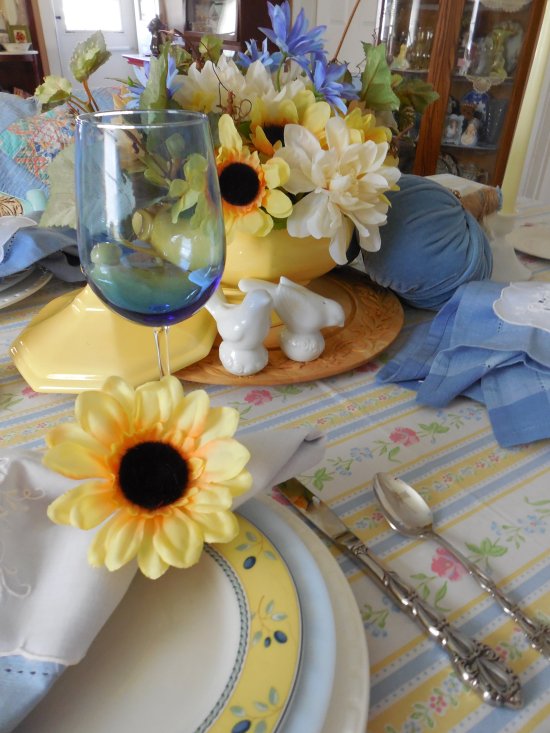 Place settings consist of salad plates in the "Blueberries" pattern by Royal Doulton, ice-blue luncheon plates by Fire King (all of which were Goodwill finds), and a bright white dinner plate with a top-stitching motif acquired on sale at Home Goods a couple of years ago. (I've said it before and will say it again, I think the Royal Doultons are incorrectly named because those definitely look like olives to me rather than blueberries! But who am I to argue with the great potteries of England??)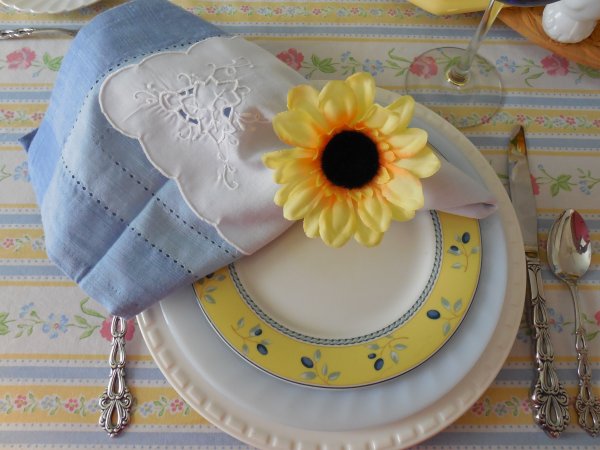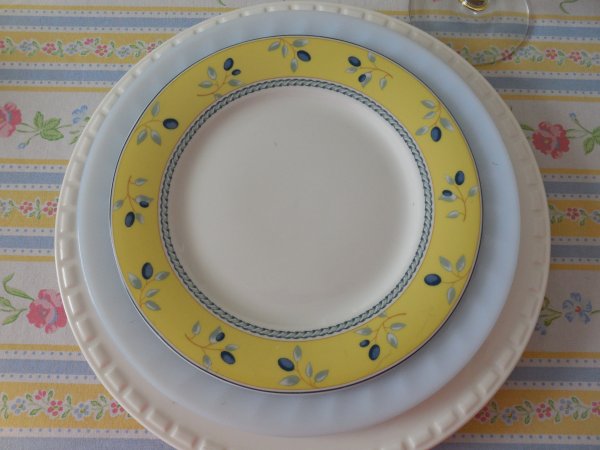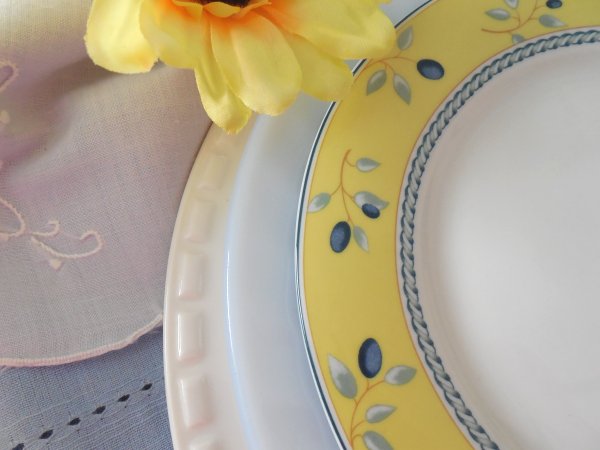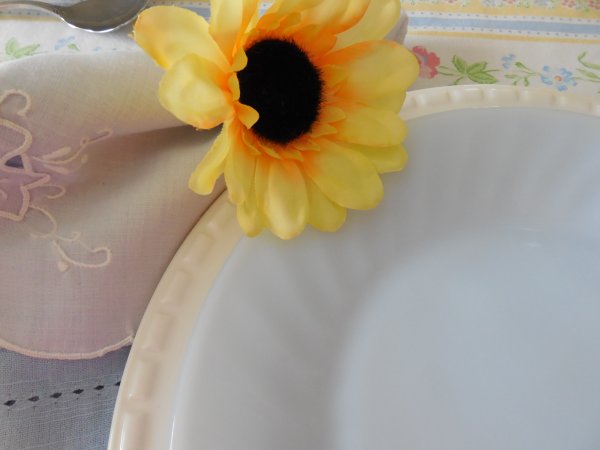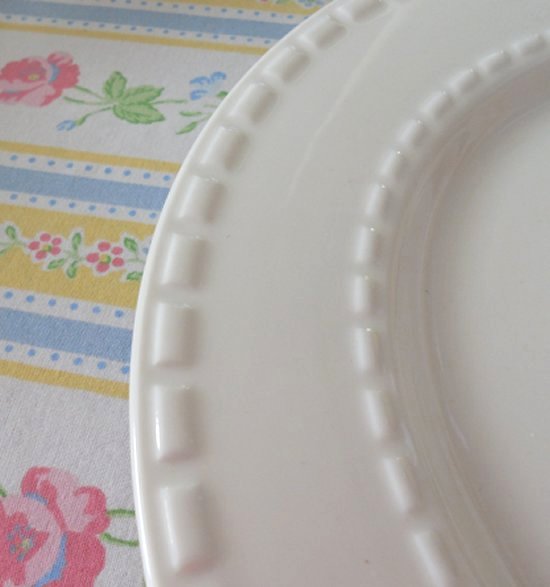 Napkins are blue hemstitch from the clearance bin at Pier 1, with an outer layer of smaller, white cutwork napkins so the blue doesn't overwhelm. Napkin rings are a combination of rings from a Pier 1 set and yellow sunflowers popped off a stem from Dollar Tree.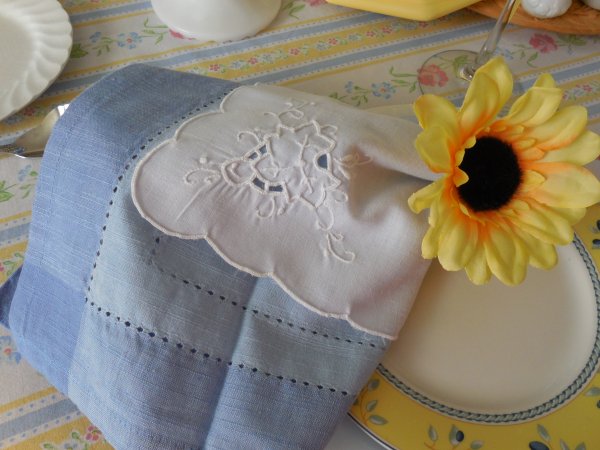 The pretty blue stemware is also from Dollar Tree.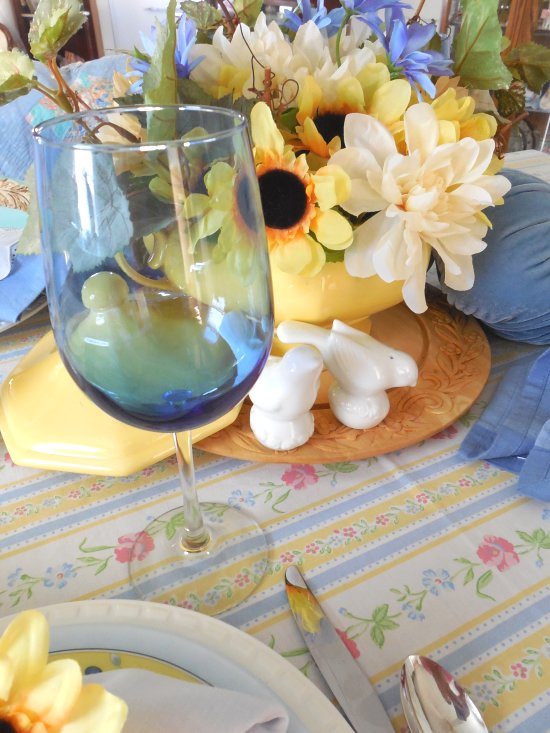 For flatware, I used my treasured Oneida "Chandelier," a gift from my grandmother and the same set we used in her sister's (my great-Aunt's) home for holidays when I was growing up.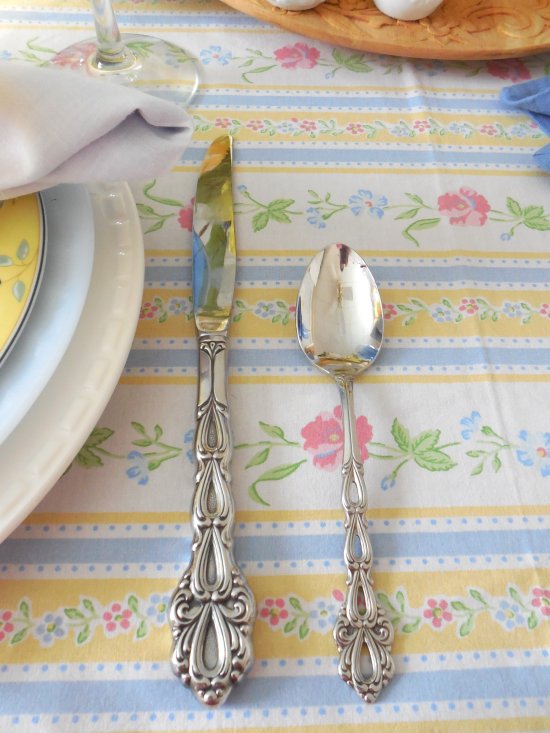 Candlesticks are simple milk glass pieces acquired at Goodwill, and I've also set a white dessert plate in a pretty swirl pattern to be used for butter.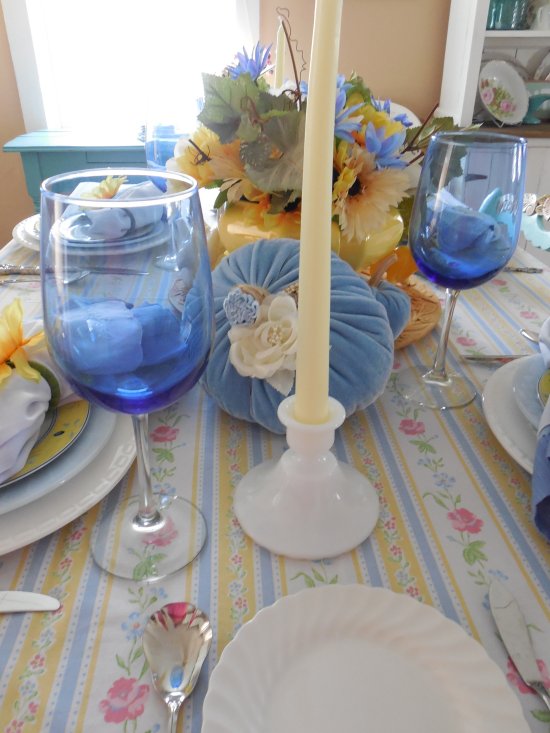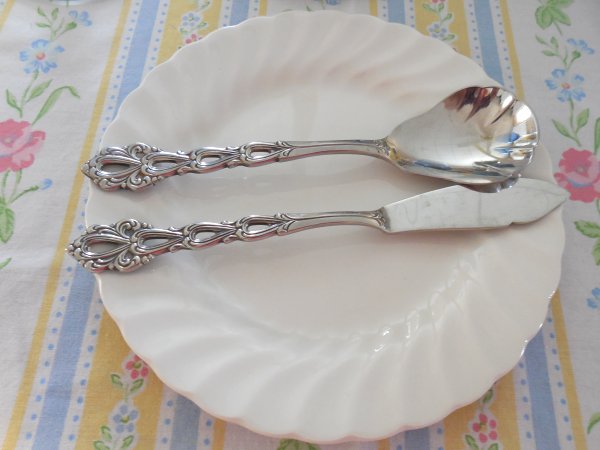 I especially love the plate stack on this table, but I think my favorite element is the centerpiece featuring that sunny yellow soup tureen! The soup tureen is the item that inspired this table – I loved its lovely yellow color and immediately pictured it at the center of a French-themed table.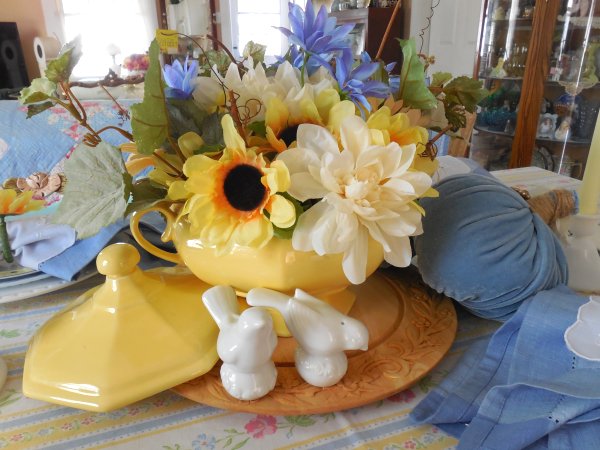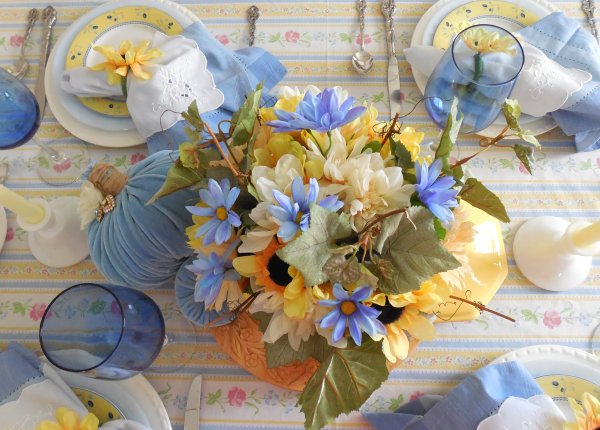 The entire arrangement sits on a wooden charger also found at Goodwill (I think it's bamboo…?) and includes an exuberant bouquet of blue, yellow and white silk flowers all from Dollar Tree, plus pieces from a silk grapevine spray found in another thrift store.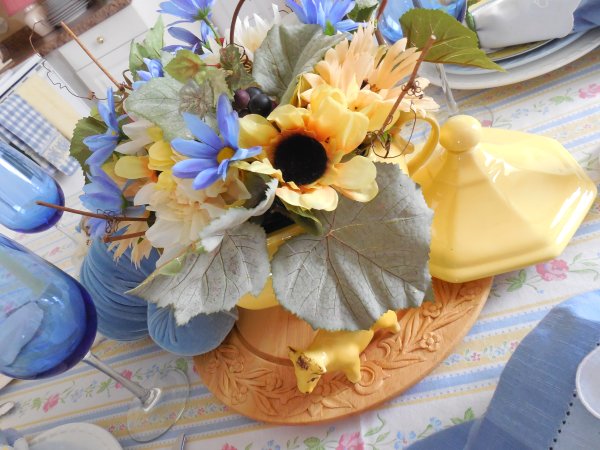 I've added two homemade blue velvet pumpkins (again because, why not – they're blue!) and a cute yellow ceramic cow who I think I heard mooing in French. My sweet white bird salt and pepper set complete the centerpiece.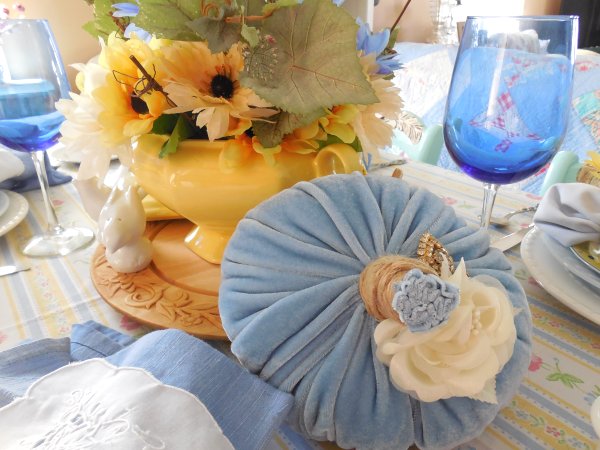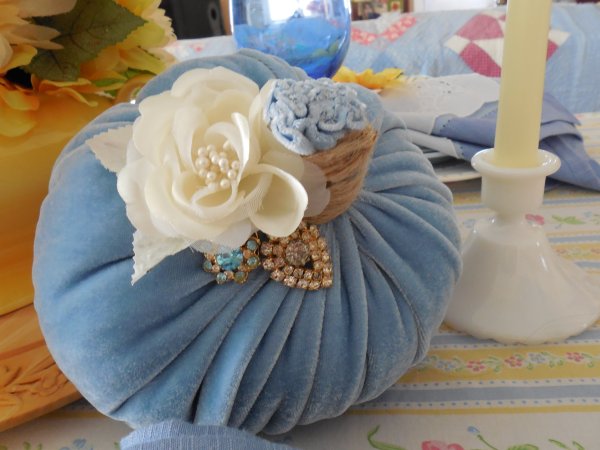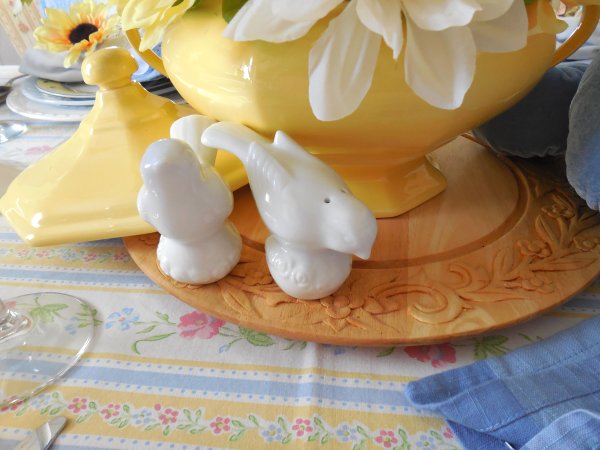 I don't often include serving pieces in my tablescapes but I have this beautiful French-blue stoneware bowl that I think we could use to serve slices of homemade baguette. The yellow gingham napkin gives it a casual, straight-from-the-cottage-kitchen feel, don't you think?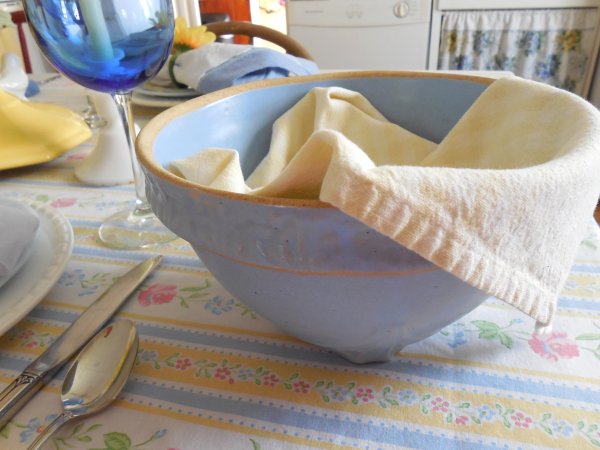 And, I also set out the dessert plates on the sideboard table – they are part of the "Farm Animals" set by Williams Sonoma, and again are in that lovely French blue color. Maybe I'm imagining things, but I think the animals themselves also look a bit French!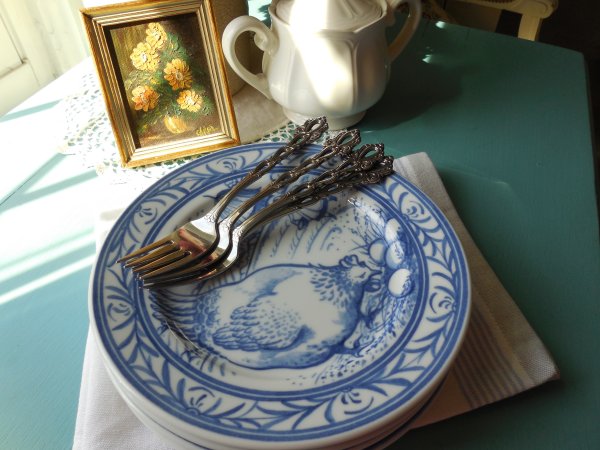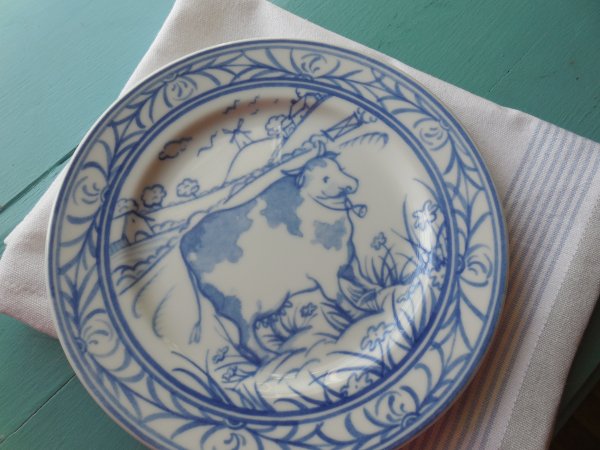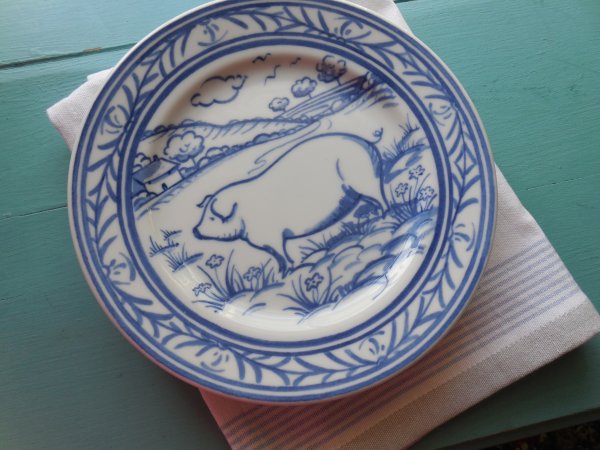 Here are a few more views around the table –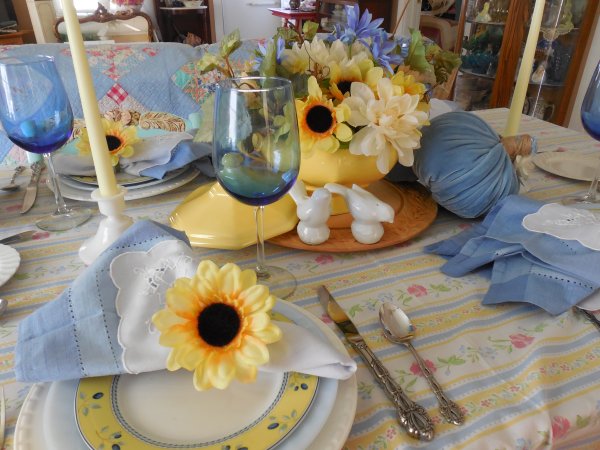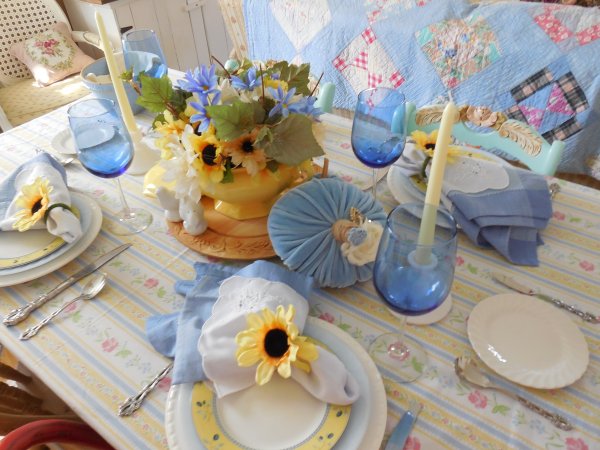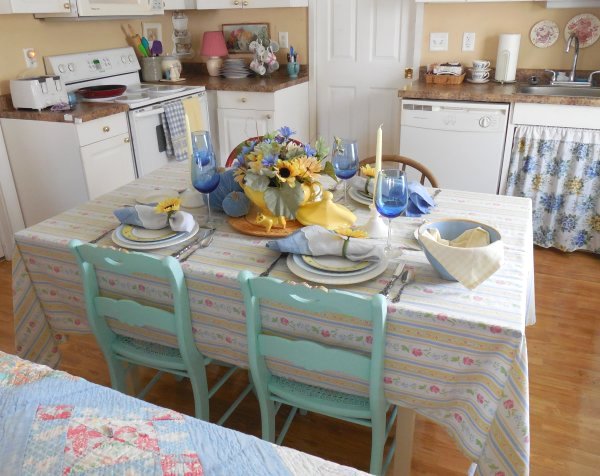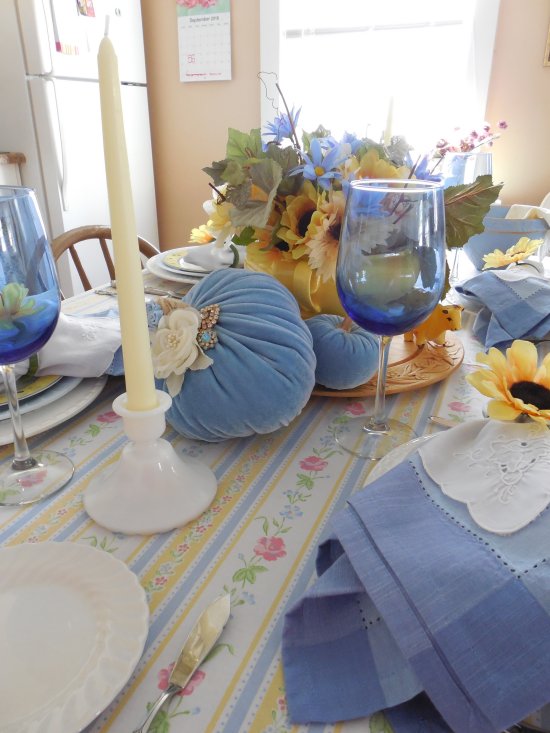 … a bird's-eye view…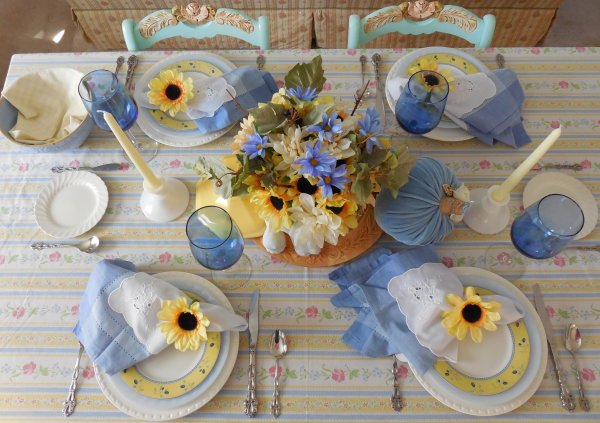 … and the put-away shot, with everything gathered up and ready to go back into the cupboards!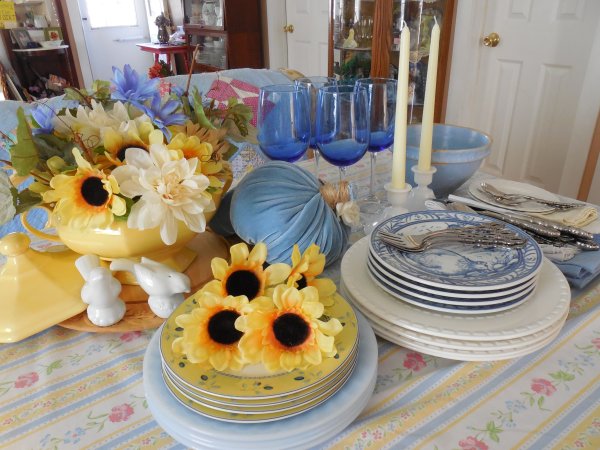 I'm including an image for Pinterest in case you would like to save my Provence-inspired blue and yellow table for future ideas!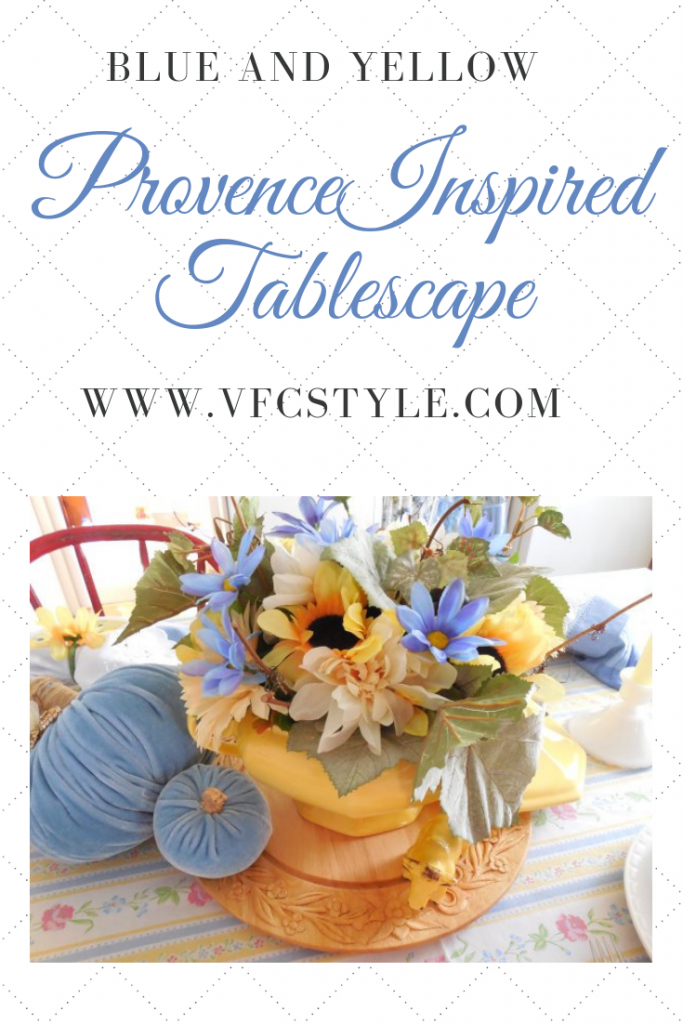 And of course, I'm sharing my post for Tablescape Thursday over at Between Naps on the Porch, still one of my all-time favorite blogs!