Do you celebrate St. Patrick's Day? I have to admit that I usually don't, even though I do have a partially Irish heritage. Still, it's hard to resist a perfectly good tablescape theme. A friend who is a member of my Facebook group, Thrifty Tablescapers, shared her St. Pat's table and she had used some of those plastic gold coins they sell at Dollar Tree – I thought they were cute and kind of fun, so I decided that I would try to set a somewhat elegant table using the theme, "Pot of Gold."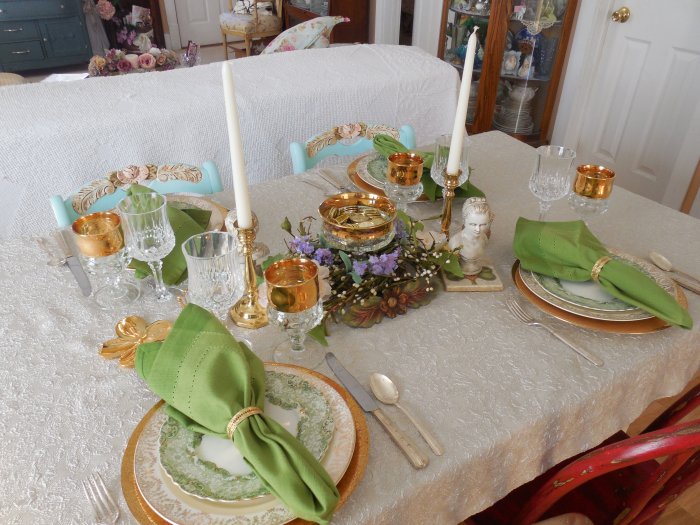 My color scheme was green, gold, and ivory, and I knew I wanted to incorporate those coins. I decided that the "pot of gold" would be part of the centerpiece, and I used a gold-embellished crystal compote in an Early American Pattern Glass (EAPG) pattern called  King's Crown Coin Dot. I used a small silk floral-and-pip-berry wreath to surround the compote, with a few additional silk blooms poked in and around.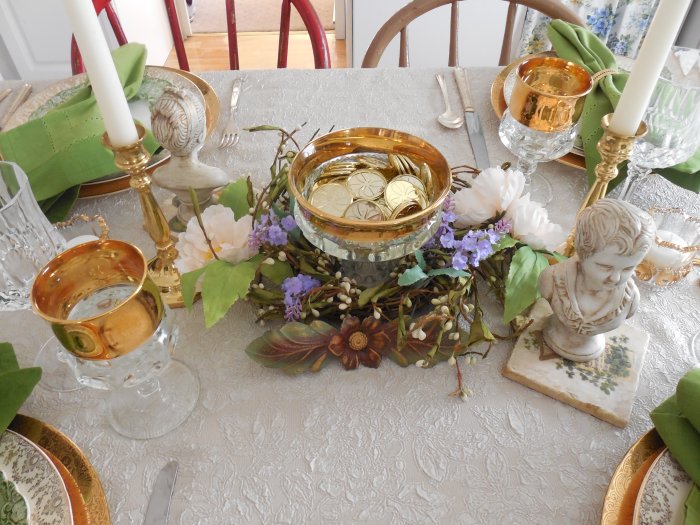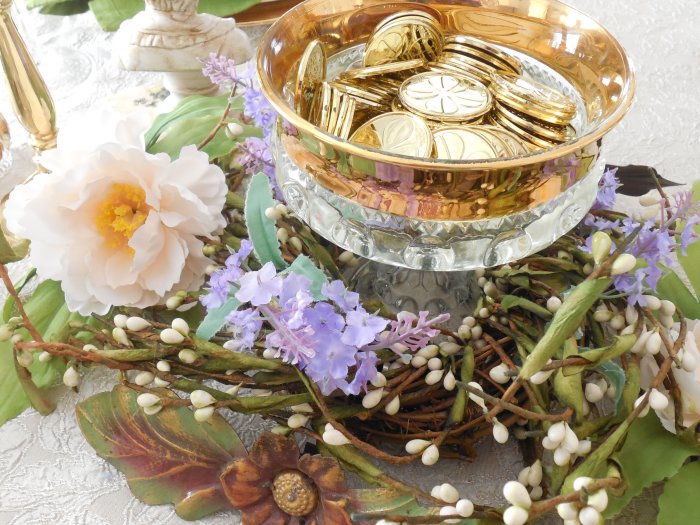 I also had these really interesting metal bits (embellishments off a piece of furniture I think) that I felt had almost a Celtic vibe to them, so I included those as part of the centerpiece too.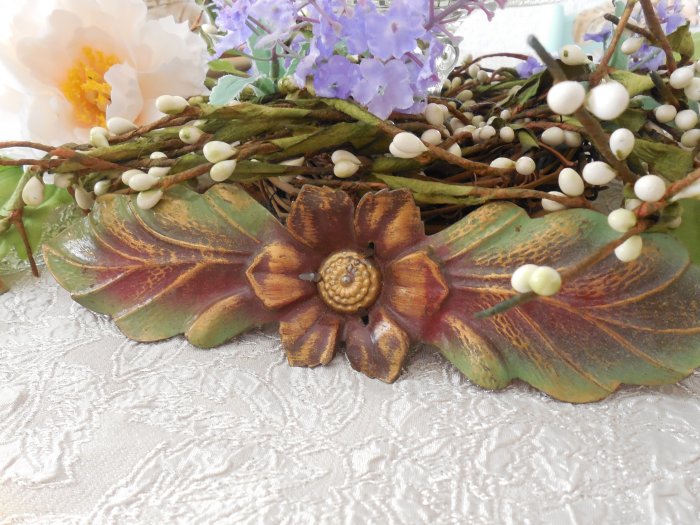 I added a few other elements to extend the centerpiece out to the left and right: a pair of boy and girl busts sitting on top of Irish-themed stone coasters, gold candlesticks, and a pair of votives in matching crystal-and-gold EAPG toothpick holders. The gold shamrock paperweight adds some sparkle as well.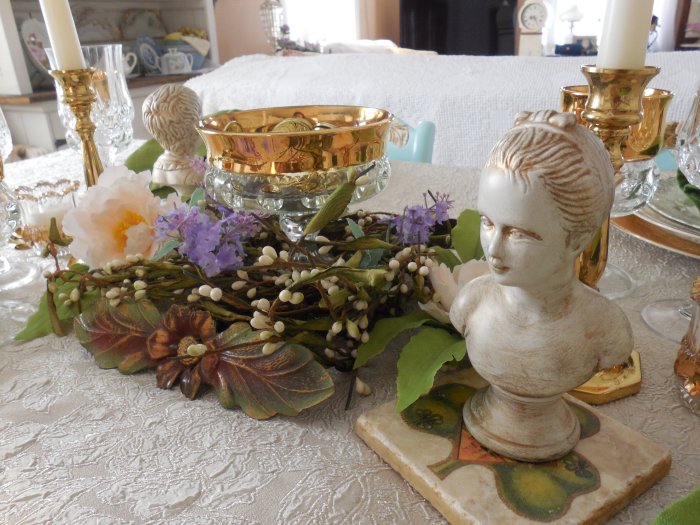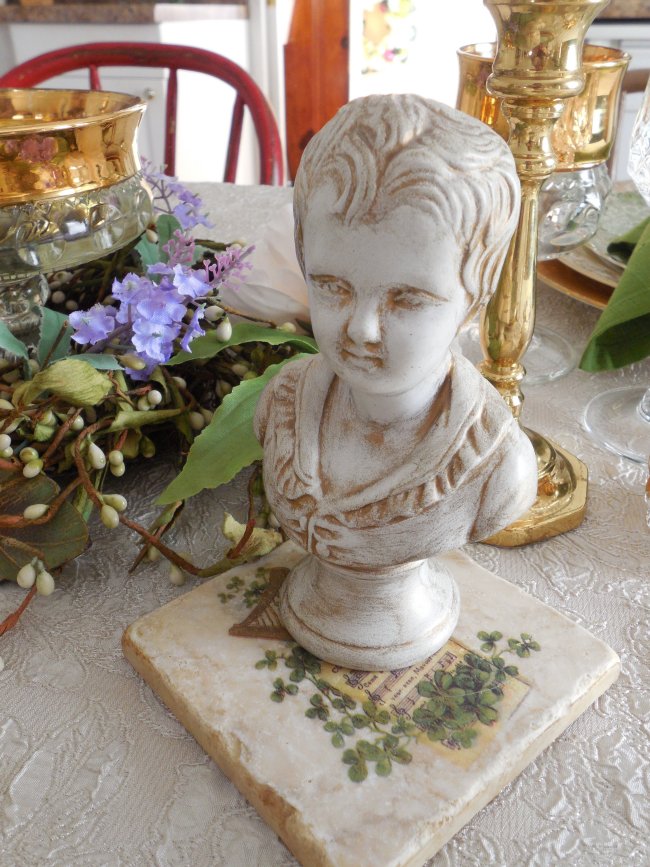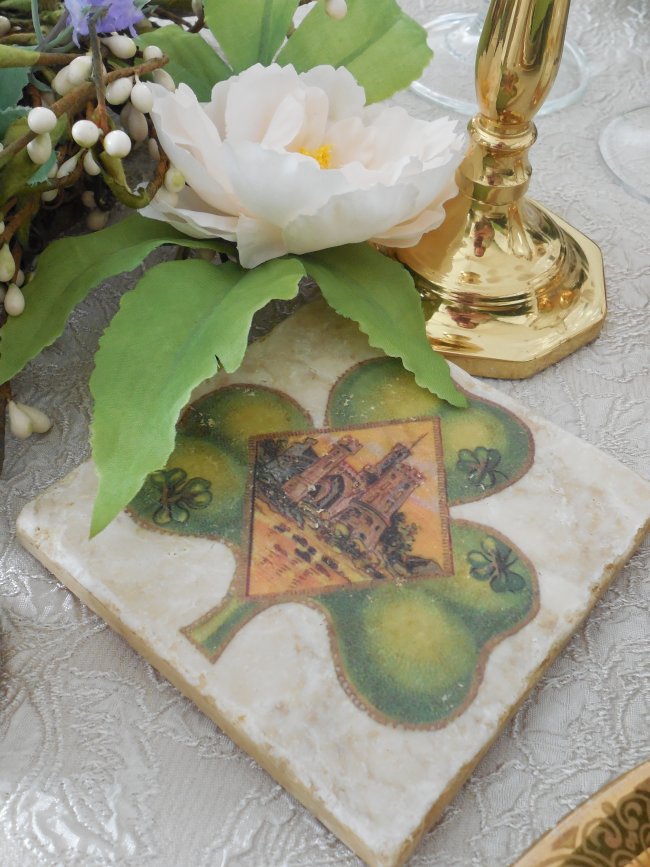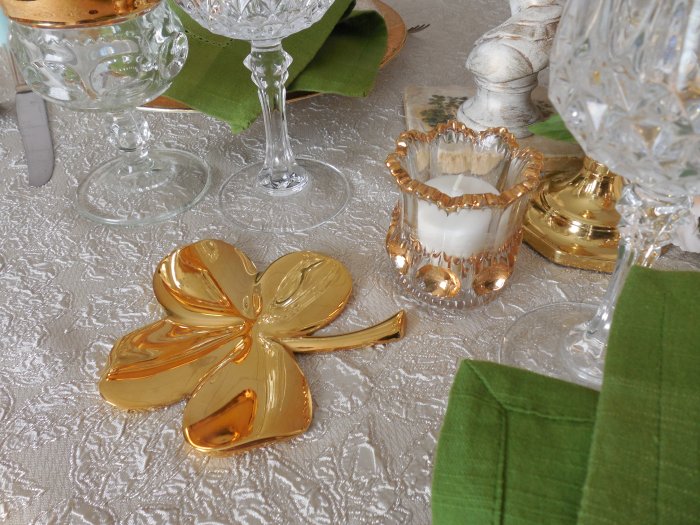 The tablecloth is a drapery panel in a lovely champagne color. It adds a great deal of texture, too.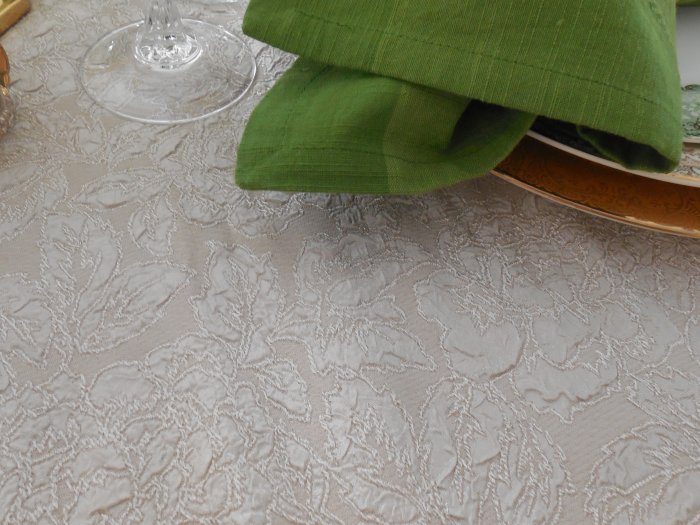 My plate stack includes three pieces: the top plate is green and gold transferware by Alfred Meakin of England called Roxbury and was also used in my red and green Christmas luncheon table last year. The center plate is marked Crown Potteries USA and has a pretty floral spray in the center as well as gold embellishments around the shoulder. The bottom plate has a beautiful wide gold shoulder and was used in a Christmas tablescape in 2017. It isn't marked but the center floral design is identical to the one in the other plate so I'm surmising these are also by Crown.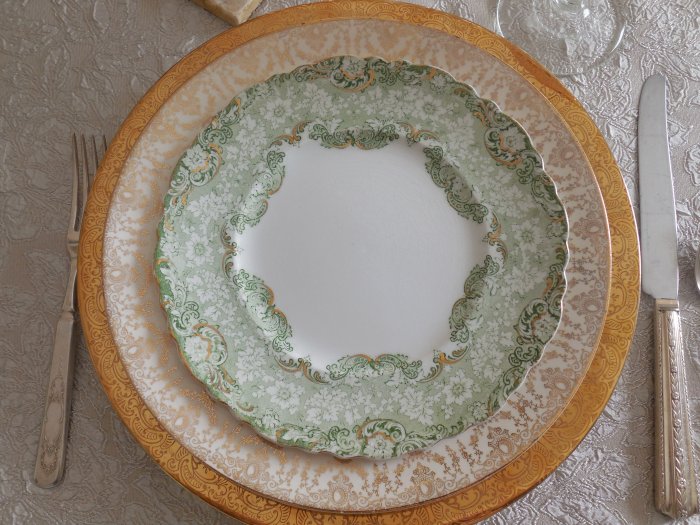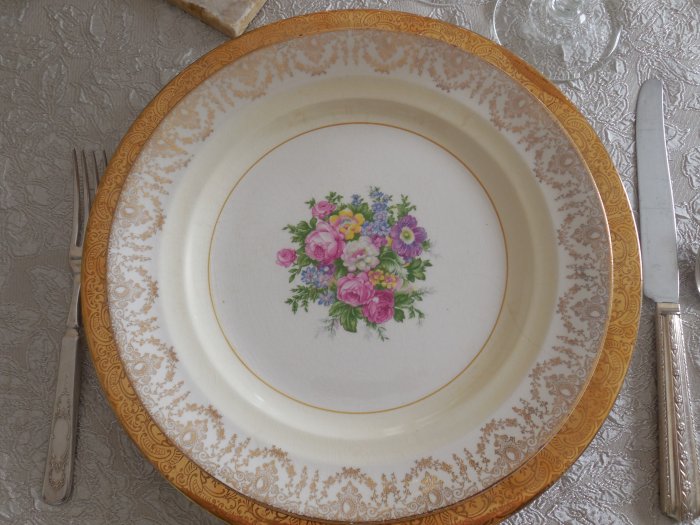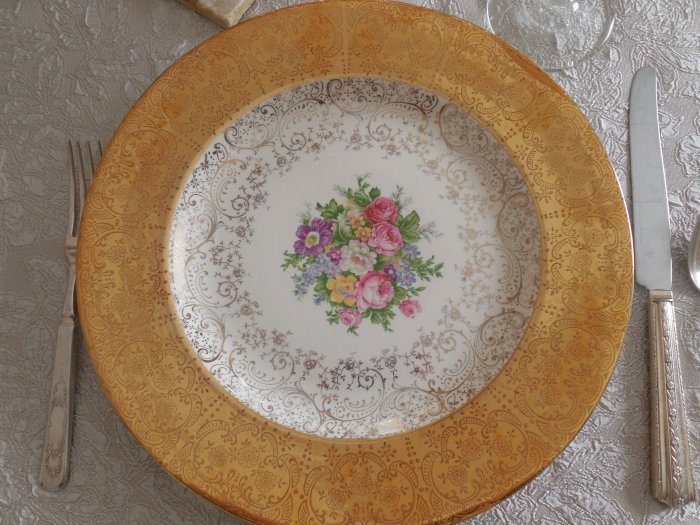 Hem-stitched napkins are by Pier 1. The green hue is very similar to that of the wreath used in the centerpiece. The thin gold band napkin rings remind me of wedding rings.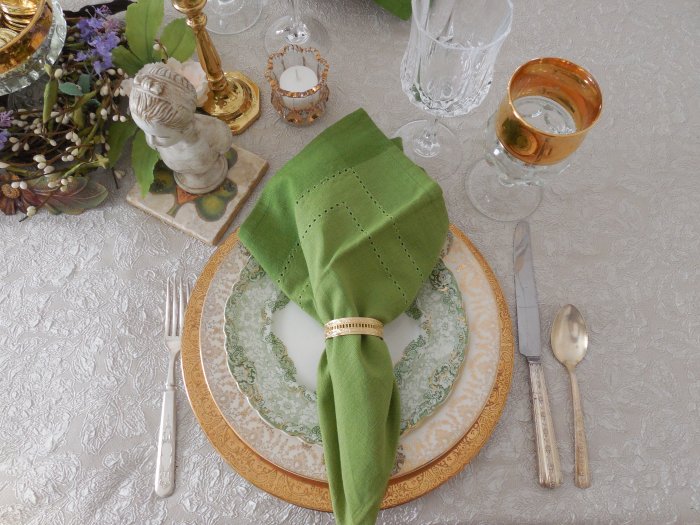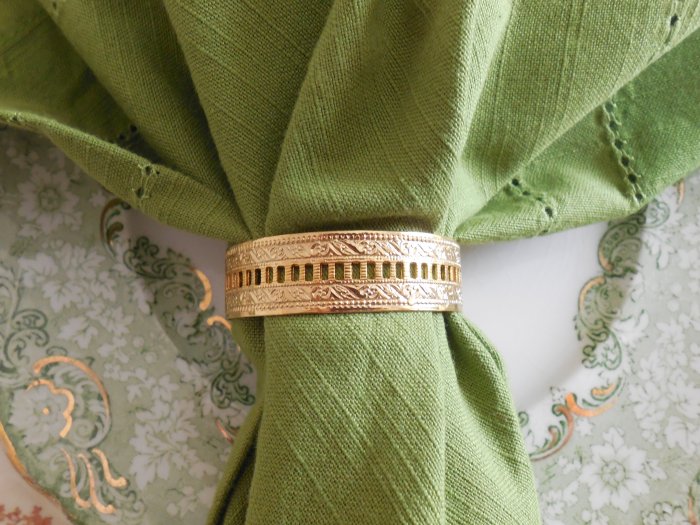 Glassware is Cristal D'Arques "Longchamps" on the left, and EAPG King's Crown Coin Dot on the right.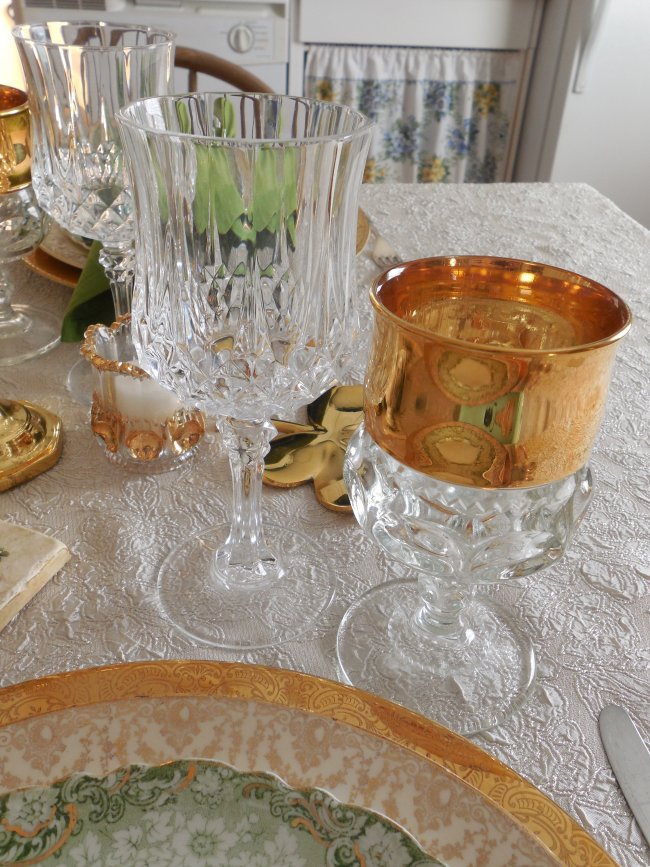 Flatware is mismatched silver purchased at an antique fair last summer. I realized when photographing this table that the forks have a tiny letter "P" on the handles – I never noticed that they were monogrammed until now!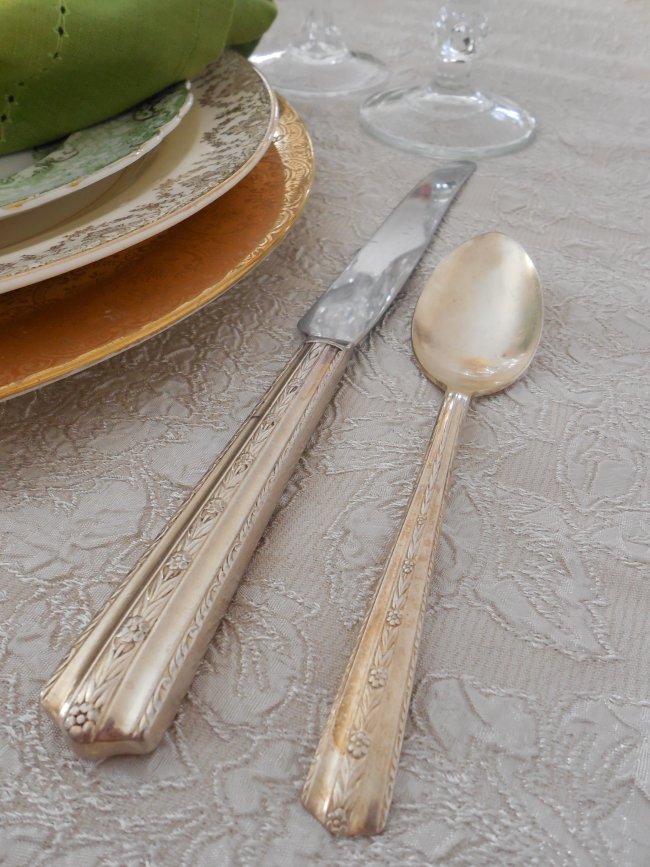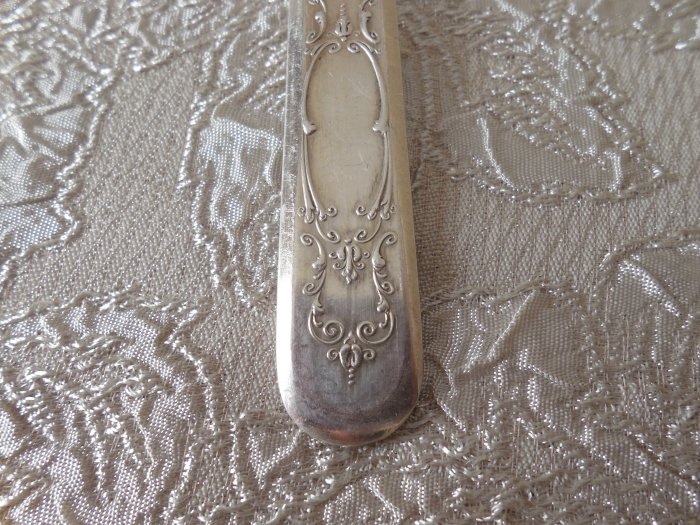 Here are a few more views around the table –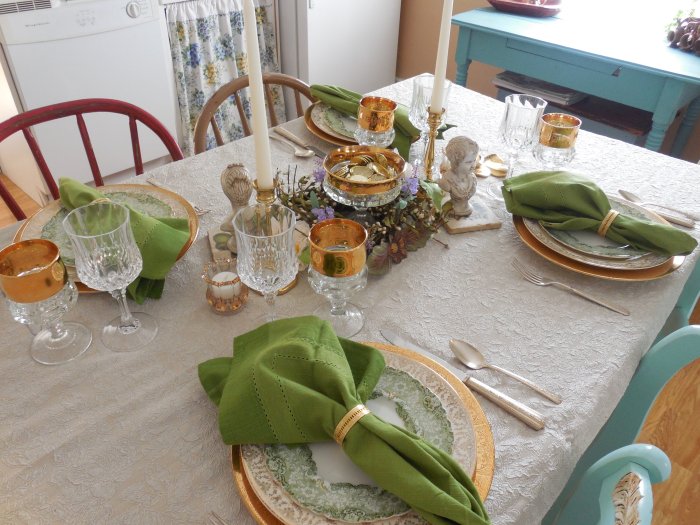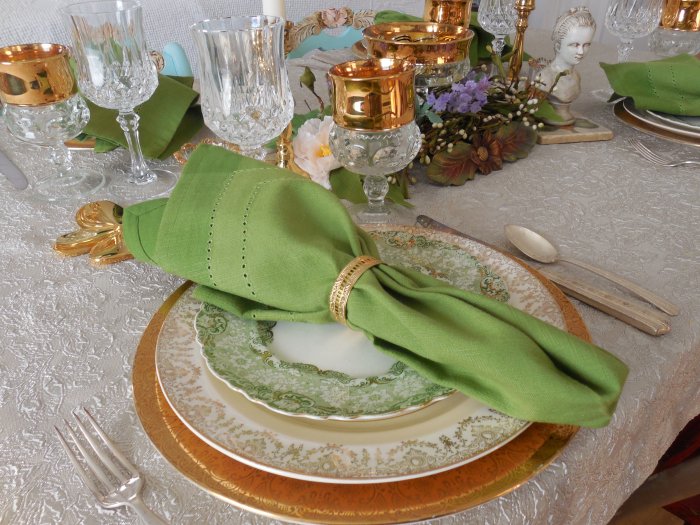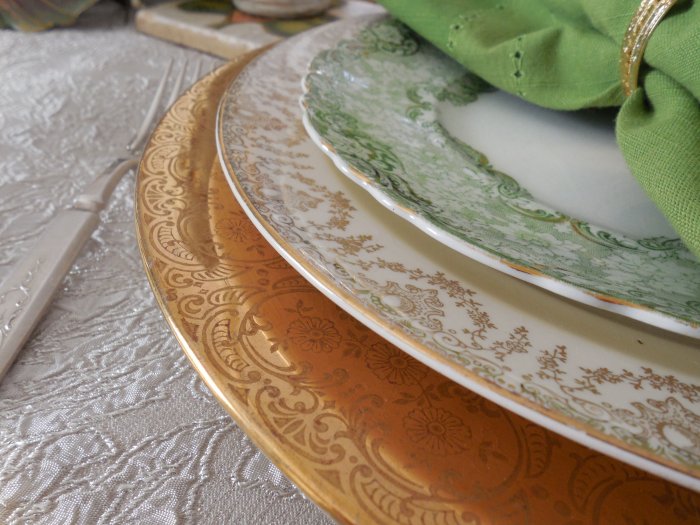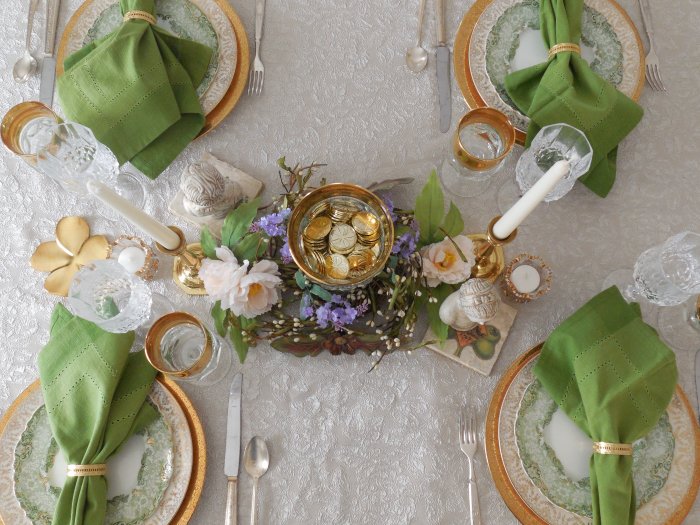 Here's the put-away shot, with everything gathered up and ready to go back into the cupboards.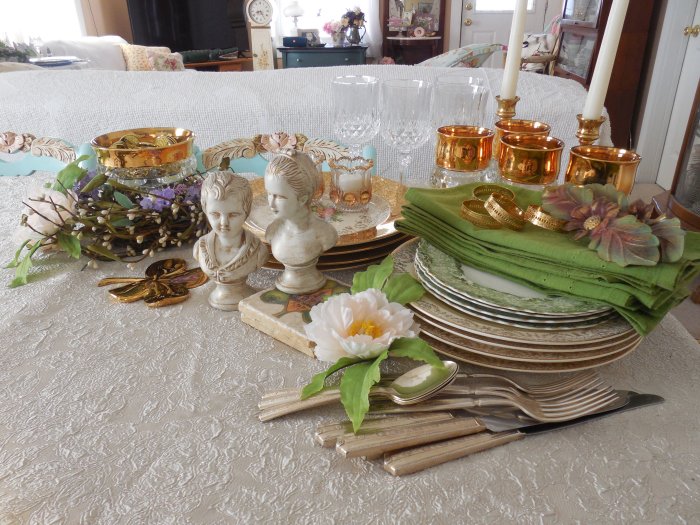 And here is an image suitable for Pinterest if you would like to pin this table for future ideas!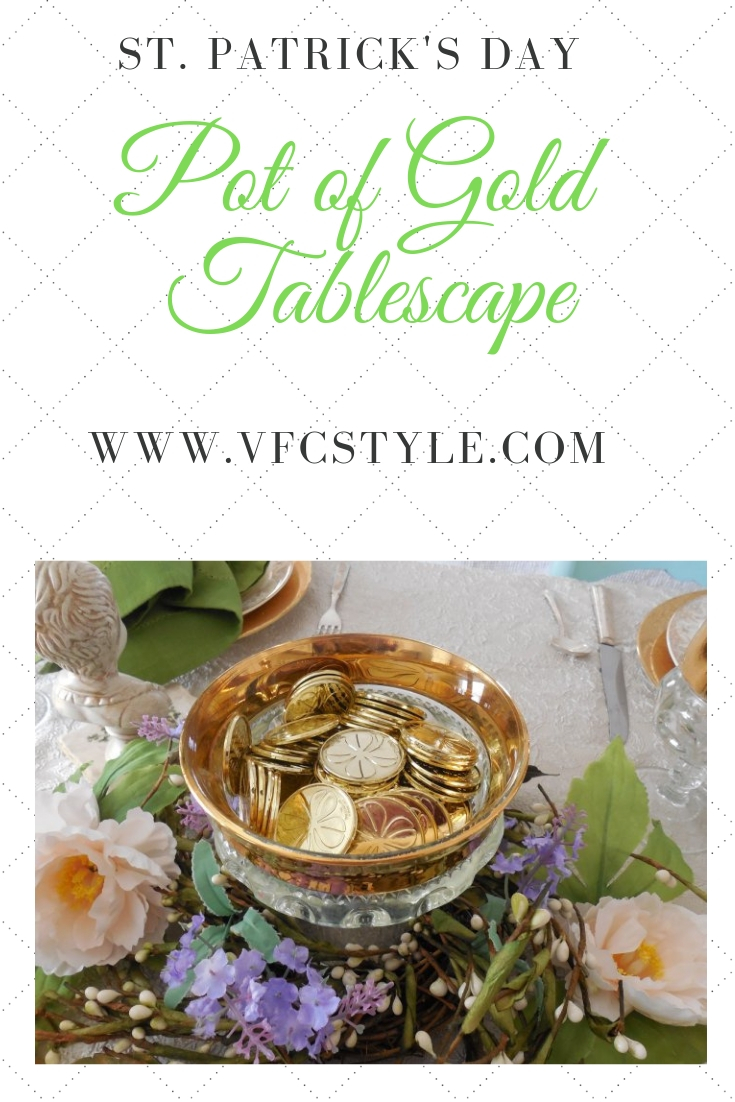 I'll be sharing my "Pot of Gold" St. Patrick's Day table over at Susan's lovely blog, Between Naps on the Porch, for Tablescape Thursday! Hope you will click through for lots more inspiration!