Well it seems that Spring has finally arrived, after a seemingly endless bitter cold spell from late January through the first of March. But now we are predicted to be in the 50's and 60's every day through the end of the month, so I don't see much chance of Winter returning until much later this year.
I've been working on new vignettes around the house, including my Irish-themed tea table that I shared a few days ago, and this one on top of one of my china cabinets: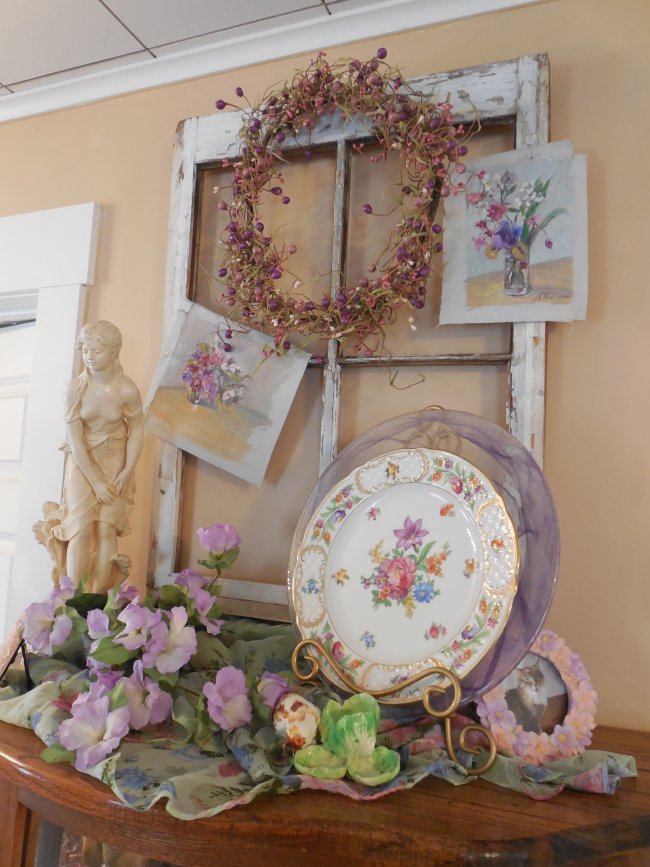 I love this arrangement because it has sort of an "English cottage garden" vibe to it with the statuary, rambling flowers, and small still-life paintings. It makes me think of the book Sense and Sensibility by Jane Austen – set during a time when noble-born English girls were taught to sketch and paint, and to speak French, and to flirt just enough to catch a noble husband.
I have several old chippy windows used as decor around the house; this one was a bargain for $2.50 at an area barn sale. The pip-berry wreath was a thrift store find.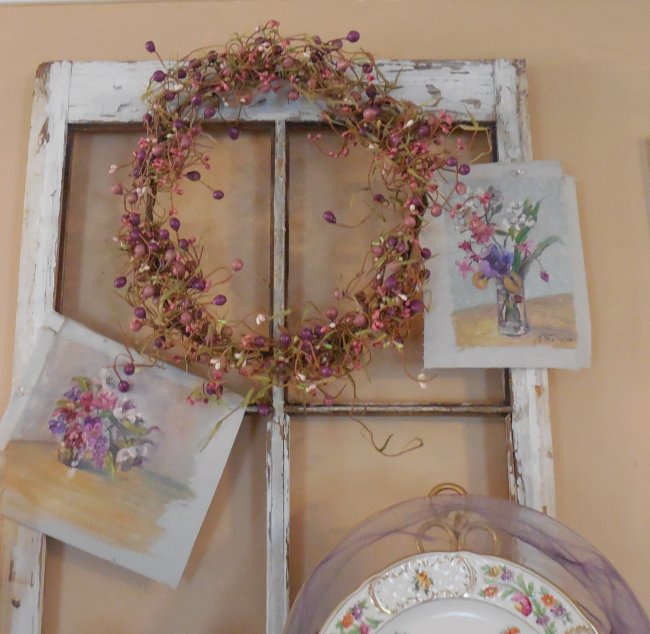 The little paintings were a recent auction win. They are by a local artist named Nancy Semcoe Link, and I acquired about five of her pictures in the same lot. These two were both painted on the same canvas, and I separated them to give them the appearance of having been torn from a sketchbook.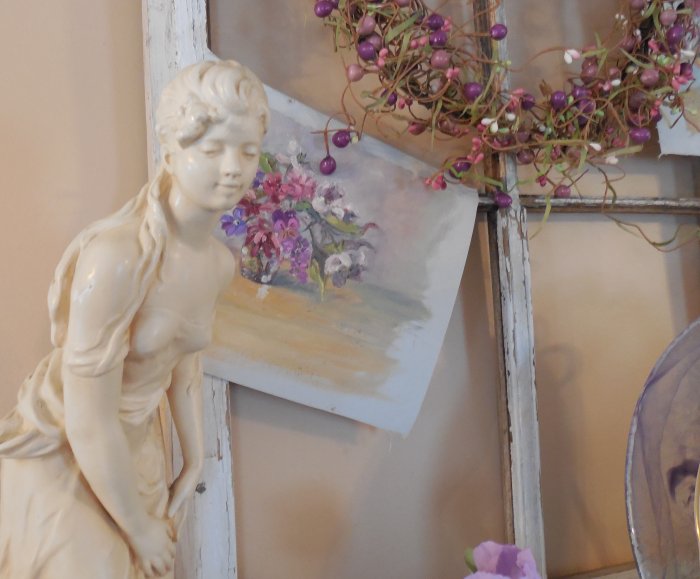 The statue also came from that same auction. If you attend many auctions you know what "choice" means: you bid for the chance to select one item from a table at the winning bid price. I snatched up this sweet girl for a mere $3 – she's anonymously recorded on my receipt as "Choice on table."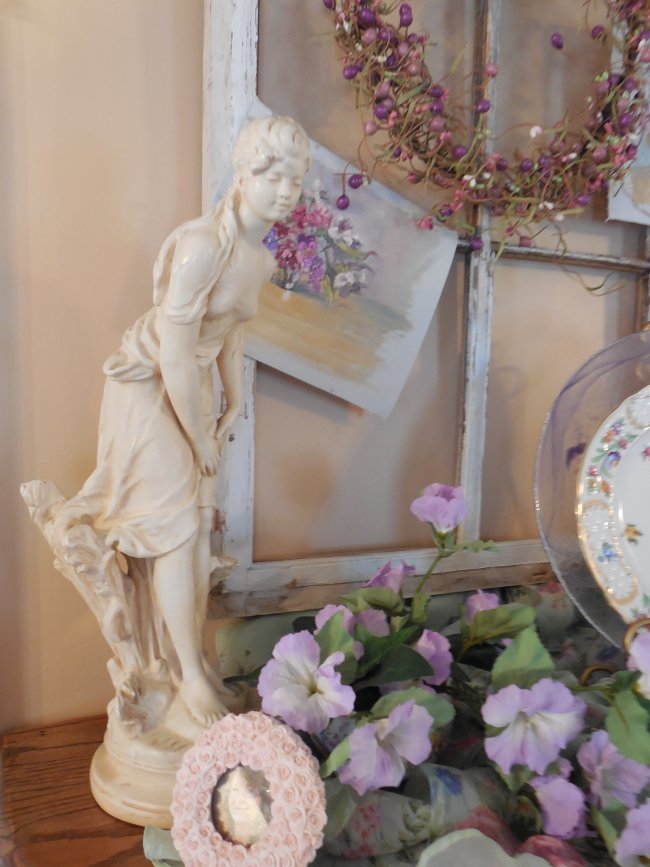 The small photo is of my daughter, tucked into a resin frame of soft pink roses.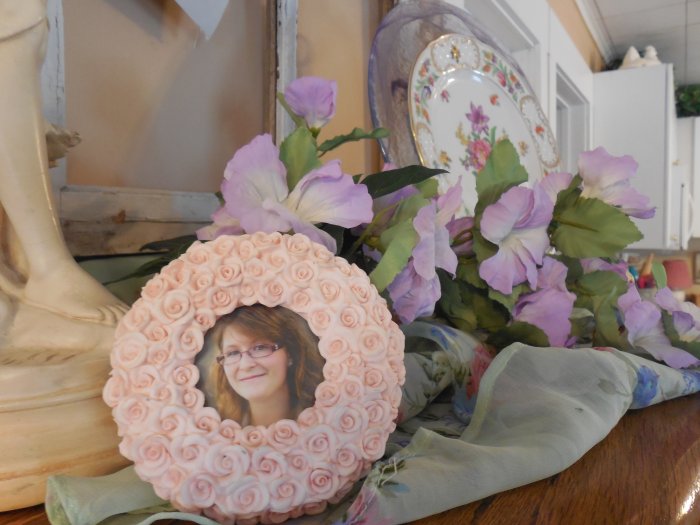 The silk flowers, purple charger, and Dresden dinner plate are thrift store and Ebay finds, featured in a recent Springtime tablescape.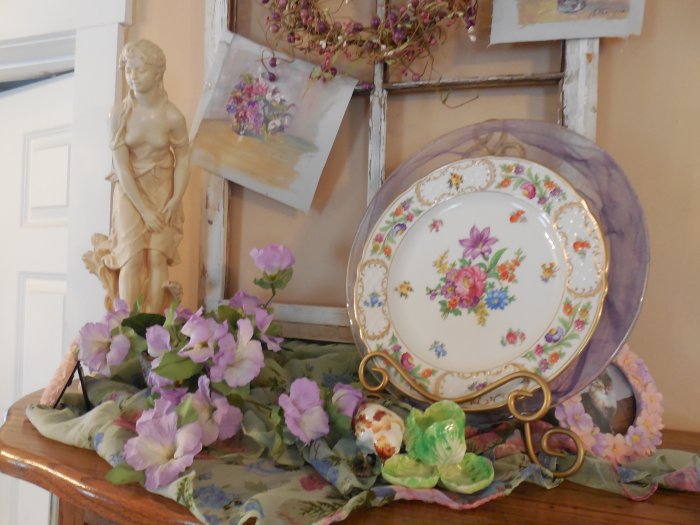 The little clay bird figure came in a box lot at the afore-mentioned auction – I can't believe he didn't get broken.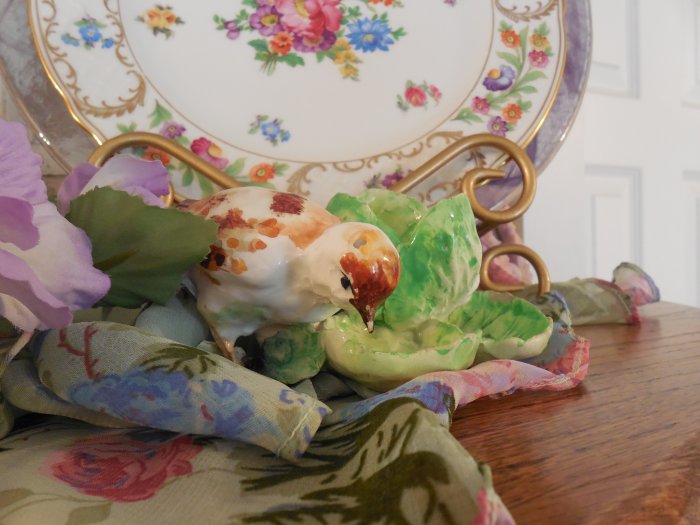 Here's a picture showing how this cabinet is situated in the room, set along the wall between a bedroom and bathroom.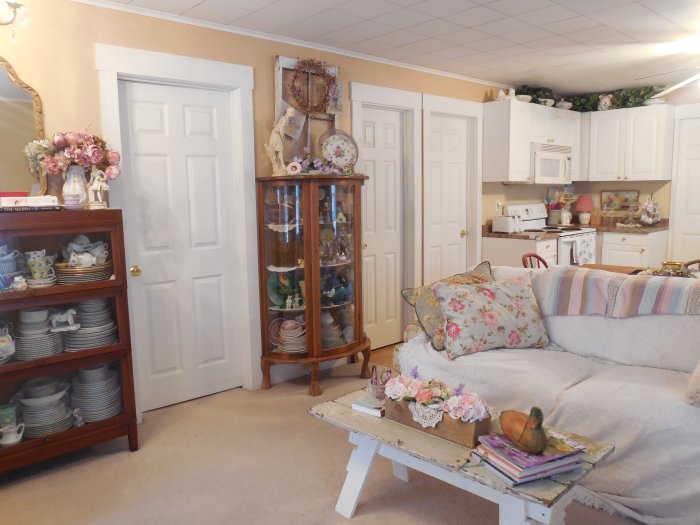 I'm thinking about painting this cabinet a very light aqua. It is solid oak, but I don't think it's terribly old. The glass is curved but not wavy like very old glass. My friend Traci (who does beautiful painted furniture pieces) has painted a similar cabinet white, and there's one painted white at the antique shop where I work that is used as a display piece – I think they both look wonderfully "shabby chic," but Greg worries that it's an antique and shouldn't be painted. I just am not sure about its age. What do you think – to paint or not to paint?