What is your favorite source for discovering new dinnerware patterns? Two of mine over the years have  been thrift stores and Tea Time Magazine. Thrift stores, of course, offer the thrill of the hunt and instant gratification when you find something you like. Tea Time offers beautifully photographed tablescapes, and there is always at least one pattern in every issue that I immediately add to my "saved searches" on Ebay so I can begin the hunt for bargains.
The dinner plates in my Springtime table for two are Dresden Schumann Empress "Flowers," which I originally spotted some years ago in Tea Time. These were a rare splurge for me – in the double-digits per plate – so I only own two of them. They have only always been displayed on a shelf – never used for an actual meal, because I'm kind of afraid of breaking them.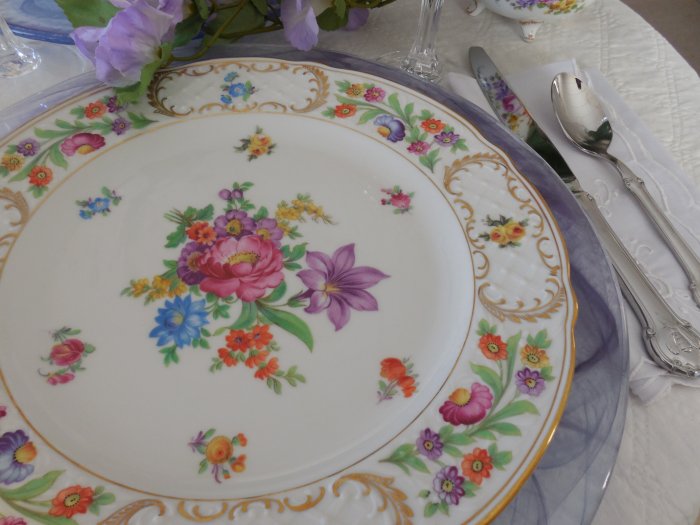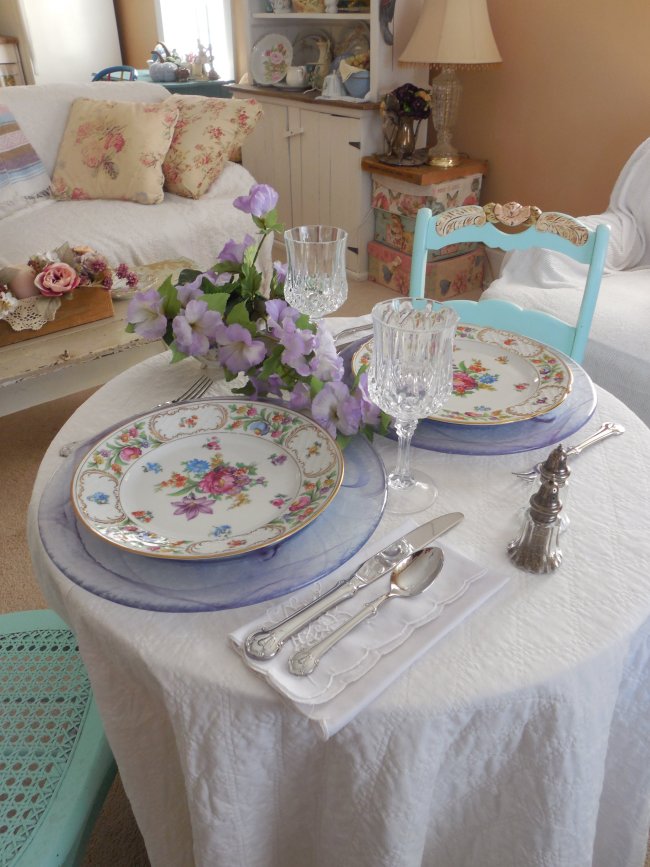 But recently, knowing that Spring must literally be "just around the corner," I decided to try to find something that would coordinate with a pair of amazing purple glass chargers that I found at Goodwill about a year ago. I also only have two of these – there were four on the shelf, but two were damaged so I did not buy those. In trying various combinations, I found that the Dresden looked fabulous with them, and I loved the contrast of the contemporary chargers with the classic floral plates – so that was that!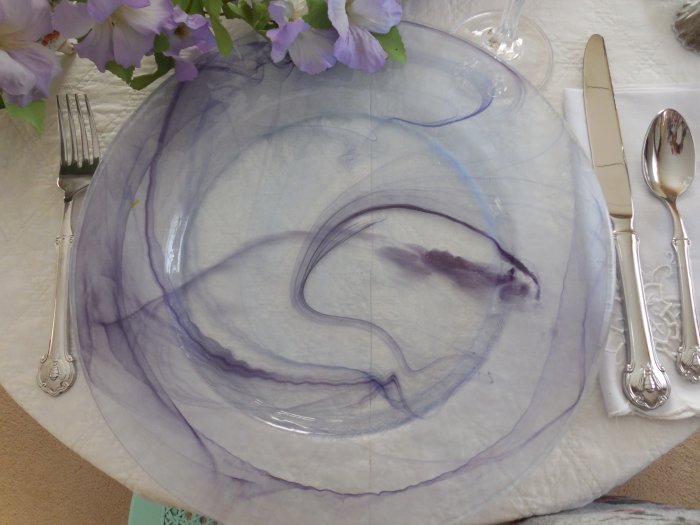 These chargers are very heavy lavender-hued glass, each with a unique darker purple swirel pattern. (The vertical line visible under the charger is a seam in the tablecloth.)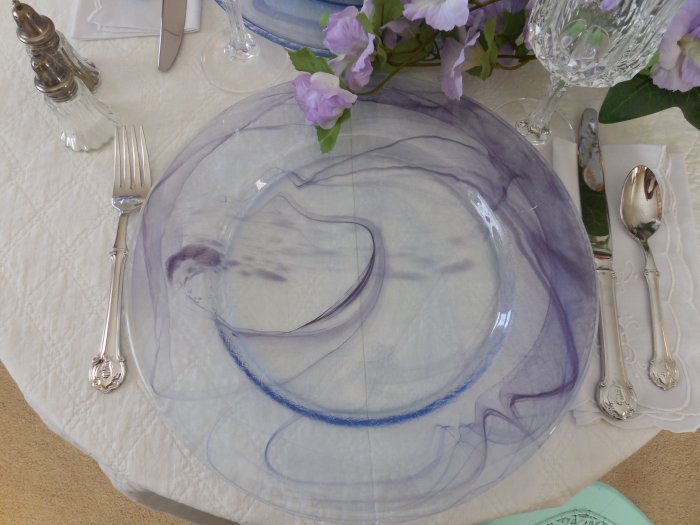 I decided that given the "exclusivity" of the Dresden plates, I would set this table for two in a more intimate manner than usual. So rather than use my harvest-top dining table, I set it on an antique round side table that I have in my living room. This is one of my favorite pieces of furniture – it was in my grandmother's home for decades, restored by my grandfather sometime in the 1960's or 70's. Here's a picture of it in my previous house: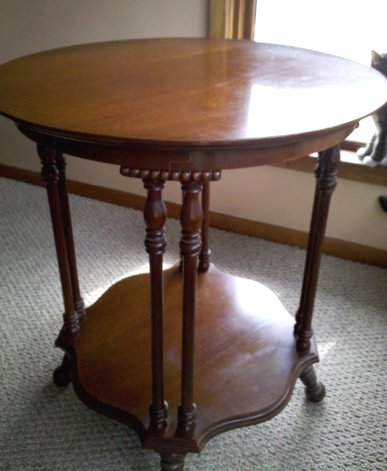 This quilted white tablecloth – also a thrift store find – looks so pretty with its rows of ball fringe!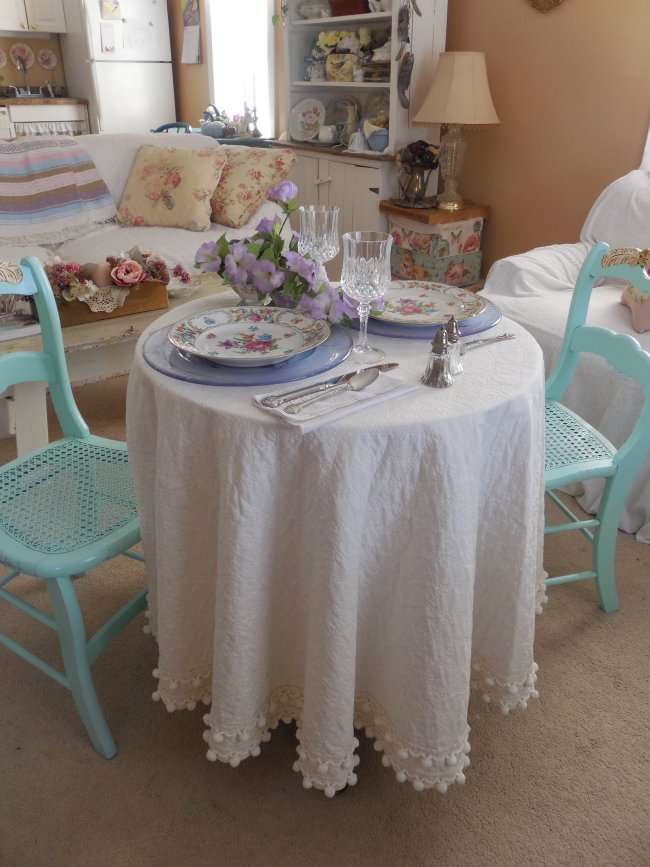 Stopping just above the "ankle" – how risqué!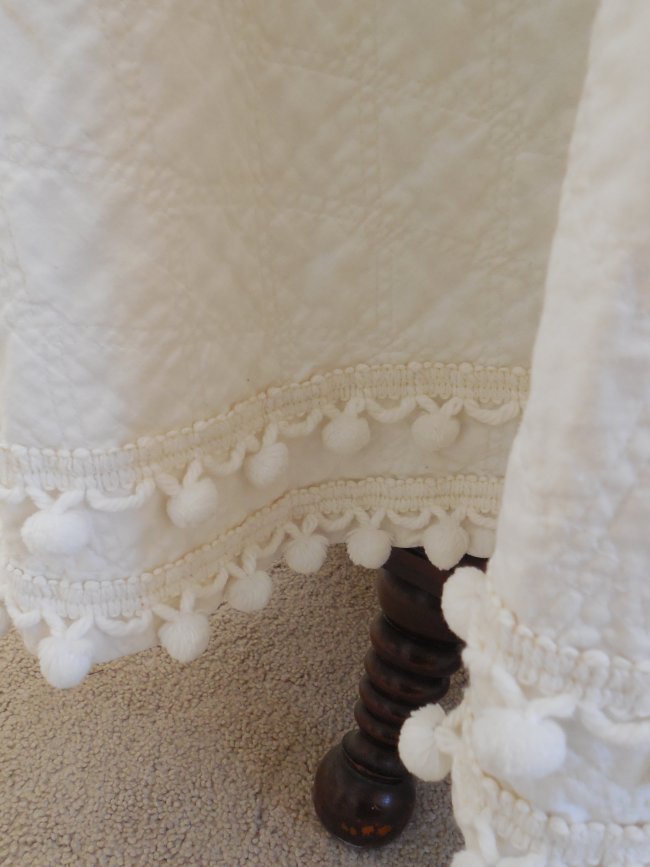 The place settings are simple and consist of the Dresden dinner plate on top of the purple glass chargers.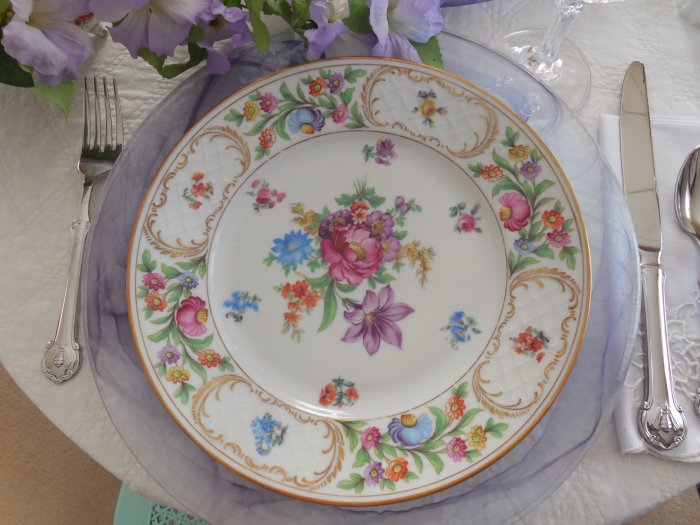 Glassware is a beautiful pair of lead crystal Longchamps goblets, made by Cristal D'Arques and, for me, a thrift store find.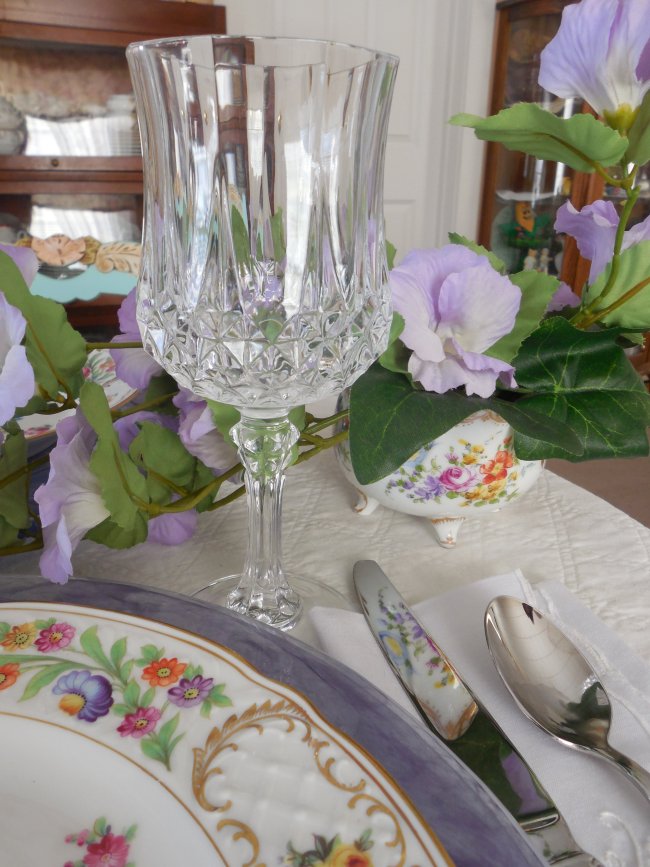 And, something new in the flatware collection! This is "Napoleon Bee" by Wallace – perfect for Springtime and the welcome return of our honeybee friends. Right now I only have two sets because I have been collecting them brand new at full price. I just love the sweet little bees!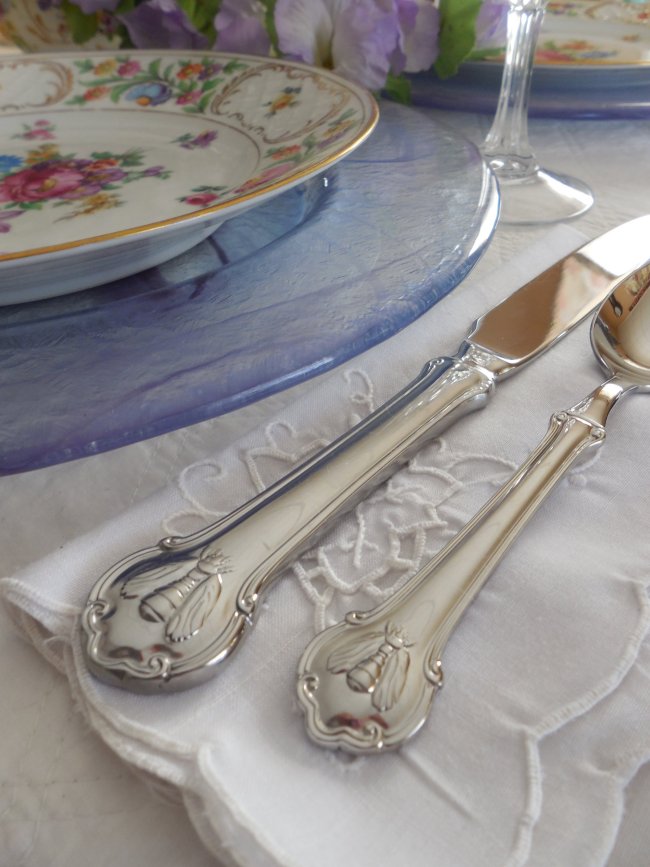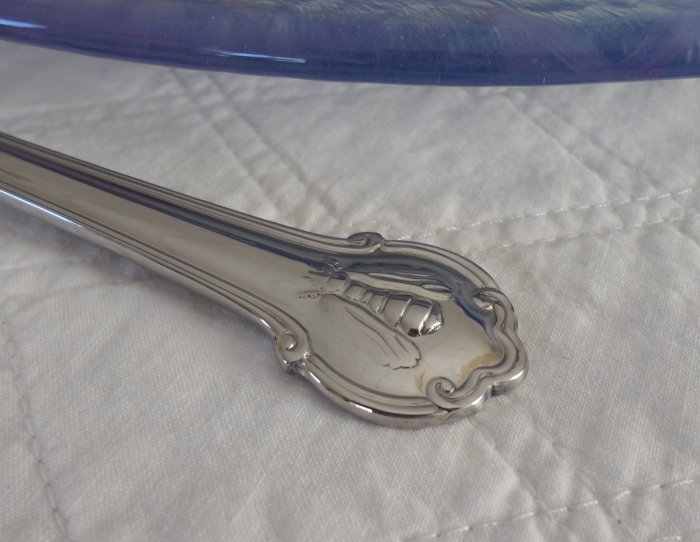 The centerpiece is very simple – some thrifted silk lavender-hued flowers and English ivy in a small footed bowl that echoes the design of the Dresden dinner plates.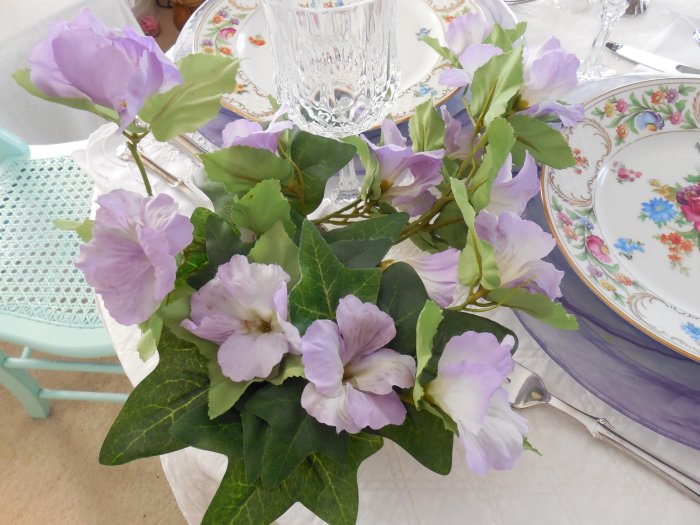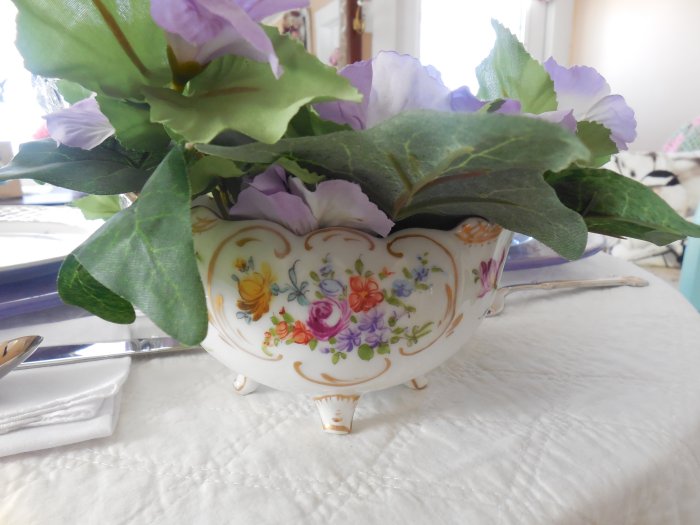 Here are a few more views of this pretty floral Springtime table for two…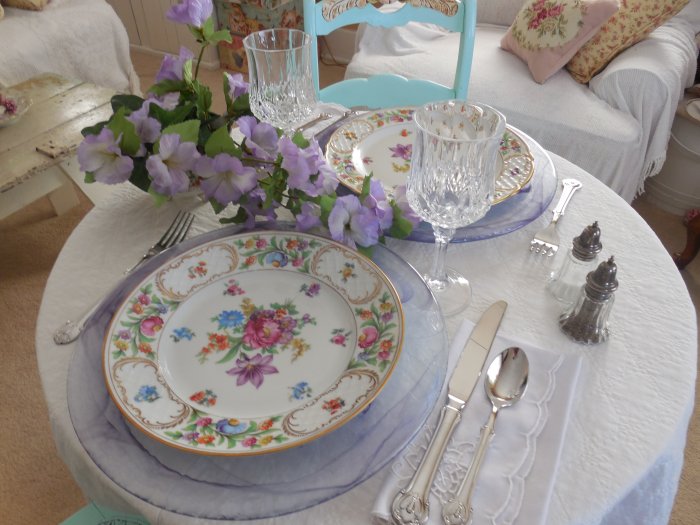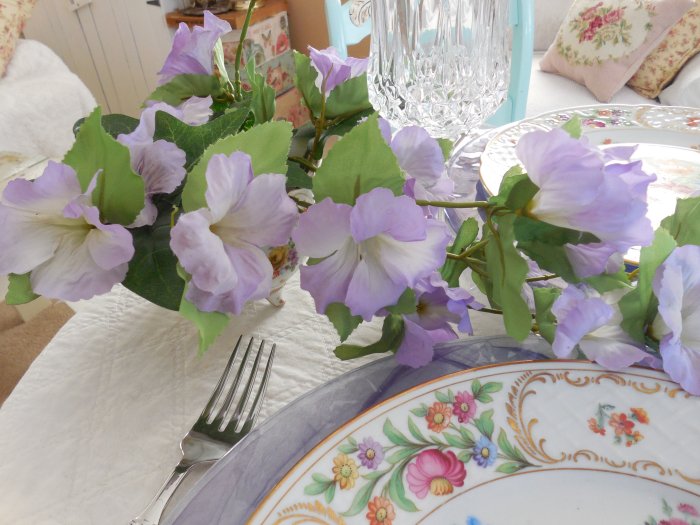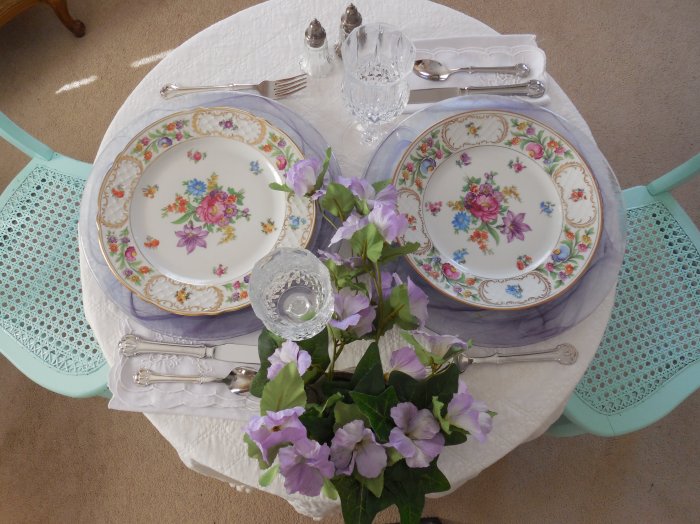 But guess what – no put-away shot this time, as I decided to leave this little tablescape set up even after putting the table back in its spot beside the comfy chair. It has become part of my Spring décor!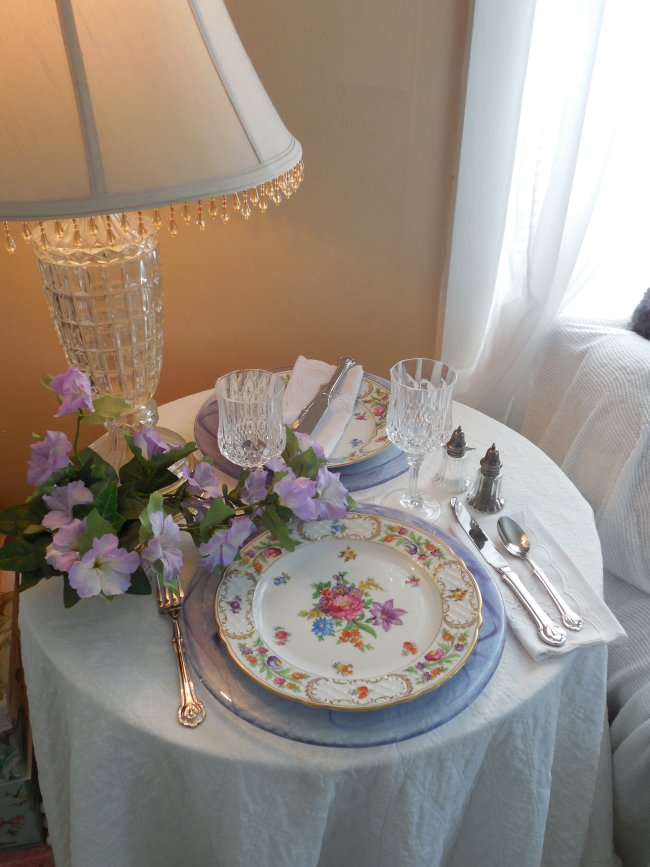 Here's an image for Pinterest in case you would like to Pin my Dresden table for future inspiration.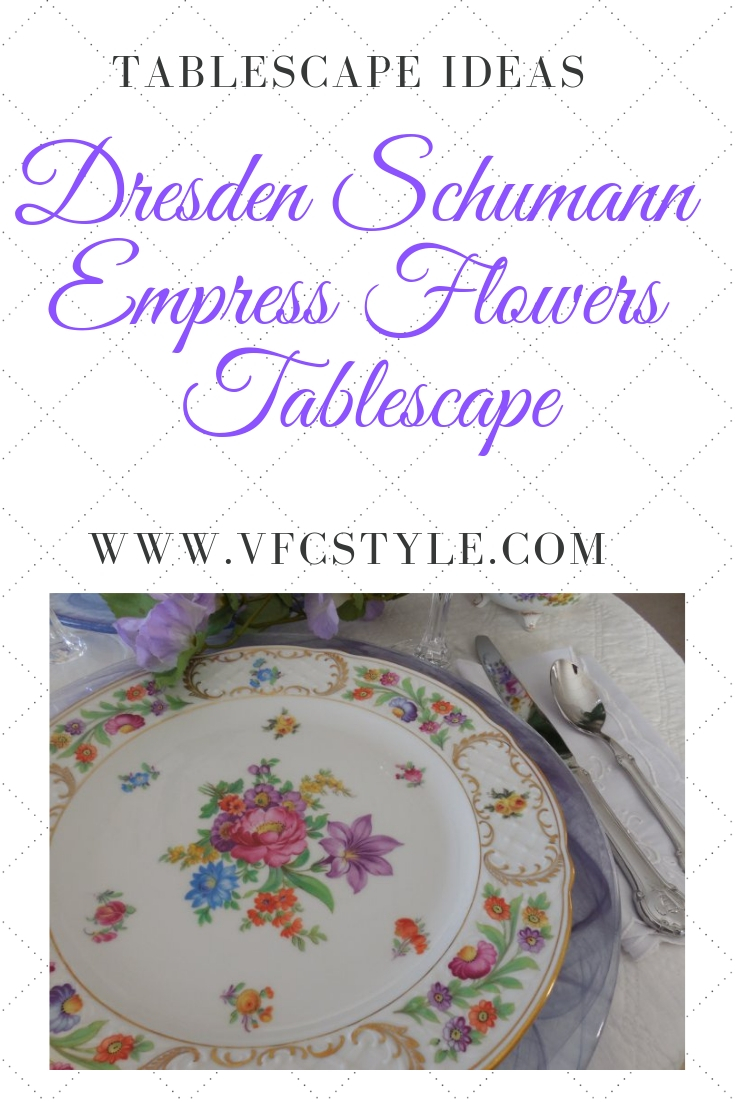 I'll be sharing my Springtime table for two on Tablescape Thursday over at Between Naps on the Porch.