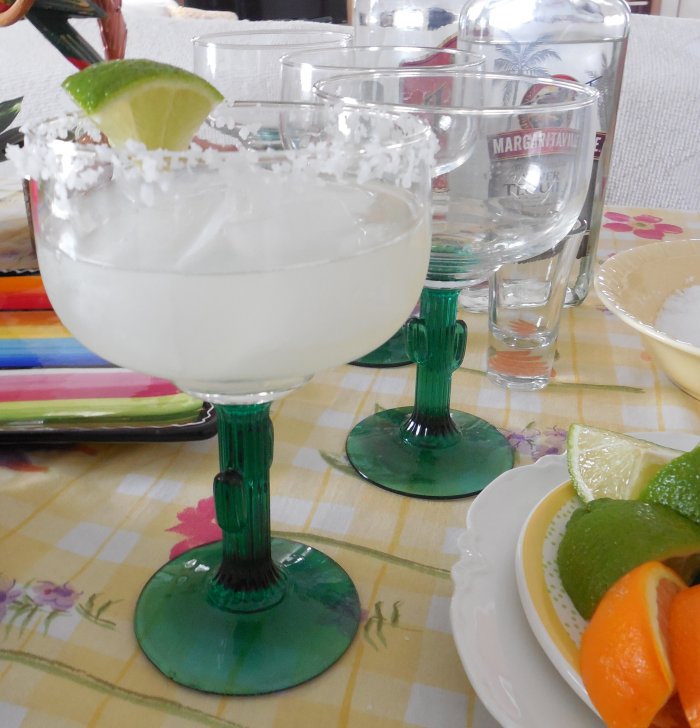 February 22 marks National Margarita Day, a holiday first declared in 1977 by singer Jimmy Buffett to drive sales of his just-released single, "Margaritaville."
Haha just kidding. But I don't think any mention of National Margarita Day can be made without also invoking the name of Mr. Buffett. Because I daresay that without this song, the humble Margarita would have languished forever as a second-rate regional cocktail instead of becoming the smash-hit, nationally beloved frozen concoction that helps us hang on1.
Apparently the origins of the Margarita cocktail are a bit murky, having been first created in the 1930's or 1940's, by a bartender yearning to fulfill the alcoholic needs of Ziegfeld showgirl Marjorie King, by a Texas socialite named Margaret Sames trying to impress her party guests (one of whom owned a major hotel chain at the time), or possibly by a young Brit named Margaret Thatcher while she was studying chemistry at Oxford.
ANYWAY, in honor of National Margarita Day, I have set a fun and festive walk-around buffet table. If I were to actually prepare the food for this gathering, it would most certainly include  chicken nachos, quesadillas, a kettle of boiled shrimp, and my own dessert concoction featuring tequila-soaked bananas set afire using a blow-torch2.
Plates used for this table are the gorgeous and colorful "Serape" by Certified International, which I originally used in a Cinco de Mayo table a couple of years ago. I love these plates because they coordinate so well with just about any bright color.  I have two dinner and two salad plates in this pattern – they are also wonderful as colorful serving pieces, which is how I'm using them here. They were a Goodwill find.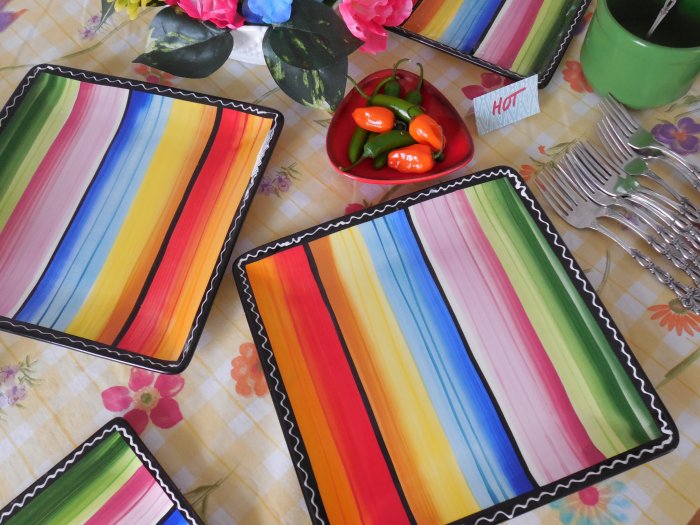 I've also set out my Dollar Tree margarita glasses with their seguaro cactus stems, some Oneida Chandelier flatware, and coordinating paper napkins in purple and green. The green mugs, which we'll use for salsa, are also from Dollar Tree. Our tablecloth is actually a full-size flat sheet. I like it because the colors and pattern work well with the plates without being overtly thematic.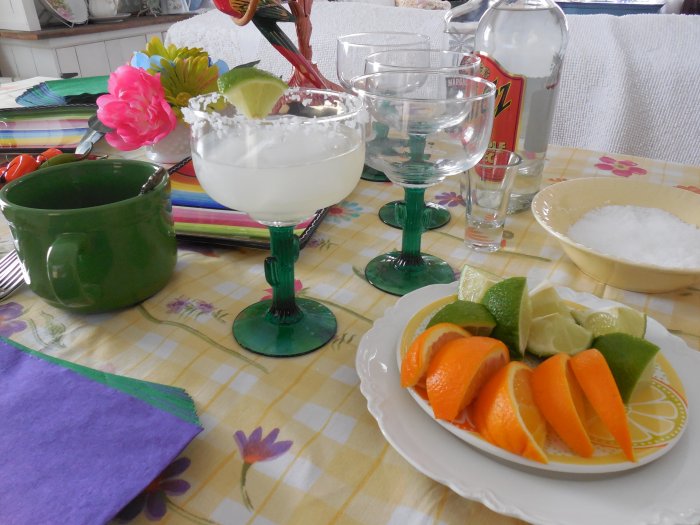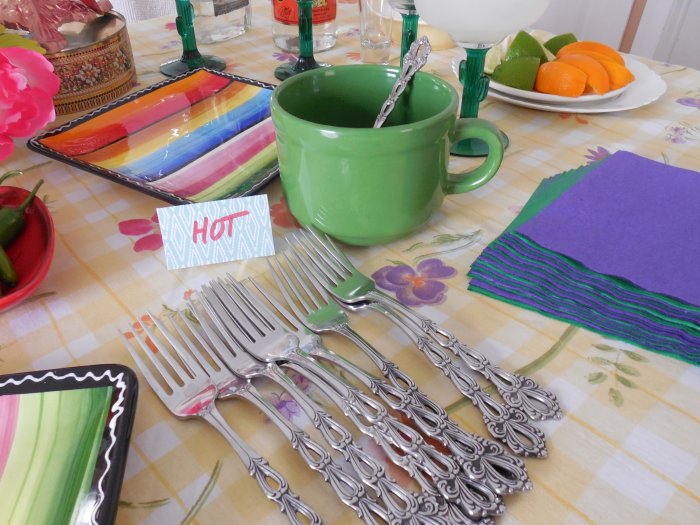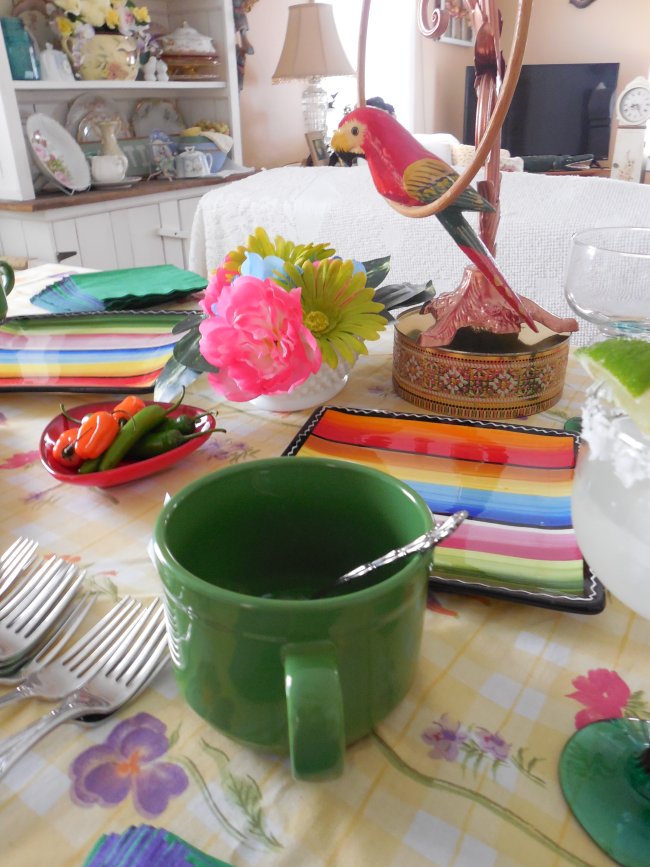 At this end of the table, I've set up a little mini-bar where you can make your own Margarita, complete with salt-dipped rim. (You will notice the brand name of the Tequila – indeed, the long arm of Mr. Buffett's Margaritaville empire reaches even into the farthest corners of my home bar.)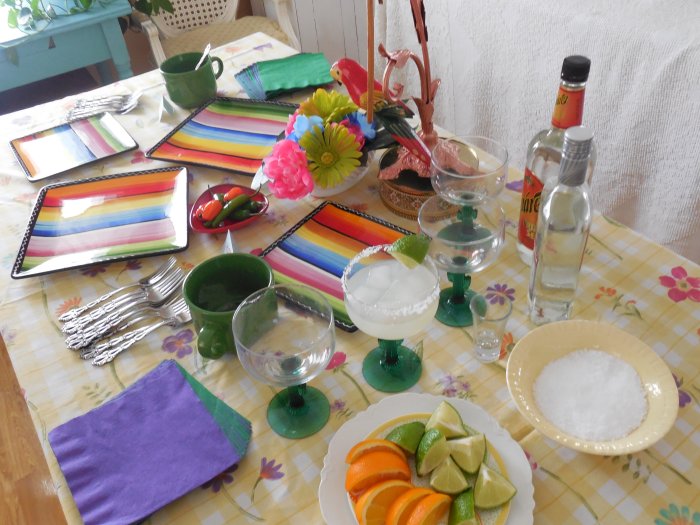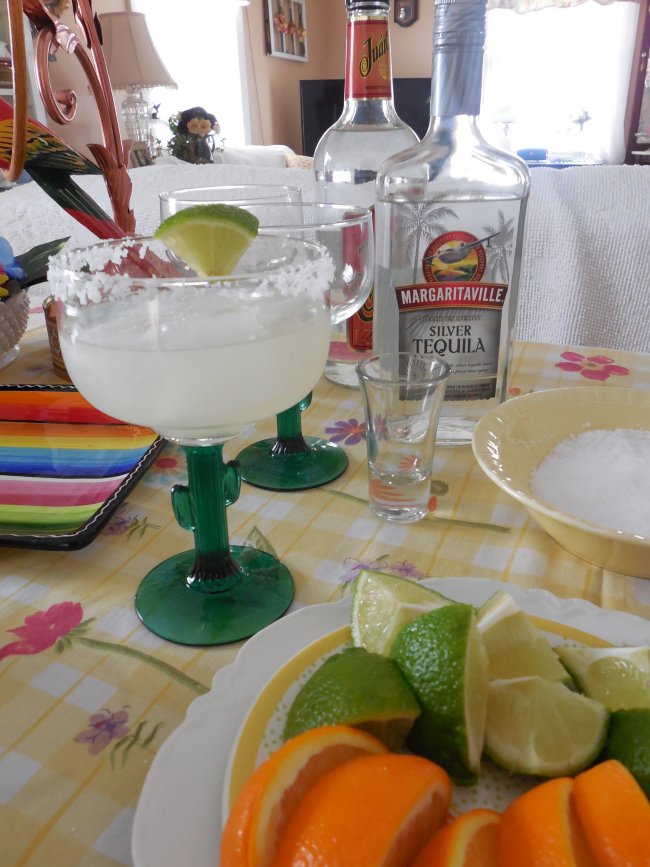 The festivities will be chaperoned by Wigglesworth, my bartending parrot. Wigglesworth was a garage sale find last year, and he normally supervises my designated weekly home-drinking date with Greg called Soco Poco Night. Wigglesworth's presence helps bridge the two sides of the Margarita universe: the Texas/Mexican origins of the cocktail, and its evolution into a Caribbean/Key West cultural icon which ensures its status as the legacy beverage of a generation.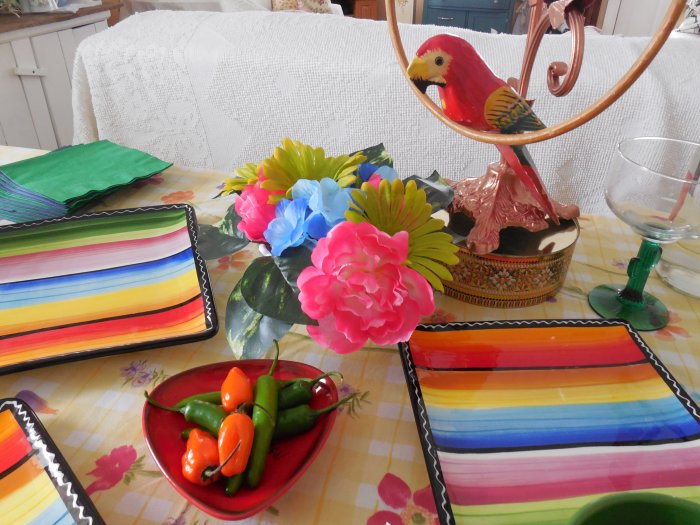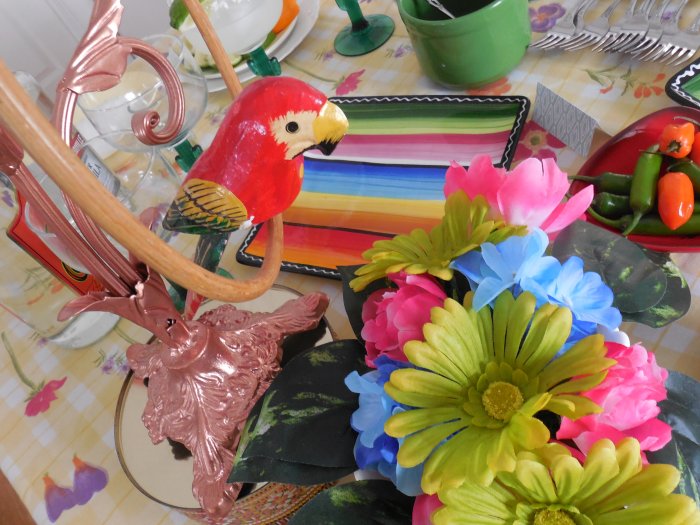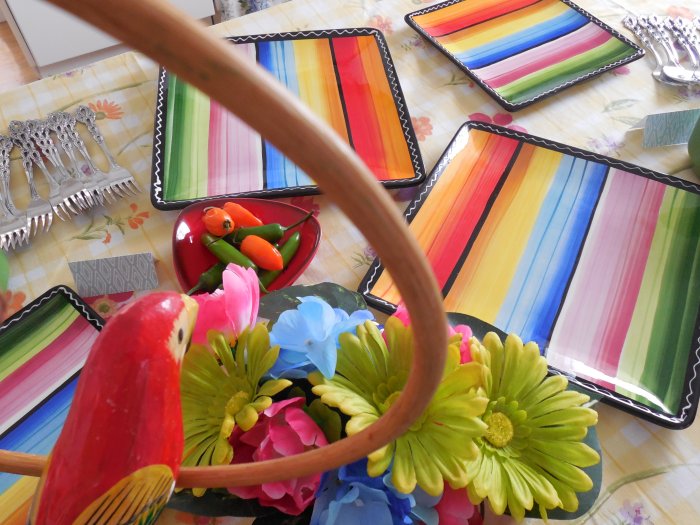 One thing I learned while setting this table: I did not understand at first how to cut lime wedges, so that's why they look like something one might choke on rather than actual decorative wedges.
So learn from my mistake: If you want to cut those pretty segmented slices, cut the fruit horizontally: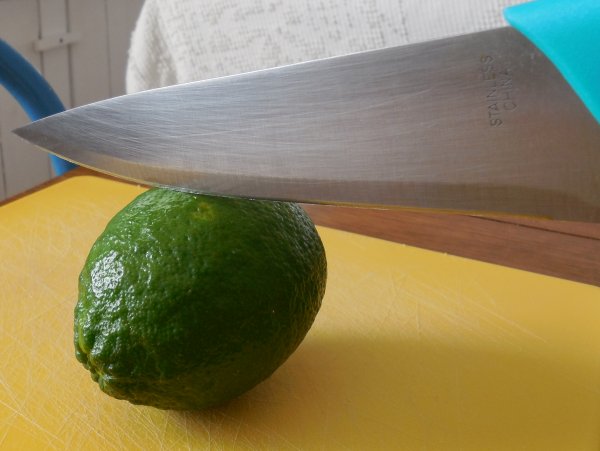 But if you want an actual wedge, cut from the top down:
You might also notice I put out orange wedges (cut properly). This is because an acquaintance recently told me about his friend who used to make his own tequila… this person stated that the best garnish for a Margarita was not lime, but rather orange.  I suspect this is because the other alcoholic ingredient in a Margarita is the orange liqueur called Triple Sec (or Cointreau, if you're a top-shelf person). So if you'd like to be daring and try an orange wedge instead of lime, feel free – Wigglesworth says he will look the other way… this time.
Now to close our celebration of National Margarita Day, I will offer this recipe for a classic "rocks" Margarita which I found online and really liked. (I normally drink strawberry margaritas, which are blended, and don't particularly like the traditional version. But this one was good – I think because of the added sweetness.) This recipe is from The Cookful.
Kosher Salt (or "margarita salt")
2 oz Tequila
1-1/2 oz lime juice
1/2 oz simple syrup
1/2 oz Triple Sec
Salt the rim of your glass with the kosher salt. (Scream "Salt! Where's the salt? Where's the god-damn salt?" as you do this. It adds an element of psychosis to the proceedings, and pleases Mr. Buffett.) Add ice cubes to a cocktail shaker, add the remaining ingredients, and shake well for about 10 seconds. Add ice cubes to your glass, and pour the mixture over the ice. Garnish with lime or orange slices or wedges.
Here are a few more views around the table! (The peppers, by the way, are for color only – not for eating. The green ones are jalapeno, and the orange ones are Habaneros. And no, I did not handle the Habaneros with my bare hands.)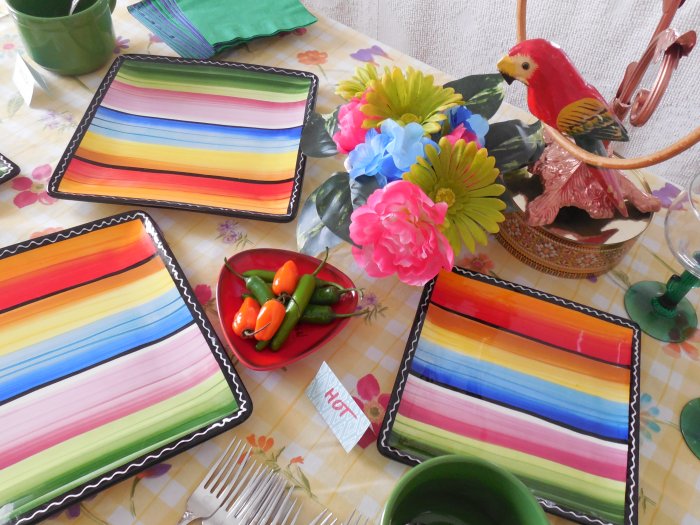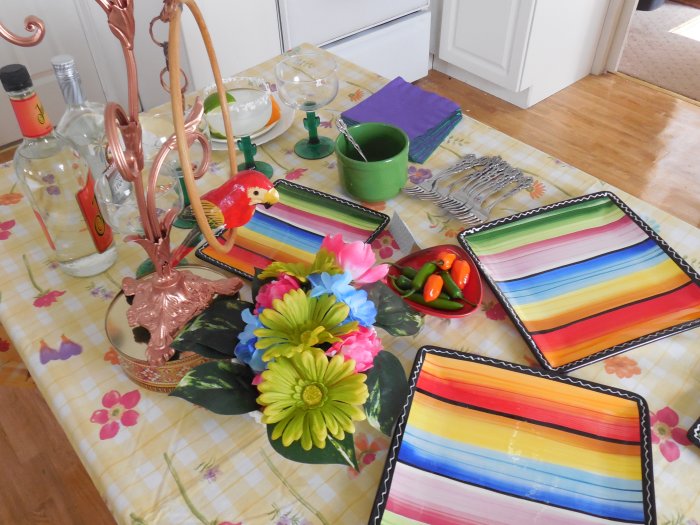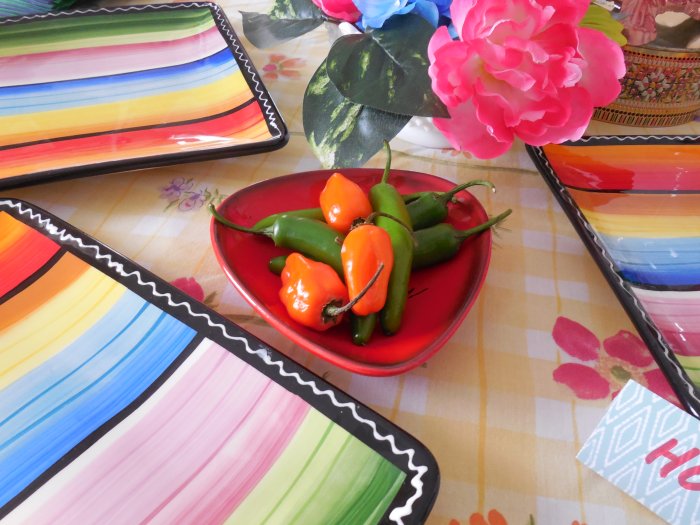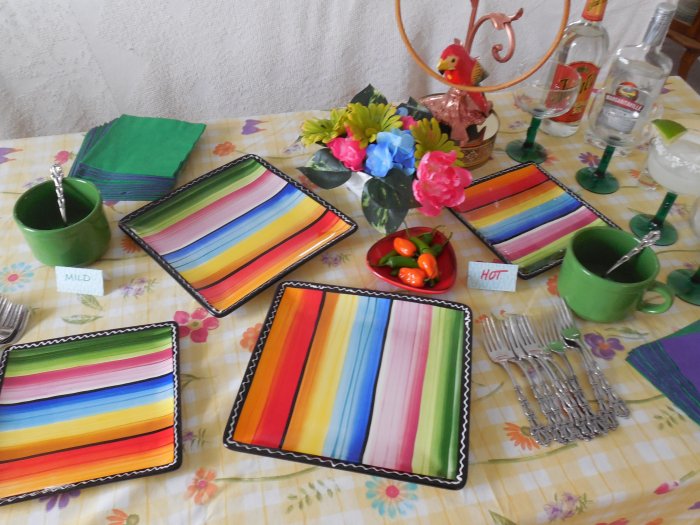 And of course, the put-away shot!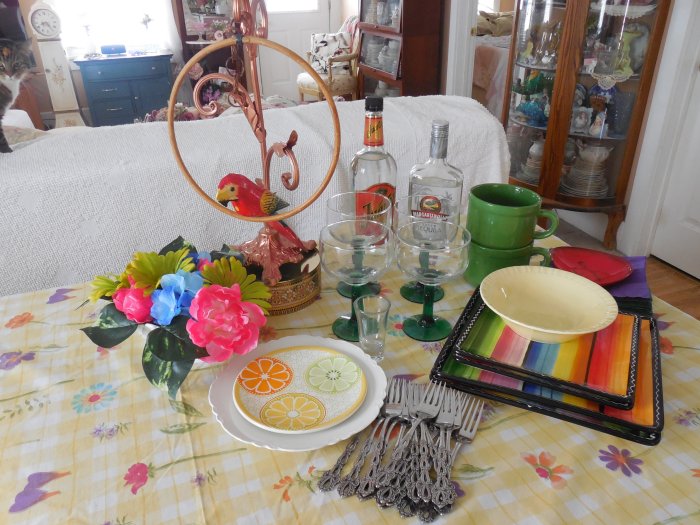 I'm sharing this post over at Tablescape Thursday on Susan's lovely blog, Between Naps on the Porch! Here's an image for Pinning on Pinterest if you would like to save this table for future ideas: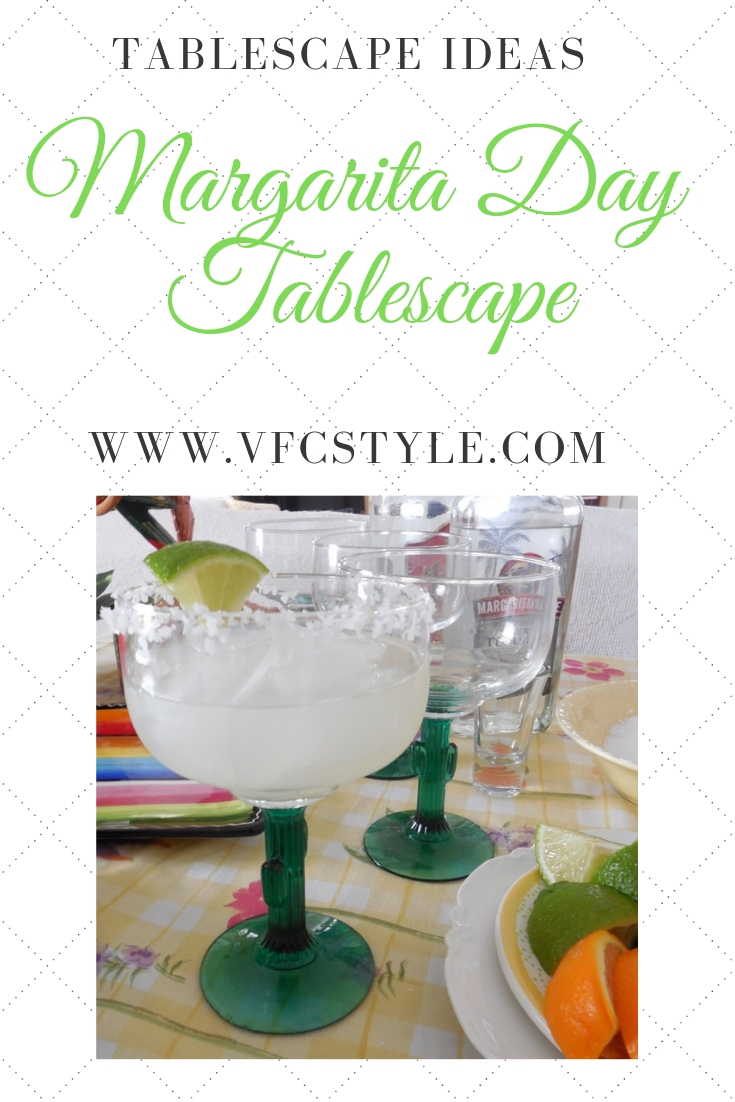 1Can you imagine being a young pop singer in the mid-1970's, having a runaway soft-rock hit with a song about an alcoholic drink, and then banking your entire future on the concept of your song… and succeeding beyond your wildest dreams? I mean who has this kind of luck? Certainly not Roger Wilton, whose 1974 song "Fuzzy Navel Nightmare" pre-dated "Margaritaville" by three years but only debuted at #71 on the Billboard "Hot 100" charts and plummeted from there. (To be fair, this tune was a bit darker and actually did reach #16 for a week over in the UK, but not until 1978 when Johnny Rotten picked it up and did a much more explicit version with the Sex Pistols, the live performance for which involved injecting peach schnapps directly into his veins on stage. But I digress.)
2I literally just now got up from writing this post, poured a shot of tequila, and attempted to set it on fire with that thing I use to light the barbecue grill. Alas, my tequila did not burn, which is why my Bananas Tequila Flambe is not technically a flambe. Where is Margaret Thatcher when you need her chemistry expertise?