I am not sure how Punxatawney, Pennsylvania came to be crowned as the epicenter of Groundhog Day, or why they named their "official" sleeping rodent Phil instead of Pete (because let's face it, "Pete" is true alliteration with Punxatawney, whereas "Phil" merely starts with a P but makes a completely different sound… but I digress, already…) BUT the fact remains that this year, Punxatawney Phil predicted an early Spring. And as much as I am reluctant to trust a large sleepy rodent with meteorological data, it seems he has just as much chance of being right as our actual weatherman. SO – "early Spring" it is, and for me that means right now. Yep, Winter is over, and it's Spring. This early part of Spring is always cold and snowy, so we will ignore that and trust that underneath the snow, daffodils and crocuses are just about ready to pop out of the ground!
A change in seasons is always a good reason to set a pretty table (in case we need a reason besides dishes!) so today I'm sharing an early Spring table in the softest pastels and florals.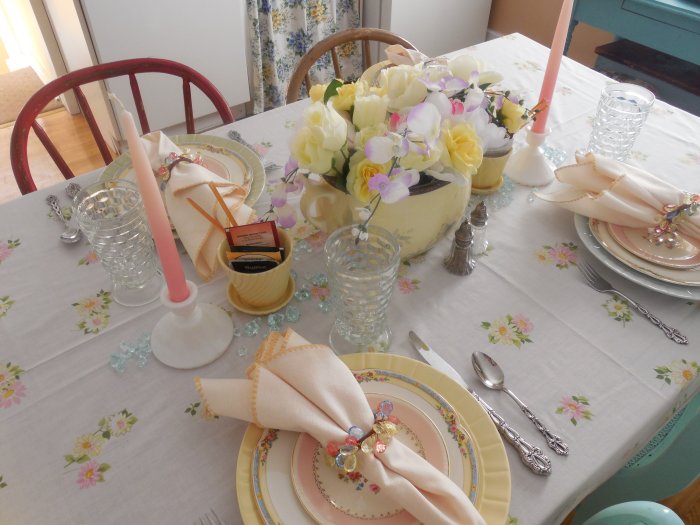 Right now the dinner plates I am using for my daily meals are a pattern by Martha Stewart Everyday (MSE) which features kind of a sculpted "box pleat" ruffle and a band of basketweave around the edge. I have them in yellow, green, and blue.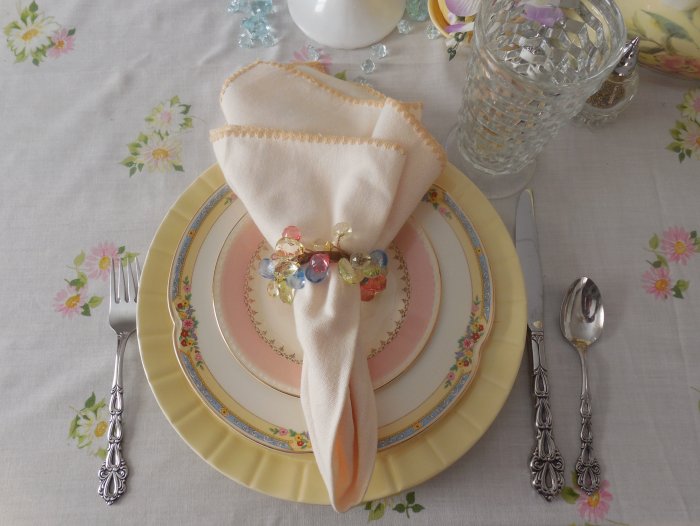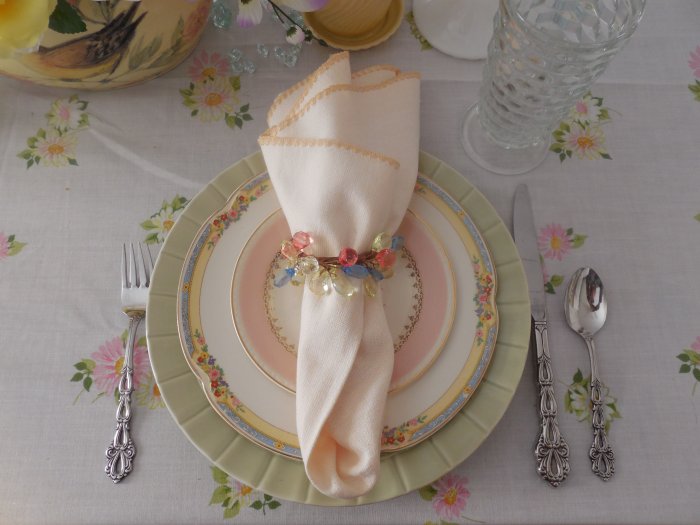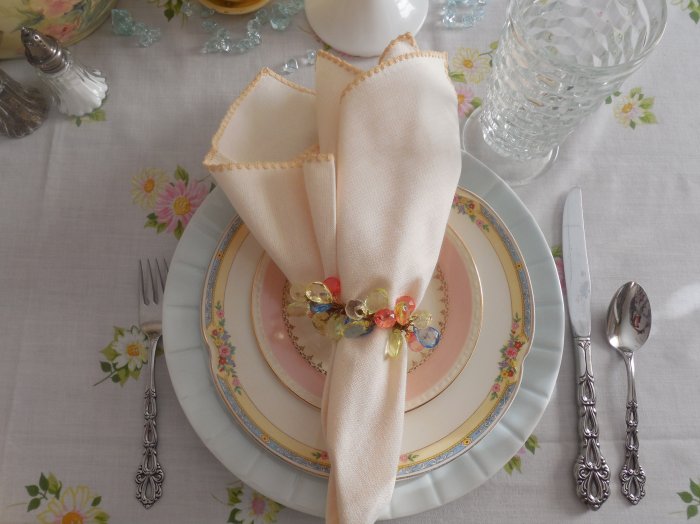 For this table I have set them with salad plates by Johnson Brothers of England called "The Cambridge," and dessert plates by Homer Laughlin in Georgian Eggshell "Marilyn."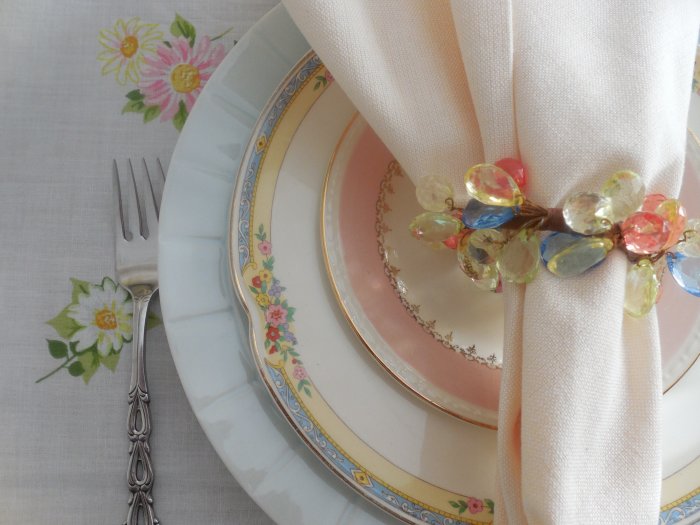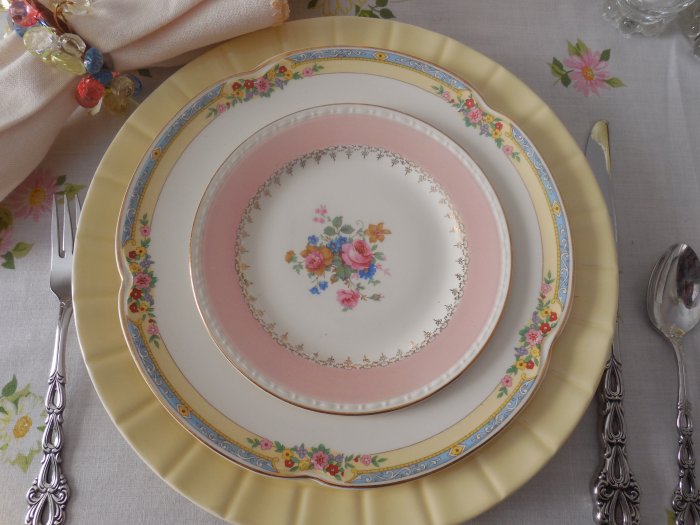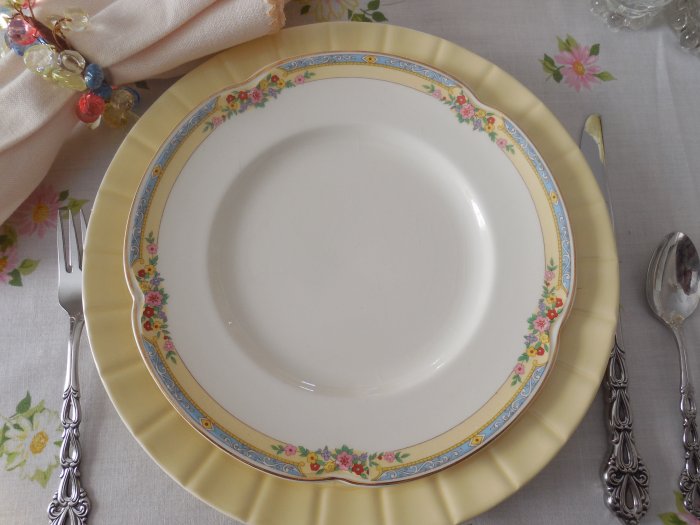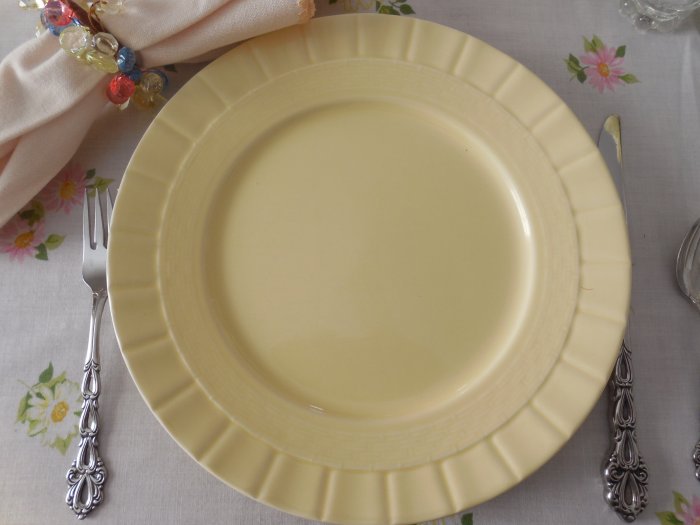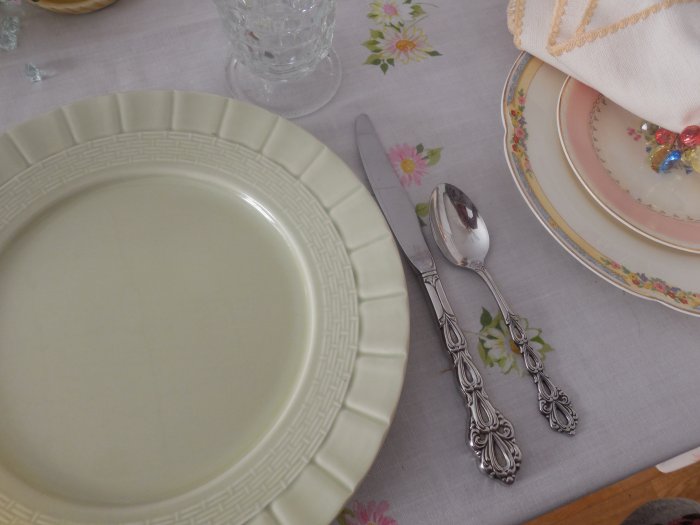 The tablecloth I used is actually a full-size flat sheet – it has the prettiest detailed edge, and the main surface area has a simple all-over floral design.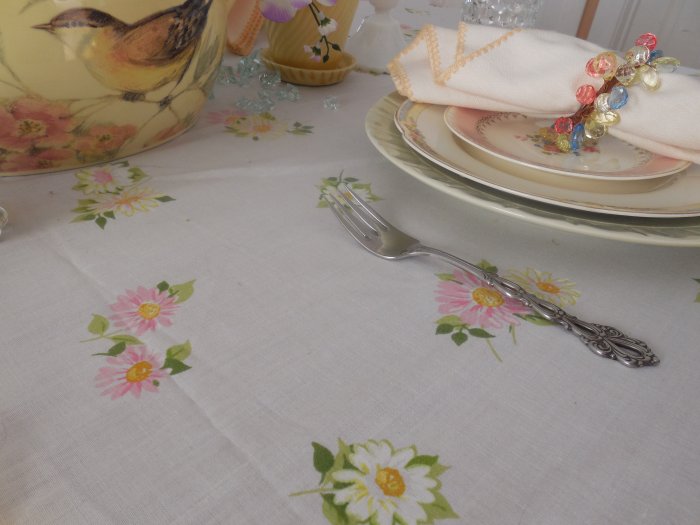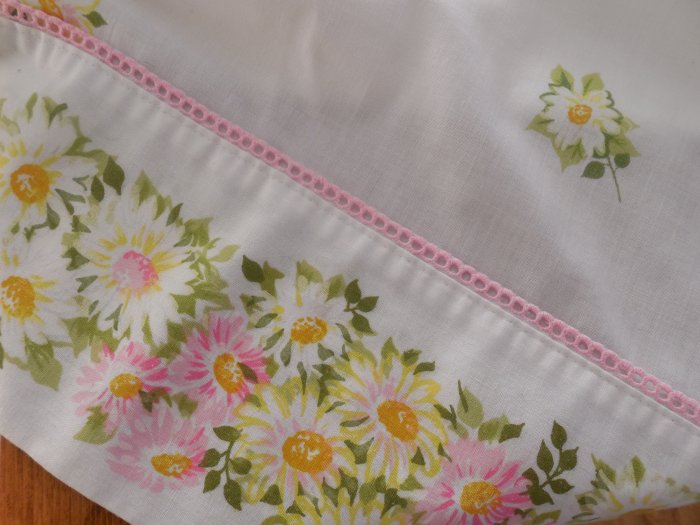 Napkins are palest yellow from Pier 1, and the napkin rings are beaded in the soft pastel versions of primary colors – perfect with this table, and on clearance at Bed, Bath & Beyond a couple of years ago.
Flatware is my everyday Oneida "Chandelier," and glassware is my often-used Whitehall in crystal by Indiana Glass.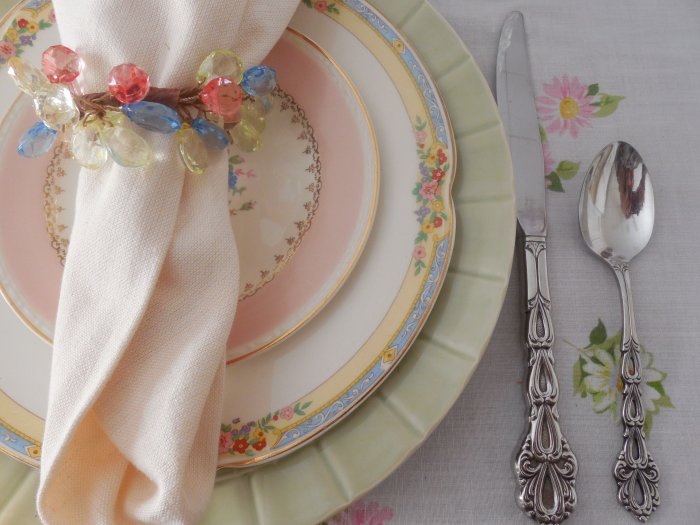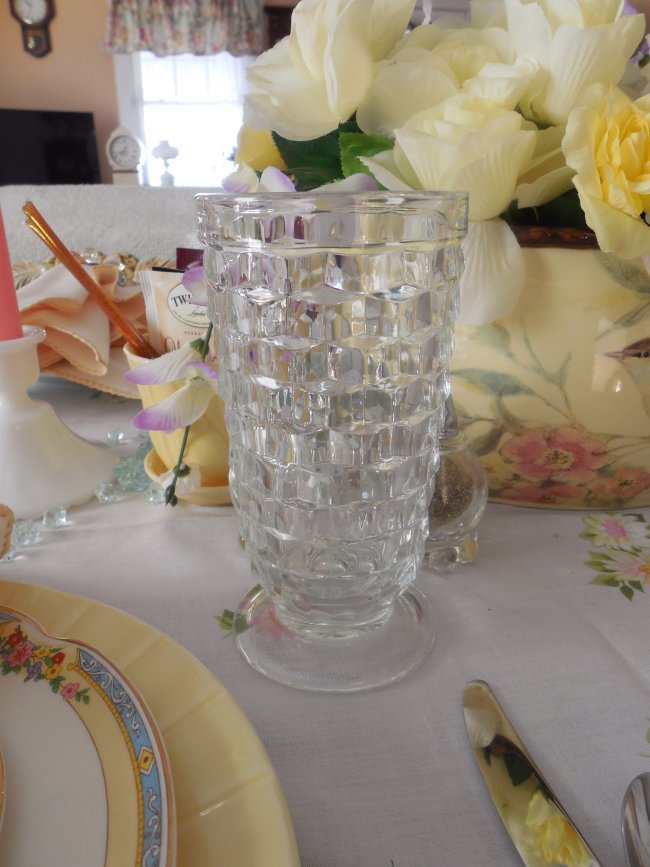 I especially loved this combination using the yellow MSE plate, so I decided to use my new-to-me (aka "secondhand") Susan Winget "Somerset Song" bean pot as the centerpiece. This piece was a wonderful bargain I found in the occasional shop run by my friend Traci of The Shabby Nest. It's not just decorative, it is dishwasher-, microwave-, and oven-safe – so it is a cooking vessel as well as being a beautiful lidded ceramic piece. I filled it with soft yellow roses and other pastel florals from Dollar Tree.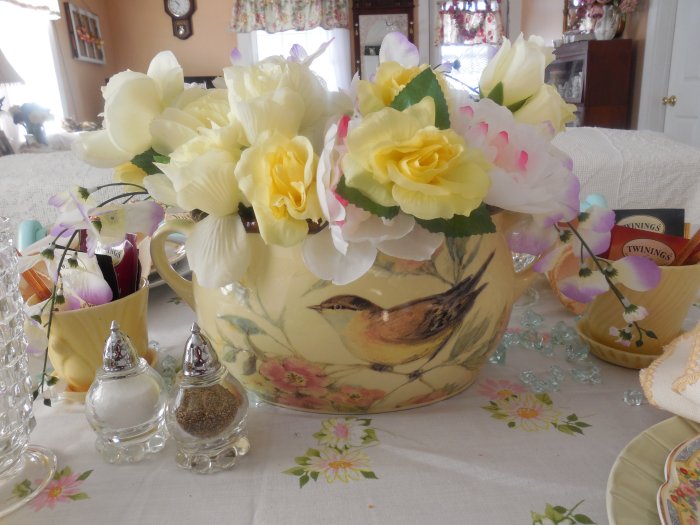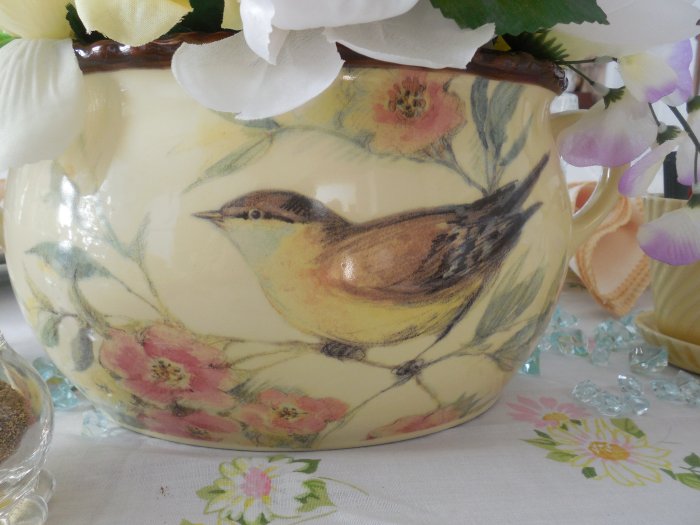 Also part of the centerpiece are these sweet McCoy pottery planters, each stuffed with honey sticks and a selection of tea for enjoying a bit later, a pair of milk glass candle holders, and pale pink tapers by PartyLite.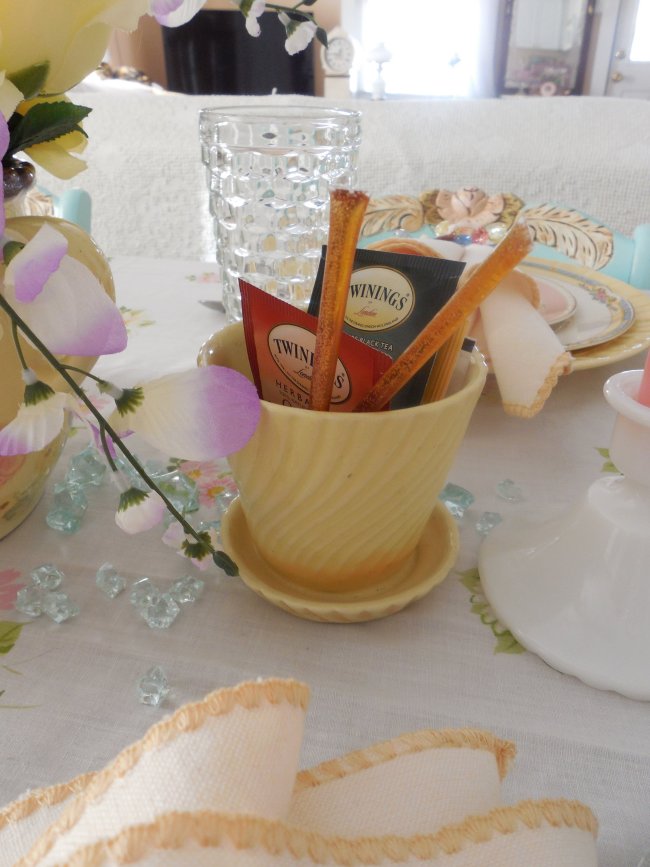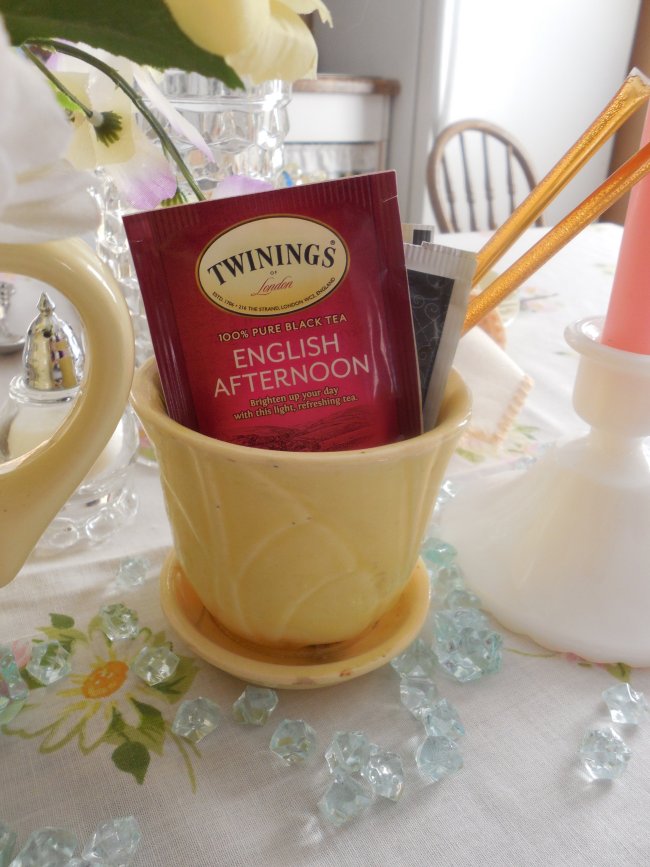 And, because we are admitting that it is still a bit snowy and wintery outside, I've also tossed down some ice-blue table scatter (used in my Ice Princess Table a year ago), just to carry through the pastel blue.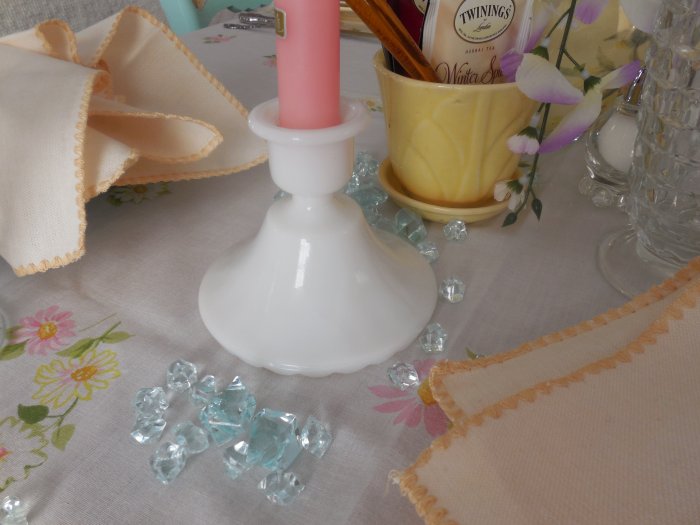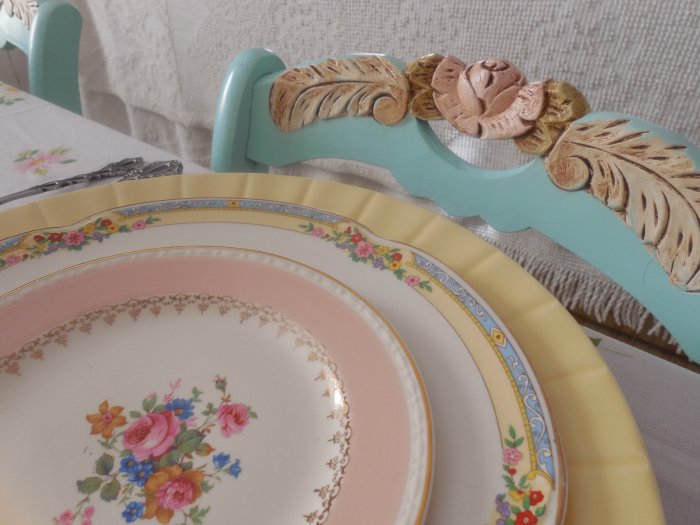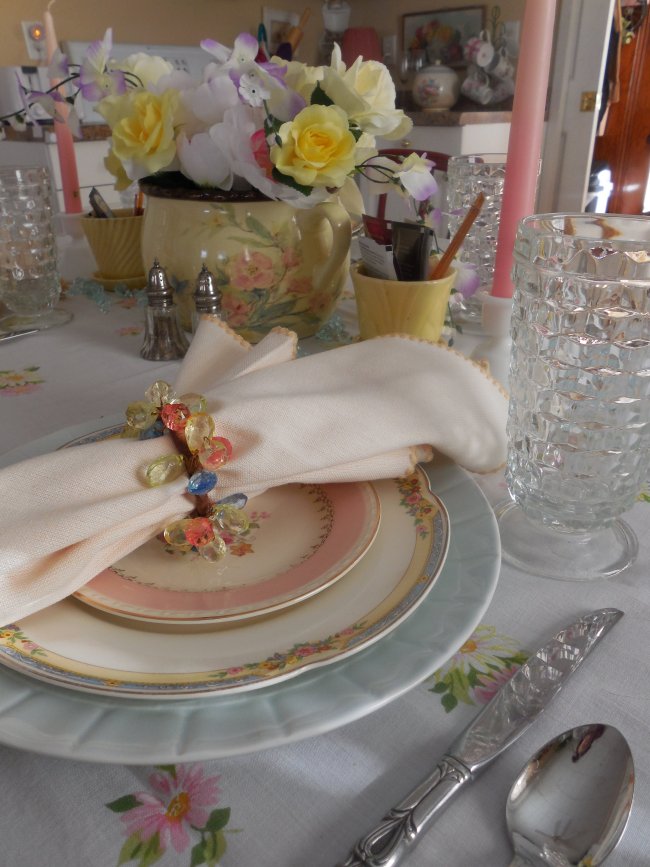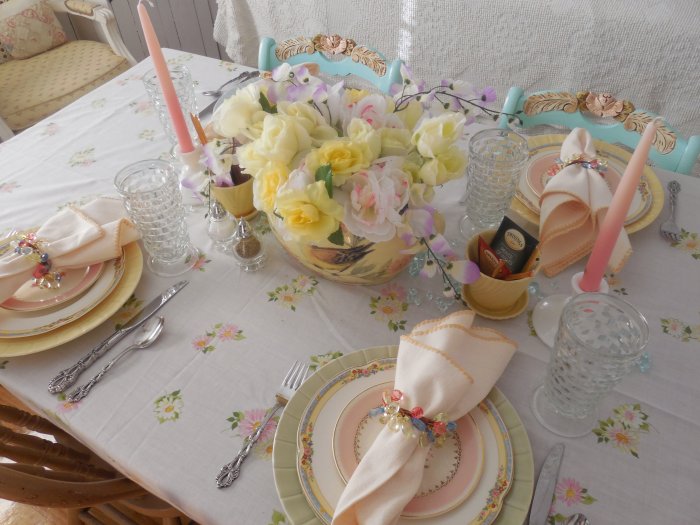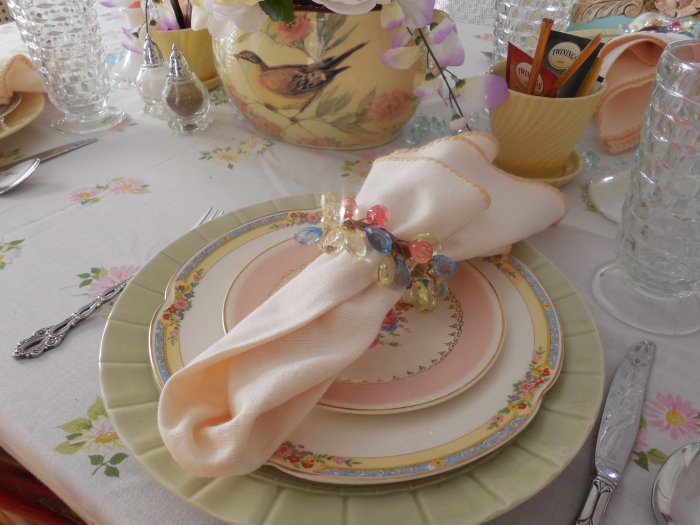 Here's a birds-eye view just for fun! I daresay any tablescaper will tell you that it's worth the risk of falling off the step-stool to get this shot!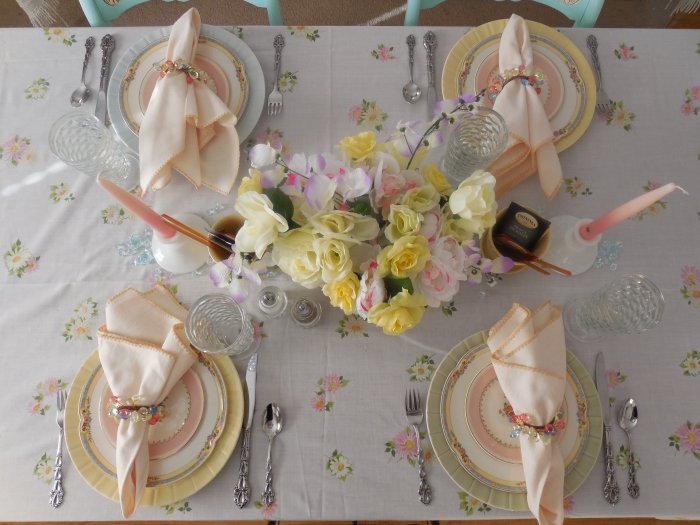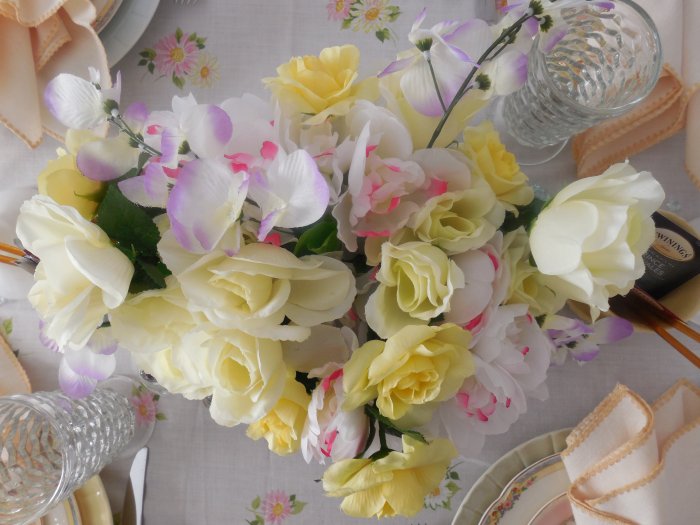 As always, I like to include a "put-away shot" showing all the elements gathered up and ready to go back into the cupboards – items that look good together on the table always make for a pretty photo, as if to say, "Oh hi, here we are just hanging out and looking fabulous."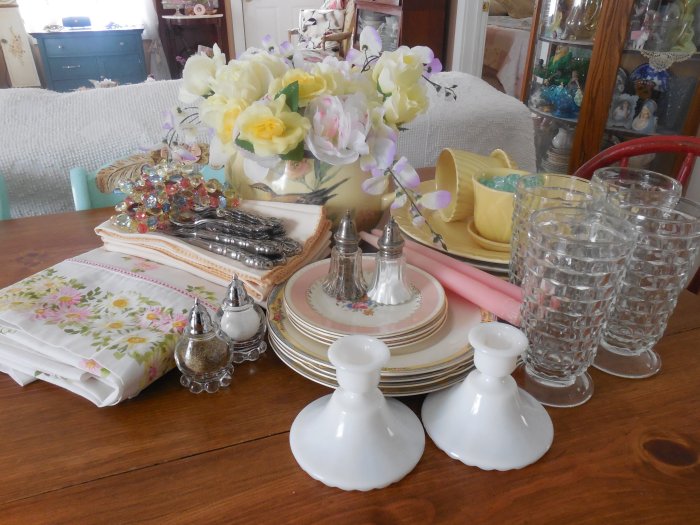 Here is an image for Pinterest in case you would like to save this Early Spring Pastel Table for future reference: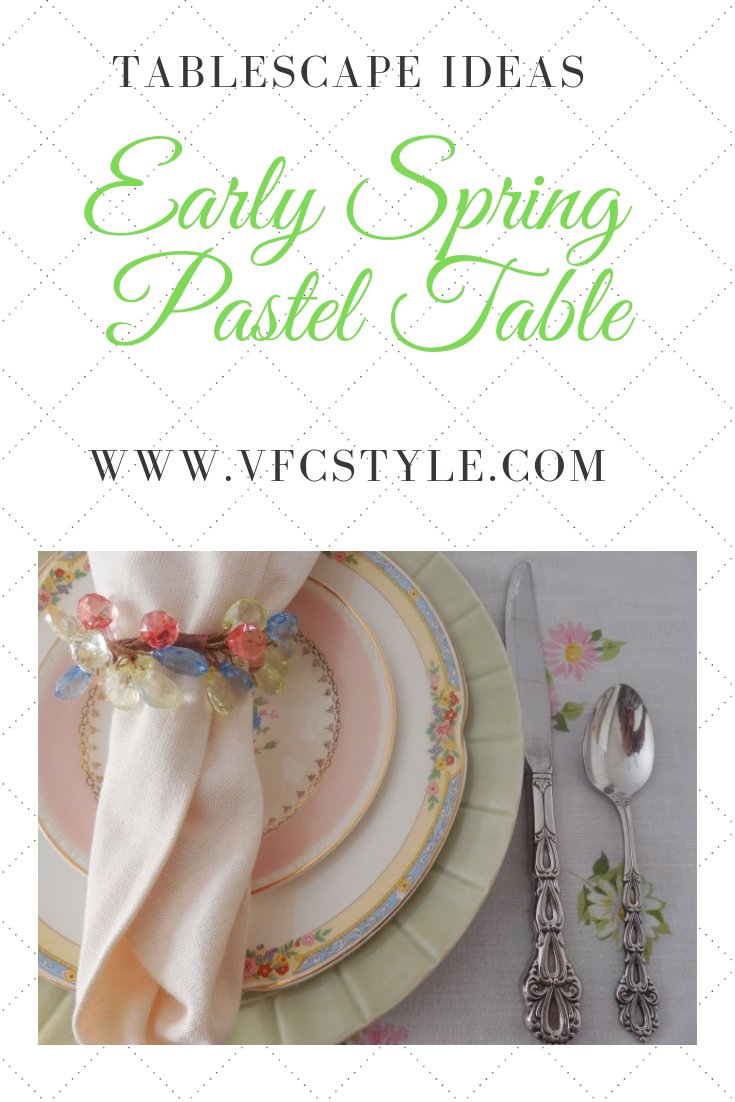 I'm sharing my early Spring pastel table over at Tablescape Thursday on Susan's blog, Between Naps on the Porch!