First things first: happy Star Wars Day! May the Fourth Be With You!
Friends, I can't tell you how excited I am about today's post, and the reason is this beauty right here: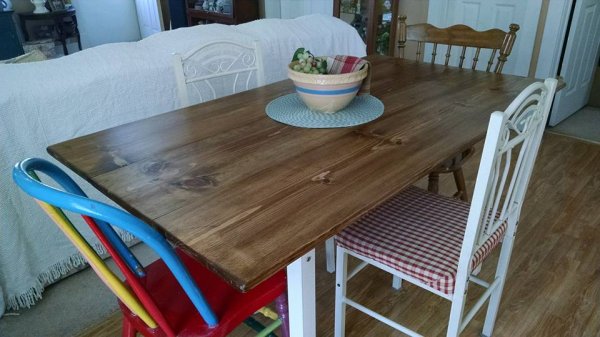 My new harvest-style tabletop!
With the new tabletop, I finally have enough room to try my hand at designing and setting beautiful tables: tablescaping!
Well this past Saturday was cold, rainy, and horrible – a great day to stay inside and play with the dishes, which is just what I did. After pulling nearly every dish out of every cupboard and carefully considering my options, I knew there was only one theme I could go with for this particular week: Cinco de Mayo! (Bet you didn't see that one coming!)
You see, I had these amazing dishes that I acquired at Goodwill a few months ago, which soooo reminded me of those colorful Mexican blankets… and turns out, for good reason: those blankets and these dishes are both called Serape! Here's the table I styled for Cinco de Mayo: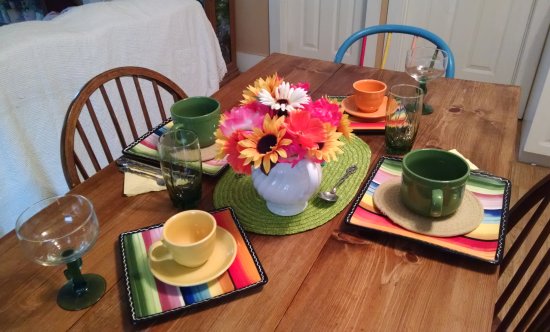 I mean, seriously – TELL ME YOU HEAR THE MARIACHI MUSIC? (or at least "La Cucaracha?")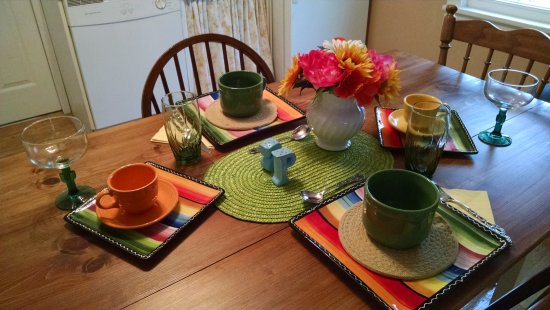 Here's a closer look at a place setting – ready for tortilla soup in a green crock from Dollar Tree, followed by… well something authentically Mexican.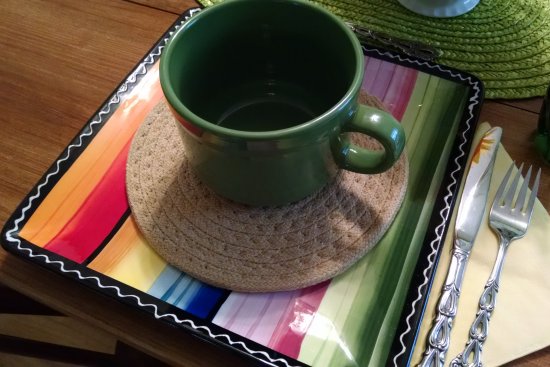 And HERE is a better look at these gorgeous square plates! They are so different from anything else I own, but they were absolute show-stoppers sitting on the shelf at Goodwill and I could. Not. Resist. I practiced self-control by only purchasing two dinner plates and two salad plates, though there were EIGHT of each on the shelf! This is the larger dinner plate: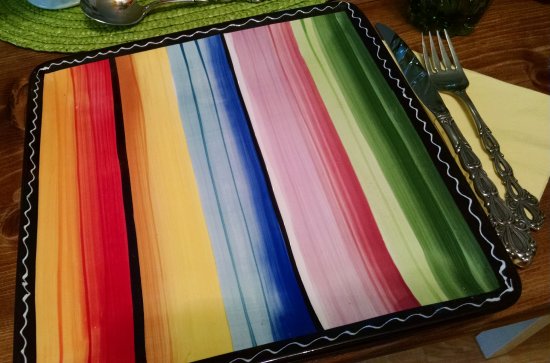 And I've used the salad plates for dessert off to the right, each set with – what else – a Fiesta coffee mug.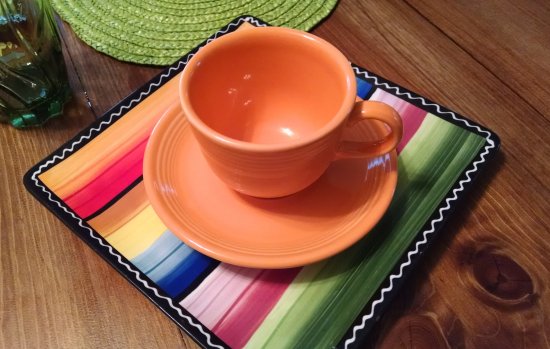 One thing I love about this table is that I was able to use so many colors, but it all works because all those colors are pulled right from the square plates! From the coffee cups…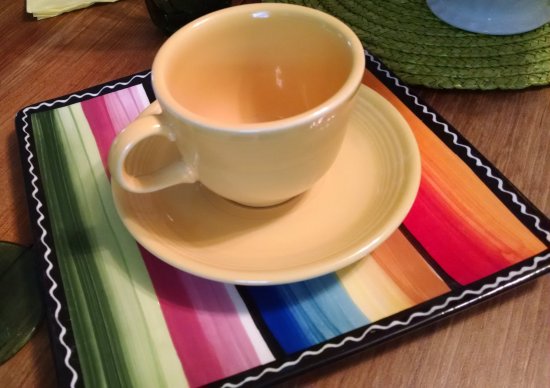 … to the soup mugs…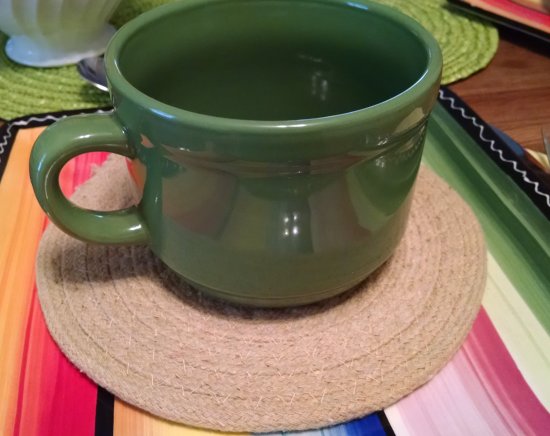 … to the water tumbler…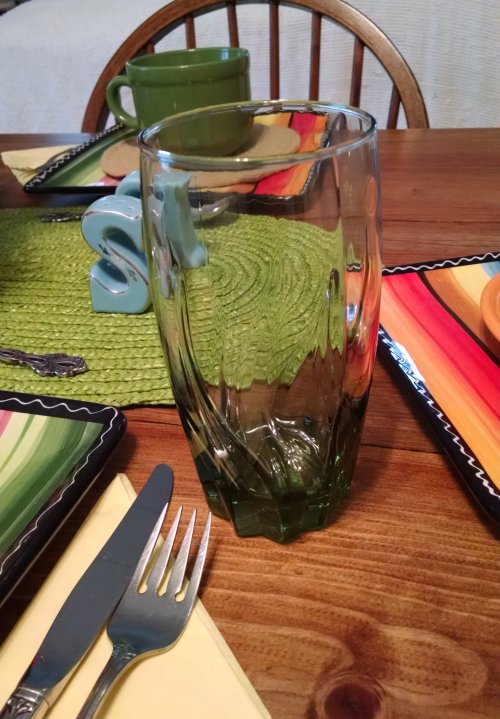 … to the paper napkins! (Yes, paper – we haven't quite graduated to cloth napkins around here yet. Baby steps, people, baby steps…)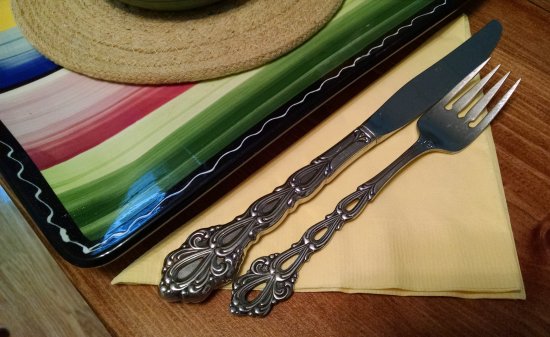 The flatware, by the way, is my everyday Oneida "Chandelier," which was the set my great-Aunt used to use for family dinners when I was growing up.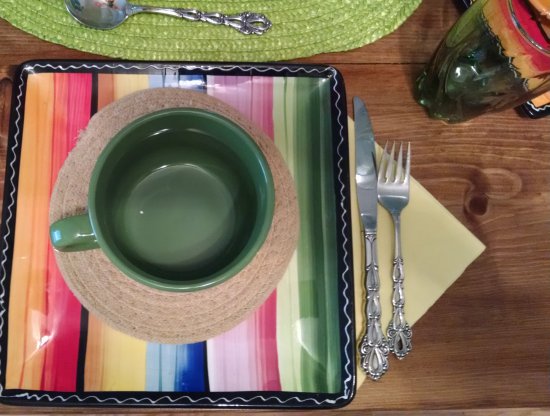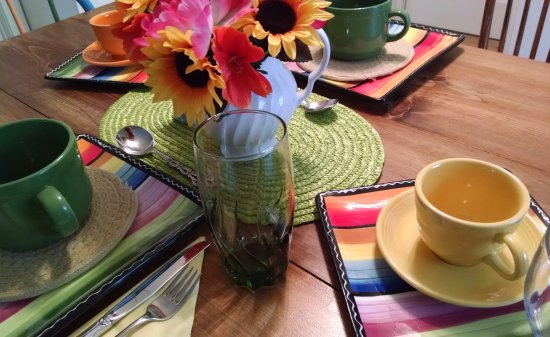 Of course, we also have to enjoy a pretty centerpiece pulling its colors from those Serape plates…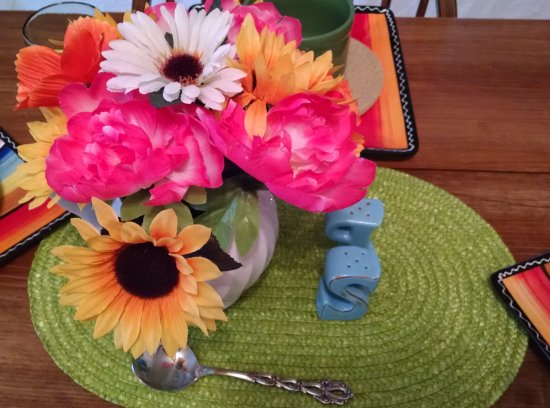 … and our lunch would not be complete if we didn't celebrate with margaritas in these cute seguaro glasses also from Dollar Tree: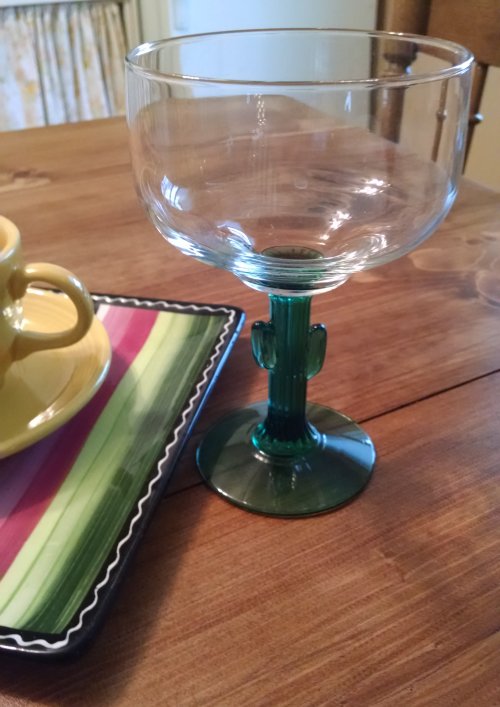 NOW can you hear the mariachi music? I know I can!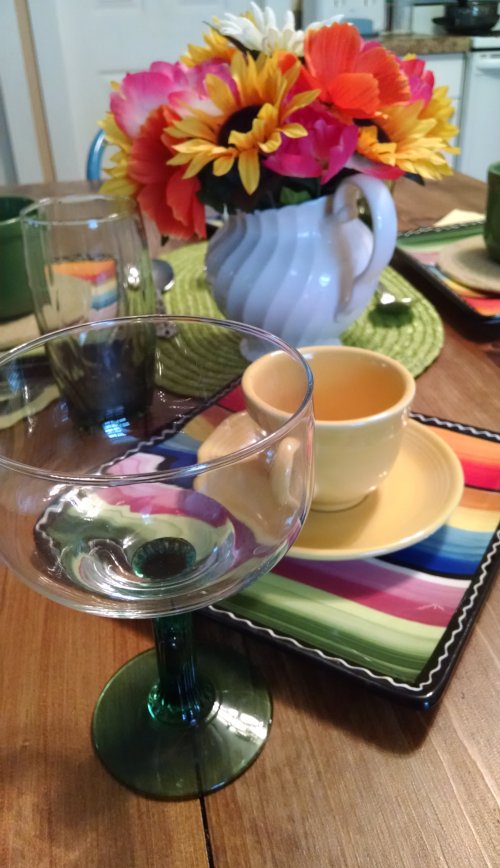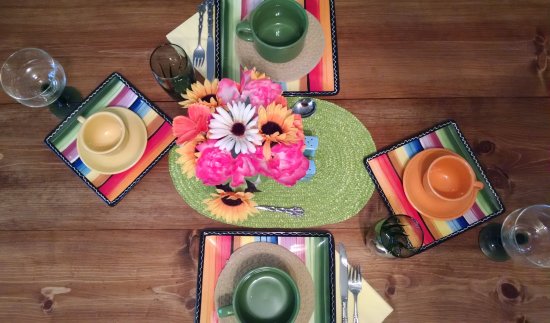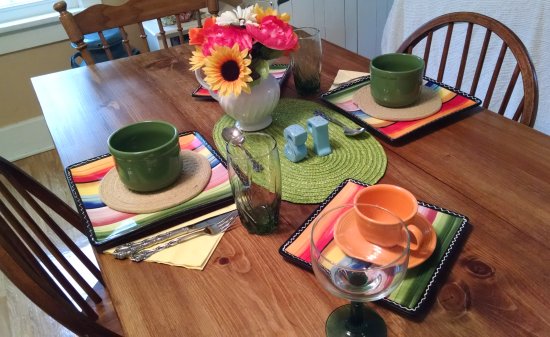 Happy Cinco de Mayo!
I'll be sharing my Cinco de Mayo table for Tablescape Thursday at Between Naps on the Porch!
Here's a Pin-able image for the Cinco de Mayo tablescape!