Welcome back to my blog series, Tablescaping 101! In Part 1 we looked at the correct way to set a basic place setting for both casual and formal dinners. In Part 2 we learned some strategies for planning a tablescape so you don't find yourself missing key elements when you go to create your design. And, I shared a link to the free Tablescaper's Checklist to aid in your planning! (Because one time? I set a pretty table for Christmas Day and found that I had given absolutely no thought at all to a centerpiece – yikes!)

Today in Part 3 of the series, we're going to look at layering dishes – or as I call it, "building the stack."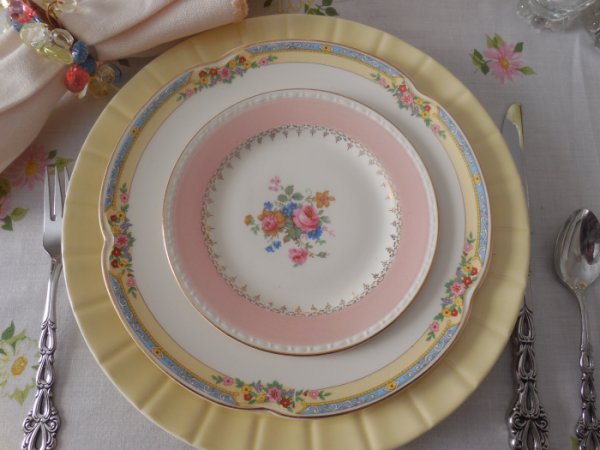 The stack is the collection of plates used at each place setting on your table. For me, creating the stack is one of the most creative aspects of tablescaping! It's one of the things that elevates this activity from simply "setting the table" to the art of "tablescaping." My enthusiasm for creating the stack is also why I have such a large collection of seemingly random dinnerware: if I come across some fun or pretty or unusual dinner or salad plates at Goodwill and the price is right, I buy them because I trust I already have something on hand at home that will coordinate with them in a great stack!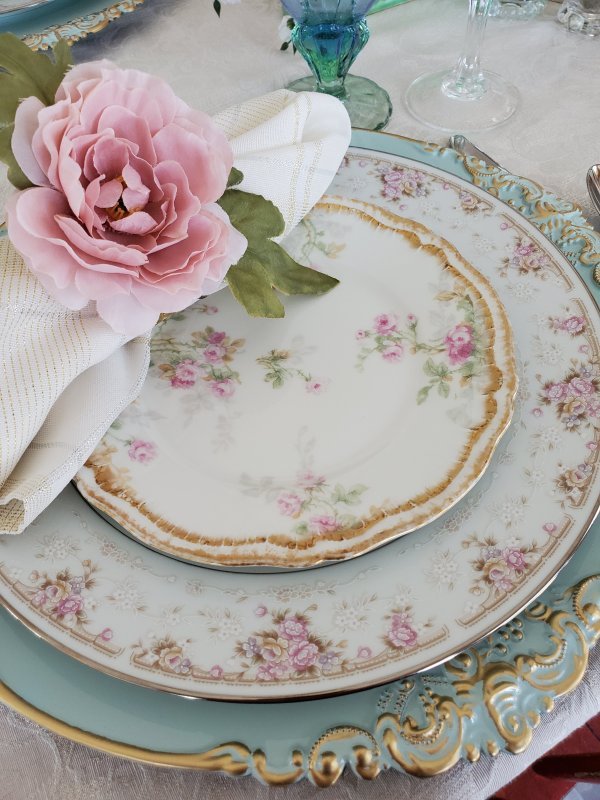 Here are a few basic guidelines regarding the stack:
Your stack pieces can all match.
Your stack pieces do not have to match.
Your stack should include a plate for each course of the meal.
Your stack doesn't have to include a plate for each course of the meal.
You don't have to have a stack at all!
If you're catching my drift here, you're figuring out that there's a lot of leeway when creating the stack! So let's dig in!
First and foremost, your stack is going to be based on what food is being served. There's no point in including a soup bowl at the top of the stack if you're not serving soup!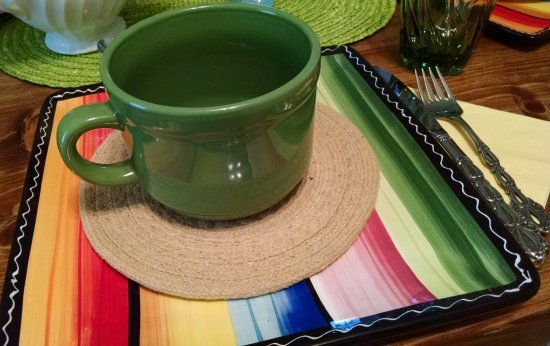 Probably the most common stack for me is comprised of a dinner plate, salad plate, and bread or dessert plate. Although we learned in Part 1 that the bread plate is set to the upper left of the place setting, and that the dessert plate is usually brought in later, I still often include one small plate in my stack for bread because I just love the visual aspect of it. I leave room on the table for each guest to move their bread plate to its proper position after they've been seated.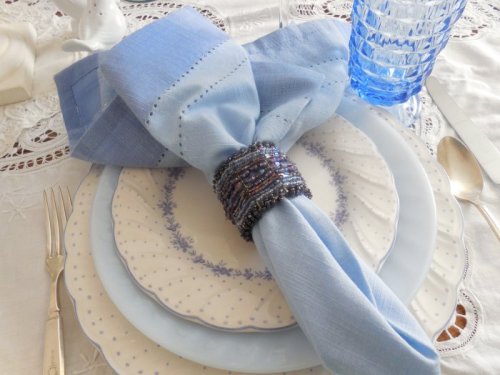 Choosing the pieces for the stack
For the sake of simplicity, let's learn to create a stack using just two plates: dinner and salad.
If you have a set of formal china, or a set of casual dinnerware where the pieces are at least coordinated in their border design, the easiest way to create a great stack is to simply layer these pieces in their intended fashion. A stack of matched or coordinated dinnerware is guaranteed to be beautiful!

Where the creativity of tablescaping comes in is when you try to branch out from these matched or coordinated pieces and start pairing them with something else.
Probably the most versatile set of dinnerware you can own as a tablescaper is plain white. Most of us lead very casual lives these days, so plain white "ironstone" (heavy, durable ceramic) is a great place to start if you are building a tablescaping collection. My plain white casual is this set I bought from Home Goods a few years ago: four dinner plates with that neat stitch-look border.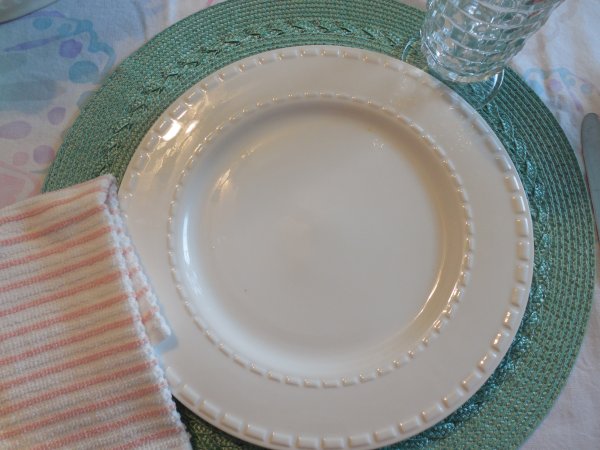 Discount stores such as Big Lots also often have inexpensive plain white sets, and Dollar Tree also usually has plain white plates (as well as some very cute seasonal pieces) in stock.

With a nice set of plain white casual dinnerware, it becomes really easy to start creating fun and interesting stacks with just the addition of salad plates.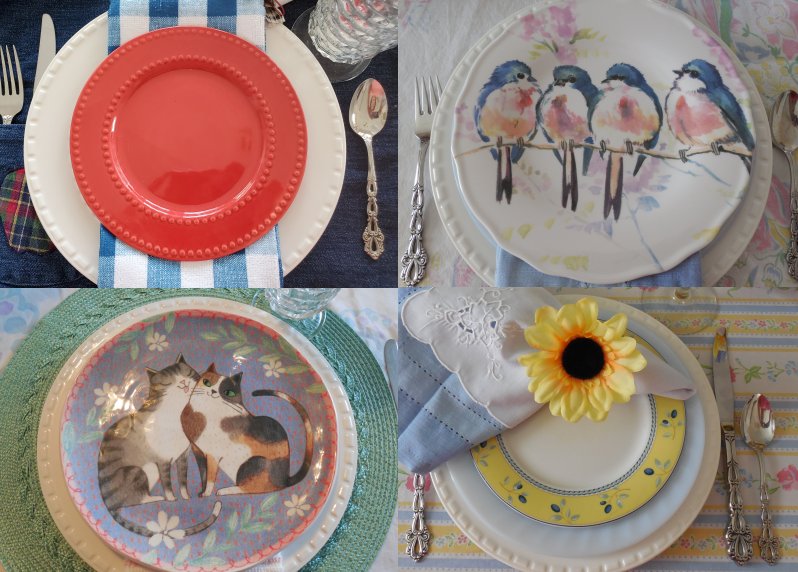 My favorite sources for finding salad plates (well, all dinnerware really) are secondhand stores of all kinds: Goodwill, charity shops, flea markets, auctions, etc. By the way, you can often get a great bargain on entire sets of fine and casual china at estate auctions.
How to make a great pairing

But, how do you decide which mismatched dinner and salad plates are going to look good together? If you're just starting out and experimenting, the easiest way is this:
Start with one plate in a solid color and the other plate in a pattern.
Stack plates of similar "weights" (casual ironstone or "fine china")
Consider whether the borders/edges work well together
Here are some examples to illustrate the above points: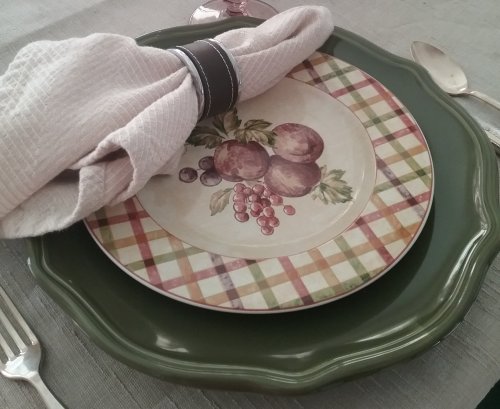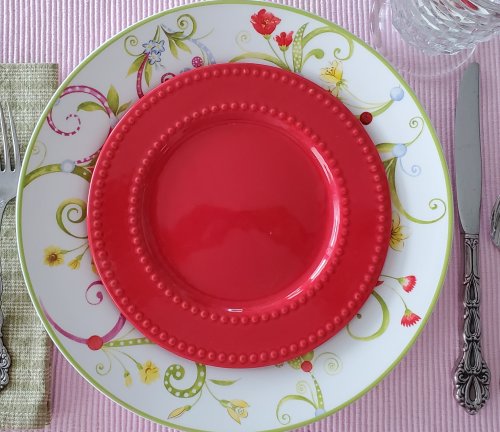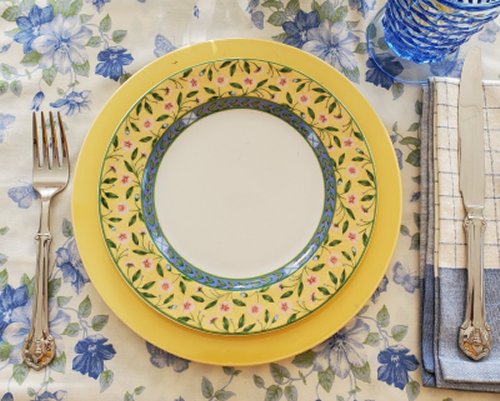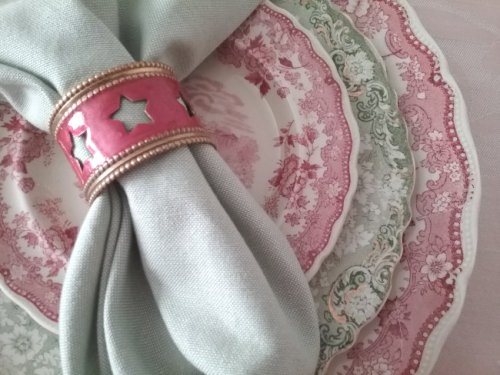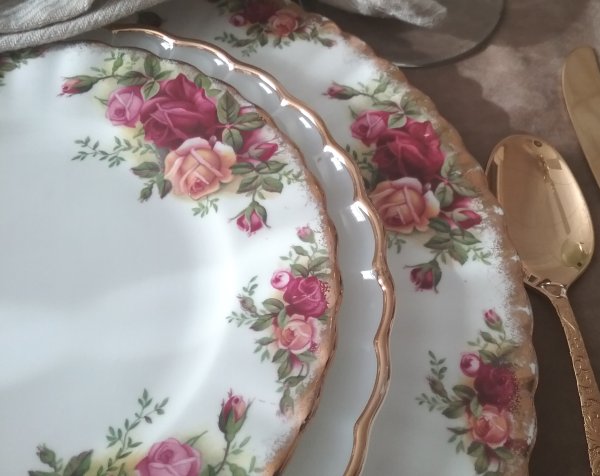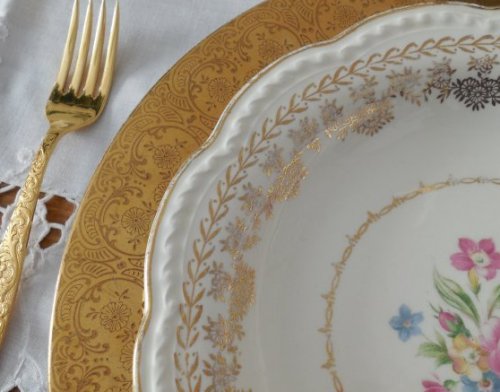 Once you've tried the basics as outlined above a couple of times, try combining a couple (or even three) mis-matched patterns.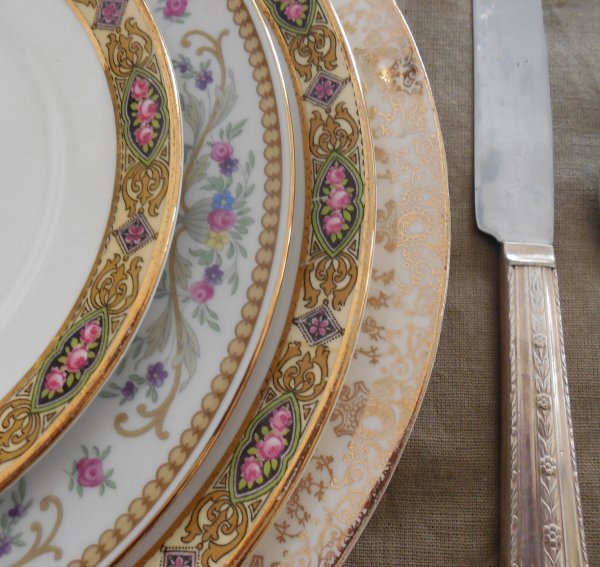 You can also try mis-matched "weights" of dinnerware: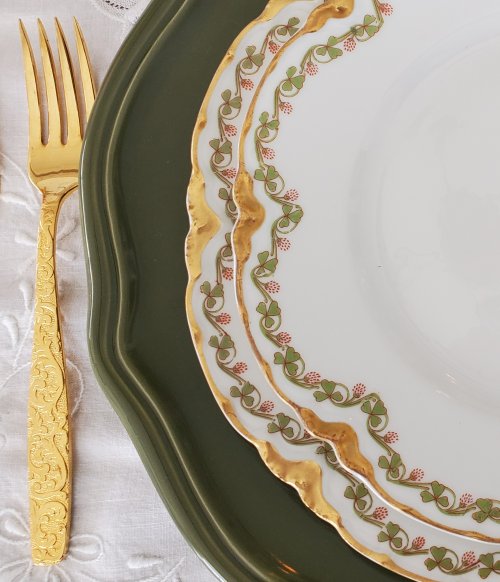 Chargers and Placemats
You'll often see a charger used underneath the dinner plate in a more elegant table setting. Chargers are essentially "drip catchers" but they can also anchor your design visually and add style to the table.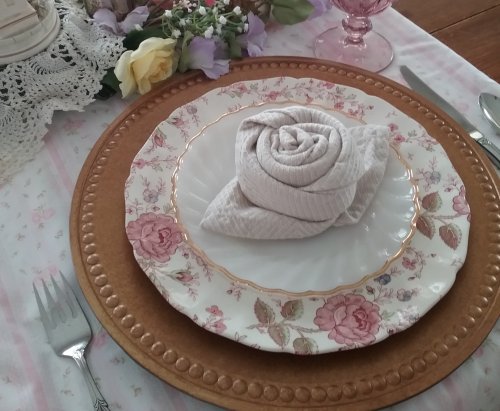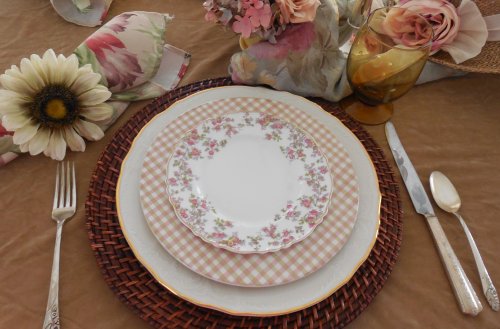 The more informal alternative is of course a placemat which serves the same purpose(s) but is probably far more familiar.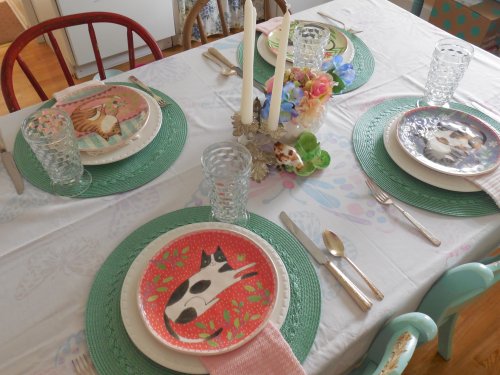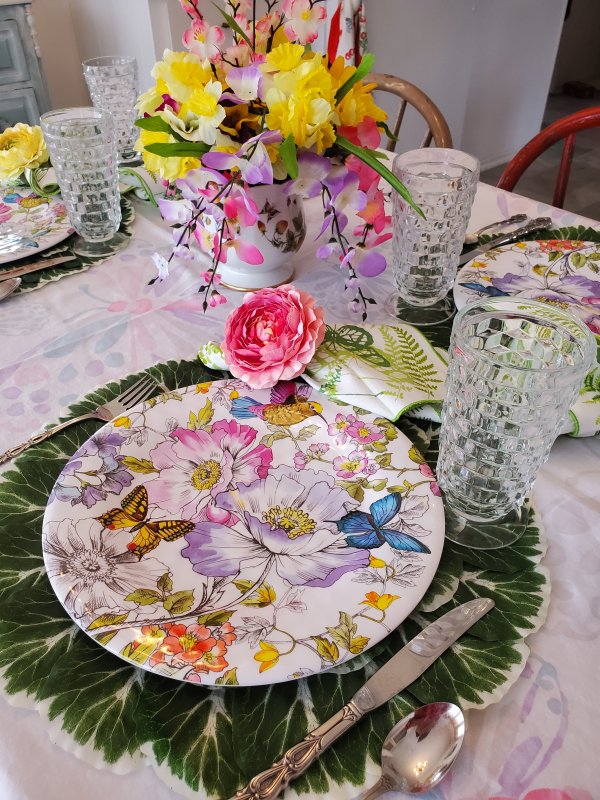 When using these elements, add visual appeal by making sure they coordinate with the plate stack and/or enhance your theme.
You don't have to have a large collection of dinnerware, but to fully enjoy the art of tablescaping you're going to want to collect a few options in both casual and formal styles that will allow you to mix-and-match. Here are my best tips for getting started with great stacks:
Acquire a set of plain white dinnerware to use as your base. It doesn't have to be expensive!
Shop thrift and other second hand venues for patterned salad plates that will look good with your white pieces. Remember that "salad" plates aren't just for salad – they can also be used for bread, dessert, or even individual vegetables like large baked potatoes or sweet corn!
While my basic starter method involves usig solid-color dinner plates and patterned salad plates, you can of course reverse that and use patterned dinner plates with solid-color salads.
Take time to play with the dishes! Bring example pieces of all your dinnerware out of the cupboards and just try stacking them to see what looks good together!
Of course, there are many other elements to a great tablescape besides just the dishes. In future installments, we'll look at glassware, flatware, centerpieces, and others.
Here's an image to pin on Pinterest if you'd like to save this post for future reference. As always, if you have any tablescaping questions, please feel free to ask in the comments or send me an email to janet@vfcstyle.com !