Welcome back to Part 4 of my blog post series, Tablescaping 101! In previous posts we've covered the basics of a proper table setting, planning a tablescape, and creating a pretty mix-and-match stack of dinnerware.
In this post we'll take a look at how to create a centerpiece for your tablescape – some guidelines for creating them, and some ideas for what to use.
The centerpiece is primarily for visual effect, so it may seem superfluous to an everyday dining table or weeknight family meal. But I think that's actually its primary benefit, too: it dresses up an everyday event, and makes the ordinary feel special!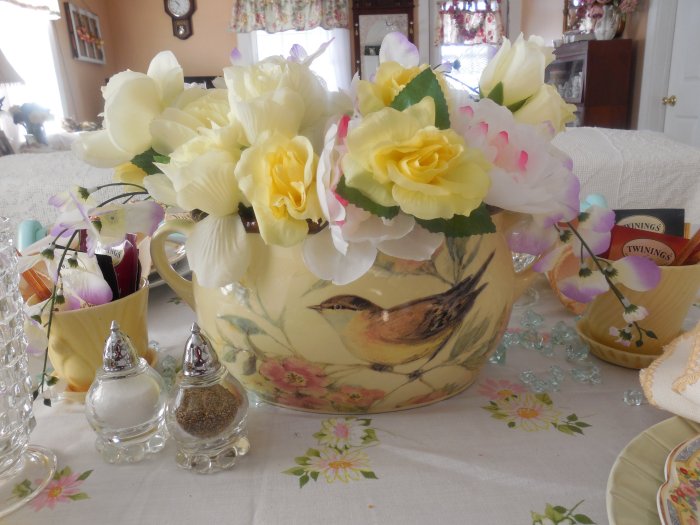 It's my belief that you don't have to spend a lot of money – or even any money – to make a great centerpiece! You can use inexpensive silk flowers, vases and other containers found in thrift stores, and items found around your home to create memorable centerpieces that enhance your tablescape theme and contribute to the intended ambiance.
The only "rule" for centerpieces is that they should not obstruct conversation across the table. If guests have to peer around to speak to someone on the other side, your centerpiece is at an improper height. Beyond that, Creativity is the name of the game!
Here are some guidelines and tips for creating pretty, budget-friendly centerpieces!
1. Flowers always make a wonderful centerpiece, and in fact the easiest way to make a centerpiece at all is just to plop some flowers (fresh or faux) down into a container and set it in the middle of the table. You can easily do this any time you set the table, but to really elevate the use of flowers, try to use colors or flower types that contribute to your table's theme or color scheme.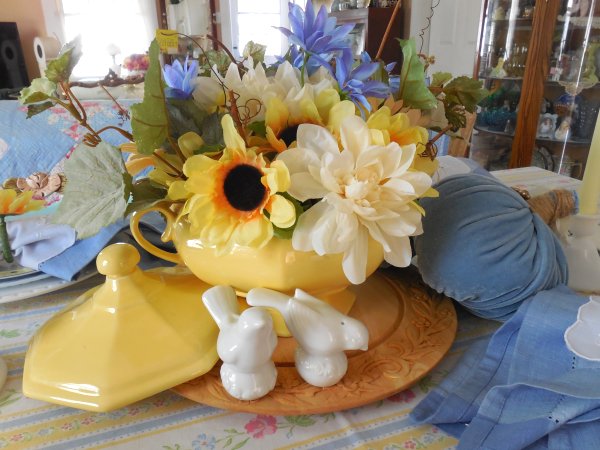 Fresh flowers don't have to be expensive. Check your local grocery store or Walmart to see if they have a flower market – inexpensive "grocery store bunches" are often seasonal in color, and the humble, inexpensive carnation always makes a pretty bouquet perhaps with some gypsophila ("baby's breath") for filler. If you have a Trader Joe's near you, I've found that they usually have great prices on fresh flowers!
It's important to remember that flowers on the table don't have to be fresh. The vast majority of my centerpieces are made with silk flowers – either high-quality realistic-looking stems or ready-made bunches found in thrift stores, or even arrangements thrown together with fanciful stems from Dollar Tree.
3. Shop second-hand for interesting containers. Vases are the go-to for fresh flowers, of course, but only if they are the right height. The thrift stores are usually full of high quality vases that originated with floral delivery services. You can also use a wide variety of glass, ceramic, or even plastic containers. I've used soup tureens, teapots, serving bowls, sugar bowls, mason jars, vintage planters, antique biscuit jars, and all manner of glassware for centerpiece containers!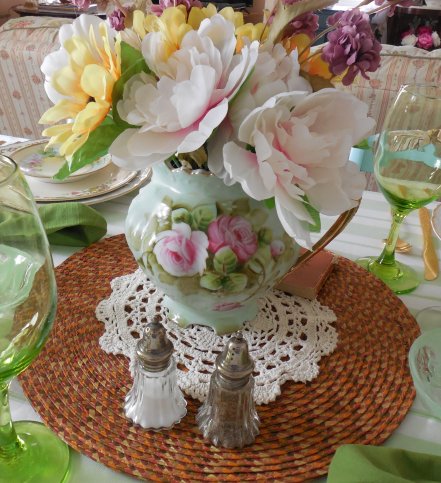 One of the advantages of using silk flowers is that they don't have to be in a waterproof container. This broadens your options considerably to include baskets and wooden containers like dough bowls or antique sewing machine drawers.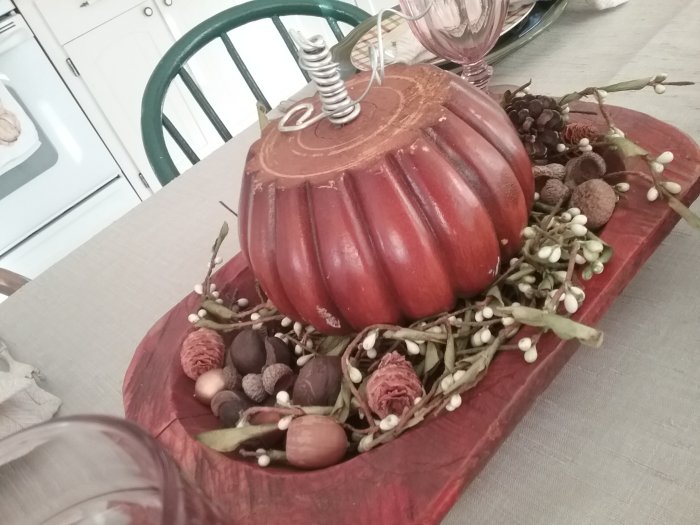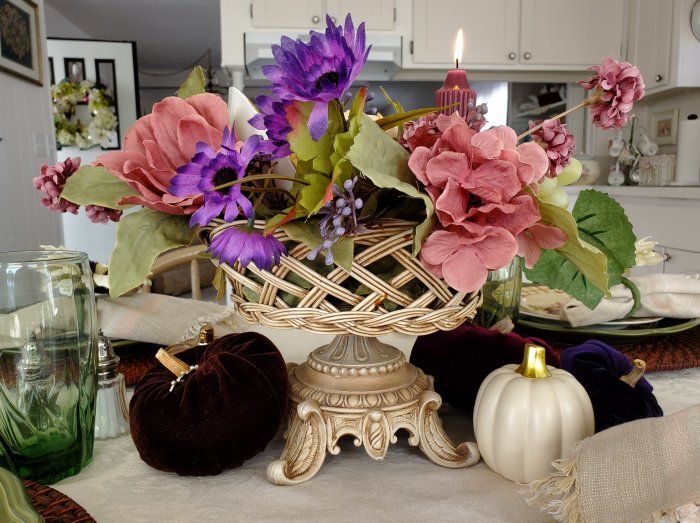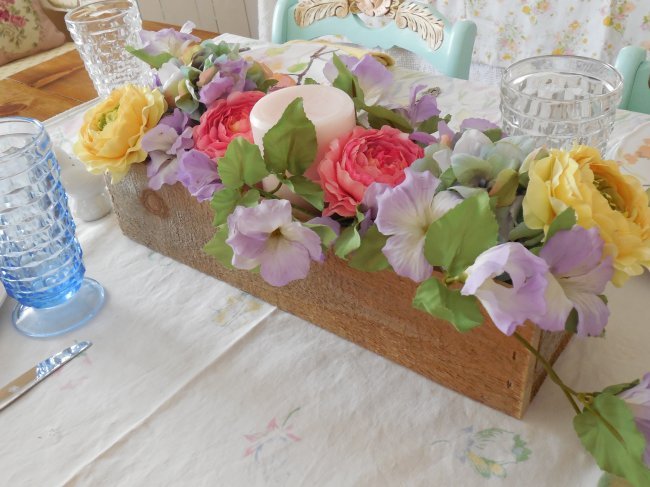 4. Skip the container altogether. Sometimes I like to just design what I call a "runner" – an arrangement of objects that runs a portion of the length of the table. I usually use a piece of fabric or some type of silk floral wreath or garland as a base, and just arrange objects along the length. You can build this type of arrangement with the tallest/largest object in the center, then shorter items eminating out from there. Or, have pieces at either end that "anchor" the arrangement.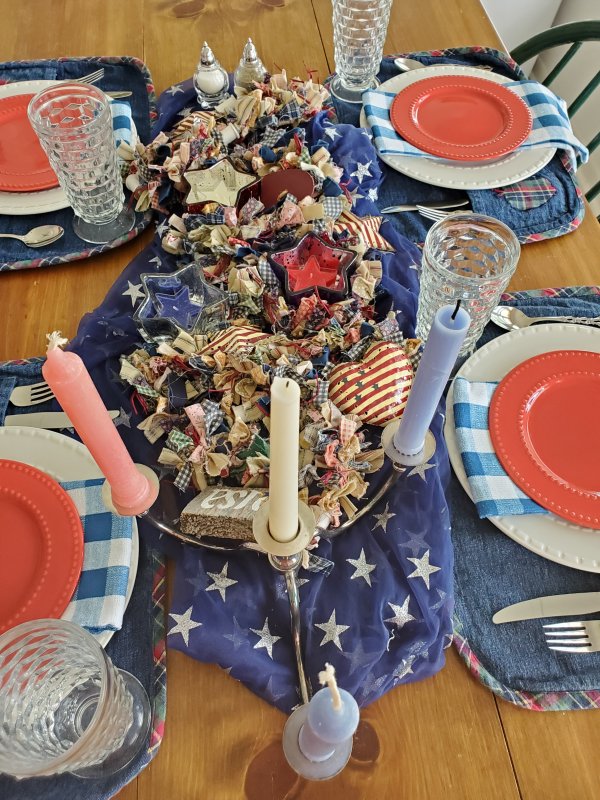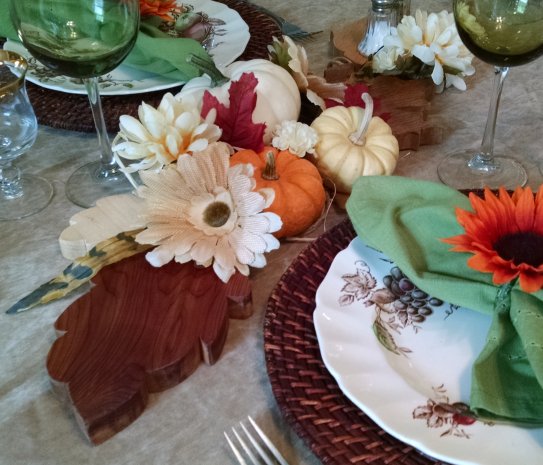 5. Accessories in your centerpiece might include candlesticks or votive holders (with candles of course) and "table scatter" such as faux jewels, half-round glass marbles, nuts and acorns gathered on a nature hike, or foil confetti in holiday shapes. I often incorporate my salt and pepper shakers into the centerpiece, as well, instead of just "setting them out."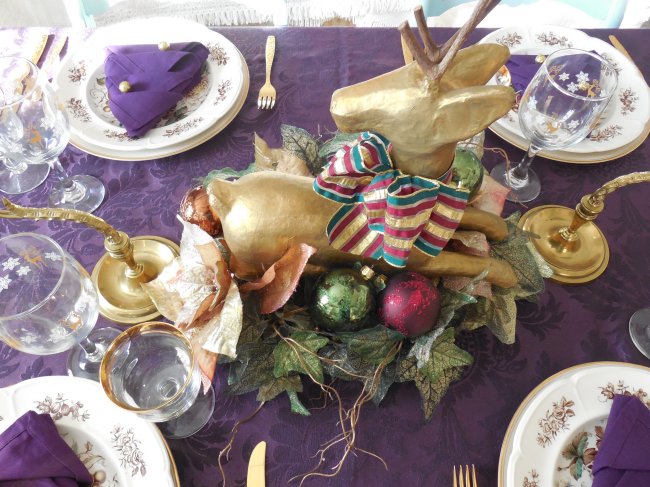 6. Include some conversation starters! I love to use unexpected objects in my centerpieces that encourage guests to ask questions or share personal anecdotes. Examples of this include my great-Aunt's antique wildflower field guide, my handmade velvet pumpkins, a china saucer nestled into a flower arrangement, small hand-painted wooden signs, jewelry, small figurines, even a garden hat!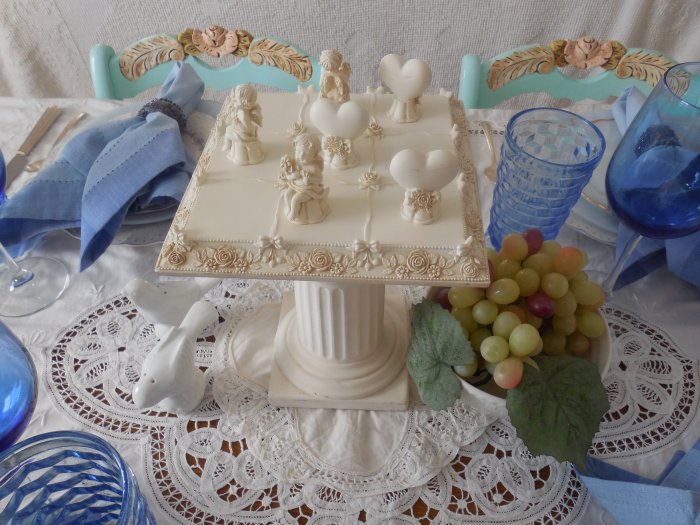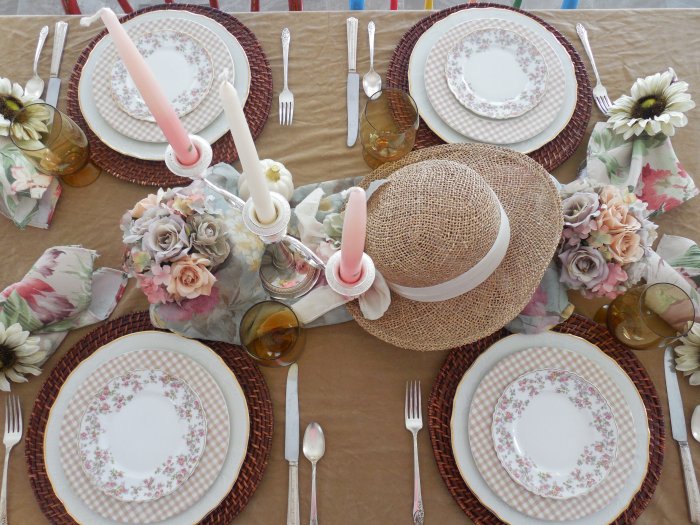 Designing a centerpiece can be one of the most creative aspects of making a tablescape. Have fun gathering a few elements from around the house that support a particular theme or color scheme, and see what you come up with. And when in doubt, remember that flowers – whether fresh or faux – always brighten a table!