A quick visit to Pinterest to search for Valentine's Day tablescape ideas shows that by far (and not unexpectedly) the most popular color scheme for such a table setting is red and white. There is a bit of wiggle room for a pink and white variation, but that's pretty much it.
I think, though, that we should also make room for blue and white, if only because of a dinnerware set called Blue Peony made by Nikko.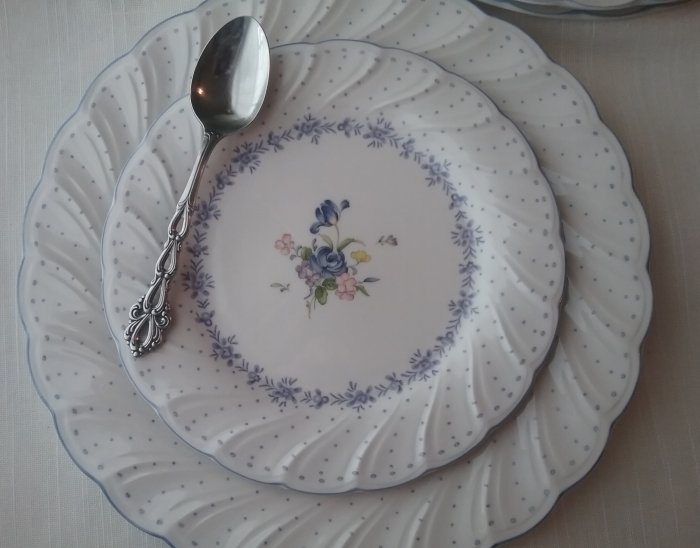 Seriously, when I found these dinner plates for 99 cents each at Goodwill, the word that came to mind was "sweetheart." A table for sweethearts. I think it was the ruffled edge and those tiny polka dots.
If you enjoy tablescapes please check out and join my Facebook group, Thrifty Tablescapers. We are a fun group that loves setting, viewing, and sharing pretty tables on a budget! 
Now I've obviously set a table for four sweethearts, which is why this works as a V-day table on a number of levels: 'sweethearts' can be best friends, your children, your gal-pals ("Galentine's Day table," anyone?)…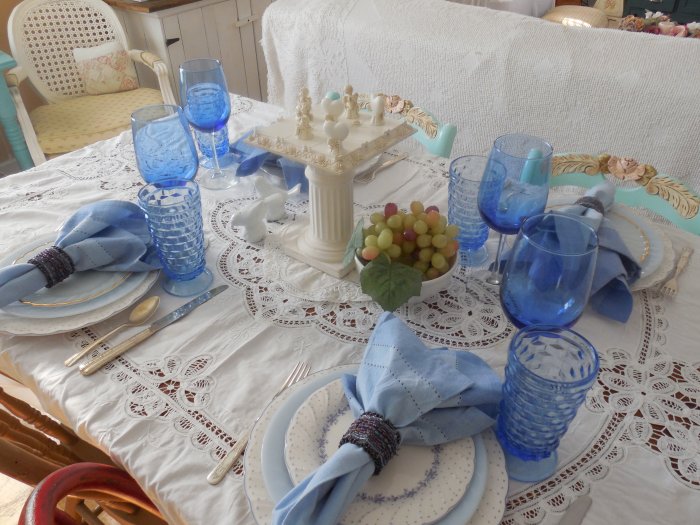 I'm using my white cutwork tablecloth because it also has a very "sweet" vibe.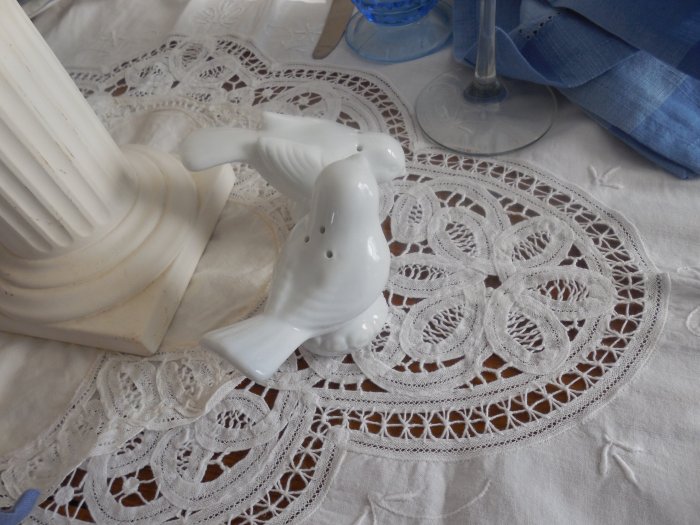 Dinnerware includes the Nikko Blue Peony, my ice-blue Fire King salad plates, and on two of the settings, my gold-edged Fire King swirl dessert plates. (I had to have an alternative dessert plate for this table because I only found two of this size in the Blue Peony.)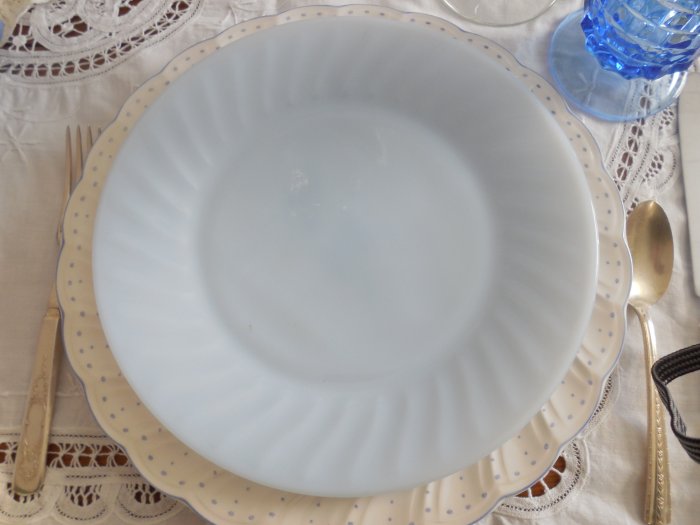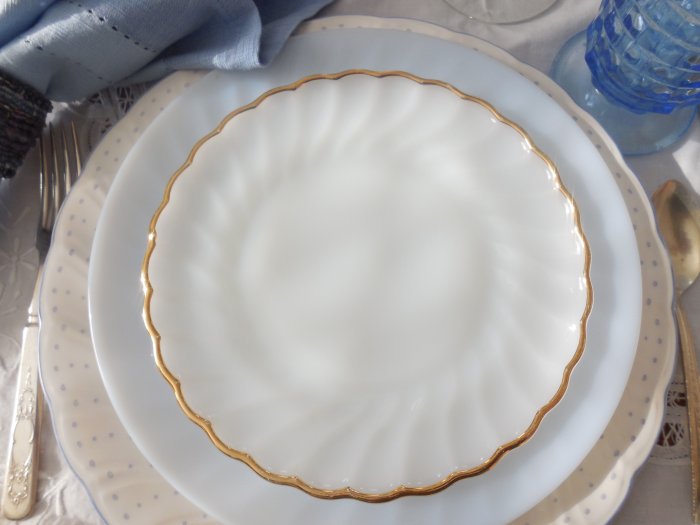 The blue hem-stitch napkins are from Pier 1, and the blue beaded napkin rings are a thrift-store find. I love how the rings pick up the slight variations of blue from the flower border in the dessert plates.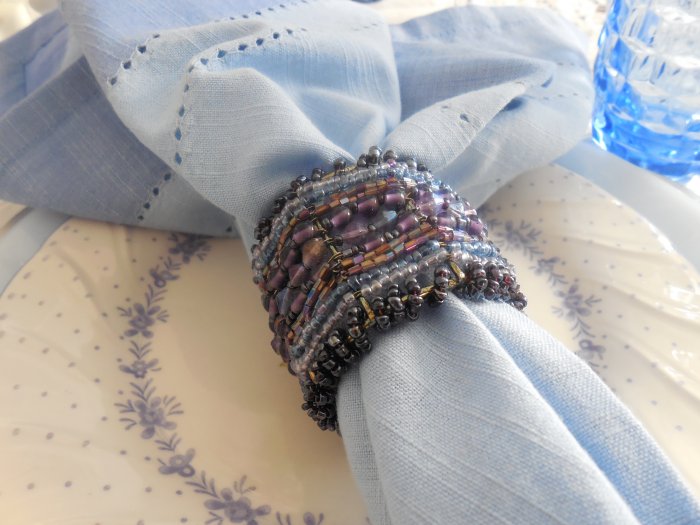 Flatware is real silver from last summer's Antique Jamboree here in Valley Junction (50 cents each… I mean, how could I not at that price?).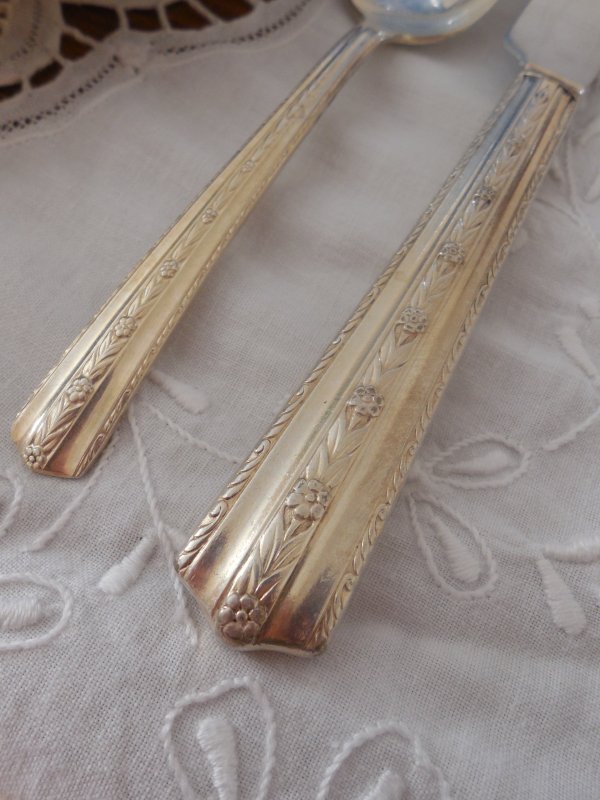 Blue tumblers are my favorite Whitehall by Indiana Glass, and the large stemware is from Dollar Tree.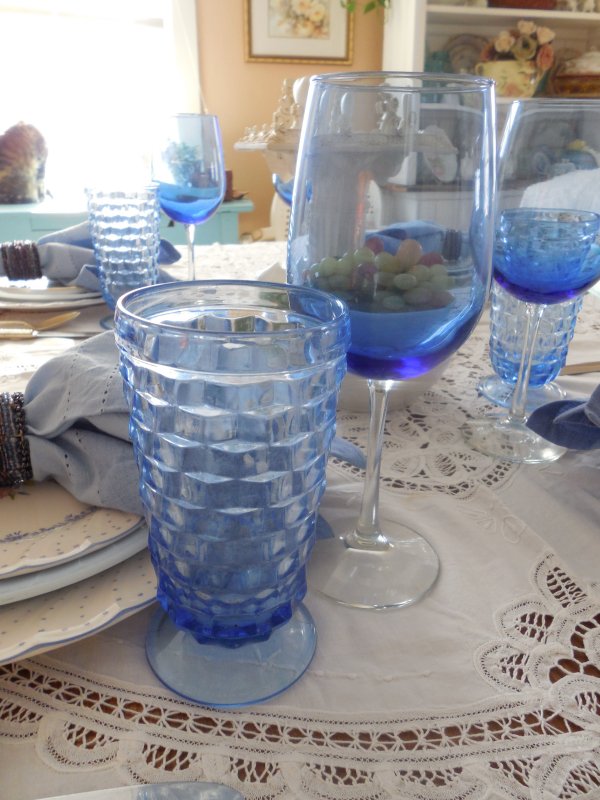 What nudges this table fully into the "sweetheart" realm is the centerpiece, and the focal point of the centerpiece is one of my all-time favorite Goodwill finds – a cupid-themed tic tac toe board.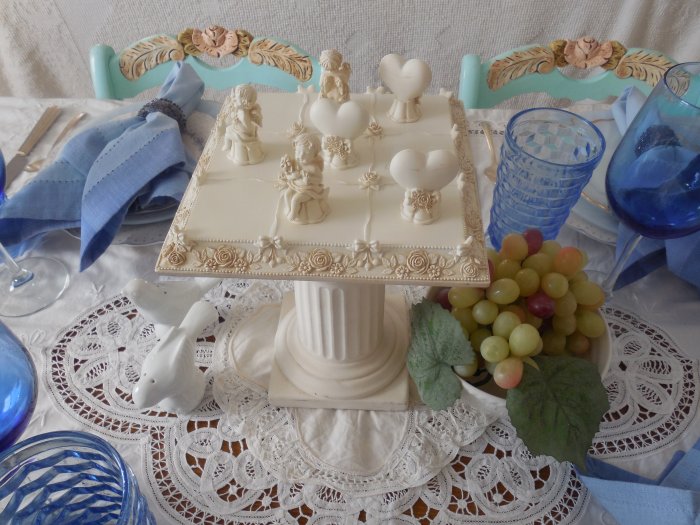 I found the Cupid and heart pieces of this set many years ago. They were in a large plastic bag, and marked $1.99. I bought them because the were absolutely lovely – I didn't know for sure at the time, but my best guess was that they were game pieces. It was several weeks later, at the same Goodwill, when I found the board itself, also $1.99, which confirmed my guess.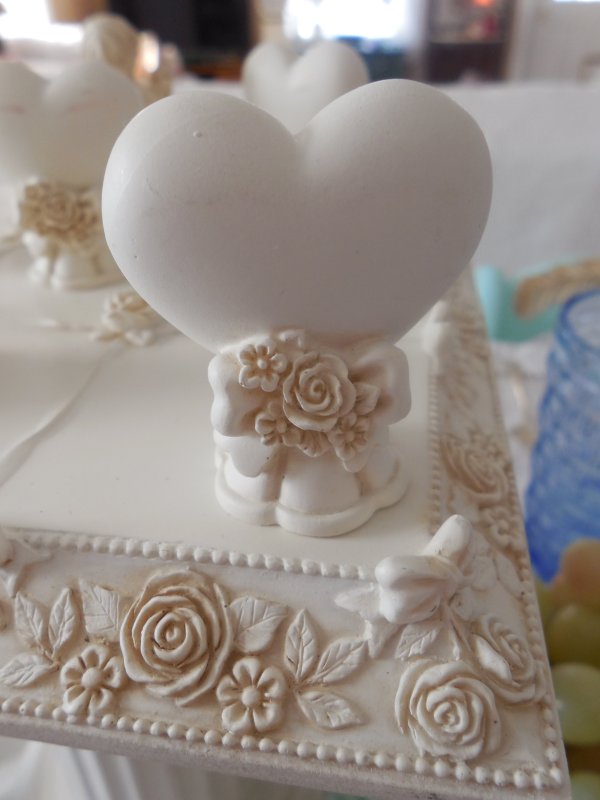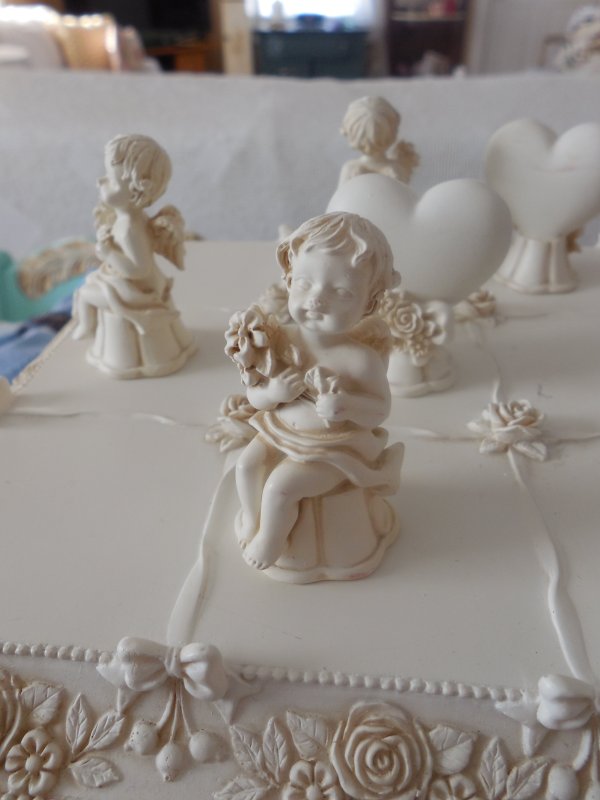 I perched the game board on top of a small ceramic column pedestal (also a thrift store find) to give it some height – hopefully that wouldn't keep guests from playing the game, since it's quite sturdy!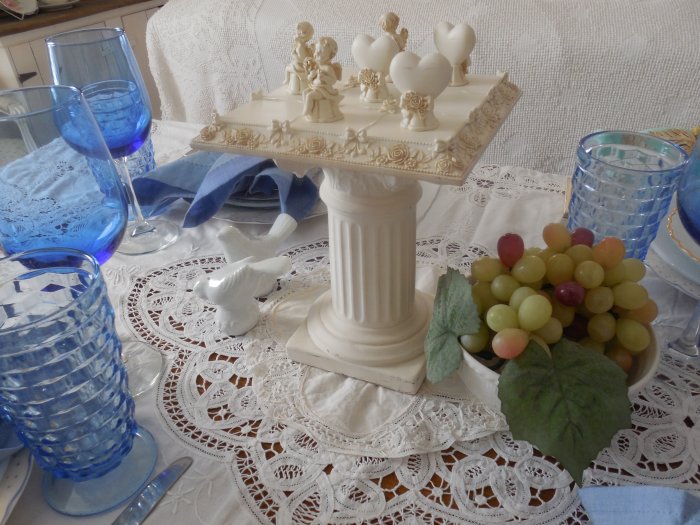 I used my pretty white ceramic bird salt and pepper shakers, and placed a white basket-weave pattern bowl on the table as well, filled with grapes. Well, these are technically faux grapes, but certainly they'd be real if there were actual guests at the table!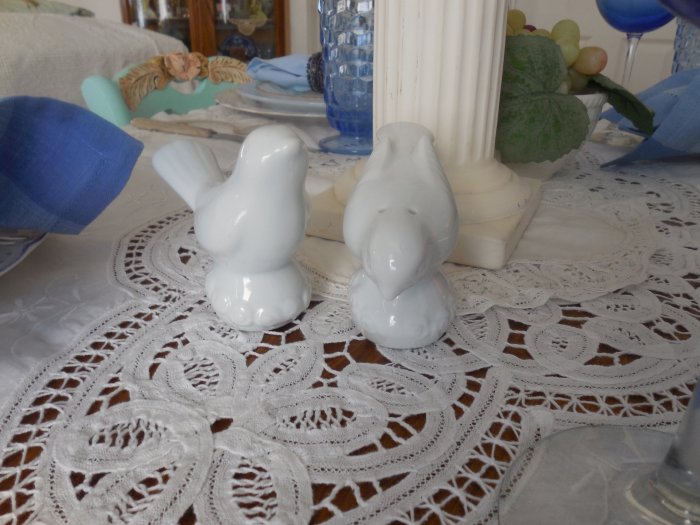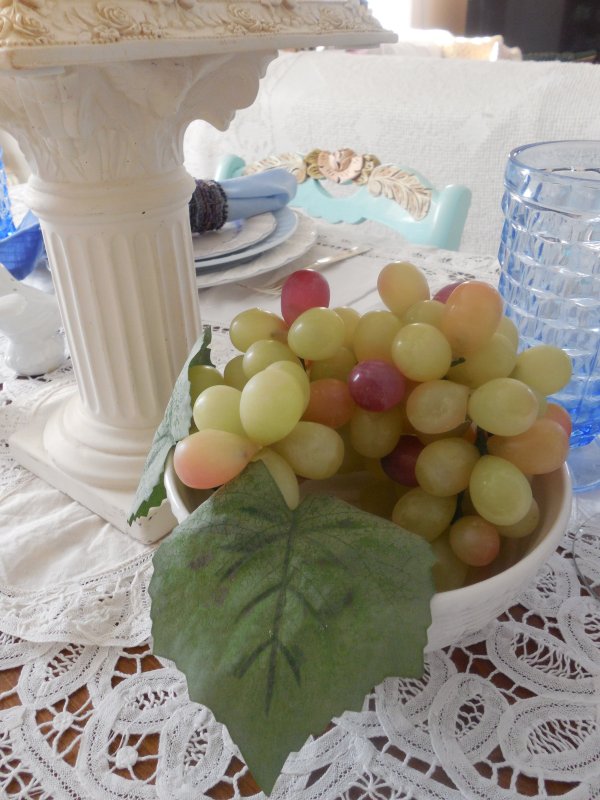 Speaking of actual guests, I envision this meal including a lovely fresh strawberry and spinach salad with raspberry vinaigrette dressing, chicken cordon bleu with warmed carmelized vegetables, and strawberry cheesecake for dessert. I have no idea if these dishes "go together," flavor-wise, but it all sounds delicious!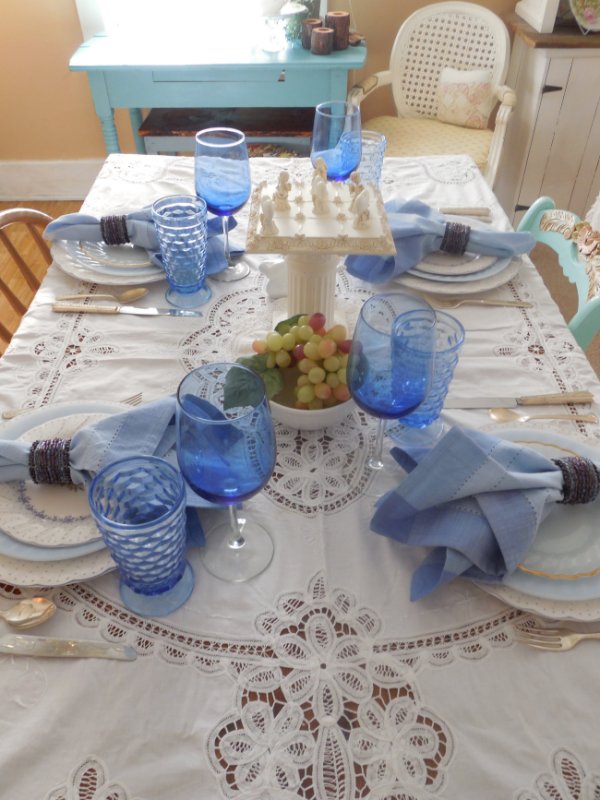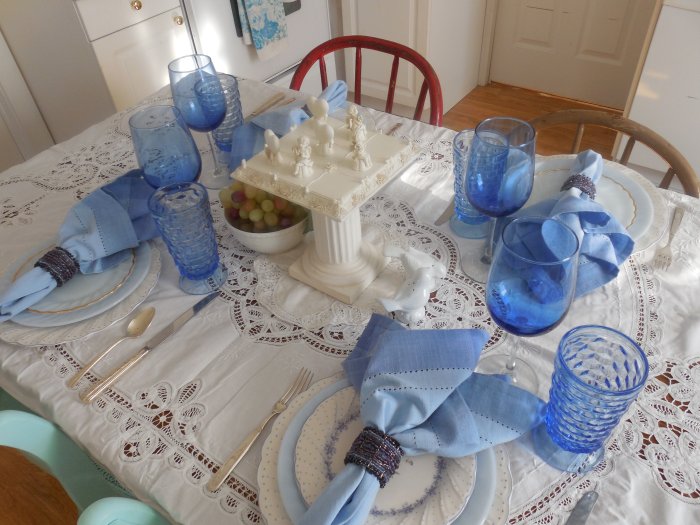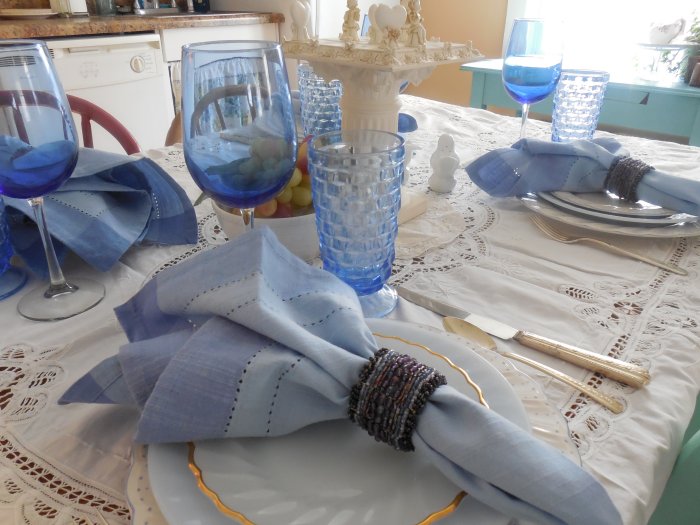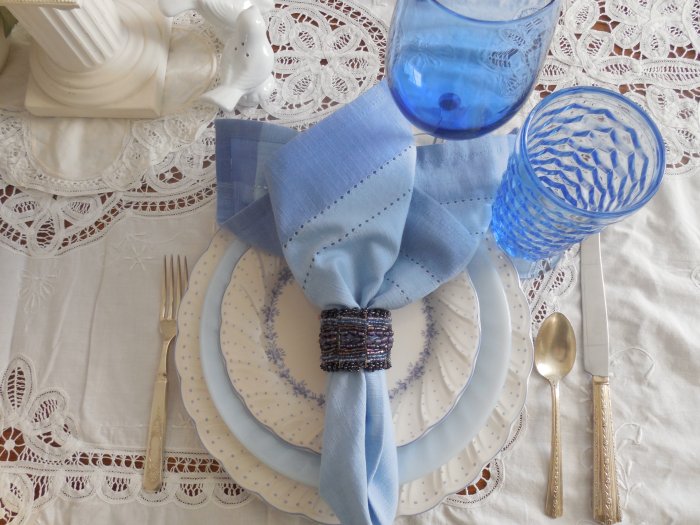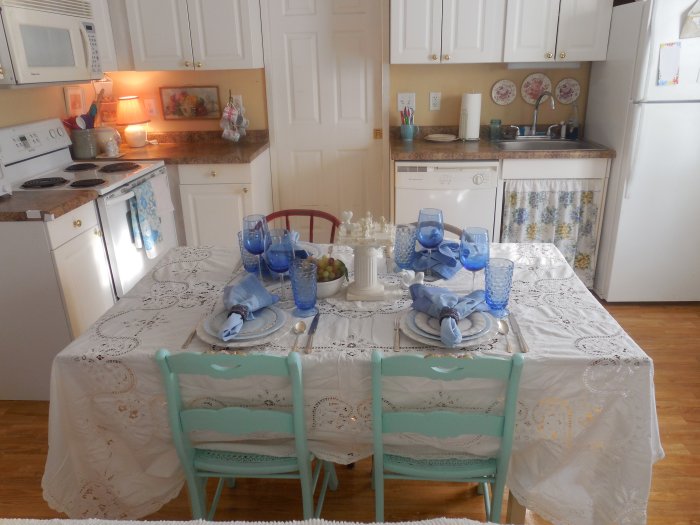 Here is a birds-eye view of the table – simple and lovely!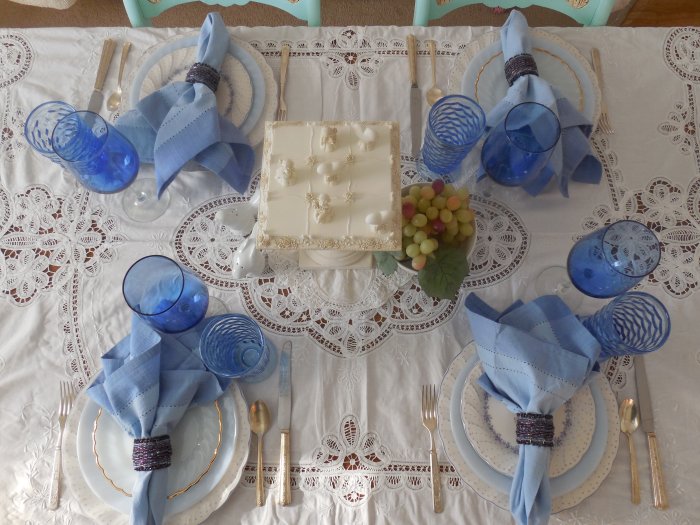 And here are all the elements of this tablescape disassembled and waiting to go back into the cupboards. I love the "put-away" shot because it shows how well everything works together – coordinated but not matching.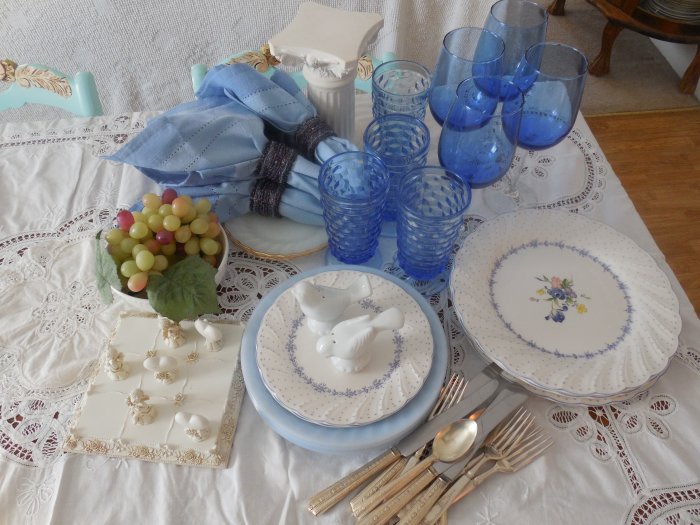 Oh – and guess what! You probably already noticed this, but I learned recently that I'm placing my flatware incorrectly – apparently the spoon goes to the right of the knife! I admit I rarely look up the "rules" when I am setting tables – I tend to go by memory, and obviously on this point my memory is faulty! In fact, I used to set them with the spoon on the left side of the plate, and the fork and knife together on the right. I distinctly remember looking that up one day and – horrors! – found that I was doing it wrong. Obviously I did not retain the part about putting the spoon on the outside right! Certainly I will try to remember the right way in future tables, but quite honestly I am not going to lose any sleep over it… I will just have to live with being a rule-breaking tablescaper!
Who are your "sweethearts"? What would you serve for a Valentine's Day meal? Please share in the comments!
Here's an image to Pin in case you would like to save my sweetheart table for future inspiration.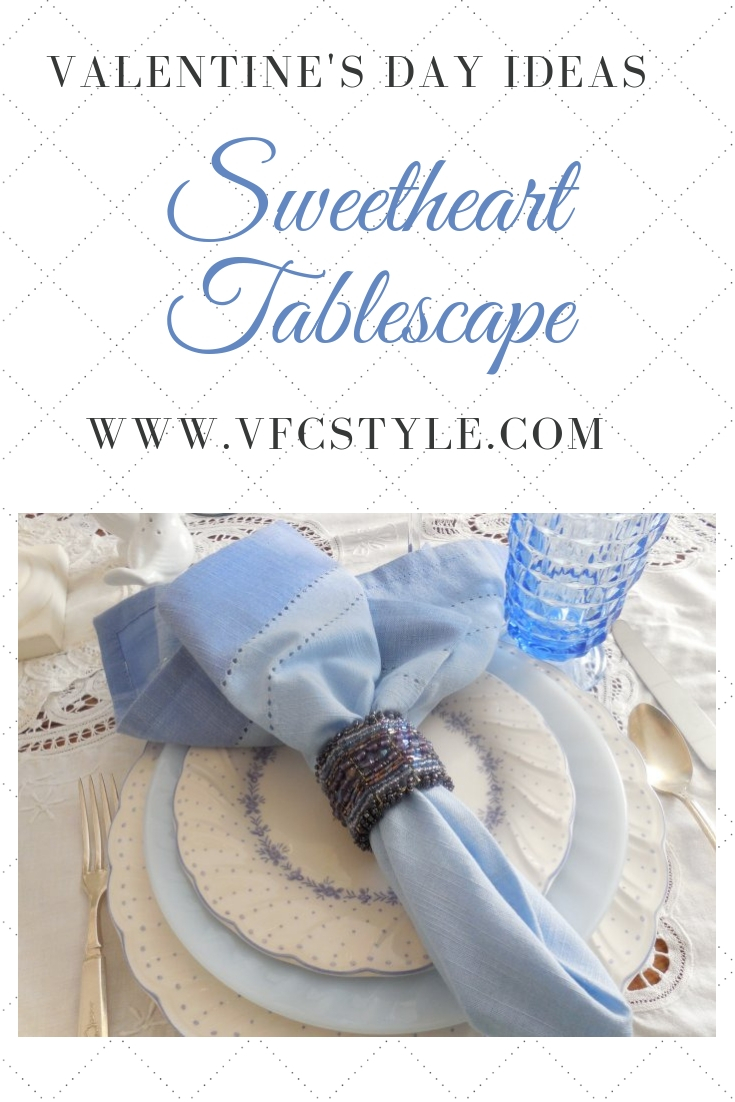 I am sharing my sweethearts table for Tablescape Thursday over at Between Naps on the Porch!