Several months ago I found a lovely set of Christmas dishes at Goodwill – service for 8, in a pattern called Woodland Santa by artist/illustrator Debbie Mumm. I purchased four of each piece and knew I would be doing a woodland-themed tablescape with them! What I love about this set is that the various plates complement each other rather than match, and the salad plates each feature a picture of Santa doing chores out in the woods! They are simply adorable! So here is the table I set with them.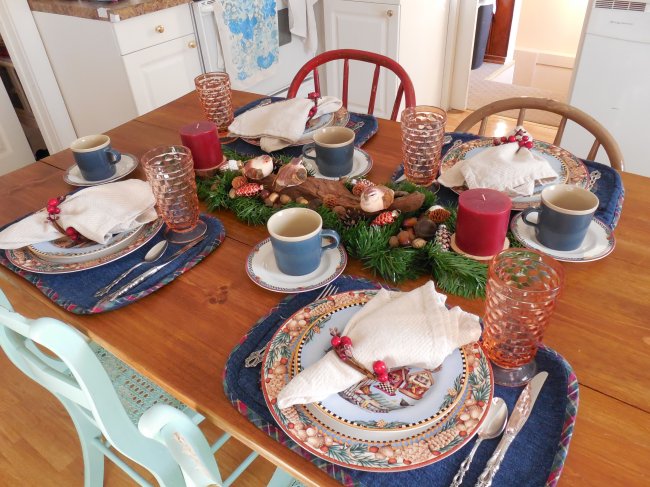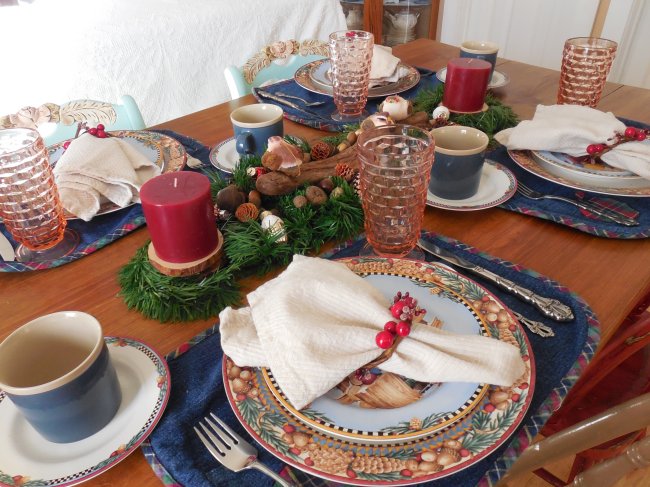 I didn't use a tablecloth for this one because the pine top of my table makes a nice backdrop for a "woodsy" table. Instead I chose these sweet denim placemats with plaid trim. I thought the denim suggested the "dungarees" Santa would most likely be wearing if he was outside doing chores! While the apple is not a traditional Christmas motif, it's mostly covered by the plates so it wasn't a key part of the table.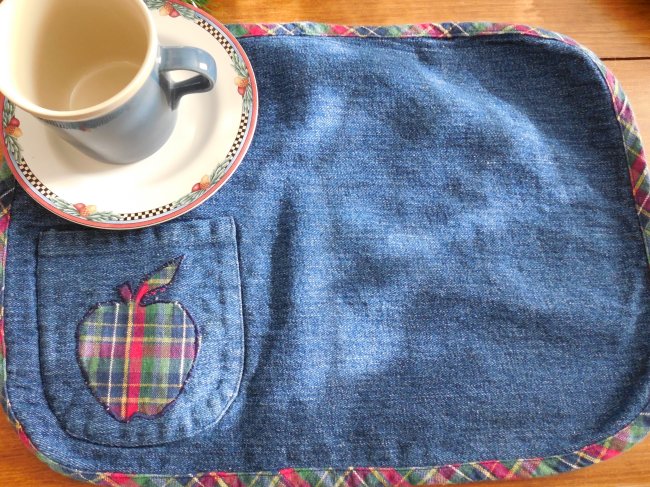 The place setting keeps the salad plates hidden until you take your seat and remove your napkin from the twig-and-berry ring. That way you get to enjoy the little surprise of discovering which "chore" your Santa is doing.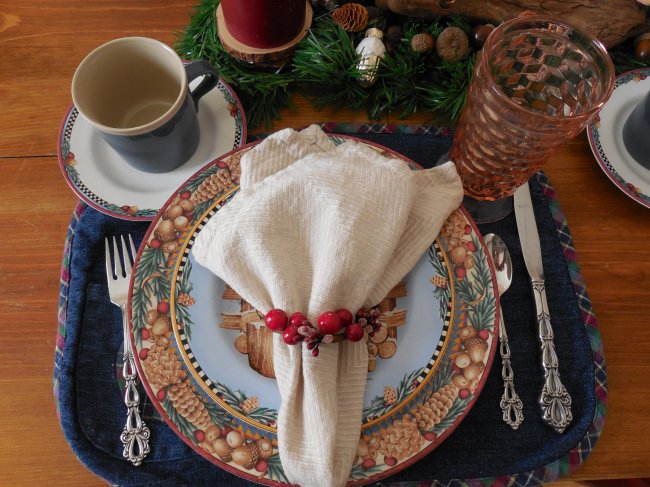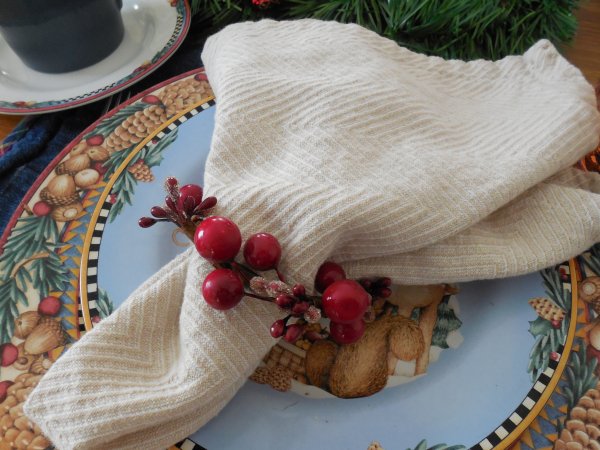 Here are each of the salad plates, showing Santa hard at work chopping wood, hanging bird houses, making garland, and feeding the animals.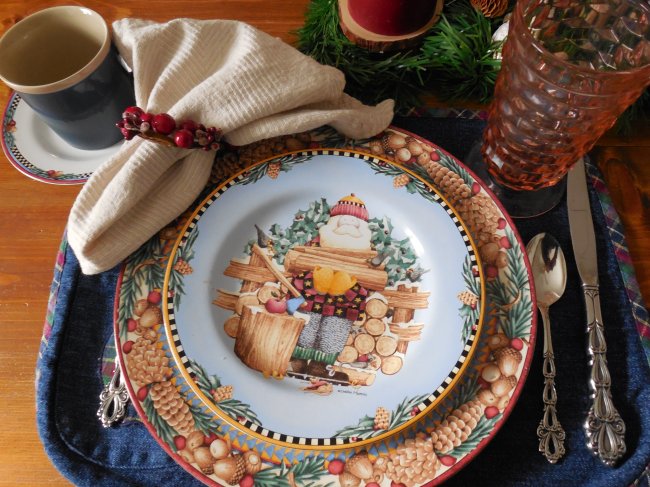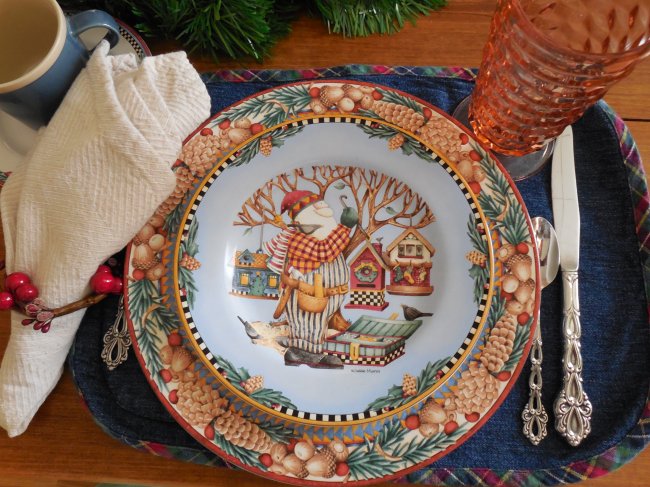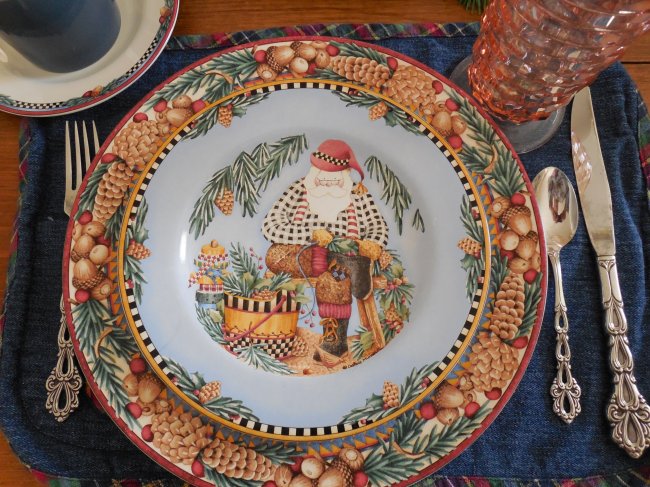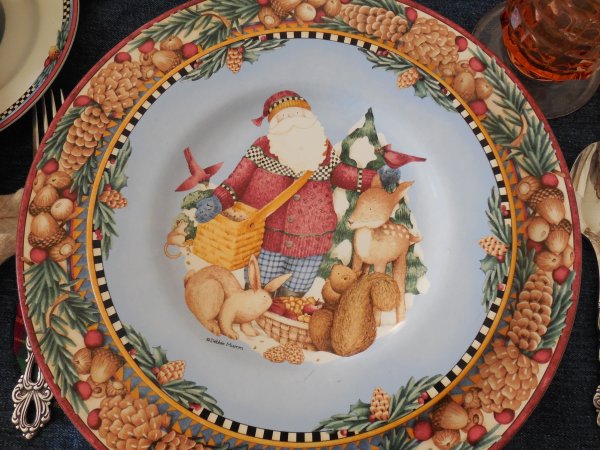 The dinner plate has a beautiful rim featuring acorns, pine cones, red berries, and greenery.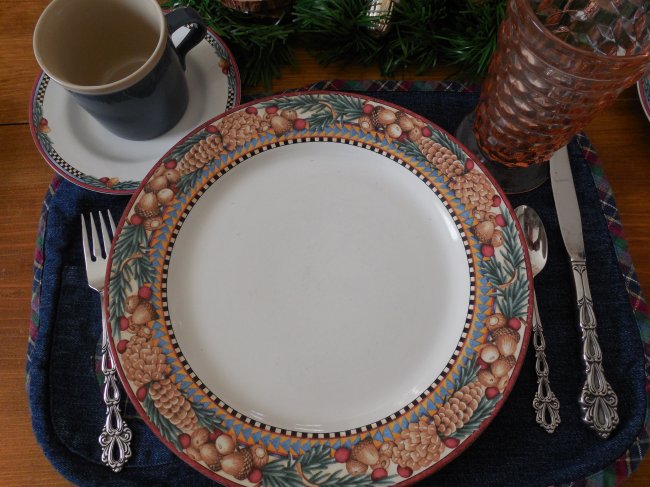 The salad and bread plates feature a simple checked border with clusters of acorns or pine cones. Here are the edges so you can see them together.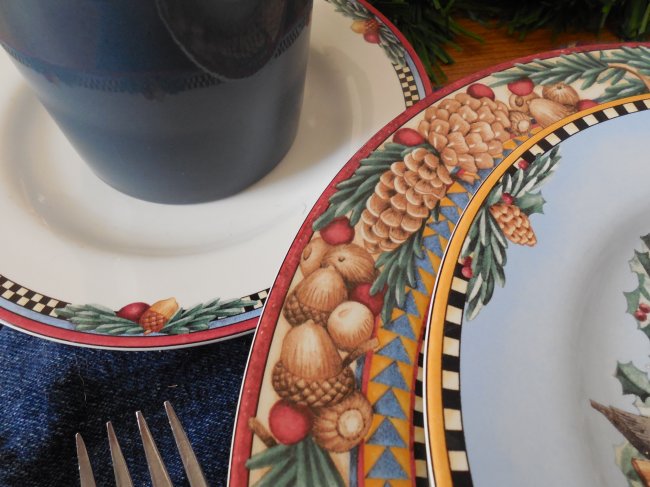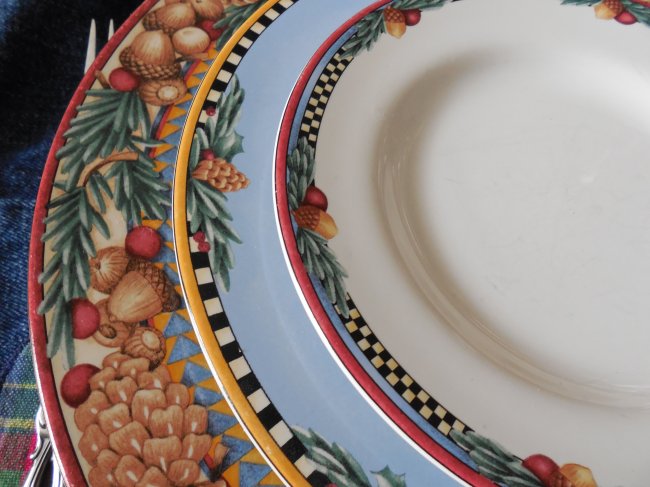 We'll be enjoying both an iced beverage and a cup of coffee for this meal so I've provided pink Whitehall tumblers by Indiana Glass which pull their color from the border of the dinner plate… and denim-blue coffee mugs that again echo Santa's hard-working outfit!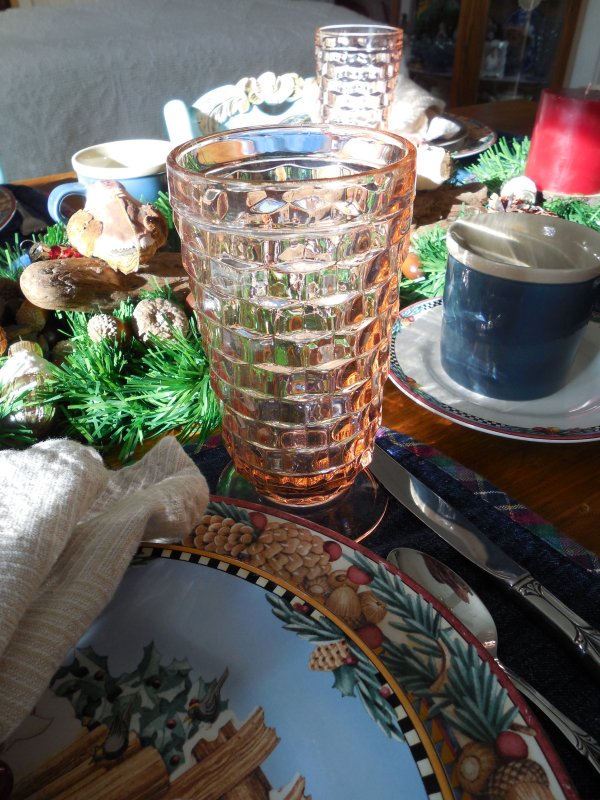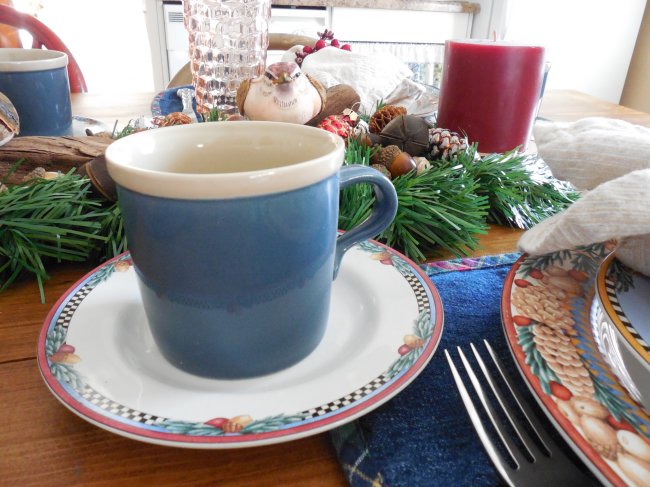 Flatware is "Chandelier" by Oneida – the pattern my grandmother gifted to me a few decades ago.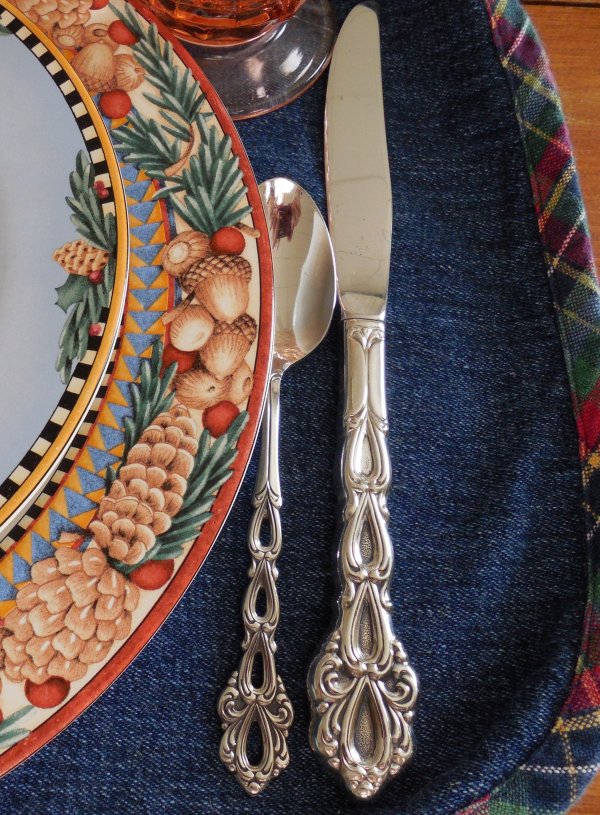 For our centerpiece, I laid a bed of faux greenery and then nestled in a piece of driftwood, plus pine cones, acorns, and other natural bits I collected during my woods walk back in October.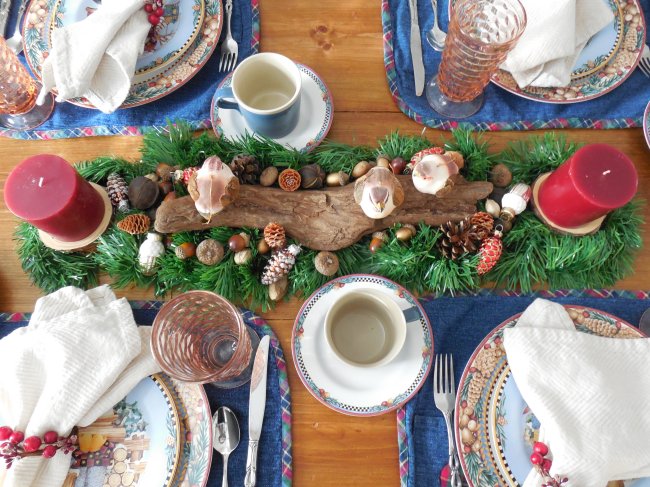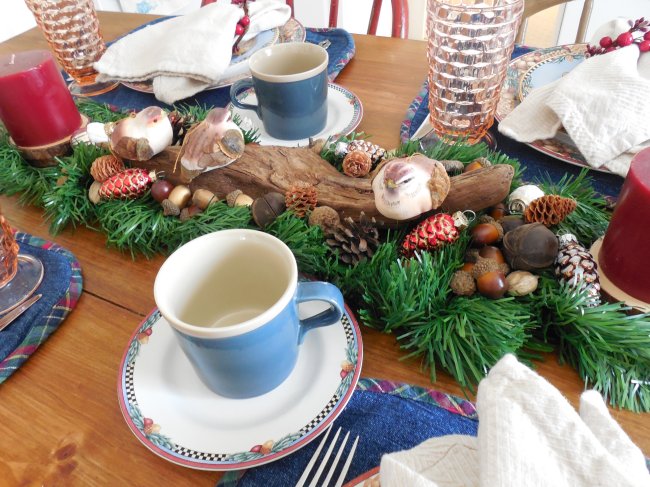 And, because one of Santa's chores is feeding the woodland critters, I included a few sweet birds as well. Finally, I added a few of my favorite shimmery pine cone and acorn ornaments right from the Christmas tree that sits on my sideboard table.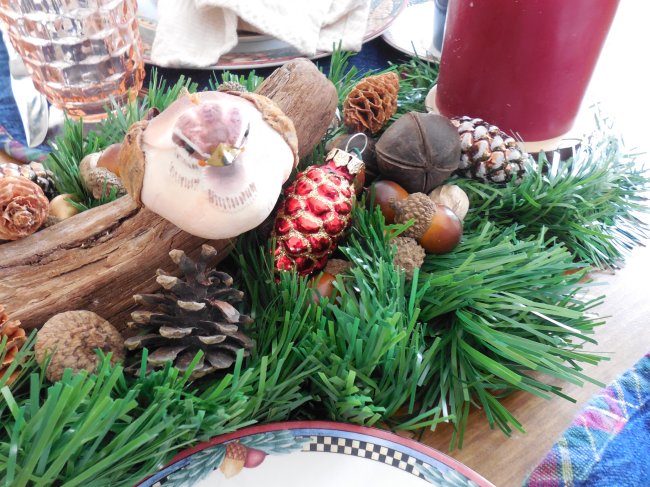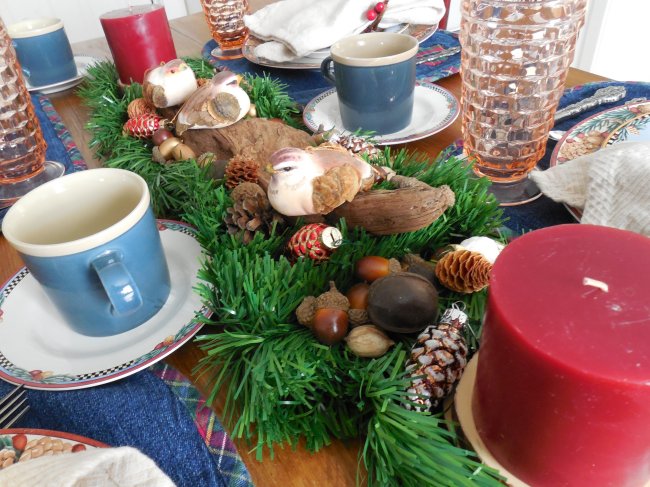 Here are a few more views around the table…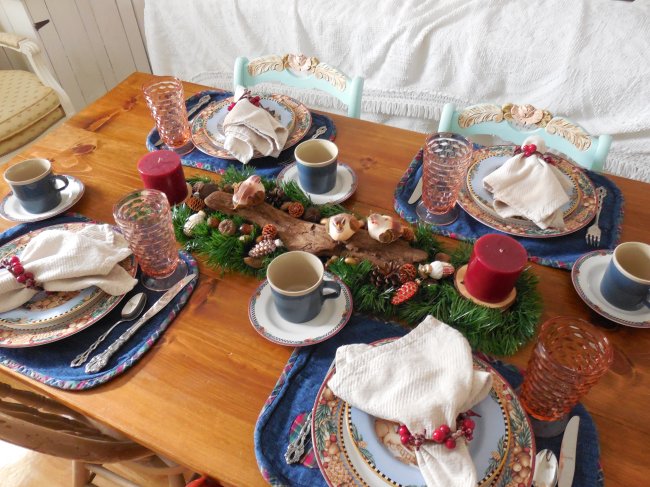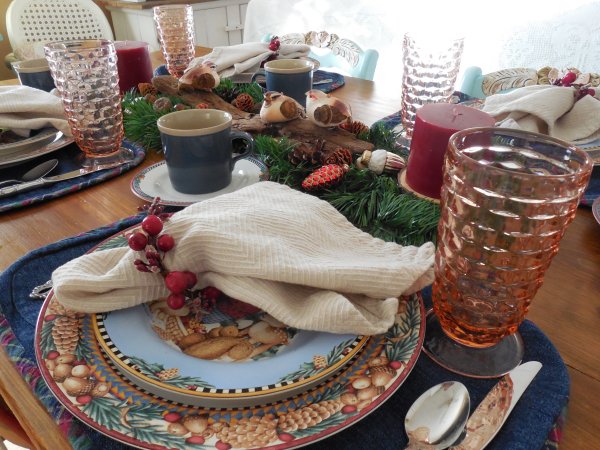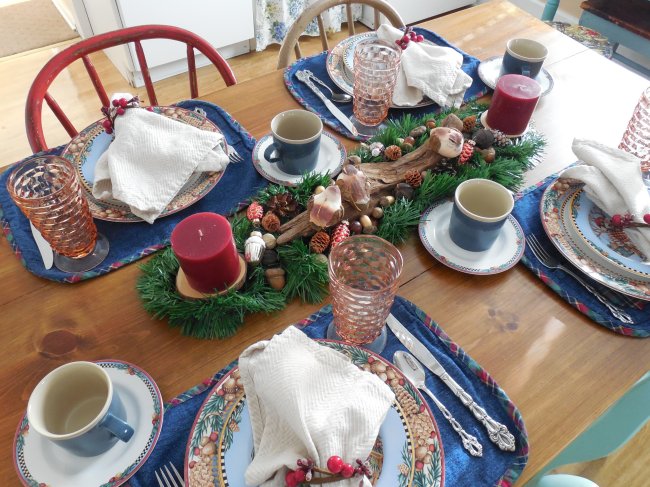 … a bird's-eye view…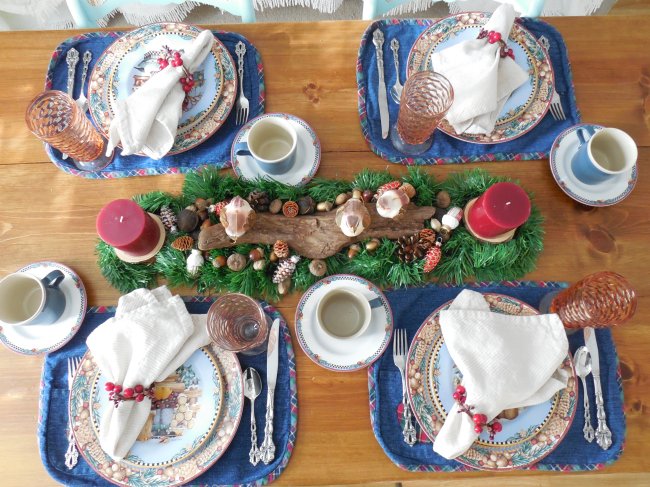 … and the put-away shot, with everything gathered up and waiting to go back into the cupboards.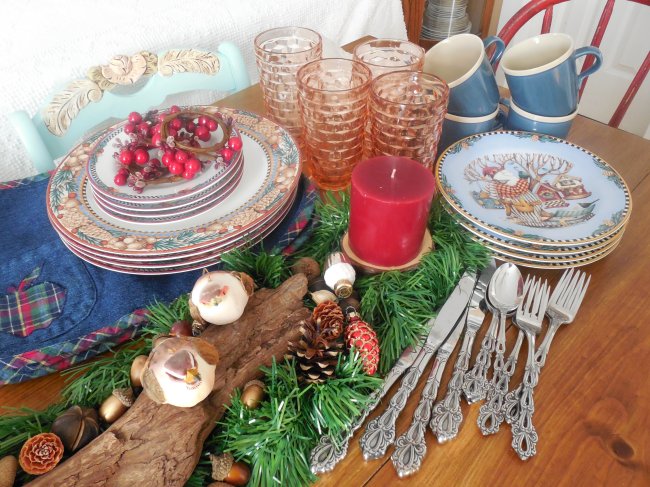 I would love to hear about your Christmas table – what dinnerware did you use? Did you do a special centerpiece? Also, I'd love it if you would join me over on my Facebook Group, Thrifty Tablescapers! We are so far a very small group sharing pictures and ideas for setting pretty tables on a budget.
Finally, here is an image you can use for Pinterest if you would like to "pin" this tablescape for future ideas.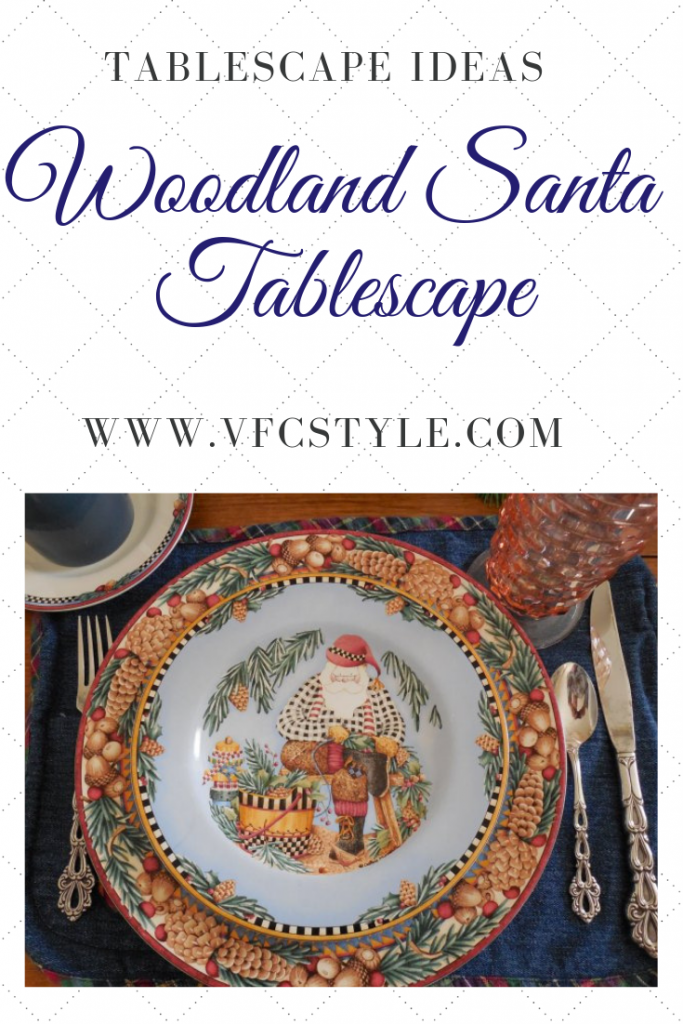 I'm sharing my Woodland Santa tablescape for Tablescape Thursday over at Between Naps on the Porch!