Recently I was looking at Pinterest and created a new board to pin examples of "Bohemian" or "boho-chic" decor. I love the way this style can be used to create an enclosed cocoon atmosphere in the bedroom! Although that is something I probably can't do in my space because the ceiling fan would blow things around too much, my bedroom had already been taking on a bit of a boho-chic feel and I did feel like perhaps I could get away with some kind of unique window treatment.
Here's a recent photo I took of the "bed wall." (A few things have changed since this was taken, but the wall itself is the same.) Note the pair of cafe curtains used as a valance – they are a shimmery champagne color, and I was using the matching valance from this set as a "scarf" on the top of my bedroom bookcase.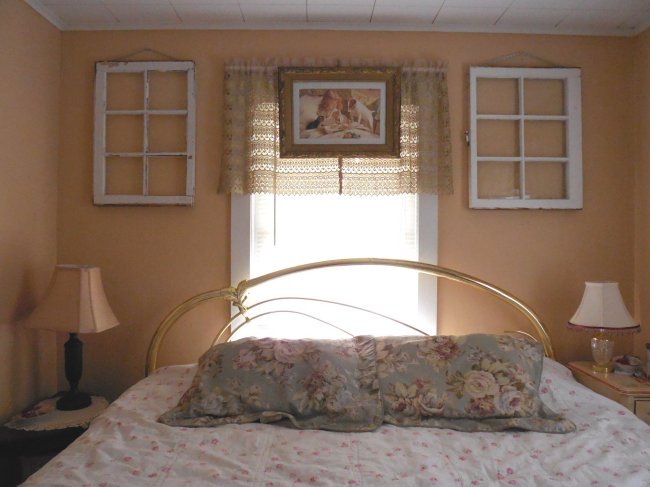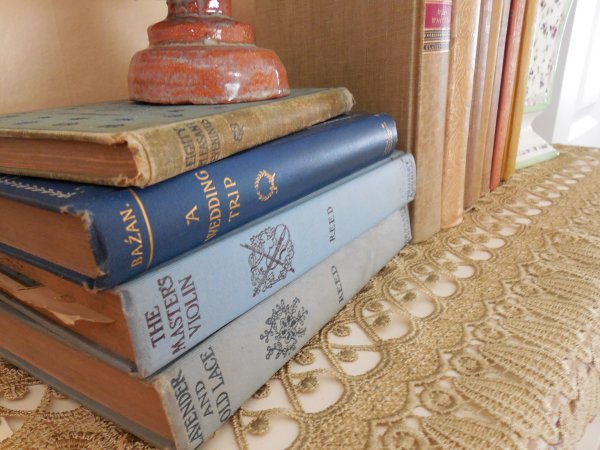 The window I decided to experiment with had only white window blinds and a floral fabric valance for covering. My thought was that maybe I could do something using thin scarves or wraps – you know, the kind you can tie around your neck in a hundred different ways. Although I do love the jewel tones that are often used in the boho style, I didn't want my window covering to be too dark and I needed the colors to work well with what I already had in the room.
I also didn't have a lot of money to spend on the project. I decided to try the Stuff, Etc. consignment store near my home, and I was not disappointed! I happened to hit the store during a big season-ending clearance sale, and I sorted through dozens of wraps and picked out about 8 of them for $1.39 each.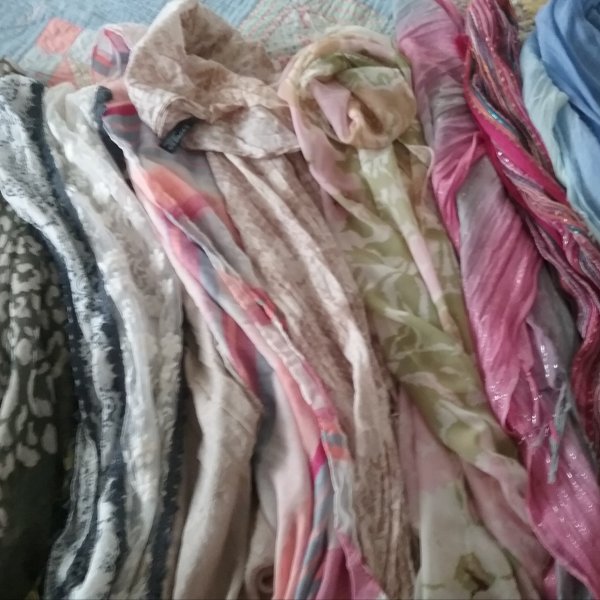 I decided I would simply drape them from the curtain rod, so I hand-sewed small ribbon loops on them and slipped those over the rod. I put them in an order that seemed to make best use of the colors and patterns, even using a couple that were a little brighter in tone than the rest. I then used the champagne-colored valance to top it off. I love the billowy rainbow effect and the light, sheer quality of the fabrics.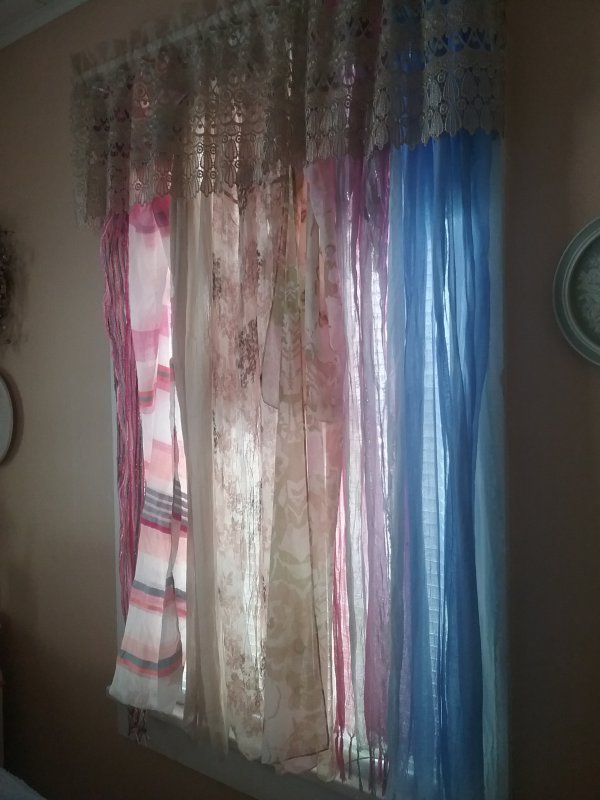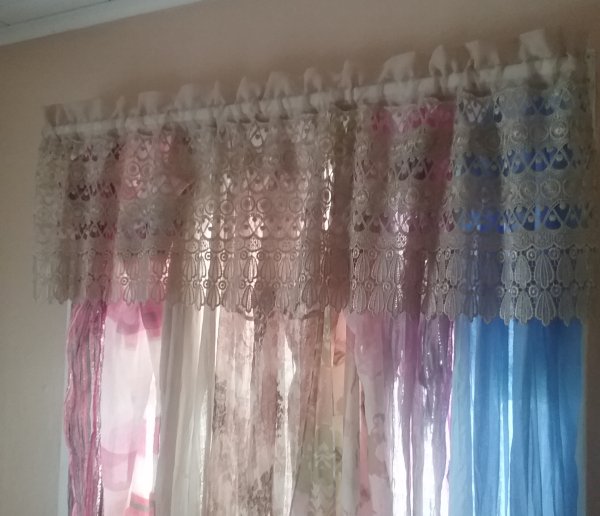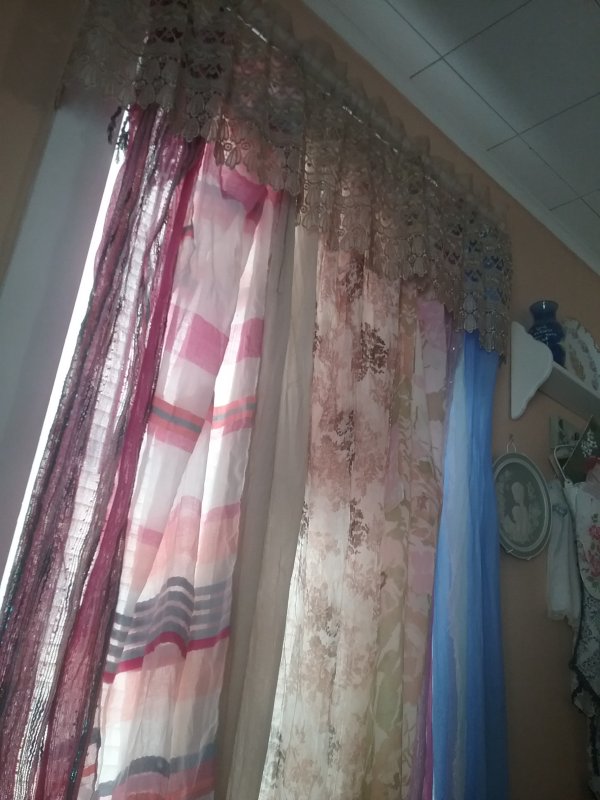 Here's what it looks like when you walk past the bedroom door – I love how well it works with the colors in the room, and I feel like it kind of draws you in to see the rest of the room – which is definitely taking on more of that boho-chic vibe as the transformation continues!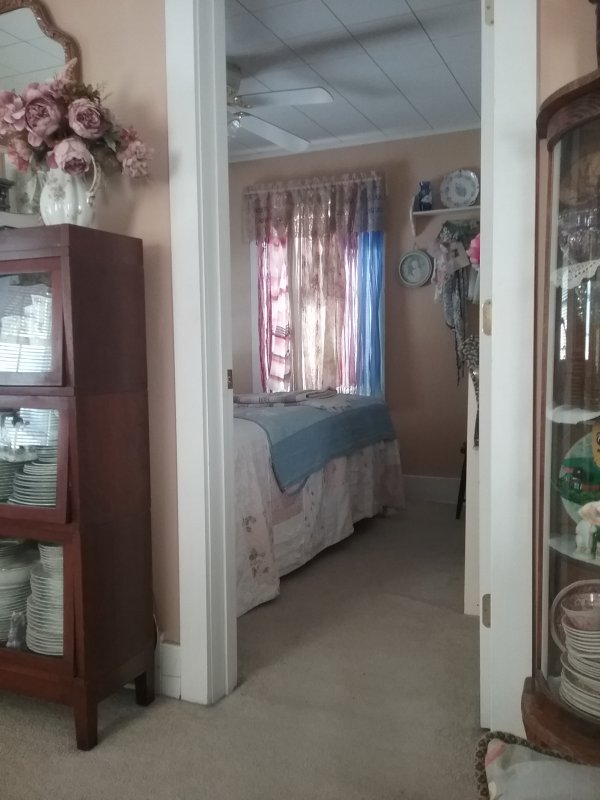 Here's an image to pin in case you would like to save my boho-chic window treatment for future inspiration!