By now you know that while others are charging full steam ahead into Fall, I am hanging back here and simply enjoying my official self-proclaimed "fifth season," Faded Summer. And you also know that one of my favorite ways to celebrate anything is by setting a pretty table! So in this post I thought I would share my 2018 Faded Summer tablescape. But don't worry, you traditionalists have my permission to refer to it as an "early fall tablescape" if you wish!
In my last post I shared some silk flowers that showed the color palette of that brief time period between the summer brights and the fall bolds. This is the time when kids go back to school, oppressive heat has most likely broken (thought in my case the humidity is hanging in there!), and summer annuals are nearing the end of their life cycle. It's those faded flowers that inspired this table for sure!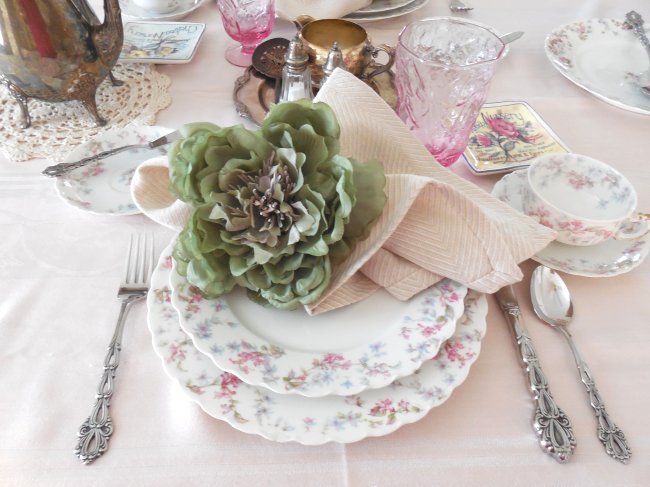 I wanted to use some of my growing collection of antique Limoges china for my Faded Summer/Early Fall tablescape, but most floral Limoges is decidedly more "rosey" than would be suitable for this table – meaning, lots of tiny pink roses and soft greenery. But I did have a few pieces of a lovely pattern that I thought would work well.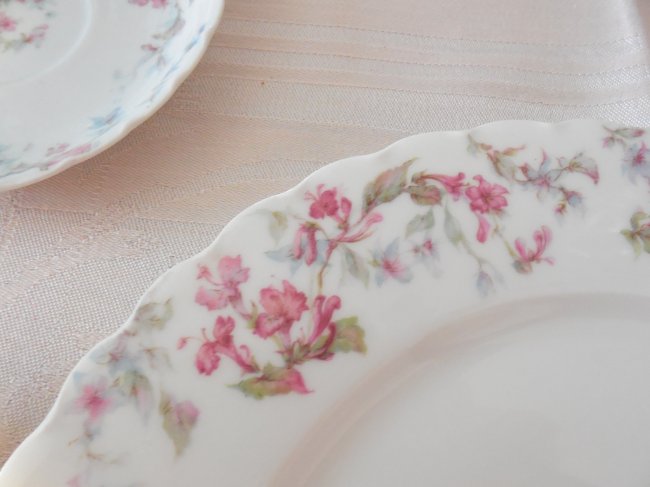 Notice how the leaves are soft green but tipped in the faintest pinkish-brown; the blue is almost gray; the pink is a bit bright on the outer edges but is faded/lighter toward the center. My main problem with this set was simply that I only had a few pieces of it – three dinner plates, three salad plates, and a lot of cups/saucers. So I set it as a table for two, but needed some appropriate elements to put with it.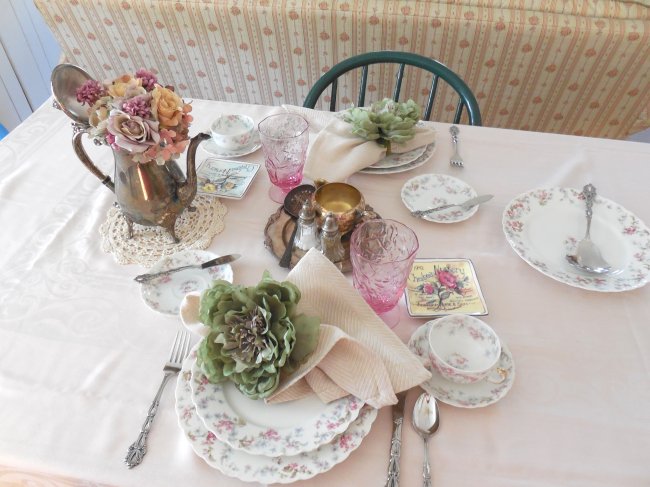 Chief among them, one of my perfectly faded silk floral bunches plopped down into a heavily patinaed silverplate teapot, and big beautiful floppy faded green peony napkin rings that I found at Pier 1!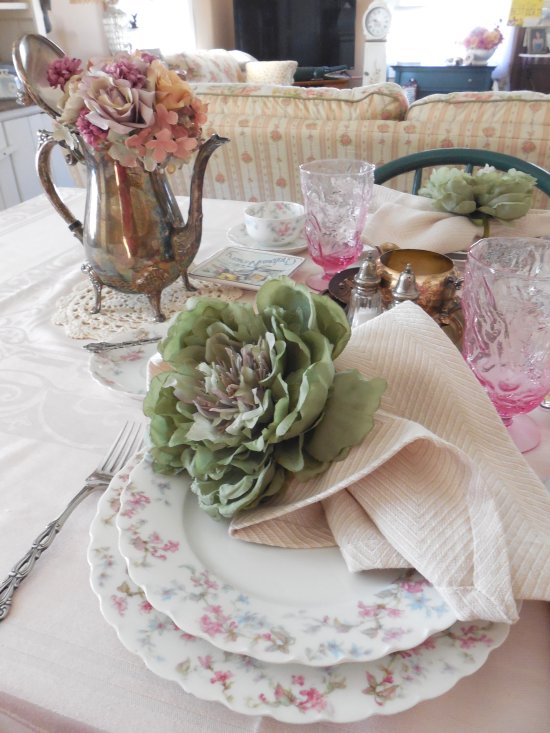 Here are some views around the table: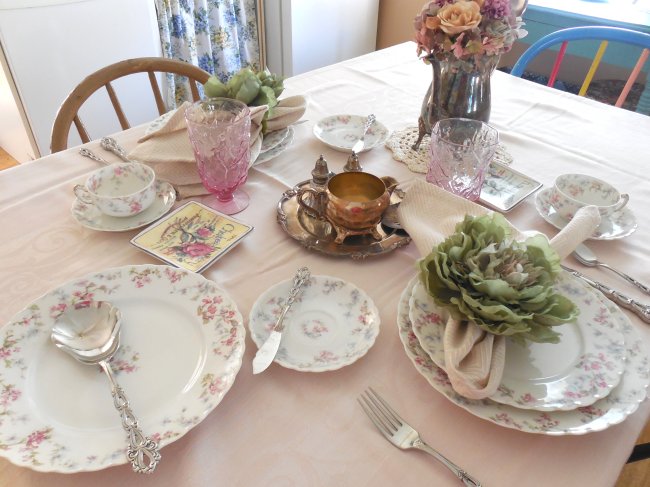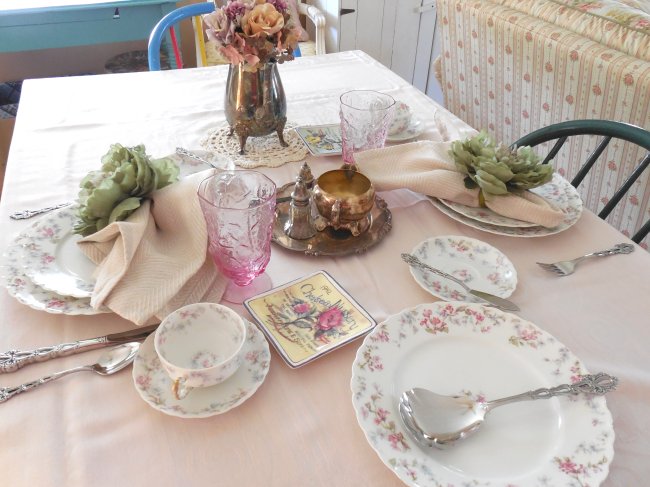 My blush-pink tablecloth is a recent garage sale find – it was in a bundle of table linens all for $3. As this was only going to be a table for two, I used my third dinner plate off to the side as a serving platter. You can see above it that I also used a couple of the spare saucers as butter plates. All of our flatware is my treasured Oneida Chandelier, which was a gift many years ago from my great-Aunt Hazel.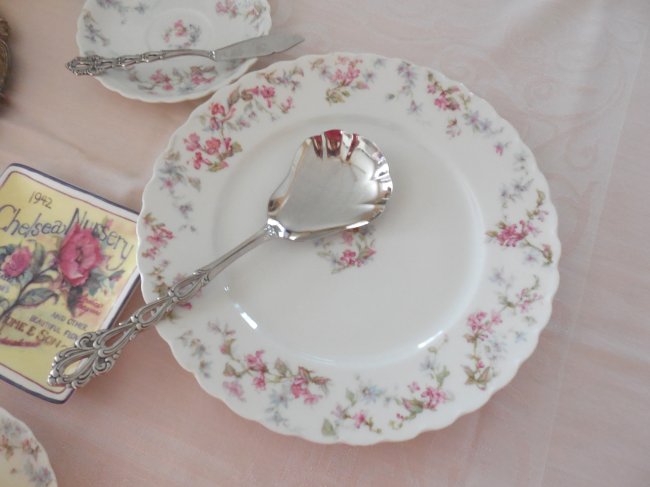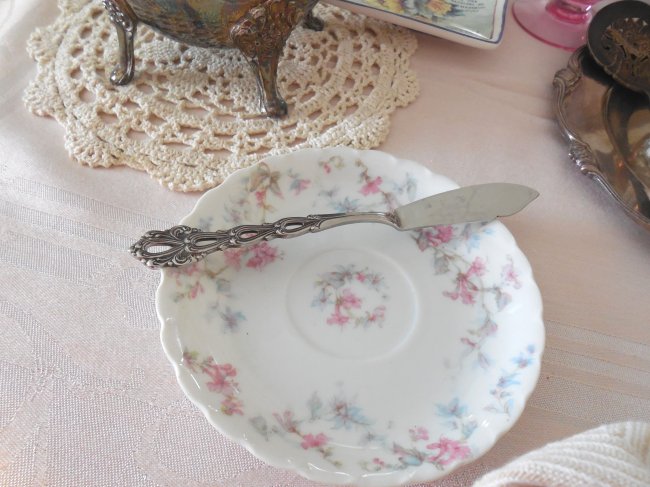 Here is the overall place setting: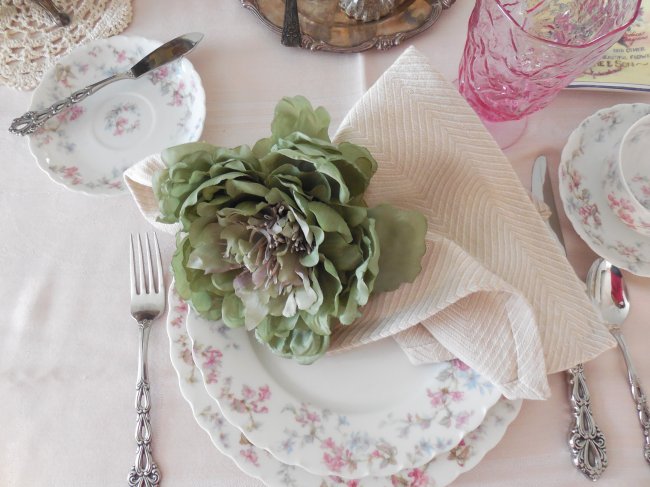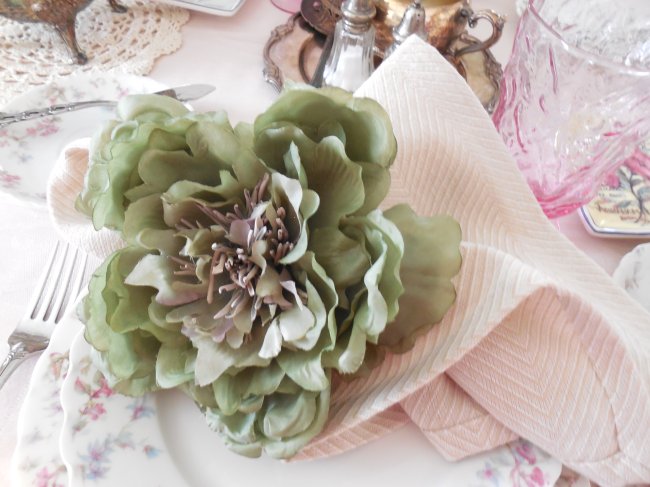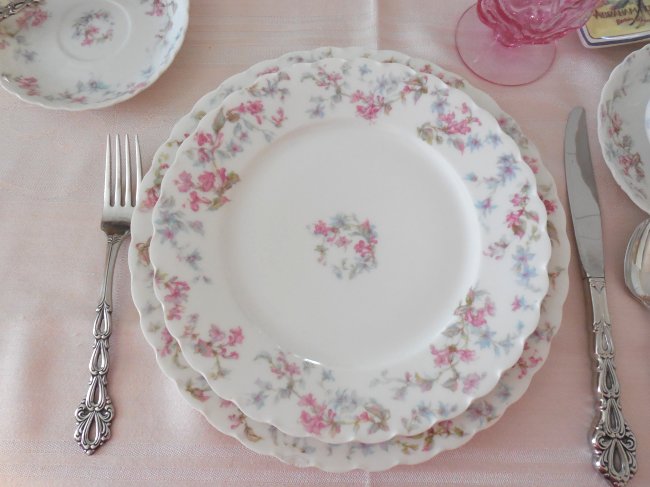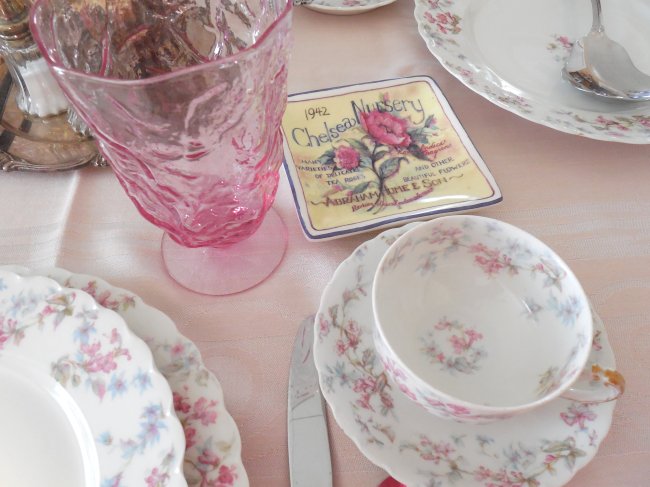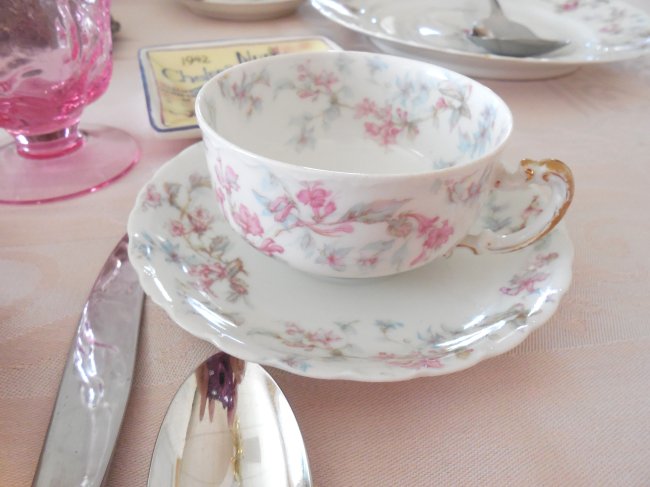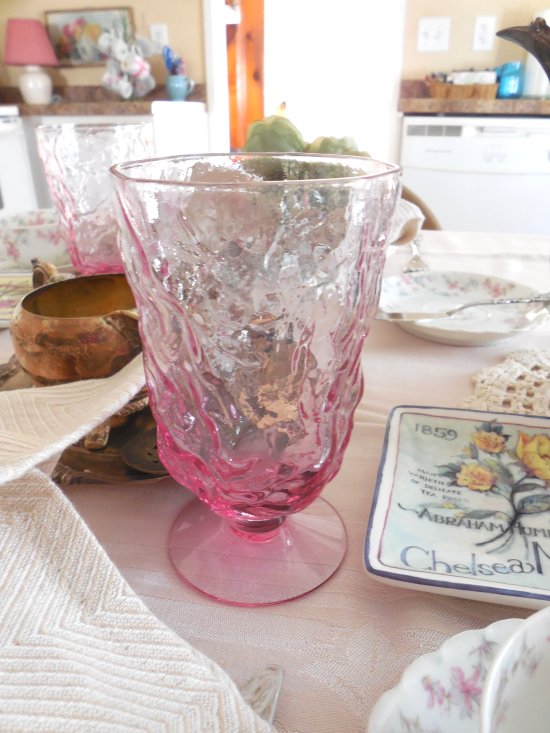 I also placed a little square nursery-themed dish at each seat, suitable for a knife rest.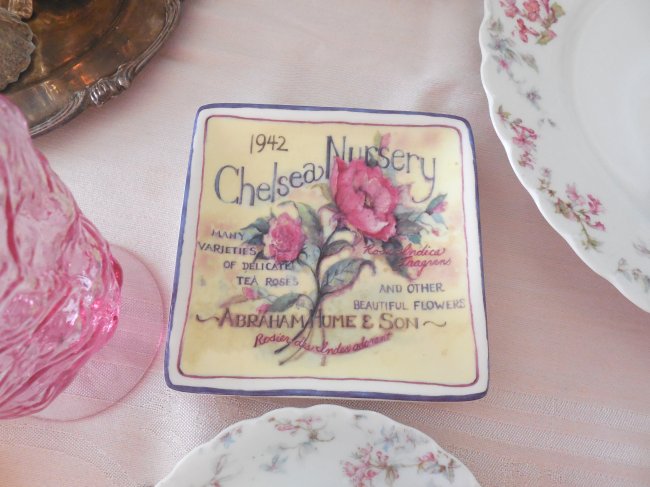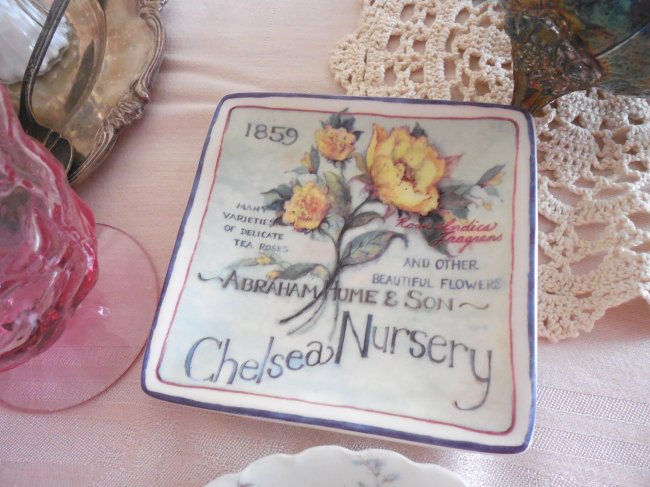 Here are our faded summer flowers in the silverplate teapot again: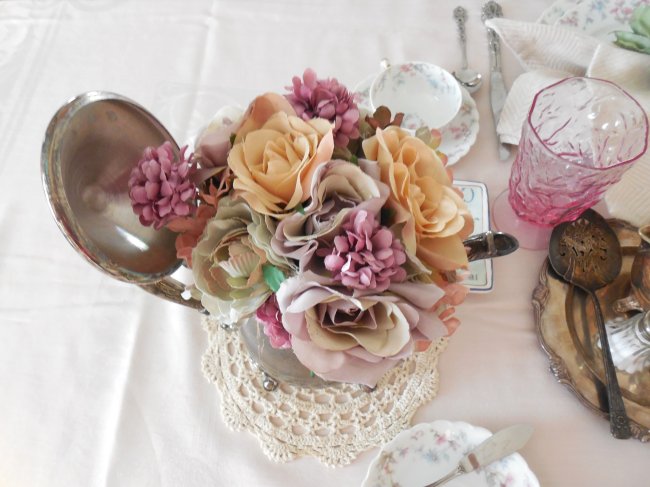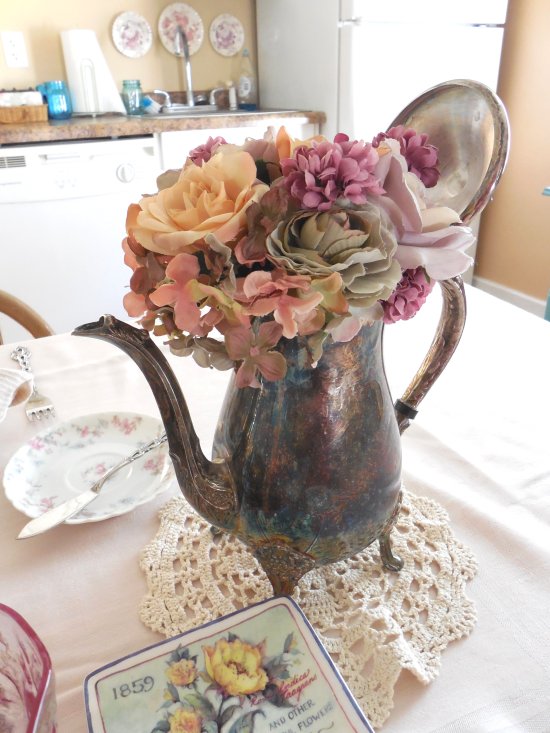 And a few additional silverplate pieces with beautiful patina.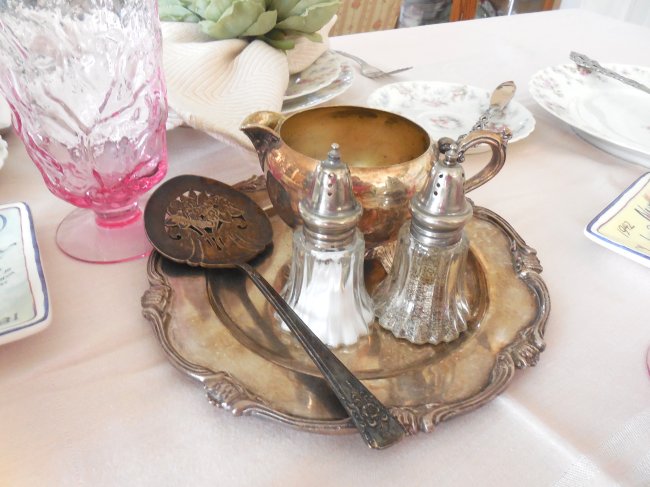 Now here's where my ignorance – or at least, lack of refinery – lol – might show through… While I think the heavy patina on that serving piece is gorgeous, particularly in an early fall tablescape, my inclination would be to polish it up before using it to serve food. So I had to look it up – is it safe to eat off of genuine silver, even if it has patina? The short answer is yes, it is safe, especially Sterling silver and most antique/heirloom silver! But there are some foods, such as eggs, that are best not eaten off of silver because they will discolor it and infuse it with an unpleasant taste. You might find these links interesting regarding the food-safety of silverware.
Here's a final birds-eye view of our pretty table!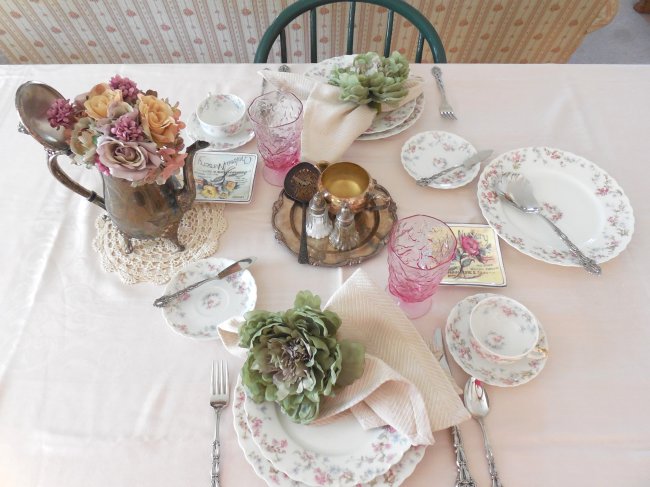 And, here is everything all gathered up, waiting to go back into the cupboards – the "put-away shot"!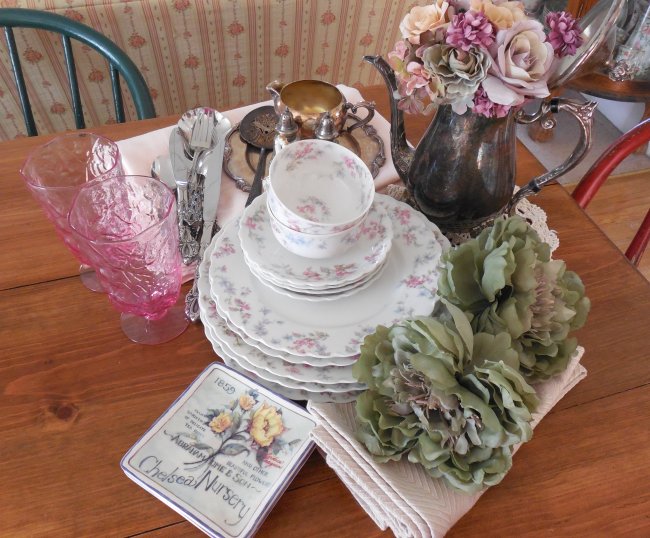 Here is an image to Pin if you would like, for future inspiration!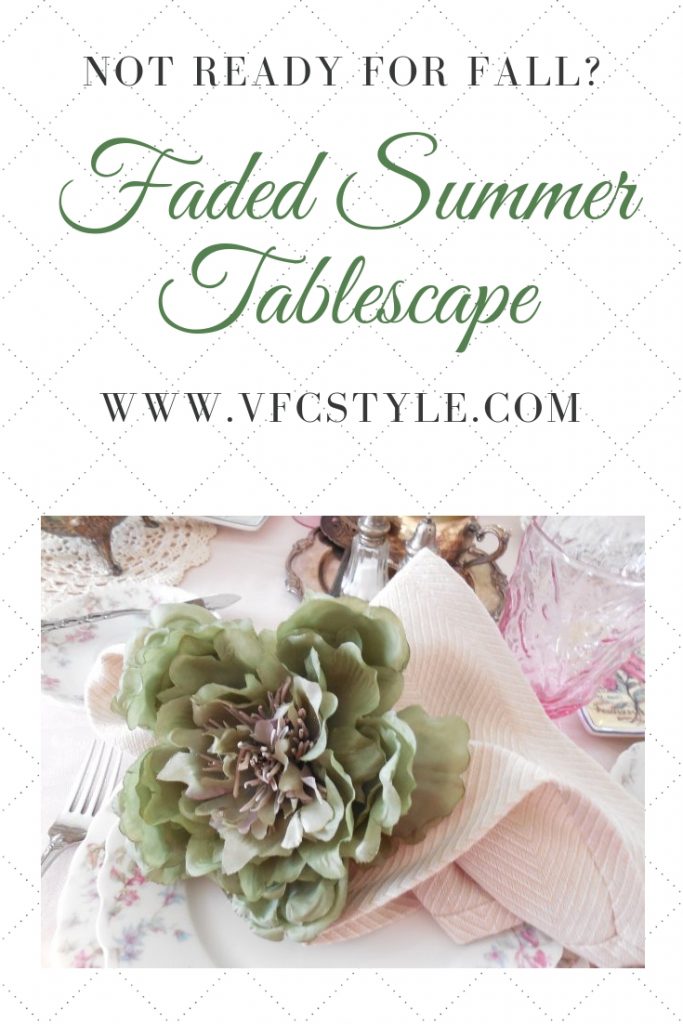 P.S. – I'll be sharing for Tablescape Thursday at Between Naps on the Porch!