Of course, I'm sharing this post for the 500th Tablescape Thursday at Between Naps on the Porch! Congratulations, Susan, and thank you for all the inspiration these past 10 years!
If you have enjoyed any of the tablescapes I've shared on my blog, you know that I usually link them to the tablescaping blog link party at Between Naps on the Porch. I think I first discovered Susan's blog in about 2010, and she had already been hosting the weekly link-up for at least a couple years. This week marks the 500th Tablescape Thursday! Can you imagine… Susan has been setting beautiful tables, and giving others a place to link up their own beautiful tables, creating so much beautiful inspiration – for 500 weeks. That's almost 10 years!
Susan doesn't normally set a theme for the week's link-ups, but for Week 500 she suggested that bloggers share a few pictures from some of their own favorite tables. I thought I would do just that, but I've only been "setting pretty tables" with any regularity for about a year. So because I've got a limited number of tables from which to choose favorites, I'm also going to include in this post the most recent table that I set this past weekend.
First though, here are five tables I've set that I really love!
#5.
#4.
#3.
#2.
#1.
Now for a brand new table… if you follow me on Instagram you might know that I have spent the last ten-or-so weeks with a broken ankle, so I haven't been able to get around too well lately. This past Saturday though, I was two days away from getting my final clearance to start walking and driving again, so I decided it was probably safe to putter around the house and haul out some dishes.
My inspiration for the table was this little centerpiece that I had styled for my sawhorse coffee table in the living room. I had been looking at it all week (and loving it!) and decided to move it onto the dining table.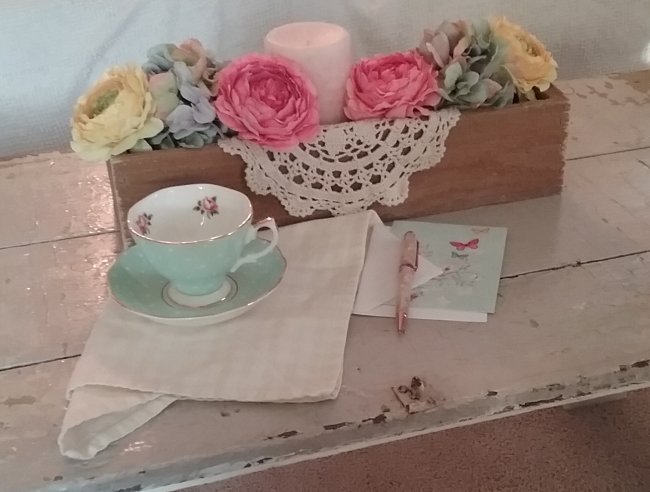 It occurred to me as soon as I got started that this piece would be perfect if set with my new Pier 1 "Spring Birds" plates – a set of four, each with a different bird scene. I just love each and every little birdie.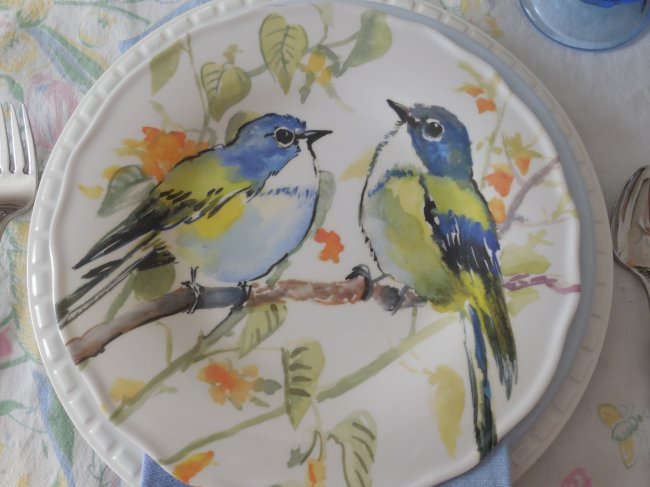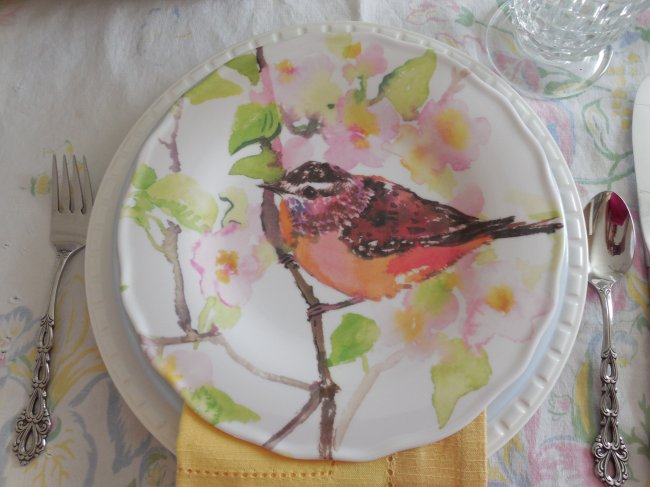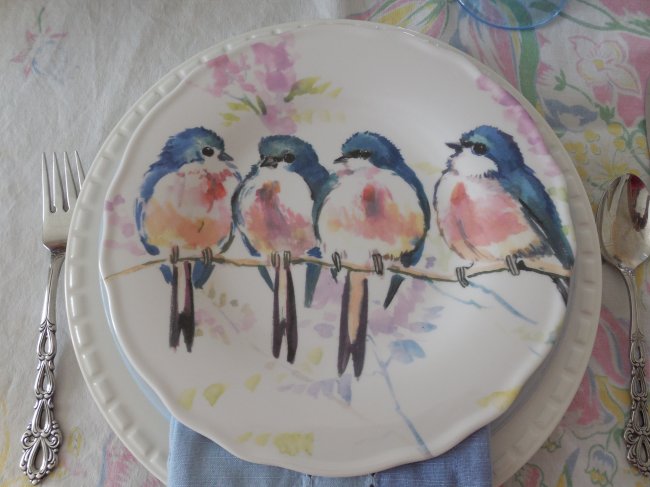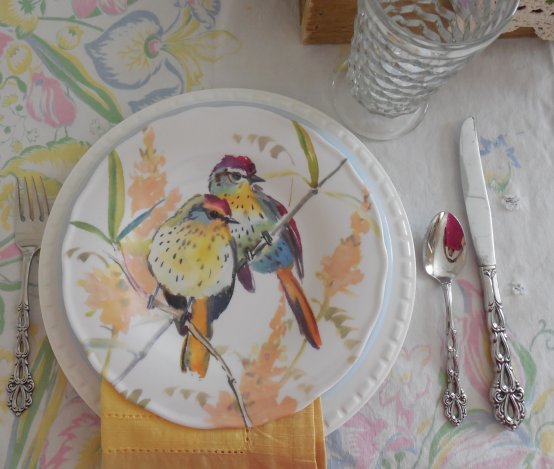 Blue and yellow napkins are also Pier 1 – always purchased on clearance!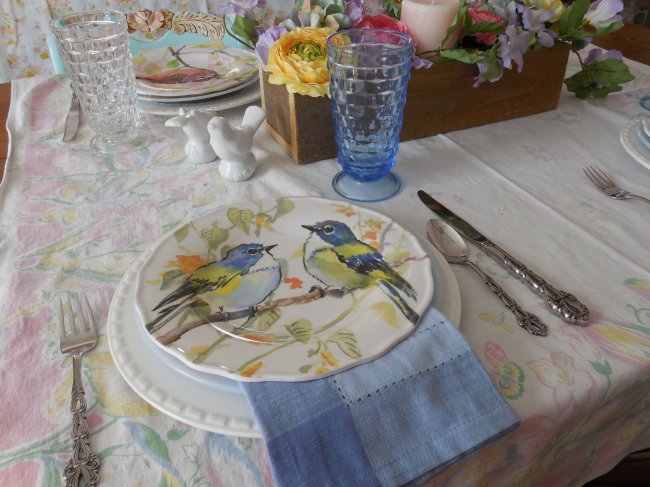 Our place setting starts with those sweet birds. You can barely see the second layer because it's so close in size to the bird plates. But these are Fireking in the faintest ice blue.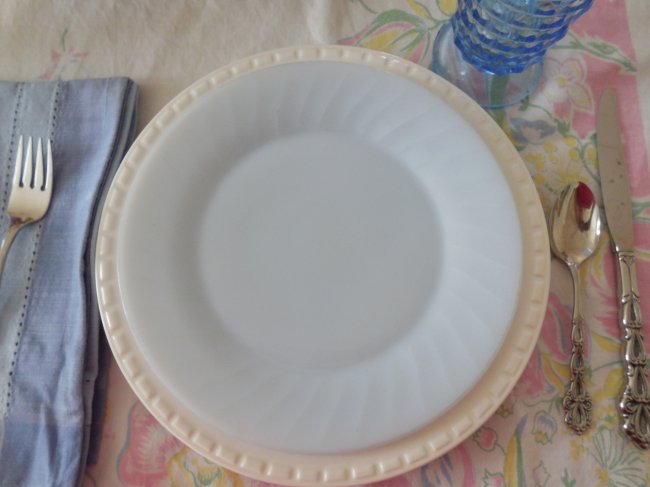 Next are some basic white dinner plates with just a touch of texture around the rim – it looks like stitching, doesn't it? These are from Home Goods.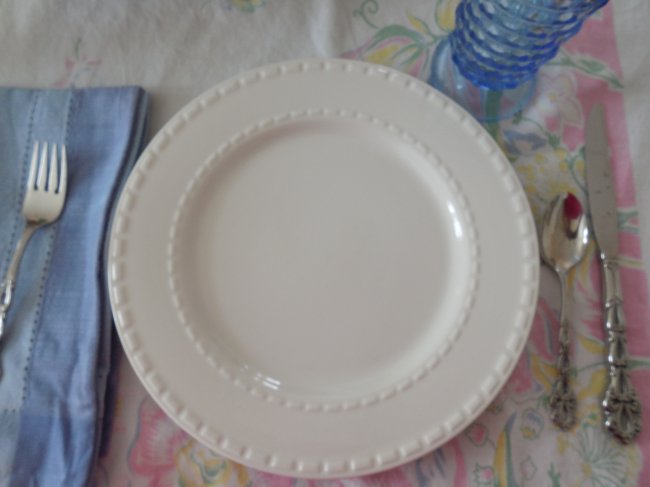 I love seeing all the edges together –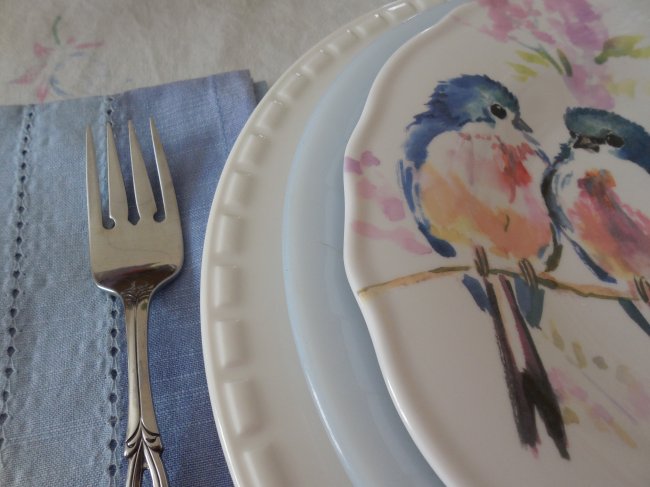 Our flatware is Chandelier by Oneida – my everyday set.  The glassware is Whitehall by Indiana Glass.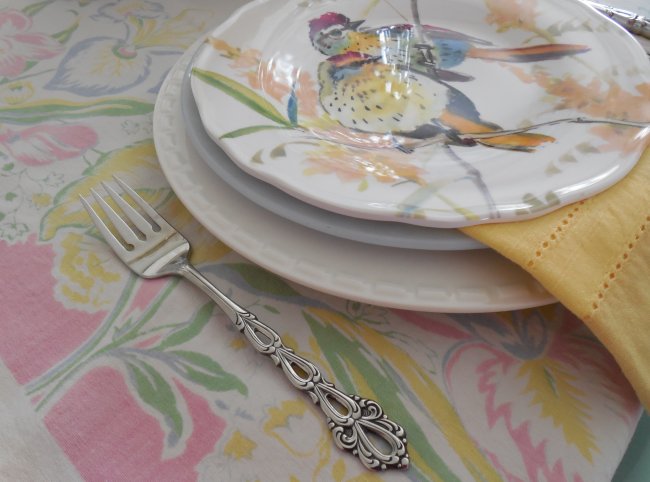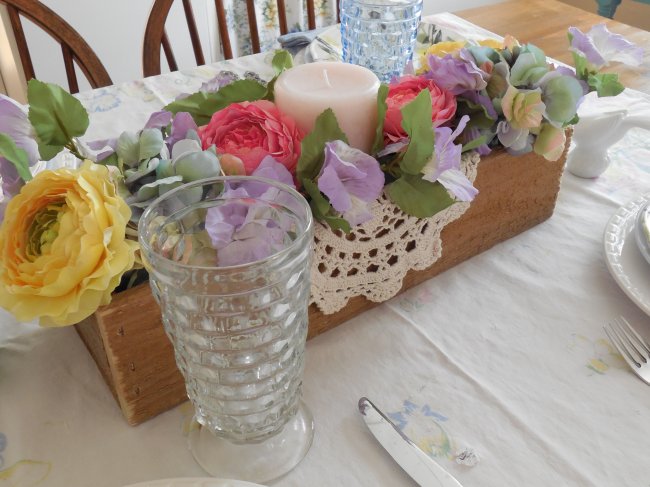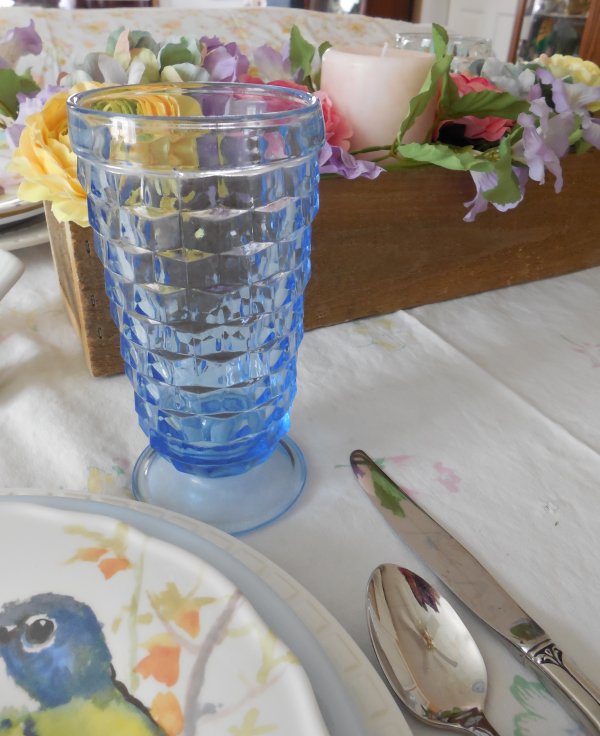 And, of course the centerpiece that inspired the table – pretty silk florals are mostly napkin rings, and the wooden trough is hand-made.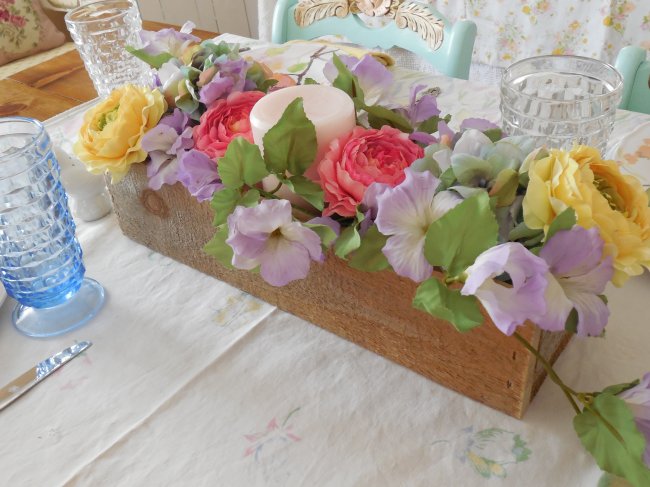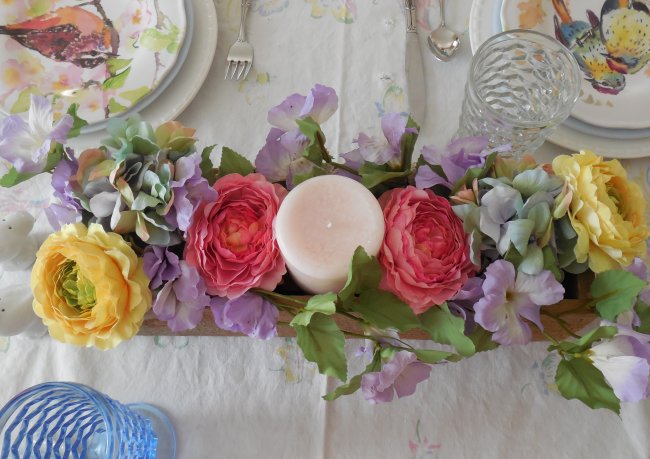 A few more views around the table –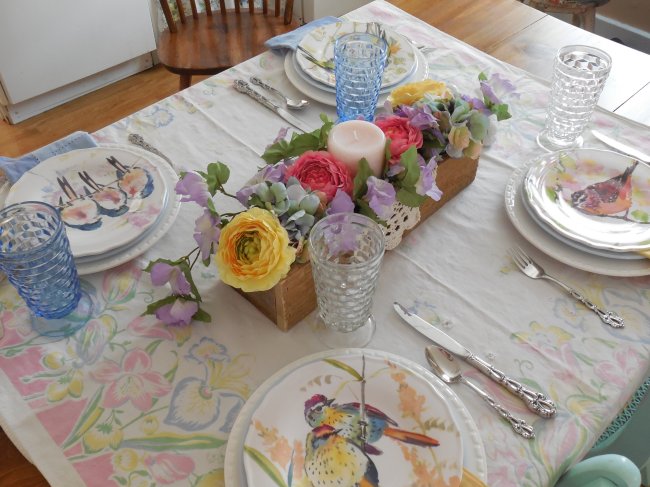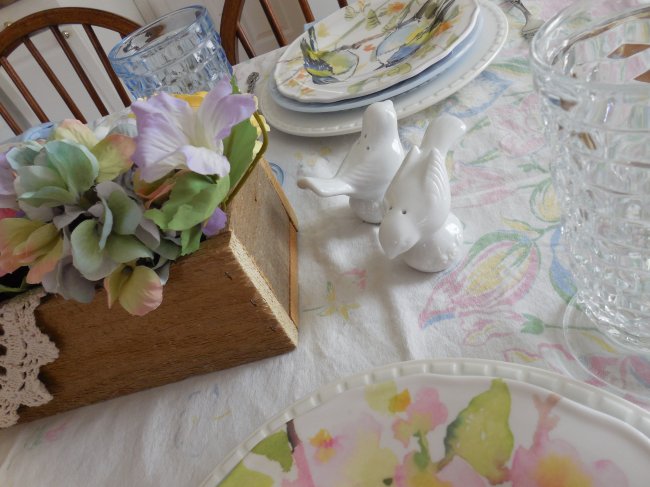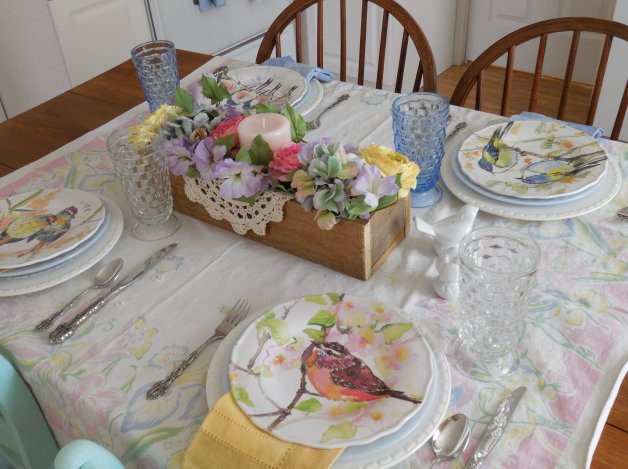 Here's an actual overhead shot –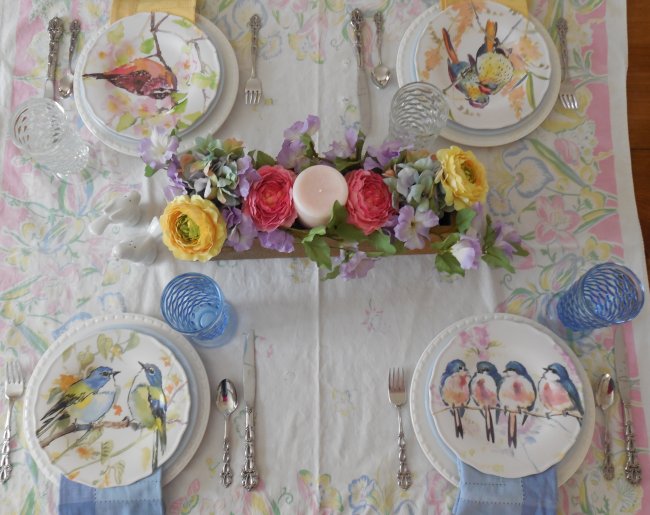 Here, everything is gathered up and ready to go back into the cupboards.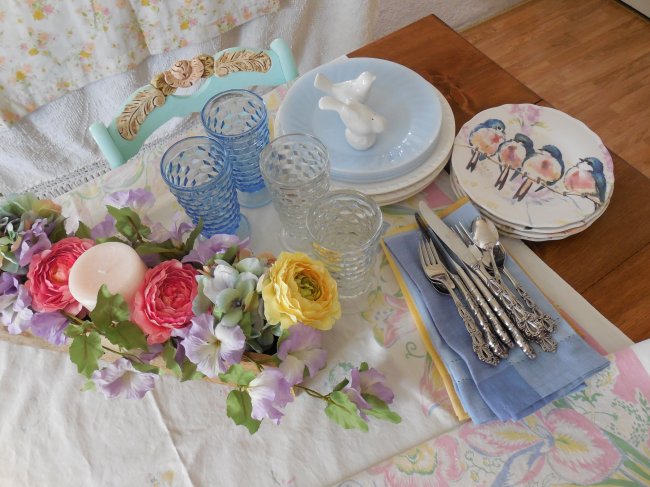 Here is an image suitable for Pinning if you have Pinterest boards devoted to tablescapes!