Even though my annual Halloween celebration is limited to carving a jack-o-lantern and enjoying my share of the Reese's Peanut Butter Pumpkins, it has nonetheless become one of my favorite tablescaping themes to play with. This year my Halloween tablescape was going to be centered around the theme of "Gothic Rose," based on some salad plates I had found over the summer at Goodwill. But I quickly shifted gears when I found a set of beautiful teal tumblers at another Goodwill – my all-time favorite tumbler, in a gorgeous color I'd never found in the wild before!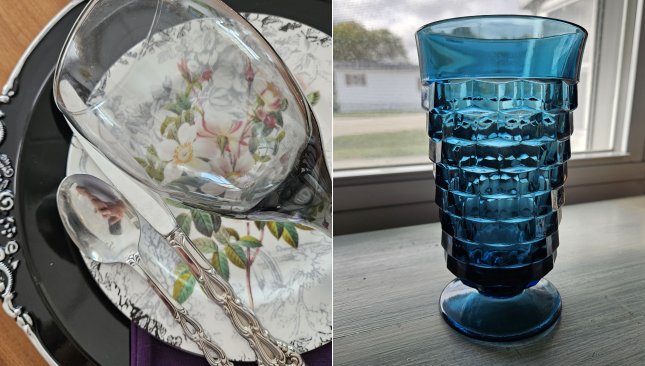 Now I loved this color all on its own, but as soon as I realized that it might work for a "spooky gothic" vibe alongside my black Dollar Tree dinner plates, I had another challenge: I didn't have any dark blue salad plates to carry on this theme! Goodwill to the rescue again, because on my next visit I found these gorgeous plates that had a lot of variation in blue hues thanks to the amazing glaze.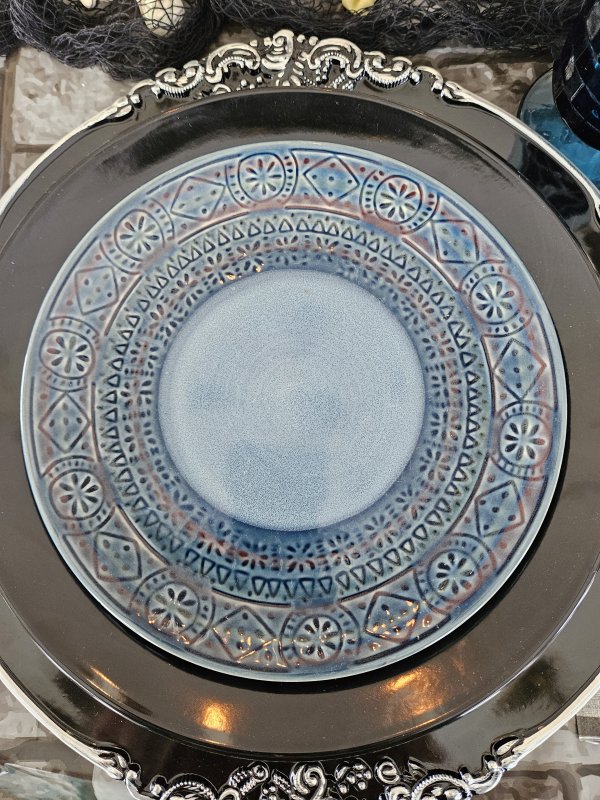 So with salad plates (marked "Threshold – Kingfield" – originally I think from Target) to work with my glassware, I changed my Halloween tablescape theme to "Gothic Moody Blues," and came up with this: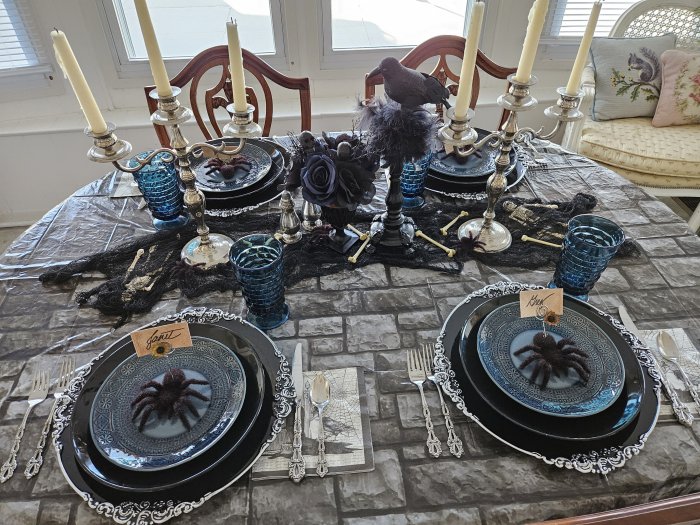 Understanding that my phone camera tends to over-compensate when it thinks there is a lack of daylight, the table is actually darker and moodier in person. There are a lot of individual elements to this table that all contribute to the spooky vibe. Let's take a closer look!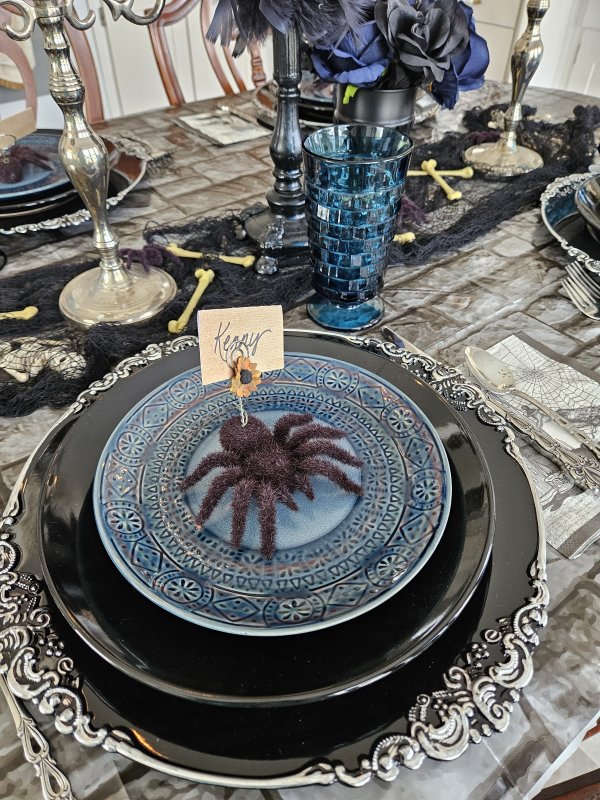 I personally feel that black and silver are crucial to the "haunted house" style that I always strive for on a Halloween table. The black acrylic chargers were what I would call an essential splurge for this look – I purchased them on Amazon and of course plan to use them for other tables as well. (The link is an affiliate link, by the way – if you purchase by visiting my link, it costs you nothing extra but I earn a small commission to put toward my blog hosting fees. Thank you!)
My handed down "Chandelier" stainless flatware by Oneida takes on a very Gothic feel for this type of table as well. I recently calculated that this flatware has been in my family for at least 50 years – I've been using them myself daily for a little over 30 years, and before that they belonged to my great-Aunt Hazel.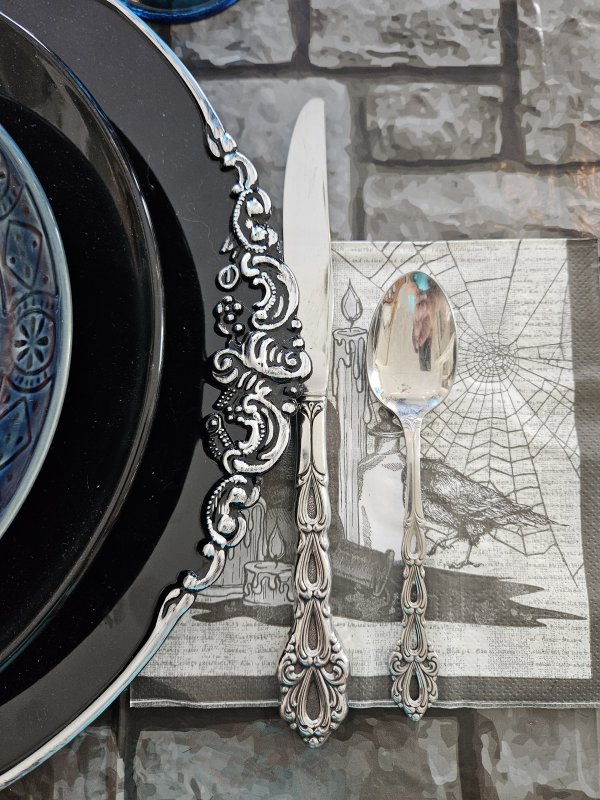 Here's the right-hand flatware. Paper napkins were from Party City.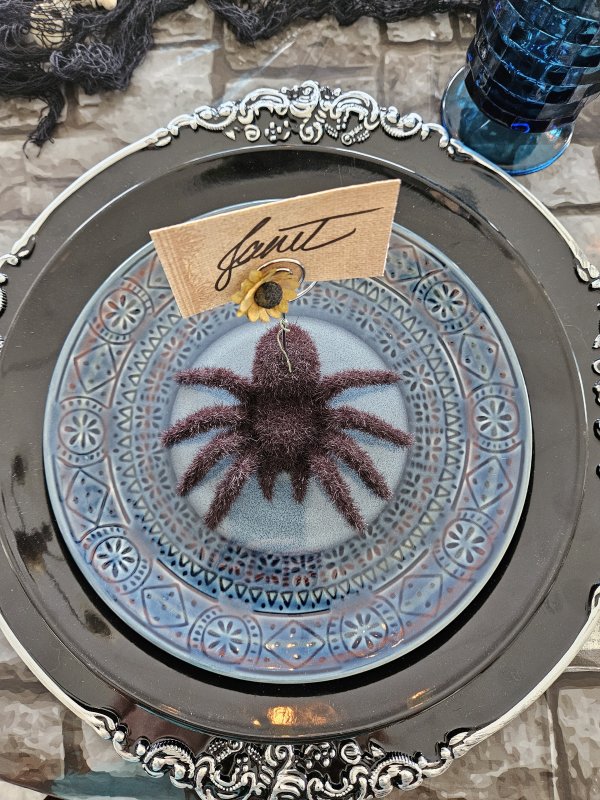 Placecards were a fun little Halloween craft project. I bought the large fuzzy spiders in a pack at Party City, and I had the photo holders and card stock already in my stash of craft supplies. The little sunflowers came in a pack at Dollar Tree – they were bright yellow but I aged them with brown and green watercolor paint for that wilted, "sunflowers in a haunted house garden" look.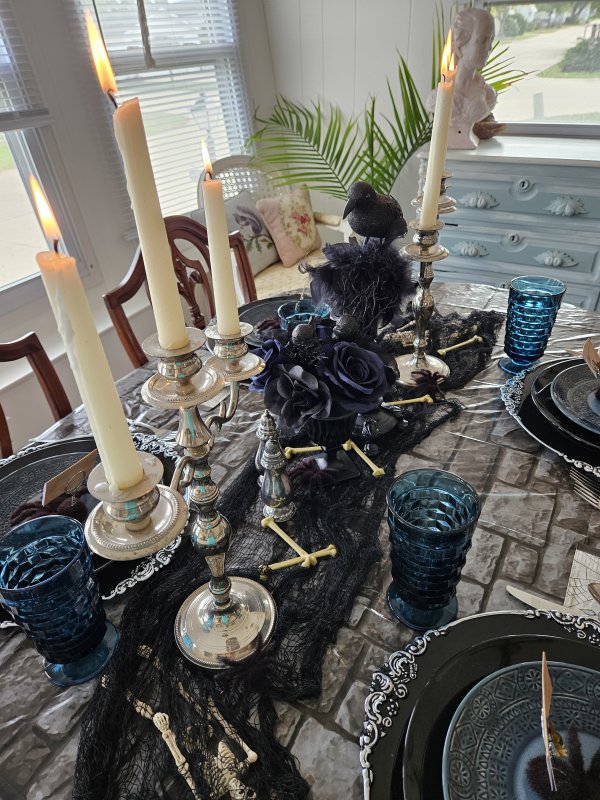 The centerpiece was a runner style, using netting and miniature skeletons from Party City, bones from Dollar Tree, and other elements from my stash.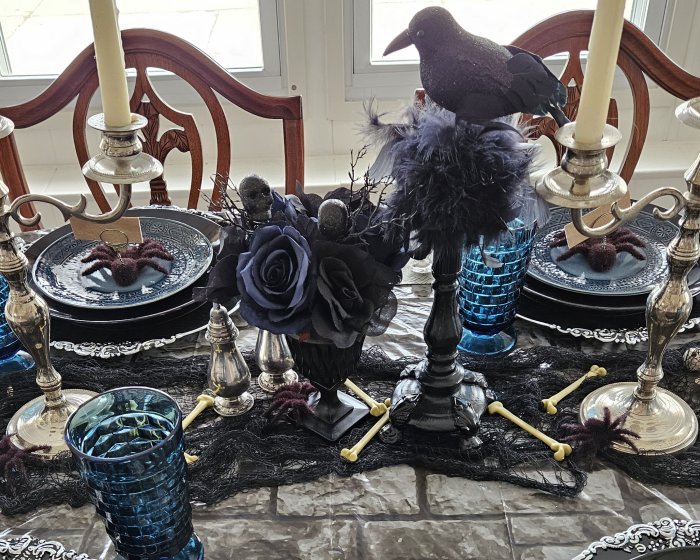 The centerpiece also includes two simple Halloween craft projects: my "perching crows" made several years ago from thrifted and Dollar Tree elements, and a silk floral arrangement using the painted goblets I made last year for Halloween and Christmas.
Here are a few more views around the table: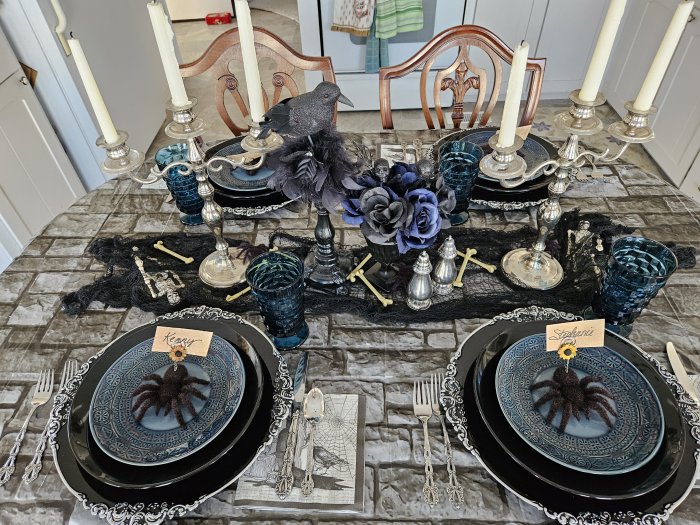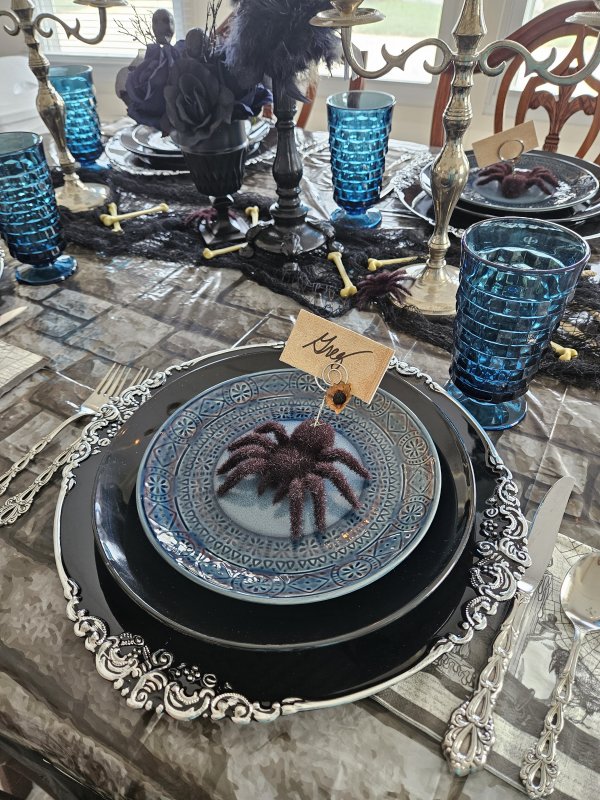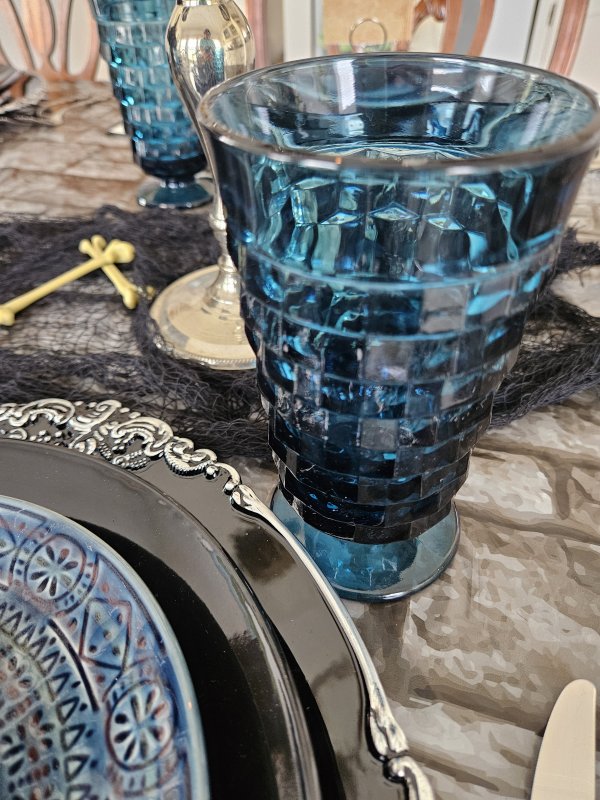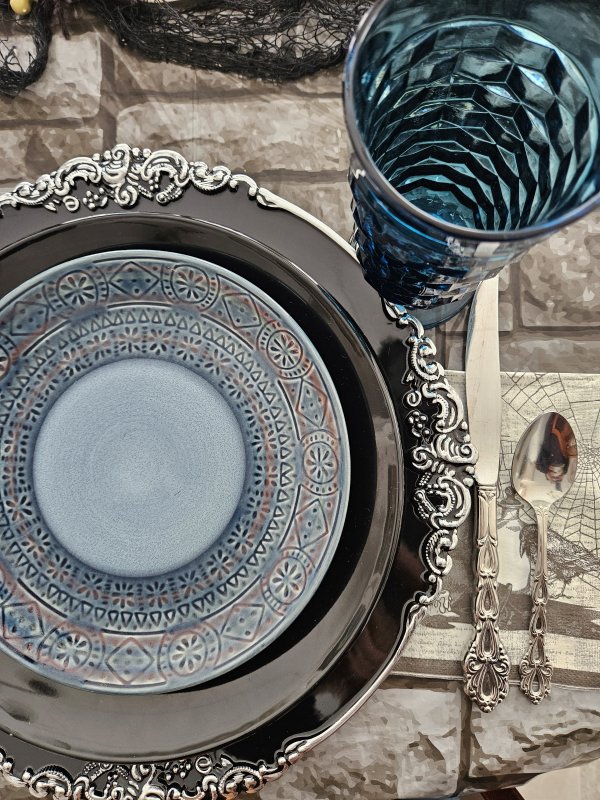 And here is the put-away shot, just before everything went back into the cupboards: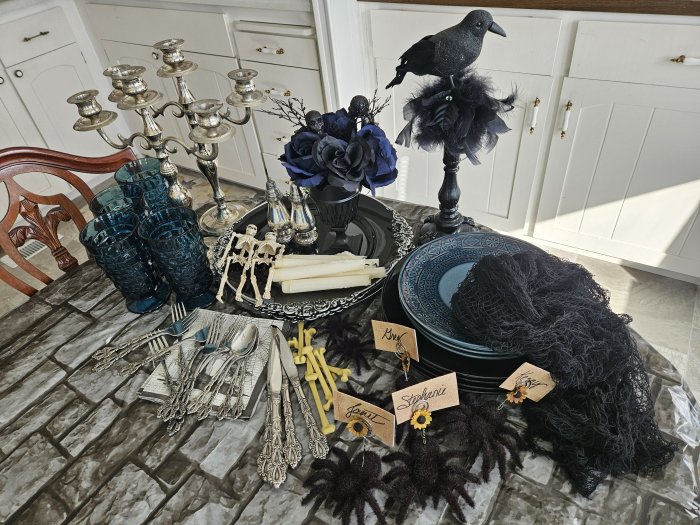 Now you may be wondering about the afore-mentioned "Gothic Rose" theme – what might that have looked like? Well I switched out a few elements just to show you how a change in salad plates, glassware and centerpiece florals would change the vibe!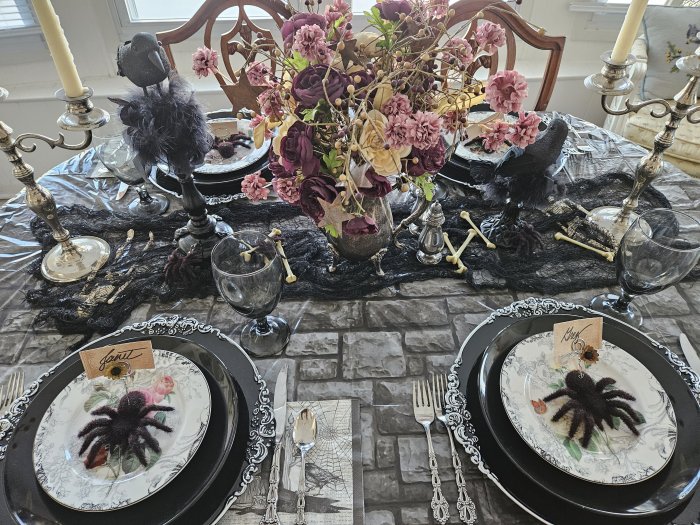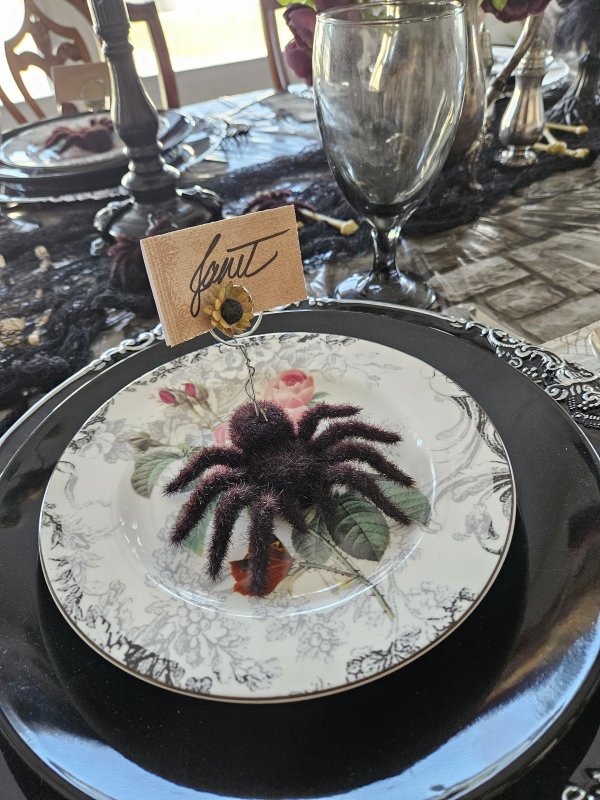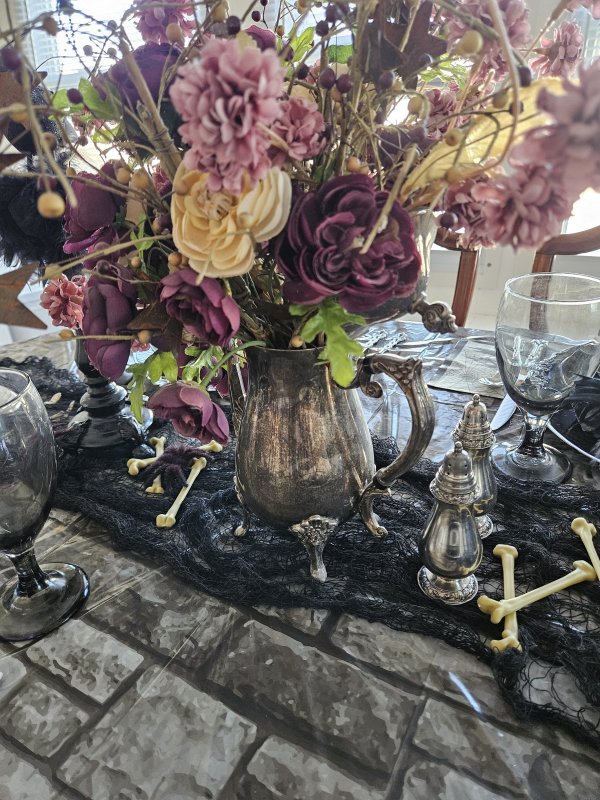 Do you have a favorite between the two? I love the "tangled mess" of the floral arrangement on this one – like an overgrown garden that would surely be present at a haunted gothic-style house, and I think the salad plates worked well. But I think I prefer the blue version, if only because it's dark and different – blue isn't a usual Halloween color, but I think it can be appropriately moody when needed!
I will be sharing this post for Tablescape Thursday at Susan's long-running blog, Between Naps on the Porch. Be sure to click through for more tablescape inspiration! AND… a special treat! There was recently a Halloween-themed tablescaping "blog hop"! A great place to start is Rita's blog, Panoply – you'll see her festive Halloween table and she lists all the other blog hop participants!
Meanwhile, here's an image to pin if you'd like to save this post for future ideas: