I have a hard time finding Halloween decor that I like. I'm not much for the cartoony kid stuff, and I also dislike – rather intensely, I might add – the gory options like zombies, axe murderers, chain-saw-wielding villains, etc.
But one thing I do like – is crows!
Beautiful, sociable and really smart – crows are so "present" in Fall that they just seem a natural motif, along with their avian cousin, the raven, for late-Autumn decor. And I found it's easy to make them just a little bit spooky for Halloween in a very non-cartoony and non-zombie way!
Last year, my search for Halloween decor led me to two places: Dollar Tree, and Goodwill. (Big surprise, I know!) I loved the glittery faux crows I found at Dollar Tree, and my trip to Goodwill yielded a perfect candlestick-style lamp base. I was initially thinking I would just style these items together on a shelf or something, but then I thought – why not combine them!
So with all of this plus a black feather boa, I crafted this perching crow: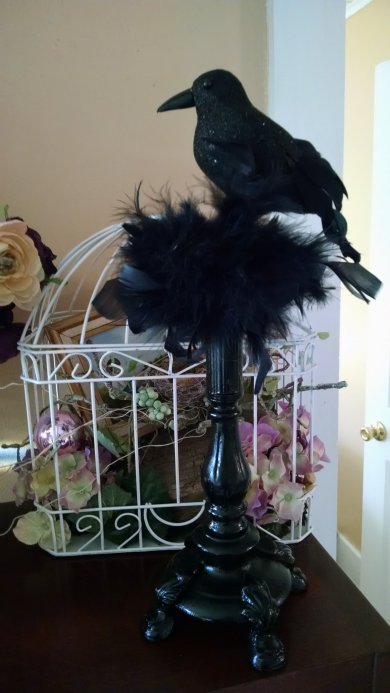 Well, I loved him SO much! So this year I vowed to make a few more, especially after scoring these two perfectly spooky lamp bases – two for a dollar! – at a flea market! They are metal, and the green faceted centers are plastic.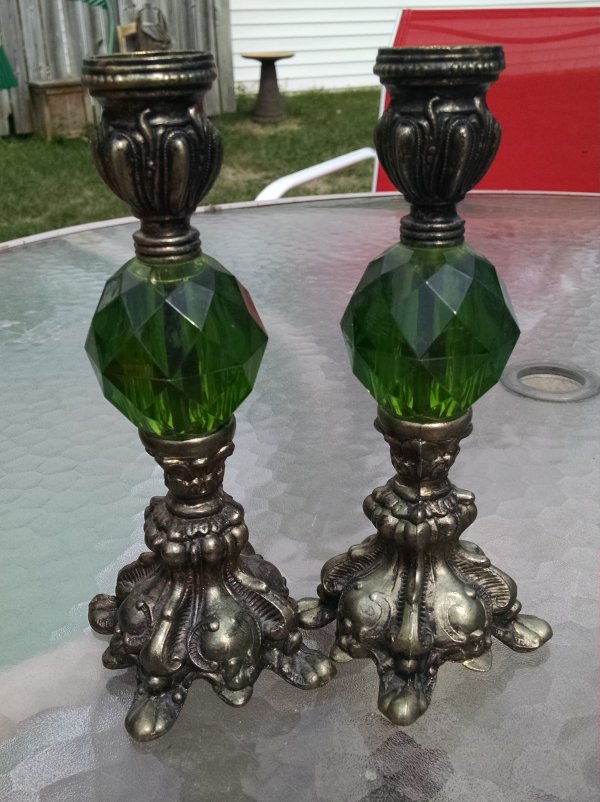 To make a perching crow of your own, you will need:
Thrifted candlestick lamp base (OR – glass taper candleholder or glass bud vase from Dollar Tree)
Faux crow (Seasonal at Dollar Tree)
Black feather boa (Seasonal at Dollar Tree)
Chunk of florist foam (Dollar Tree)
Hot glue
Black spray paint in satin finish
Assembly is about as easy as it gets:
Spray paint your base


Glue a small chunk of the florist foam down into the candle well or "wiring well" of your base.
Poke the wires coming out of the bird's feet down into the foam, and cover the entire area with hot glue, including the feet. (This won't be seen once the feathers are in place.)
Glue a length of feathers around the top of the base and the bird's feet. NOTE: Be prepared for the feathers to make a mess! And DON'T stress about the feathers being perfect! Once they are on, they will look awesome even if they pull apart a little and stick to your glue-covered fingers like mine did.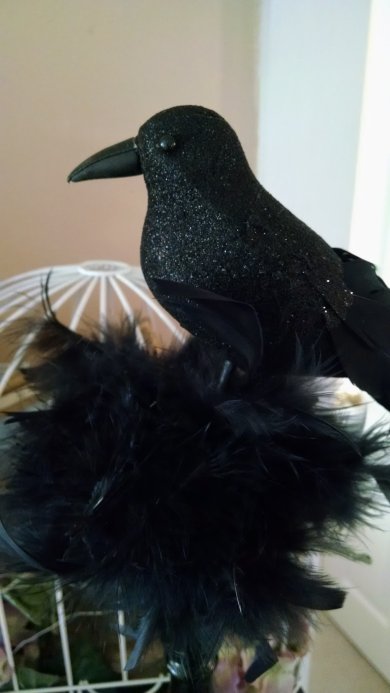 Here are the two made from the green globe lamp bases: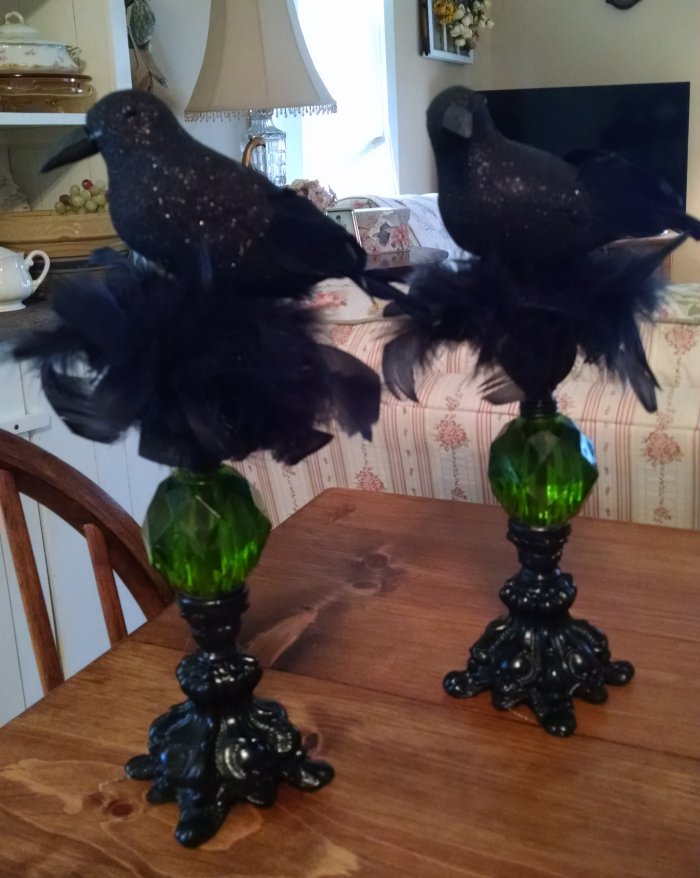 I also made one from a glass taper candleholder: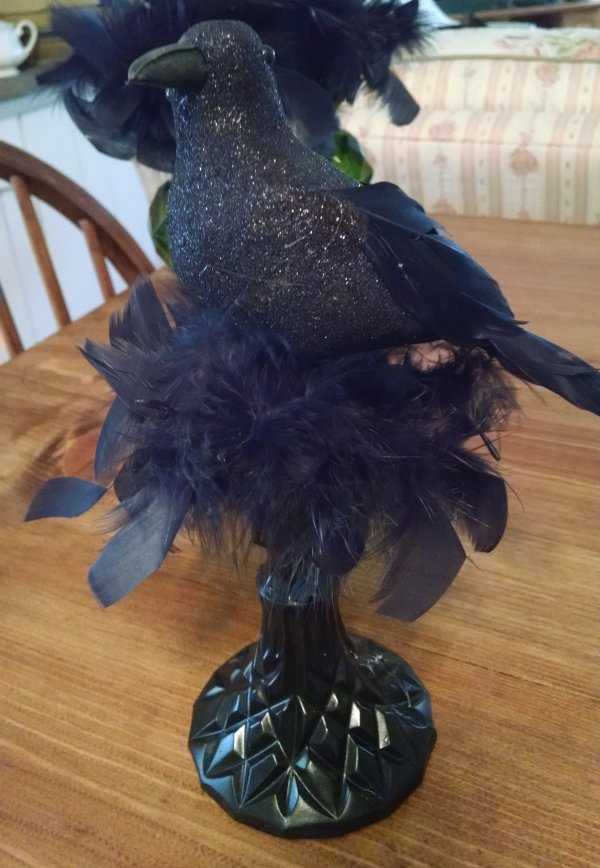 I love how the variations in the faces give them distinct personalities! Doesn't he look like he's very curious about what you're up to?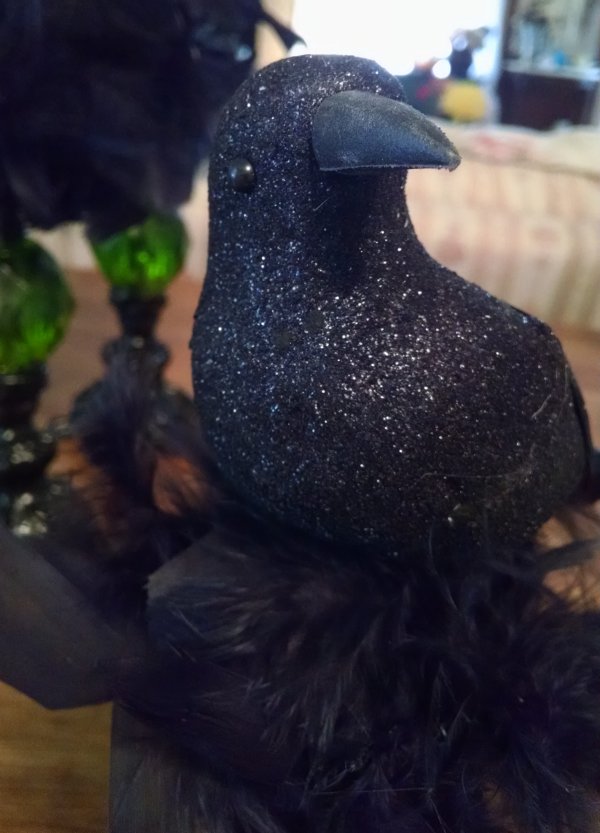 And here they are perched alongside my Gothic-style radio cabinet: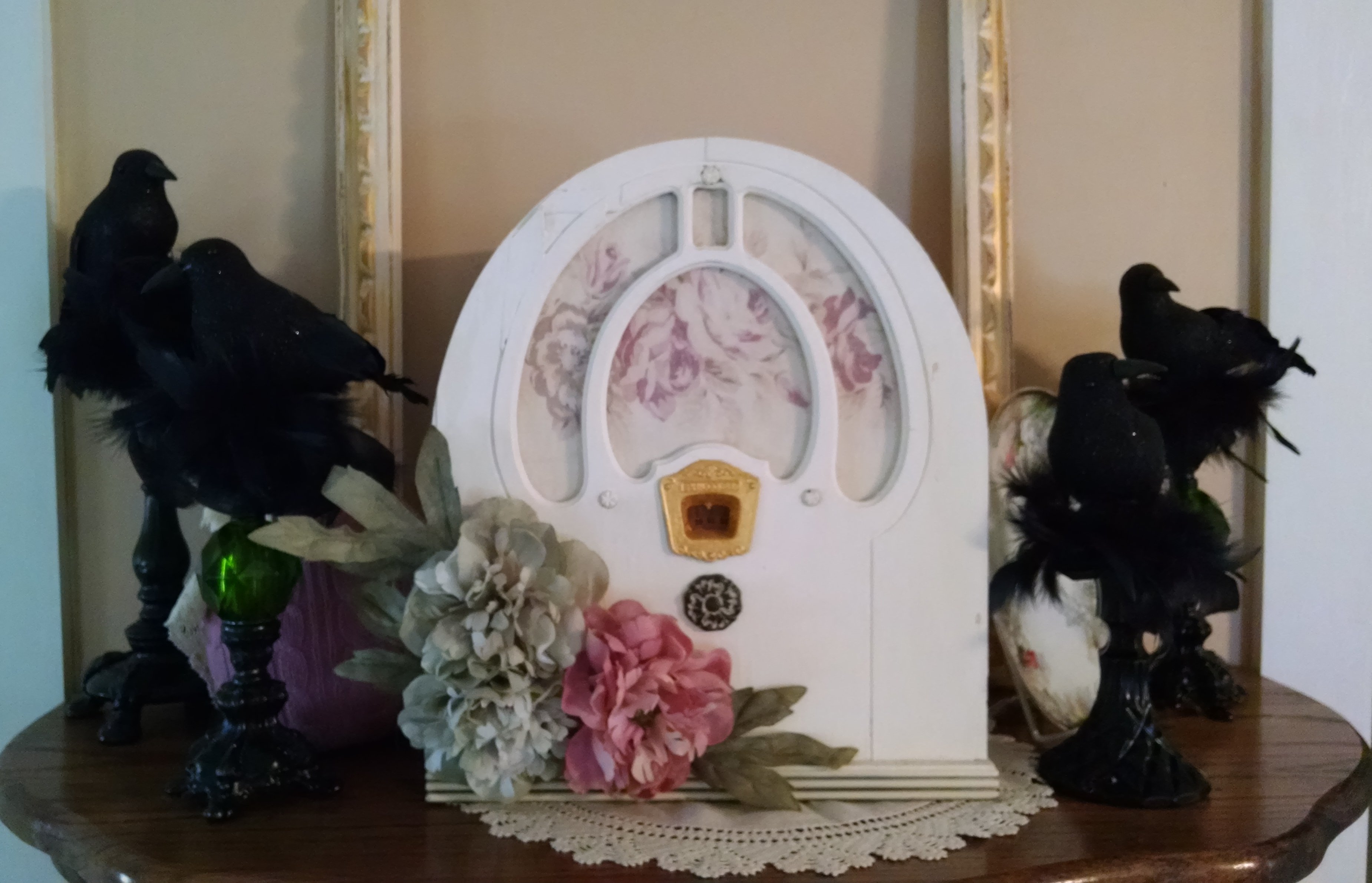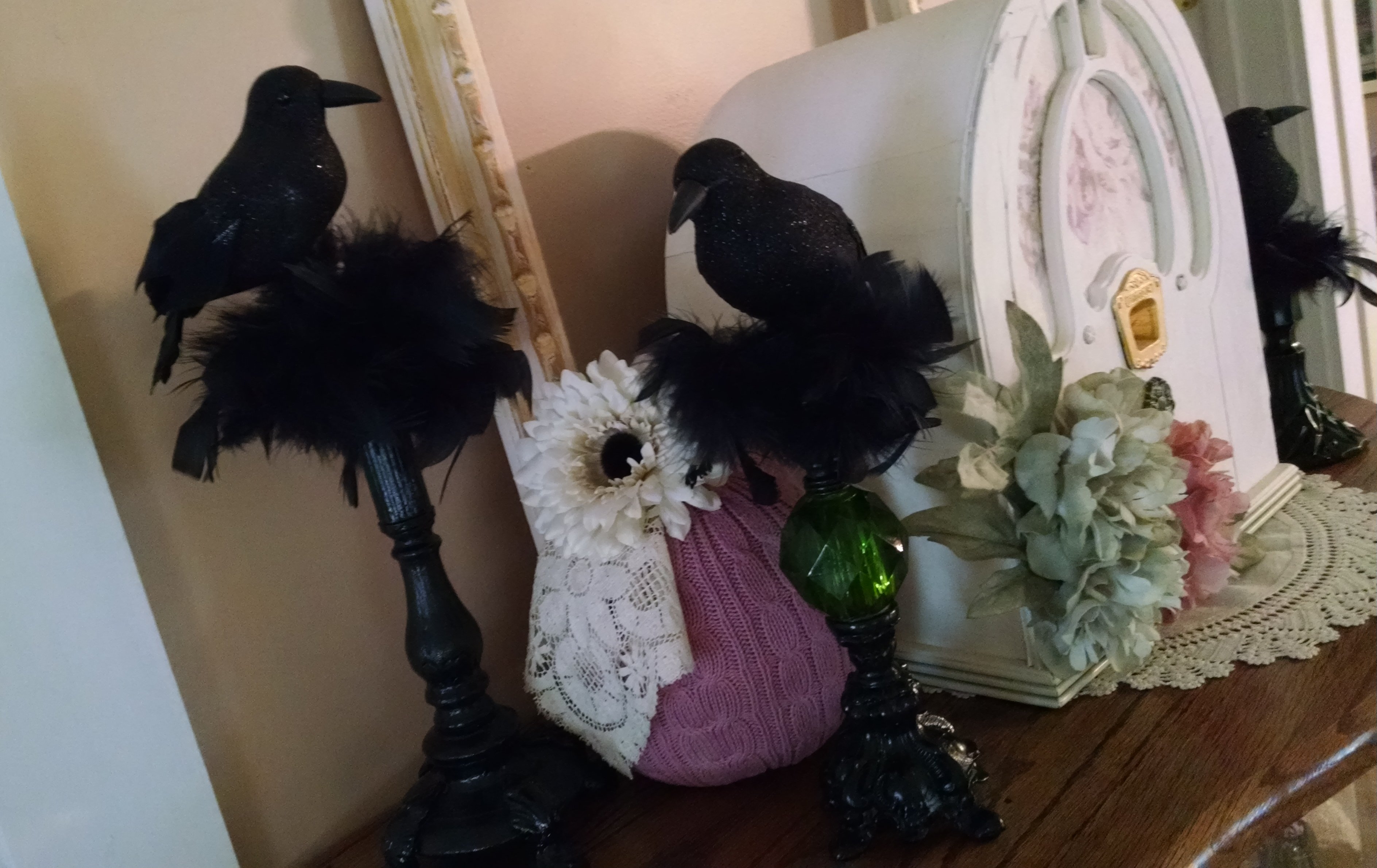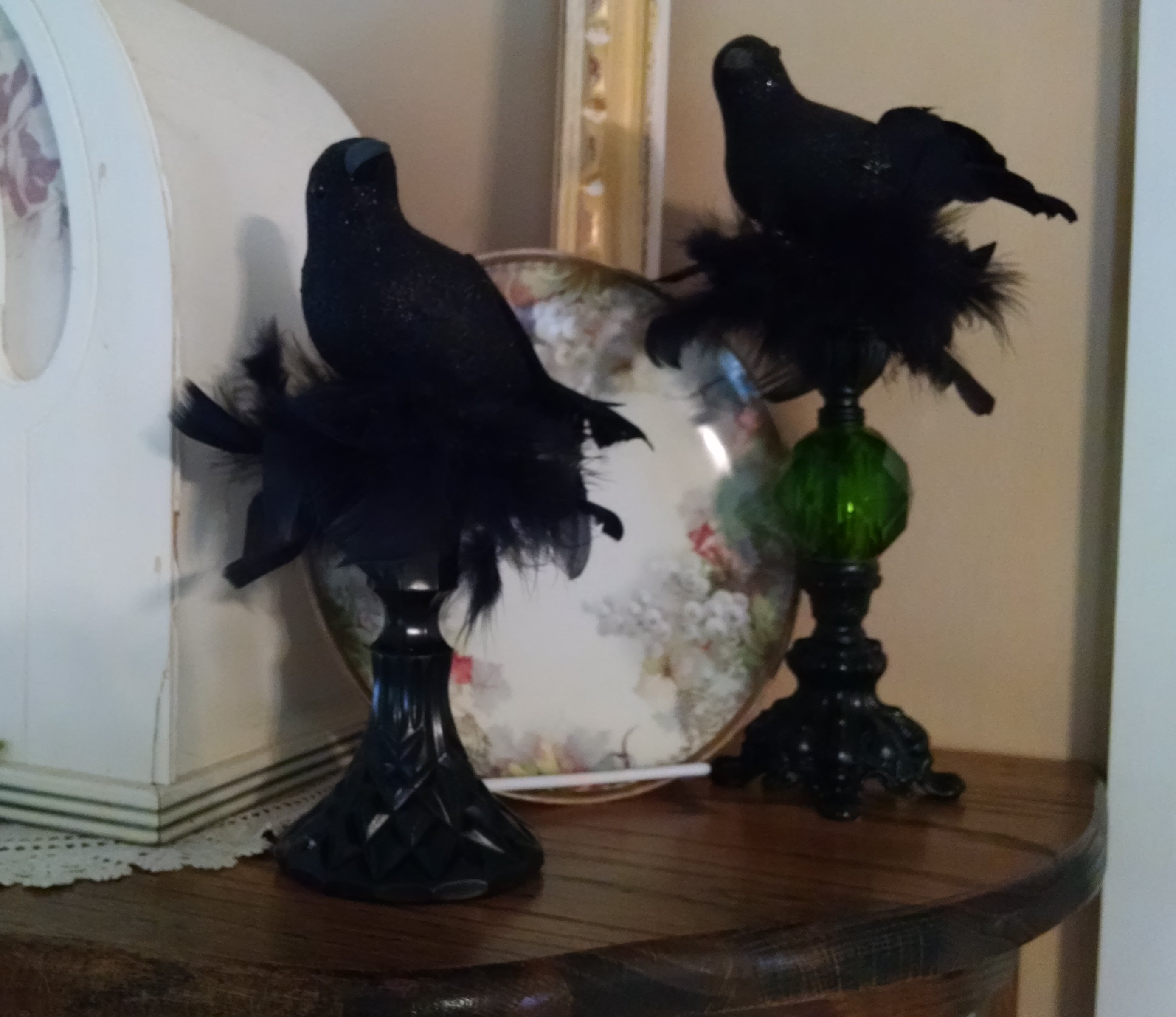 I'm sharing my "attempted murder" (ha – get it? Because a group of crows is called a murder… and I "attempted" to make a group of crows! oh, I crack me up!) … over at the DIY Salvaged Junk party at FunkyJunkInteriors.net! Also sharing at Marty's lovely blog, A Stroll Thru Life, for Inspire Me Tuesday, and at the 100th Celebrate Your Story link party at Chloe's Celebrate & Decorate.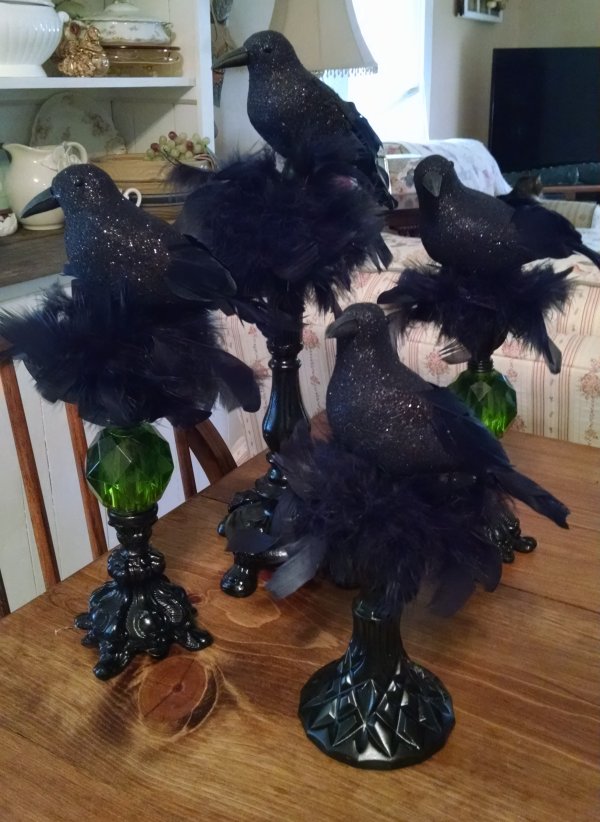 Here's an image to Pin if you like!