Okay right off the bat let me apologize for the terrible pictures accompanying this post! I did not stop along the way during this project to take good photos, but when it came out SO CUTE… well I had to quickly take a few pictures to share so you would have plenty of time before Halloween to make your own…
Glow-in-the-dark Ghosties! 
I wanted something fun and not-too-scary to use as decorations in my yard for trick-or-treaters, and these seemed like they would be  very easy and inexpensive to make. And they were!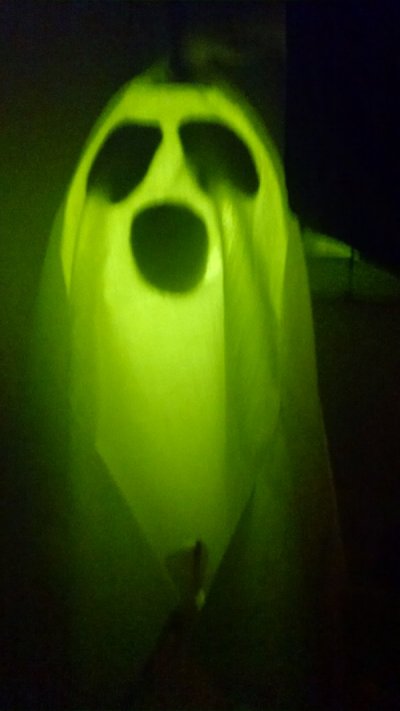 For each glow-in-the-dark ghostie, you will need:
Six-inch clear plastic Christmas ornament (Michaels)
Scrap of dark-colored felt
Six-inch yellow glow-stick
Chunk of very thin white fabric or spooky Halloween gauze (I used a piece about 24 x 24 inches)
Twine, jute, or anything handy to make a loop for hanging
White glue
Here's the simple round-up of materials for the project!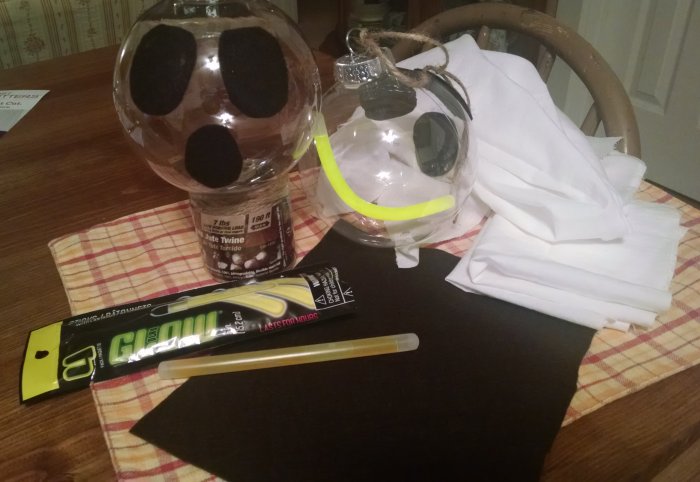 Here are the very simple instructions!
Cut out eyes and a mouth from the felt, any shape you desire that looks "ghostly." Glue the felt pieces onto the clear plastic ornament, and allow to dry completely.
Cut a small slit in the center of your fabric piece, just big enough for the wire loop of the ornament to slip through. You can also tatter the bottom edge of your fabric for additional spookiness.
Remember that the glow-sticks only last a few hours, so at the appropriate time, bend/crack your glow-stick thoroughly up and down the length of the stick… shake it gently to distribute the material inside, and then remove the top off the ornament and put the glow-stick inside. I had to bend them a little to get them to fit. Replace the top on the ornament. I tested a few colors of glow-stick and found the yellow to be the brightest and most effective.
Drape the fabric over it, slipping the top loop through the slit in the fabric.

To fully test the effect, turn off all the lights.
You can use twine or jute to make a loop for hanging, depending on how you are going to display them. I'll be hanging mine from a shepherd's hook in the yard, so I needed a hanging loop.
I made three and will use them to delight and scare my trick-or-treaters!
Here's an image for you to Pin if you would like to… although again… those photos – scary-bad! LOL