(Updated Nov. 15, 2020 – See individual updates below for availability and price changes.)
I know it's only September and we are still in the midst of Faded Summer… but I think it's safe to say that in-person holiday shopping is going to be an adventure this year. Because of that, I'm predicting a bottleneck in online shopping as well. So to help you get an early start on gift-giving, I've decided to offer my 2020 Holiday Gift Guide for Hostesses and Tablescapers a bit early!
(Note: This post contains affiliate links. If you make a purchase at Amazon.com by following one of my links, it costs you nothing extra but I receive a small commission. Thank you for purchasing through my links!)

If you've got someone on your Christmas list who loves to entertain and set pretty tables, I've got nine wonderful gift ideas for hostesses and tablescapers all under $50! You might notice that these items would all make wonderful house-warming gifts too! Descriptions are linked directly to the corresponding pages on Amazon for your convenience. Pricing was current as of 9/15/20, and all products except where noted were eligible for Prime shipping as of that date. (Note: I did update pricing and availability on November 15, 2020.)
1. French Country Cottage Inspired Gatherings by Courtney Allison – $31.50 hard cover. (November 15: price reduction! Now $25.47.) If you haven't been following Courtney's blog, French Country Cottage, you've been missing out! Her photography primarily of scenes and vignettes around her northern California home has resulted in two beautiful coffee table books: Inspired Gatherings shown here, and the original French Country Cottage. I'm a huge FCC/Courtney Allison fan, and I can promise you that Courtney's books are stunning and inspiring!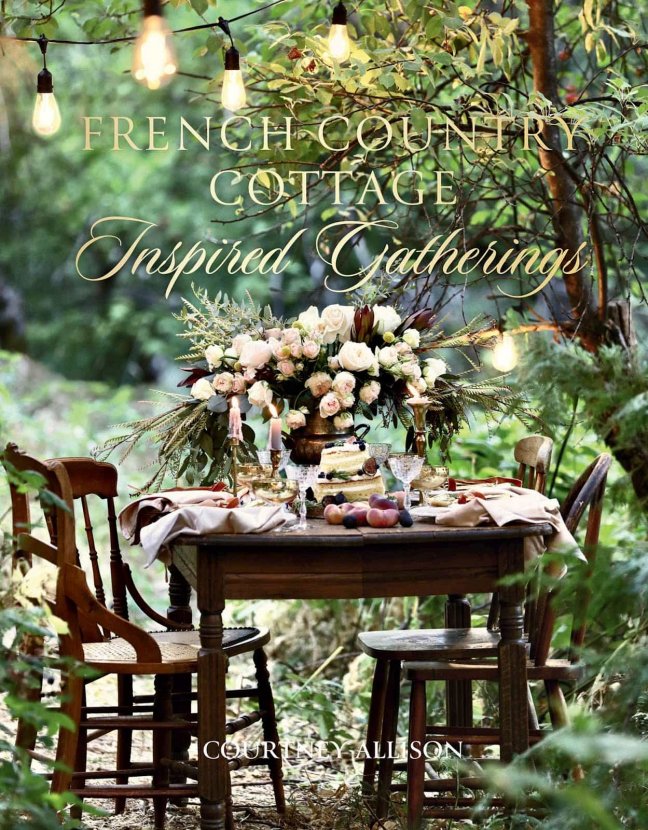 2. Buffalo Check cloth napkins – $29.99/set of 12. Red and black napkins in on-trend buffalo check are perfect for a woodland-themed holiday table setting, but there 20 other color combinations waiting for you! Generously-sized, 100% cotton napkins are 20 inches square!
3. Allgala Charger Plates – $32.95/pack of six. These are the "fairytale chargers" I raved about recently, baby blue with gold highlights on the sculpted edges. Made of sturdy acrylic, and about 13 inches wide, they're the perfect underplate for an elegant table setting! There are other colors (and styles) too – just follow the link to see all the options.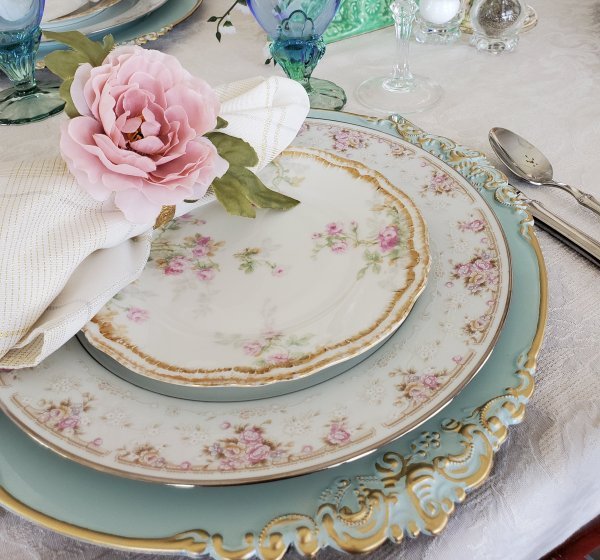 4. Sled/Sleigh Chip and Dip – $42.76. (November price reduction! Now $29.95) Metal sled/sleigh two-tier server and white ceramic "chip and dip" dishes make the CUTEST buffet table centerpiece and serving accessory! Measures approximately 14 x 7 x 6 inches.
5. Coal Dust/Snow Flakes Salt & Pepper set – $17.24. (November update: Currently unavailable.) Red and white ceramic salt & pepper set is cute and fanciful! Measures about 4 inches high. Not indicated for Prime shipping at this writing, 9/15/20.
6. Napoleon Bee flatware by Wallace – $22.83/five-piece place setting. Beautiful stainless steel 5-piece flatware set with a sweet bee on each handle. I own four sets of this pattern – they're perfect for any garden-, botanical-, or nature-themed tablescape!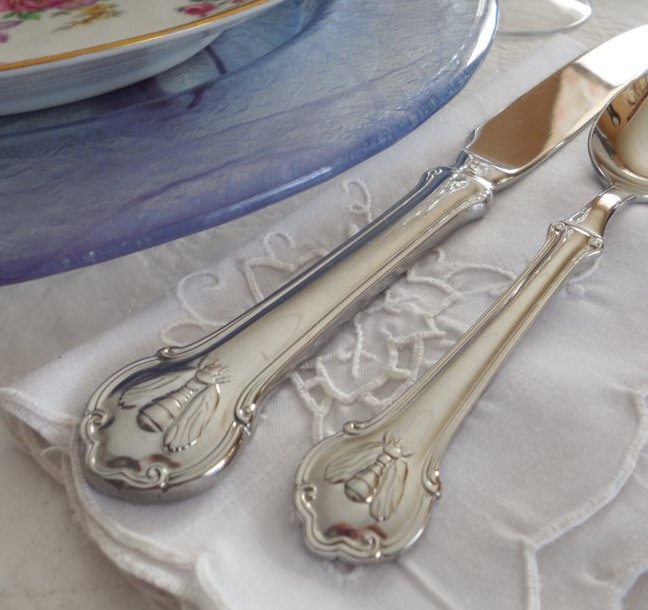 7. Grandpa Gnomes Salt & Pepper set – $14.88. (November price change. Currently $18.88) These guys are seriously adorable! Red and green capped gnomes hold the season's seasonings with charm and humor! Gnomes measure about 3 inches high.
8. Pfaltzgraff Winterberry Square Serving Platter – $31.48. (November price reduction! Currently $24.50.) This holiday dinnerware pattern remains hugely popular after three decades. It used to fly out of my booth at the antique mall, and I always snapped it up whenever I saw it at a thrift store or auction. Beautiful white background with green and red leaf-and-berry border and solid green edging. Square serving platter measures about 12-1/2 inches wide.
9. Tea for One Teapot and Cup – $29.98. (November update: The snowman edition is currently unavailable, but the peacock and owl versions linked below are still $24.98 each.) A cheerful snowman and other friendly winter characters adorn this "tea for one" teapot and cup set by Bits and Pieces. Measures about 4 inches in diameter and about 5-1/2 inches tall, and comes in a delightful gift box. There are also peacock and owl editions of this unique set available for $24.98 each!
I hope you'll find this gift guide helpful in getting a jump-start on your holiday shopping. Happy Shopping!