Remember the beautiful baby blue chargers I splurged on recently from Amazon? I've been meaning to set a table with them since they arrived, and this past weekend after a long-awaited trip to Goodwill and a peek into the trunk of my car, I finally got to set my table. I'm so excited to share it with you!
(This post contains Affiliate links to Amazon.com. This means if you purchase the product by following my link, it costs you nothing extra but I get a small commission. Thank you for purchasing through my links!)

I felt like these chargers suggested a fairytale theme – like a luncheon that Cinderella herself might attend. I even have a vintage planter in the shape of a fanciful horse and carriage that I was dying to use as the centerpiece.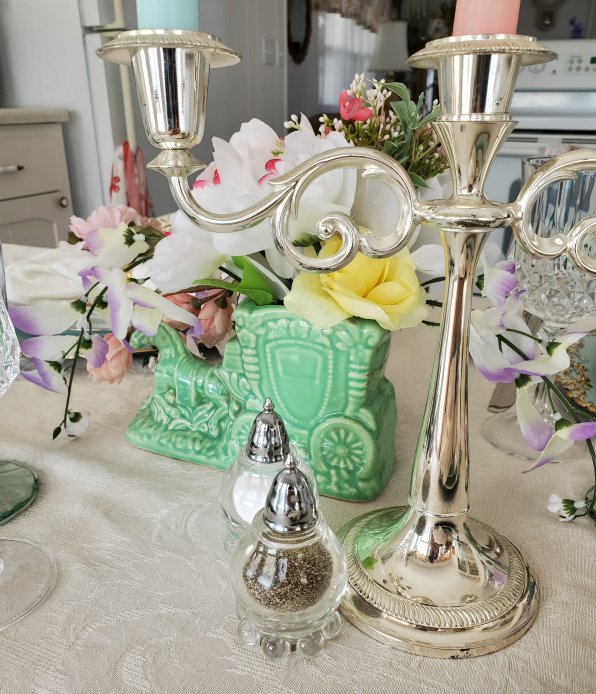 What I really needed was the perfect dinner plate. This is where my recent trip to Goodwill came in. Now yes, I have at least a hundred dinner plates in my house… I'm sure I could have found four that would have worked very well. Probably something in a Limoges, or possibly a Homer Laughlin. But when I saw "Chelsea" by Royal Prestige on the shelf at Goodwill for $1.49 each, I just knew I'd found the perfect dinner plate for my fairytale tablescape. I mean – look at her!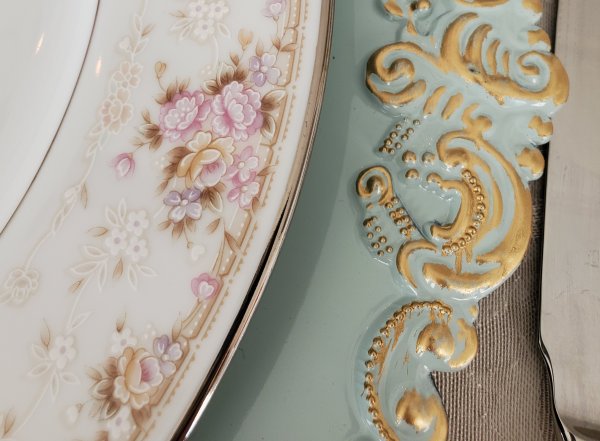 From here it was a short search through my Limoges to find four coordinating salad plates (oh those gold double edges get me every time!)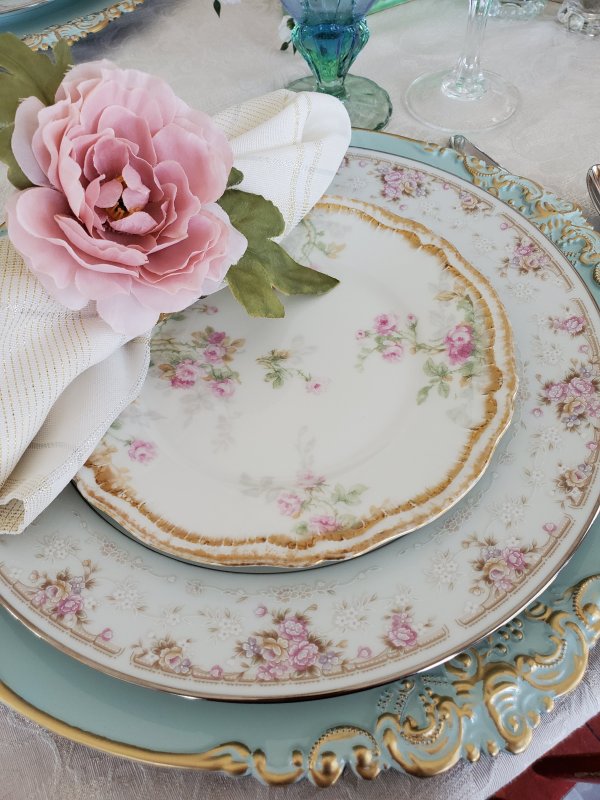 And the trunk of my car? Well I had searched my stash for the perfect "floppy flower" napkin rings (because every fairytale includes a castle with a beautiful garden, right?), but I hadn't found anything in a set of four. Then I remembered the silk floral garland I had bought on another junk jaunt a few weeks ago. Where was it? In the car trunk of course – and voila! Four perfect pink silk roses to be made into napkin rings!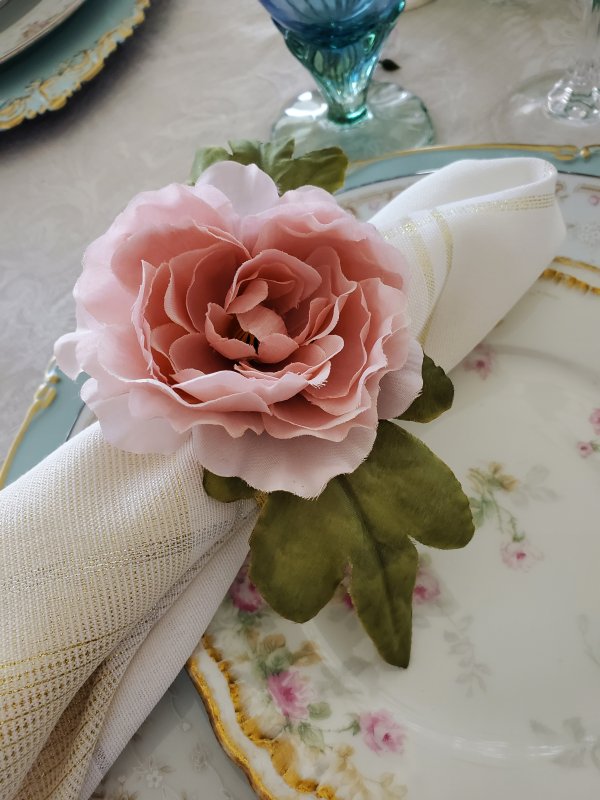 This table was coming together impossibly well. I chose Wallace "Napoleon Bee" flatware because certain princesses are very good about attracting wildlife.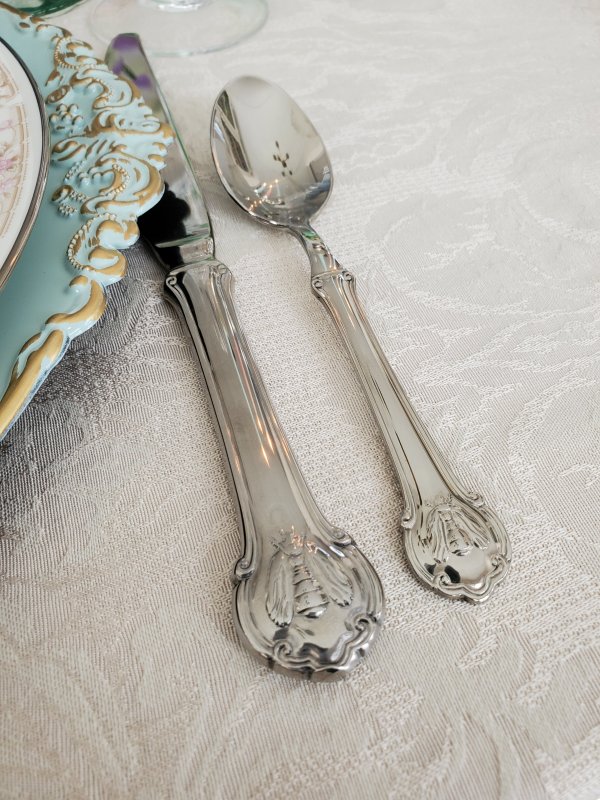 Blue and green glassware with a wave motif on the stem in case a certain little mermaid might come to the table.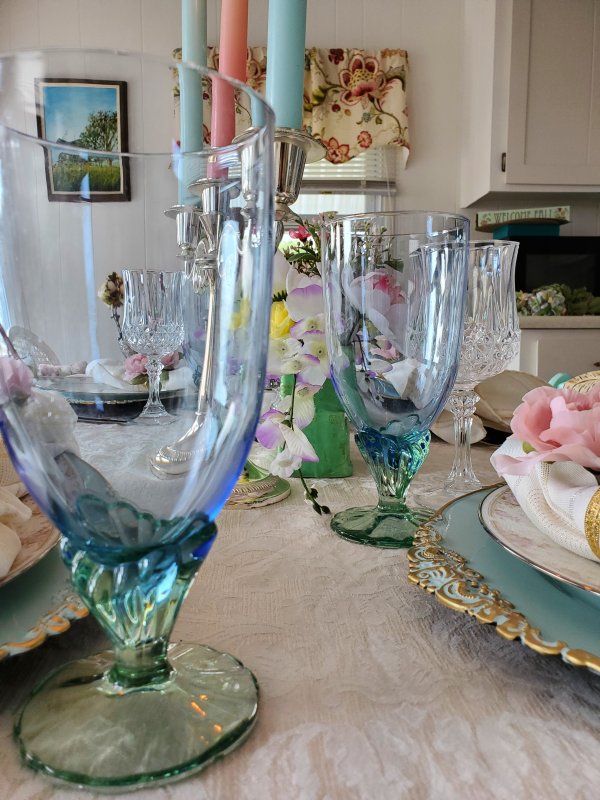 And at long last, the absolute perfect table for my "storybook chairs." I had found and painted these unique vintage dining chairs a few years ago, and did some hand painting/finishing on the details across the backs. I've always loved how they turned out – like very old furniture in the illustrations of children's books.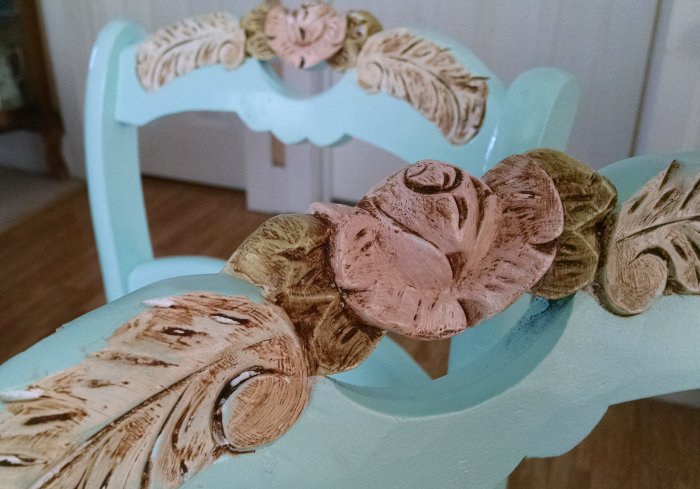 Well as it happens, they echo almost perfectly the styling of the chargers, so I brought them in off the enclosed porch to serve as "star seating" at the fairytale table.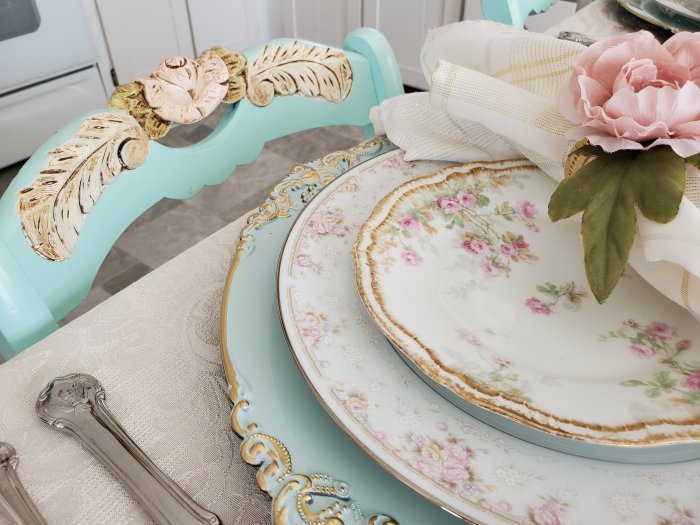 Here are a few more views around the table.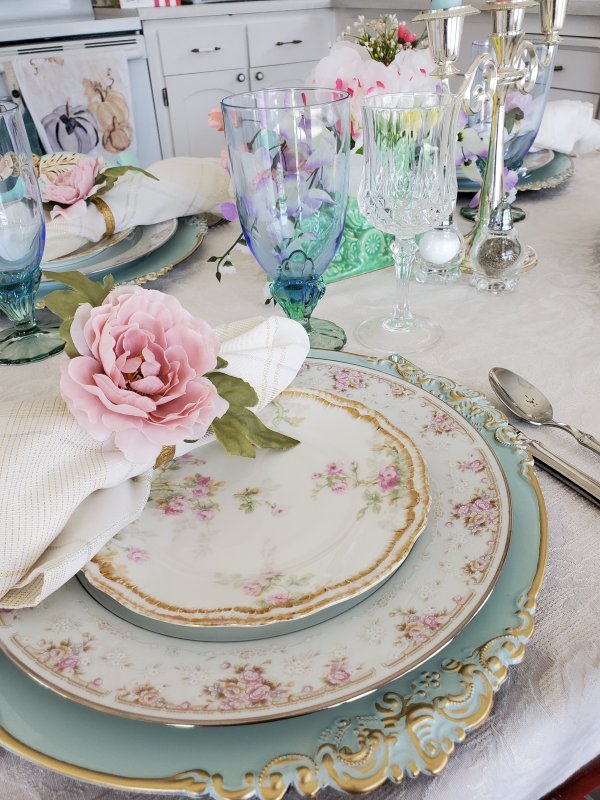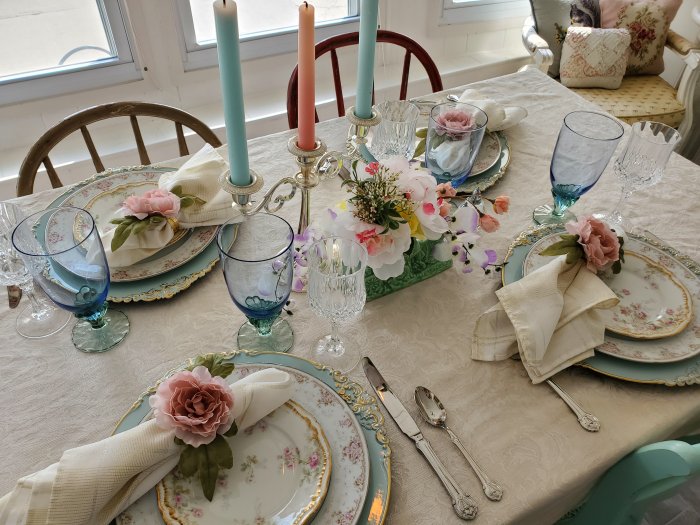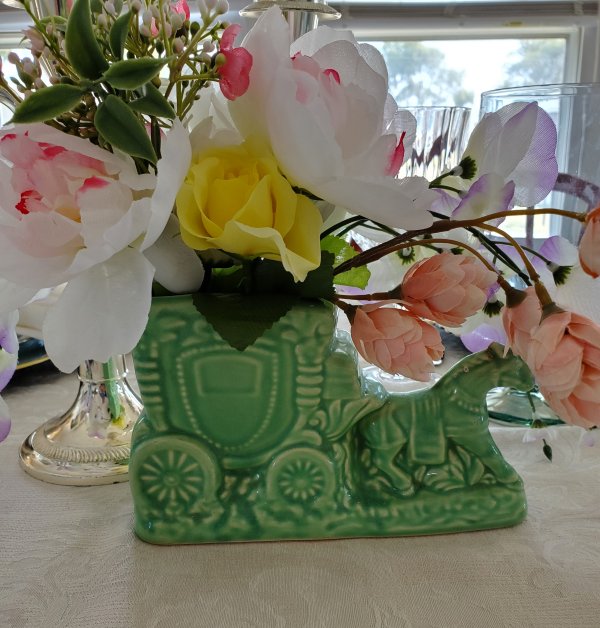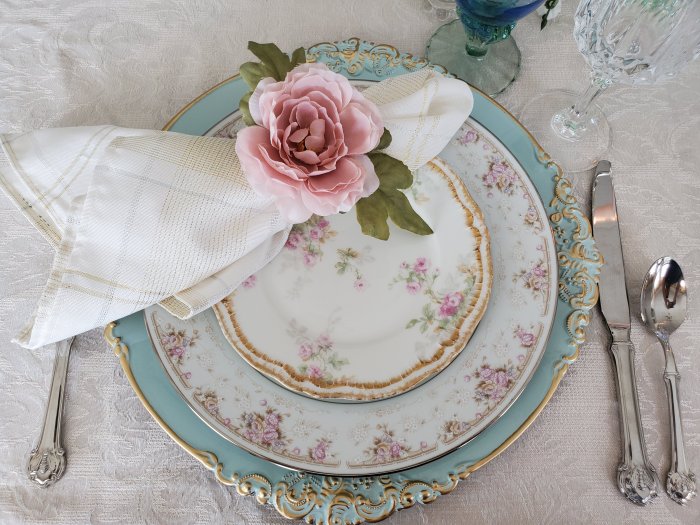 An image for Pinterest in case you'd like to save my Fairytale tablescape for future ideas.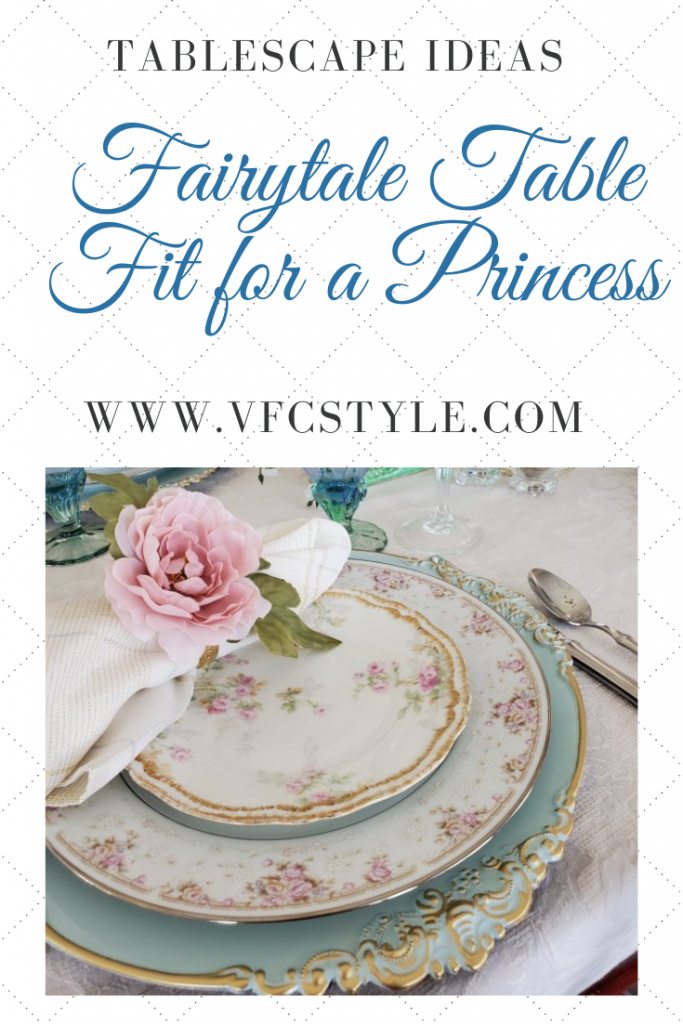 And of course the "put-away shot," with all our elements rounded up and ready to go back to their respective places.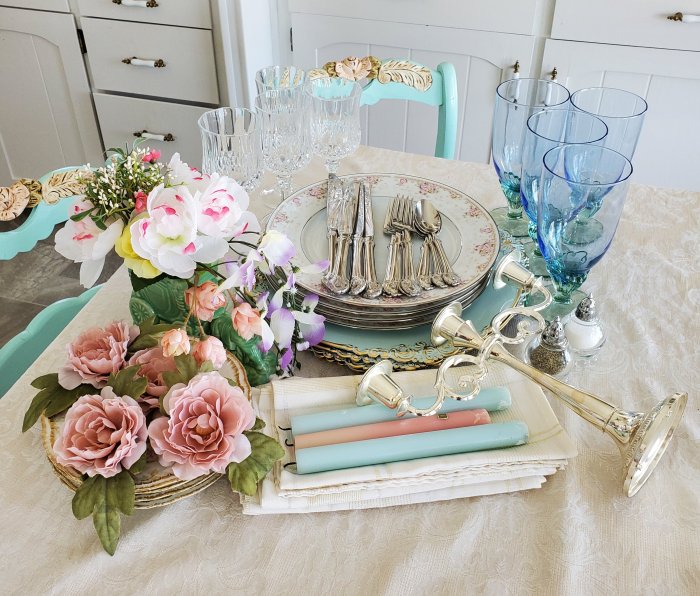 Looking for more tablescape inspiration on a budget? Check out my Facebook Group, Thrifty Tablescapers! Our creative members share tablescapes created with vintage, secondhand, hand-me-down, and otherwise budget-friendly tableware!
And, if you are just getting started with tablescaping, click here to get my free Tablescaper's Checklist – designed to be a resource each time you set a pretty table, so you never miss a detail!
I'm sharing for Tablescape Thursday over at Susan's blog, Between Naps on the Porch. Click through for more tablescape inspiration!