This post contains an affiliate link to the referenced book on Amazon.com. If you purchase the book through my link, it costs you nothing extra but I do receive a small commission. Thank you for your supporting purchase, should you be inclined!
Anyone who knows me knows that I have a). a love for the television program, Downton Abbey, and the time period in which it's set, both in England and the U.S.; and b). a love of research into obscure topics of American history and culture. This piece is a bit of a departure, topic-wise, for my blog, but it is very timely – as you'll soon see.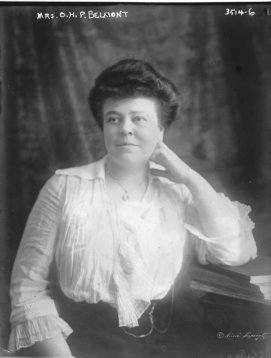 It seems that any time the name Alva Vanderbilt crops up, people are quick to condemn her for being a self-centered, manipulative social climber and serial mansion-builder during America's "Gilded Age." And she was all those things, as evidenced by the often-repeated story of how she maneuvered her daughter Consuelo into marrying the English Duke of Marlborough for position and status rather than love – similar to the fictional marriage of Cora Levinson and Robert Crawley on Downton.

But.

As with every complex and multi-faceted human being, there is always more to the story. And there was far more to Alva than just a desire to climb to the top of the New York social ladder. According to author Amanda Mackenzie Stuart in her dual biography "Consuelo and Alva Vanderbilt," Alva sought position for Consuelo not just to cement her own position at the top of the New York social heap during The Gilded Age… but because of her personal beliefs about marriage and the subjugated role of women in wealthy American society.

Alva was clear in her observation that rich American wives were soon cast aside by their industrialist husbands, who always had something next to conquer and who expected their wives to fade into the background of caring for home and children while they (the husbands) enjoyed complete freedom to pursue whatever pleasures they wished – both intellectual and physical – outside the bonds of marriage. Alva experienced this personally with her husband, William K. Vanderbilt, who – like most rich men of his era – strayed overtly from his marriage vows over and over. That his wife filled this void with lavish parties, beautiful homes, and exerting control over her children can hardly be wondered at – indeed it was the way society expected her to deal with her husband's infidelity and to make a life within her particular station.

More to the point, Alva perceived wealthy American wives (herself included) as "captives like flies in a bottle, and having once flown in, could never regain their freedom." She did not wish for her daughter (or herself, for that matter) to be a fly in a bottle. Rather, having traveled throughout Europe as a young woman, Alva wanted Consuelo to live well, but with personal fulfillment and a greater social purpose. While American culture seemed to impose no sense of social responsibility on the wealthy, in England Alva saw that the aristocratic class was expected to use their wealth to improve conditions for all classes. The career she sought for Consuelo was one based in firm social standing at the top of the ladder, to be sure – but with care and concern for the aspects of society that needed improving. Rather than being a bystander relegated to tending the home fires, Alva wanted her daughter to be able to use her brain, her power, and her money for social good – something that would be considered completely unnecessary, and even chastised, had Consuelo married a rich American in the culture of the time. Based on her personal experience, Alva believed that England was the place for this life to unfold for Consuelo, so marriage to the Duke was the best possible answer.
Beyond the ever-clashing forces at work in Alva's personality which led her to engineer her daughter's marriage to an English Duke, there is one other aspect of Alva that deserves far more recognition than it has received. This is her role in the American woman's suffrage movement.
When Alva's second husband Oliver Belmont died in 1908, she visited Consuelo in England and was taken by the manner in which her daughter had fully embraced the "career" of empowered, respected aristocrat. One of Consuelo's primary interests was woman's suffrage, and the widowed Alva found a similar passion for this cause while in England. She returned to New York from that visit ready to throw in with the National American Woman Suffrage Association, but found their lack of national visibility to be cripplingly ineffectual. She contributed funds to a more visible New York-based office and the establishment of a press bureau responsible for literature sales and public relations with the media.

Alva argued vehemently that the vote was not a privilege, but a right – a human right. She believed that success in securing woman's right to vote lay in executing a far more forceful fight on the national political stage. She floated the ideas of a federal constitutional amendment and alignment with one of the established political parties. The "National American" often disagreed with her beliefs and methods, preferring a low-key, conciliatory approach. Eventually Alva re-aligned with the more aggressive Congressional Union for Woman Suffrage (CU) led by Alice Paul, and she funded the establishment of the National Women's Party. For more than a decade, Alva fought vigorously and consistently for the suffrage cause.

This paragraph from Stuart's dual biography effectively sums up Alva's contribution to the suffrage movement:

"Alva was critical to reviving the fortunes of the National American when she joined in 1909… she was highly effective in translating her society experience into a political campaign for which there was no precedent in America, impressing on the suffrage movement the importance of positive action, public impact, strategically placed buildings and expert manipulation of the press. She was well ahead of her time in perceiving the importance of alliances with other groups of women… In becoming the main financial backer of the National Women's Party, she helped to introduce a new, confrontational element to the suffrage campaign… (which) was highly effective in holding male politicians from the President downwards accountable for their failure to deliver the vote, and in pioneering the idea of a suffrage amendment to the constitution… an approach which eventually won the day and also became the basis of Carrie Chapman Catt's 'Winning Plan.'"

While not a movement leader on the scale of Catt, Paul, or Susan B. Anthony, Alva's contributions to woman's suffrage were critical in reviving the stalled movement and in its eventual success.
It is easy to dismiss Alva for her "sins" of being controlling and manipulative, but it's also easy to dig just a little deeper… to investigate and even appreciate her full reasons for wishing "the Duchess's life" upon her daughter and her efforts to bring about social reform through woman's suffrage and progressivism.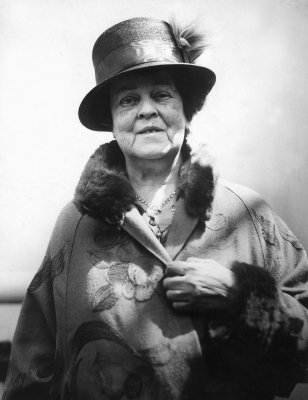 August 18th, 2020, marks the 100th anniversary of the ratification of the 19th Amendment to the U.S. Constitution, granting women the right to vote. A right that Alva Vanderbilt Belmont – like it or not – fought with all her power to procure for American women of every class.