In the past few months I have started a new job that involves some very lengthy, intensive, and detail-oriented training (mentally exhausting), I've moved from my sweet little "dollhouse" rental home into a new-to-me mobile home that I've purchased (physically exhausting), and I went on a short but much-needed vacation to Branson, Missouri (rejuvenating)! With all of that going on, I haven't done much tablescaping. But I'm glad to say I've finally got ALL THE DISHES moved in and put away – so it's time to play again!
So you know how in clothing and decor there's always rules about "don't mix plaids" or "don't mix patterns"? Well, I assume that somewhere there's a busybody neighbor who would tsk-tsk-tsk at the idea of mixing detailed floral borders  on dinnerware. And to her I would say this: pppfffttt!!!  I think these pretty plates make a lovely combination, especially for a sweet and simple table for two.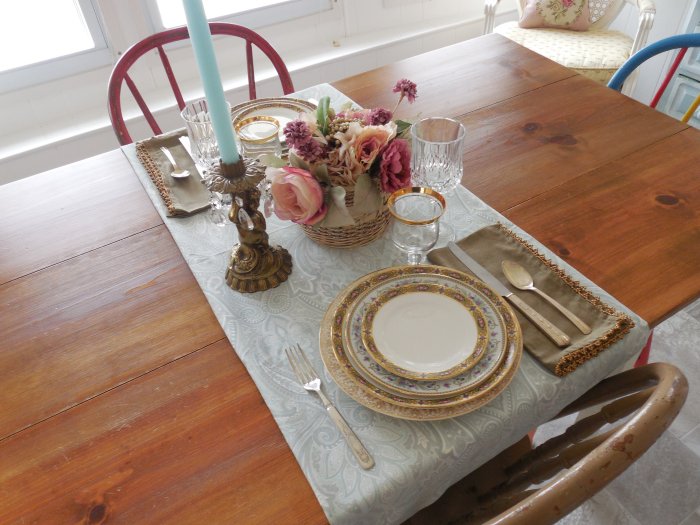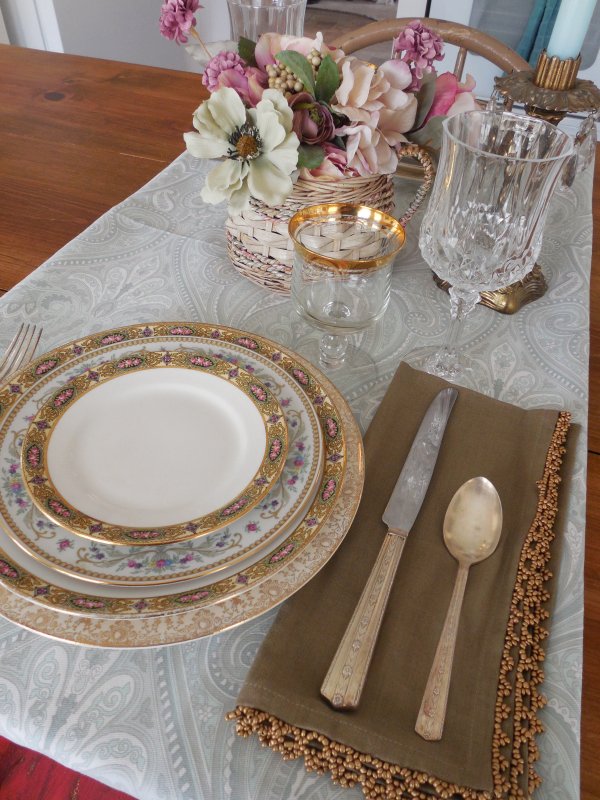 I love how the casual basket of flowers complements the elegant details of the place settings and other elements on this table.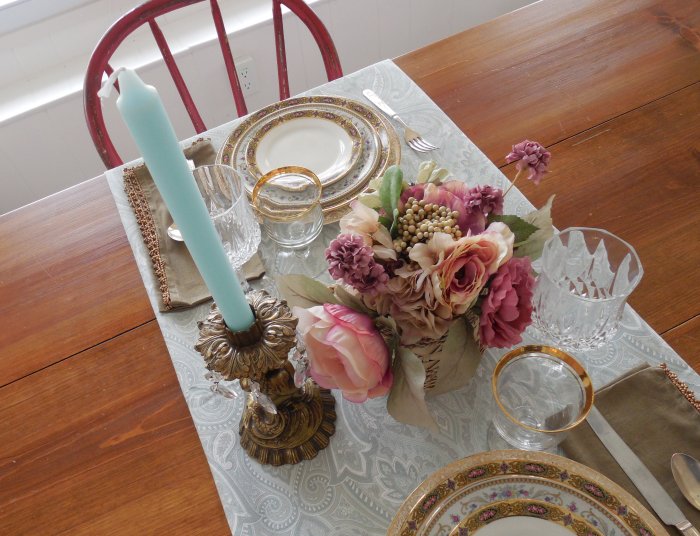 Everything on this table was purchased second-hand, except for the napkins which were clearance at Pier 1. I had all these elements already in my tablescaping stash, so I didn't have to go out and buy anything additional to complete this setting. Here's a closer look at the items used:
The tablecloth is actually a shower curtain, also used in my "Ice Princess table" last year.  I simply folded it to this size, to define the table-for-two area.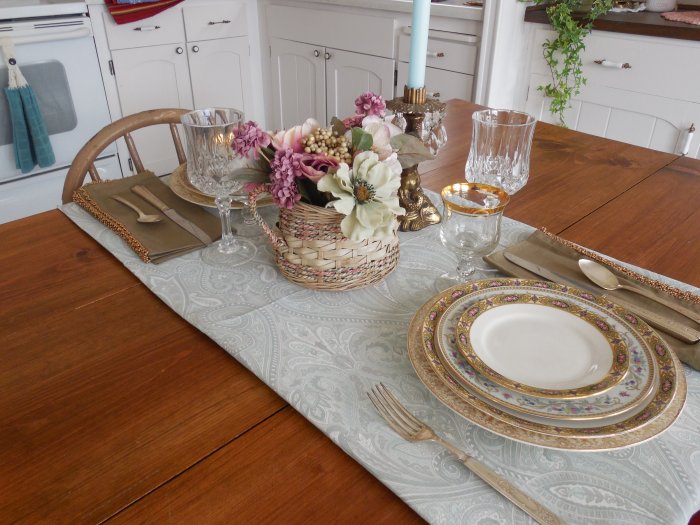 The place setting consists of three different patterns. Top and third plates are by Homer Laughlin, the second plate is by Seltmann Weiden (Western Germany), and the bottom plate with the gold filigree border is by Crown Potteries.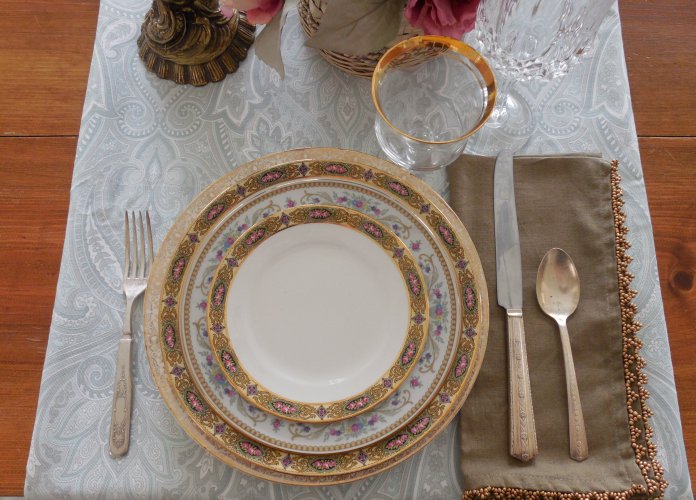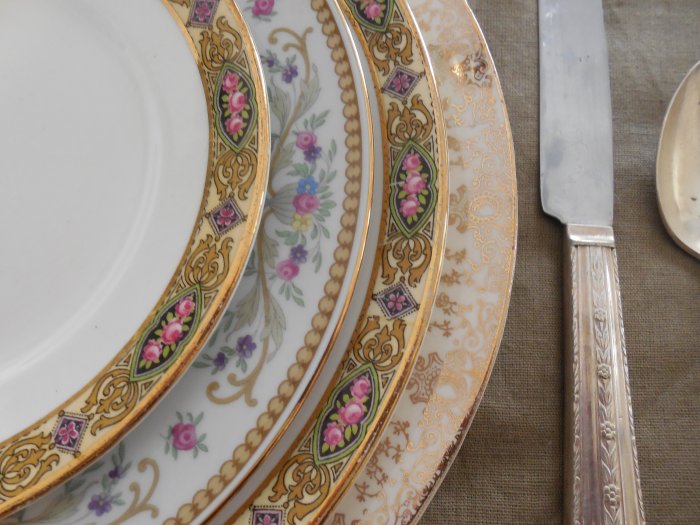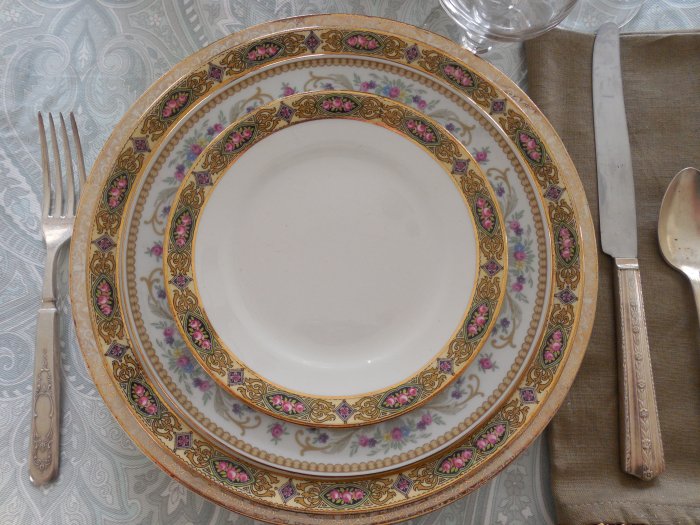 I like the texture and tiny beading on the napkins; the silverware is vintage mis-matched silver from last year's Antique Jamboree held here in my neighborhood.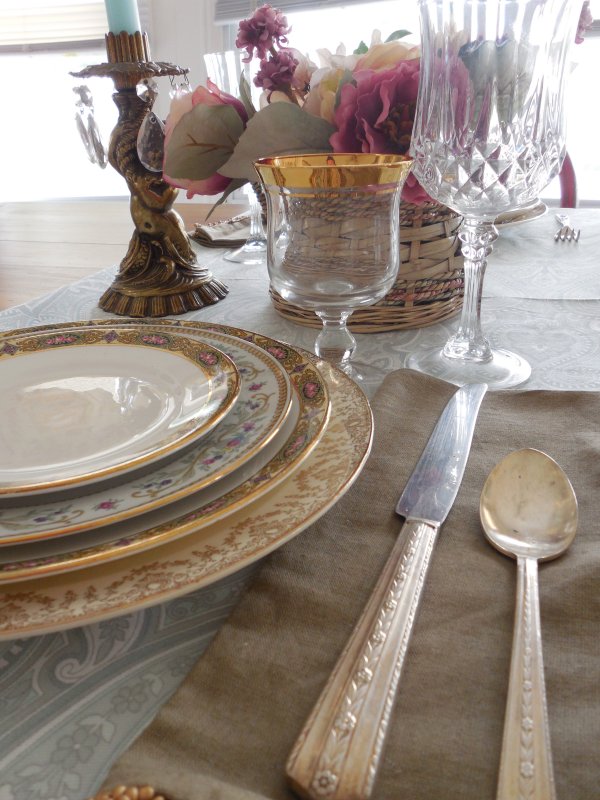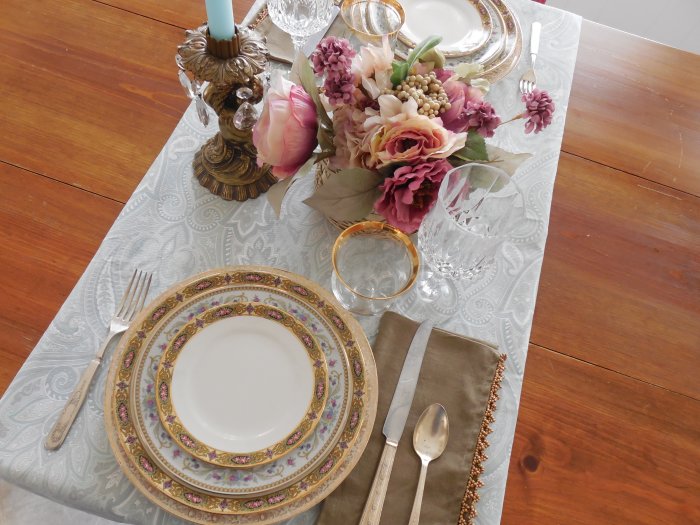 In addition to the basket of flowers, the centerpiece includes a really interesting candleholder. The crystal drops add sparkle, and upon close inspection you notice that the figure is actually a mermaid (merman? Mer-cherub?) with an octopus-like tail! I have two of these – they are so unusual!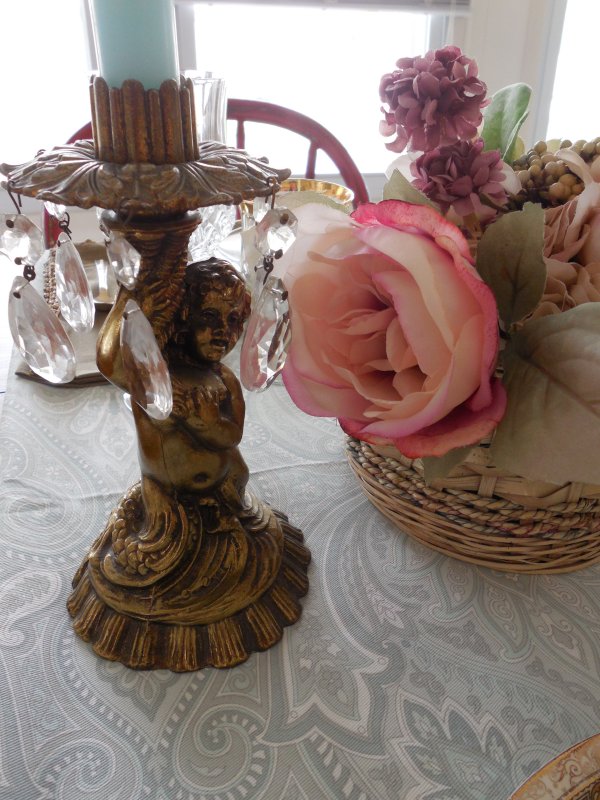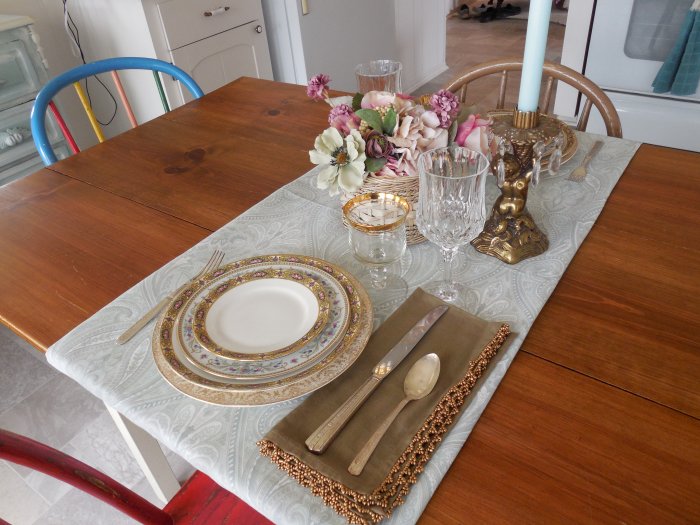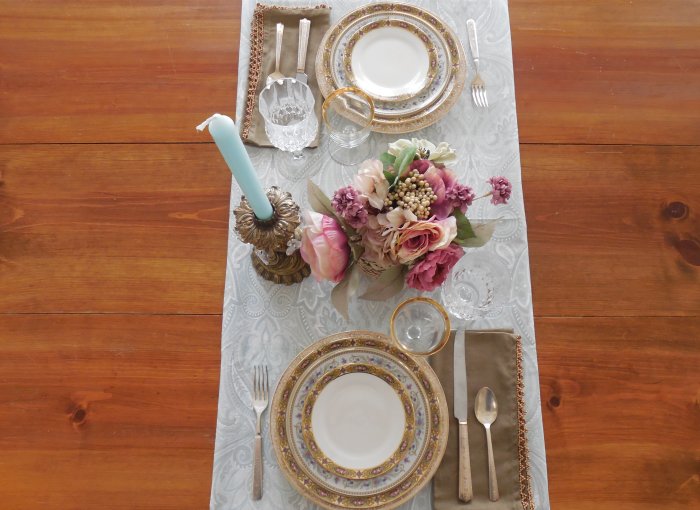 Here is everything gathered up for the "put-away shot" –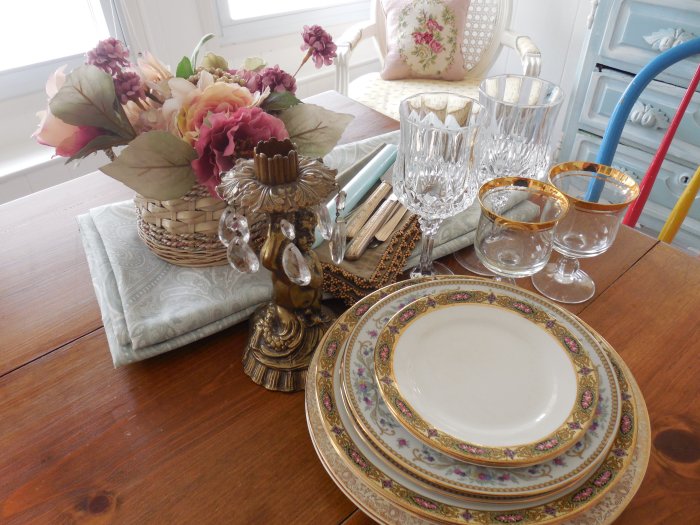 If you'd like to save this tablescape for future ideas, here's an image you can use for Pinterest: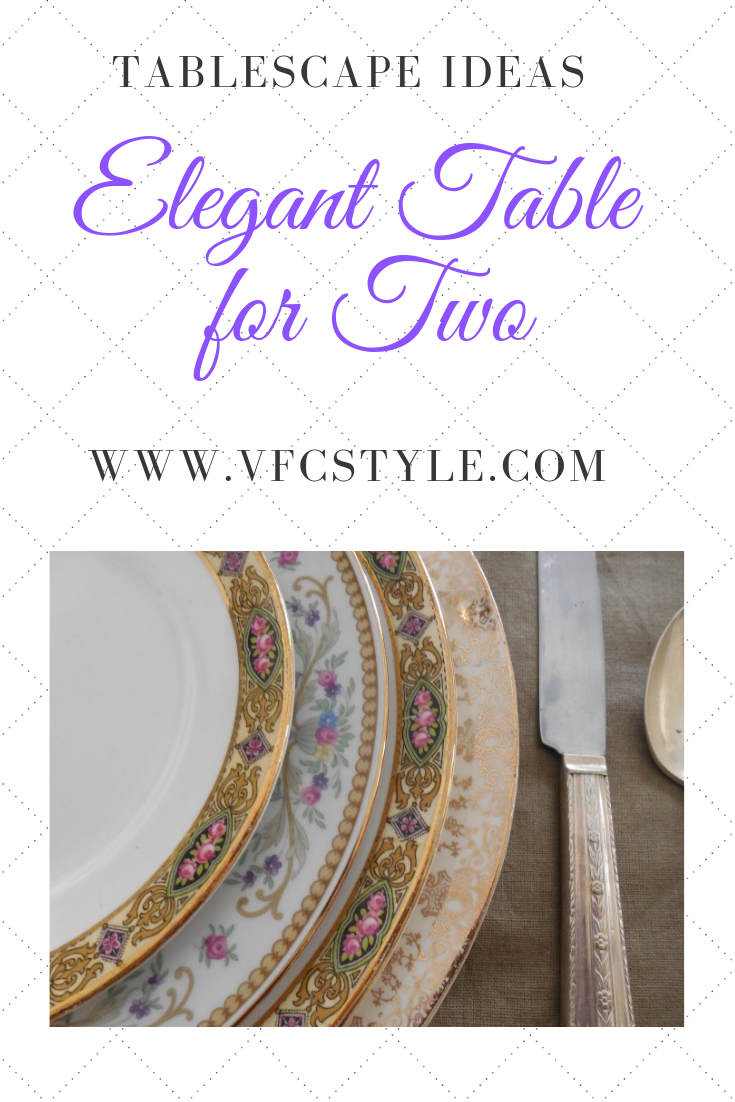 I'm sharing my elegant table for two for Tablescape Thursday over at Susan's amazing blog, Between Naps on the Porch.
Don't forget to visit my Facebook group, Thrifty Tablescapers, to connect with folks who love setting pretty tables on a budget!