Here we are at the shortest day of the year already – I'm so glad to share a Winter Solstice tablescape and for the days to start getting longer!
Back in… hmmm I think it was November… I went into Dollar Tree and saw the prettiest Winter dinnerware: bright white, with metallic silver snowflakes in a big, bold pattern. They had dinner plates, soup bowls, and coffee mugs, plus two styles of coordinating glassware where the snowflakes were kind of silvery blue-gray. I bought four dinner plates and four ice tea tumblers, plus 4 silver chargers because I didn't have any in that color yet. Now as it turns out, it's really hard to photograph a table that is mostly silver and white – at least for me since I use my phone for photography – but I promise you, even if you can't see it very well, it's gorgeous!
Here's my Winter Solstice tablescape!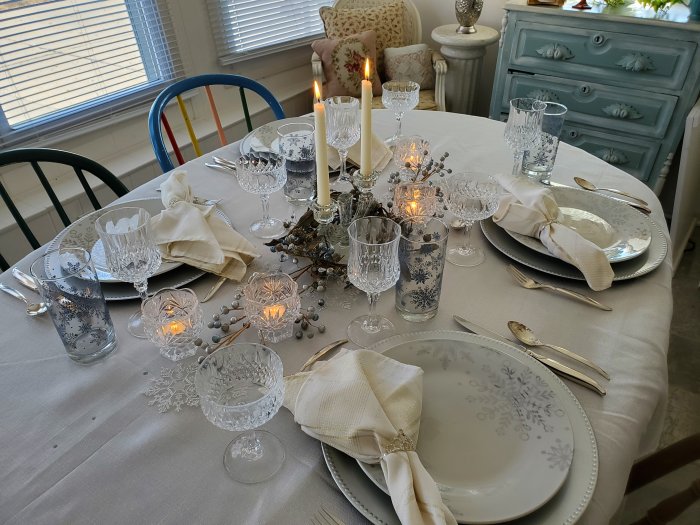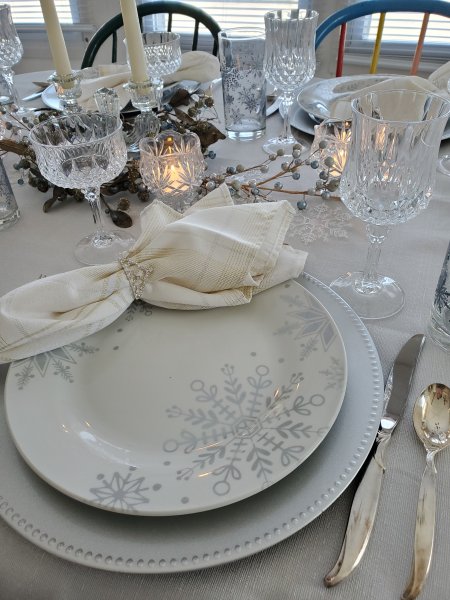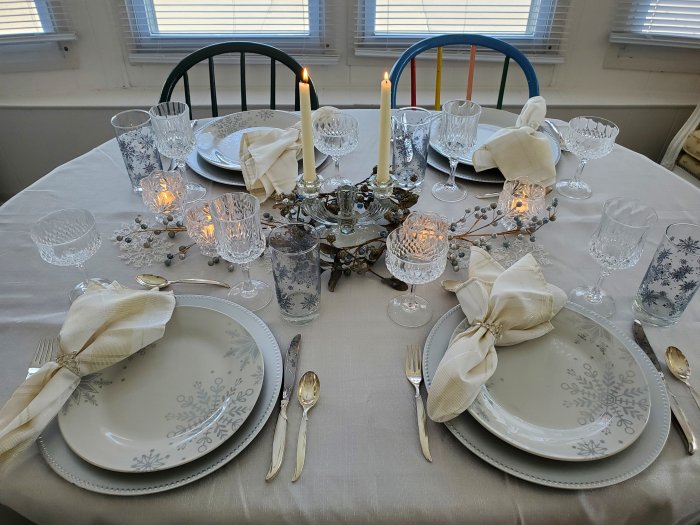 See what I mean – especially below – really hard to photograph all that silver and white, especially in daylight. Hopefully the candle-lit shots give you a better view. Chargers are silver plastic, napkins are ivory with silver and gold metallic threads, the napkin rings are little jewel-studded crowns. And the plates are white ceramic with metallic silver snowflakes.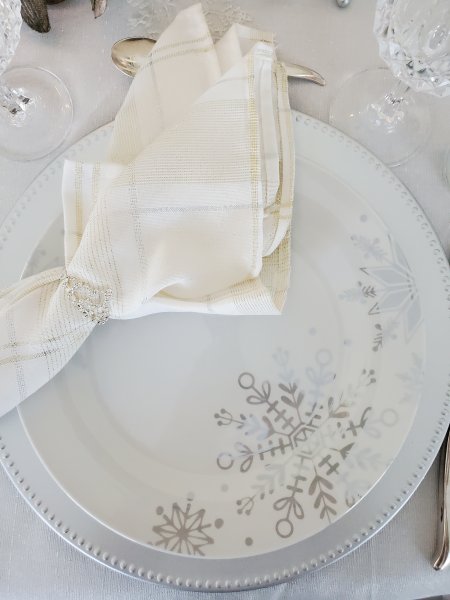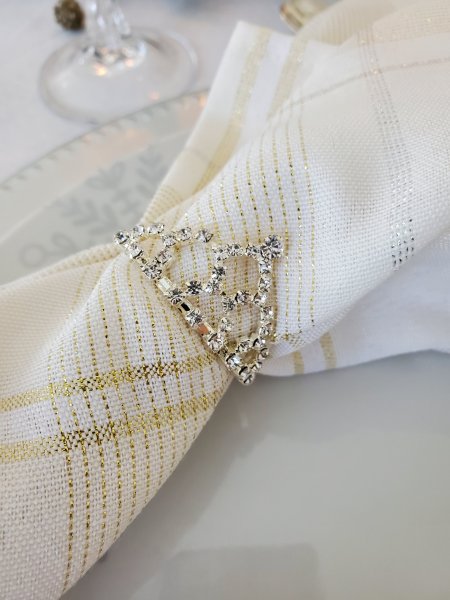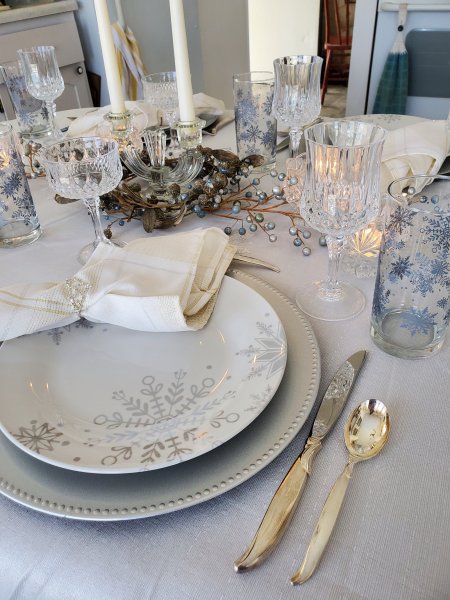 Glassware is comprised of the Dollar Tree iced tea tumblers, plus thrifted Cristal d'Arques "Longchamps" wine glasses, and more Longchamps for the dessert compotes.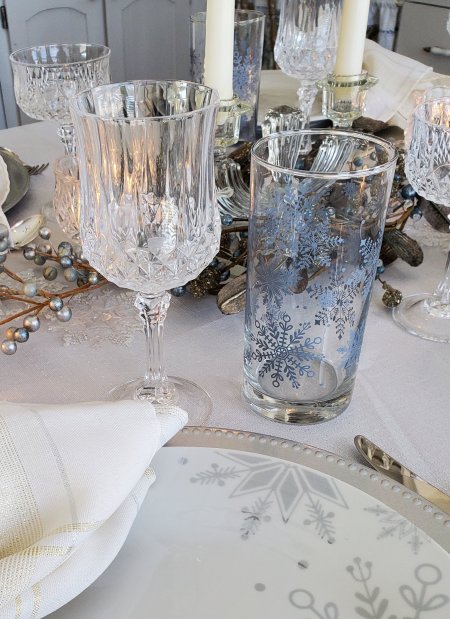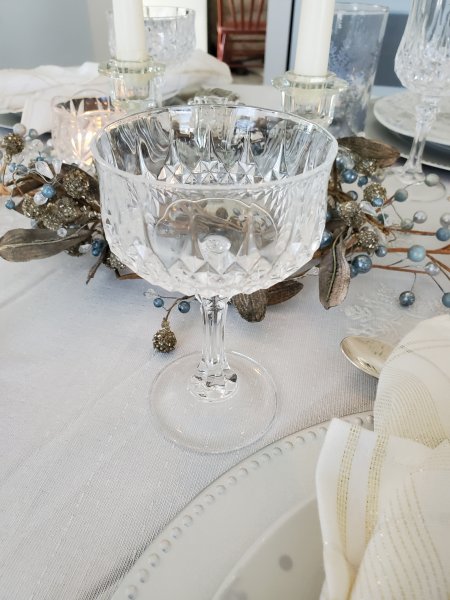 Silverware is my handed-down "Flair" by 1847 Rogers Brothers, inherited from my grandmother. I don't think you can tell but the tablecloth is shimmery with silver threads.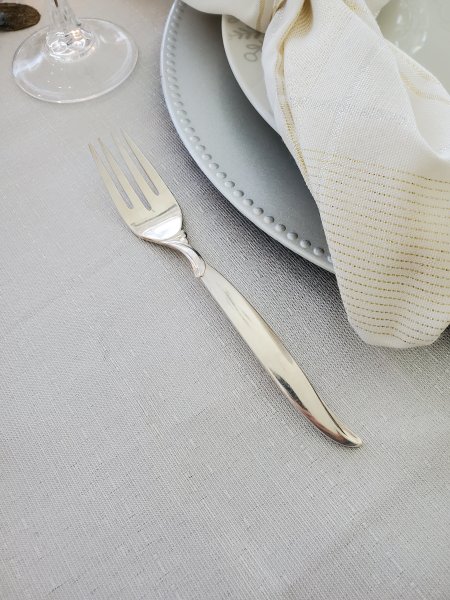 The centerpiece is a crystal taper holder surrounded by a silvery blue beaded wreath and flanked by additional crystal candle holders plus blue-gray pip berry stems.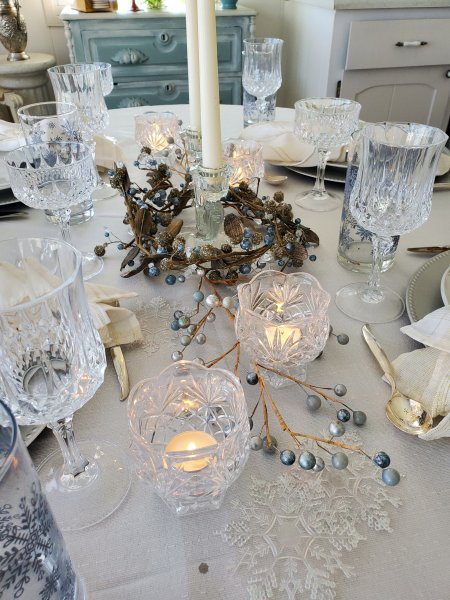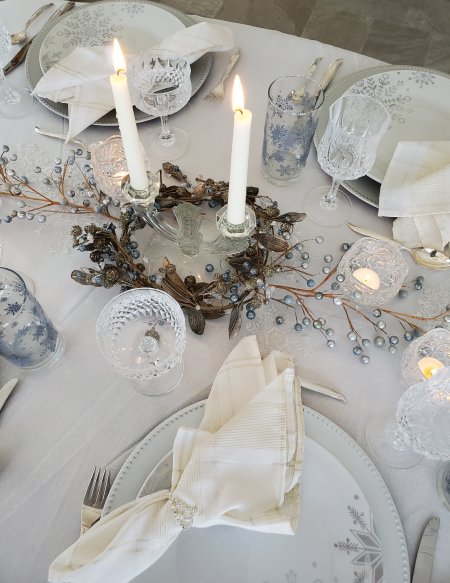 A few more views, including some in candlelight…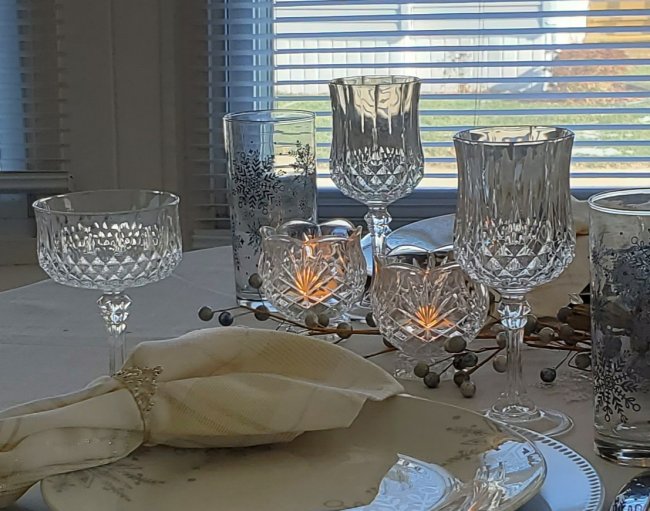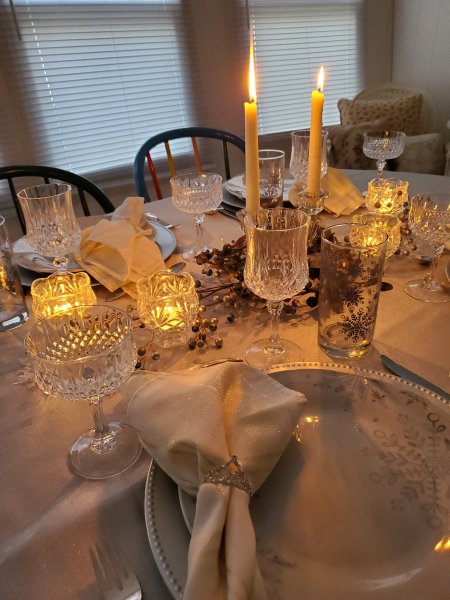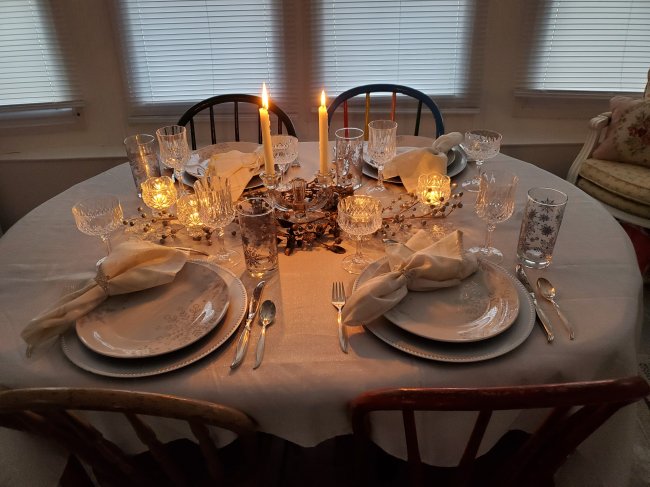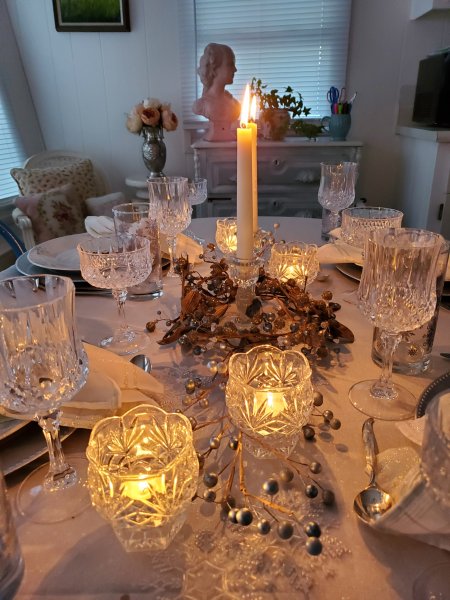 A birdseye view…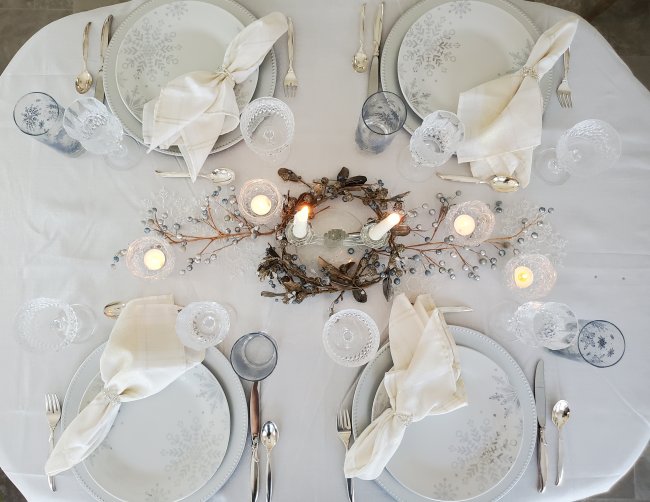 And a put-away shot, illustrating how pretty everything looks just waiting to go back into the cupboards.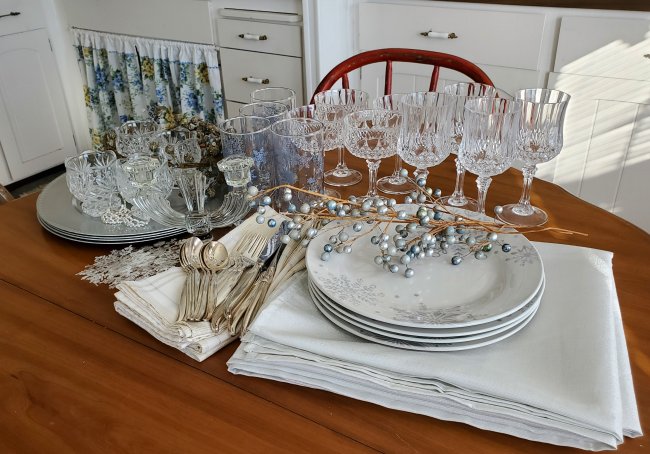 I'd love to know how you get along during this time of year. Do you do anything to commemorate the Solstice? This is the first year I've done so with a tablescape. What are your thoughts about shorter daylight hours and the Winter Solstice? As always feel free to leave me a comment with anything you'd like to share!
Here's an image to Pin in case you would like to save the Winter Solstice tablescape for future inspiration. This one could easily be a Christmas or New Year's tablescape, too!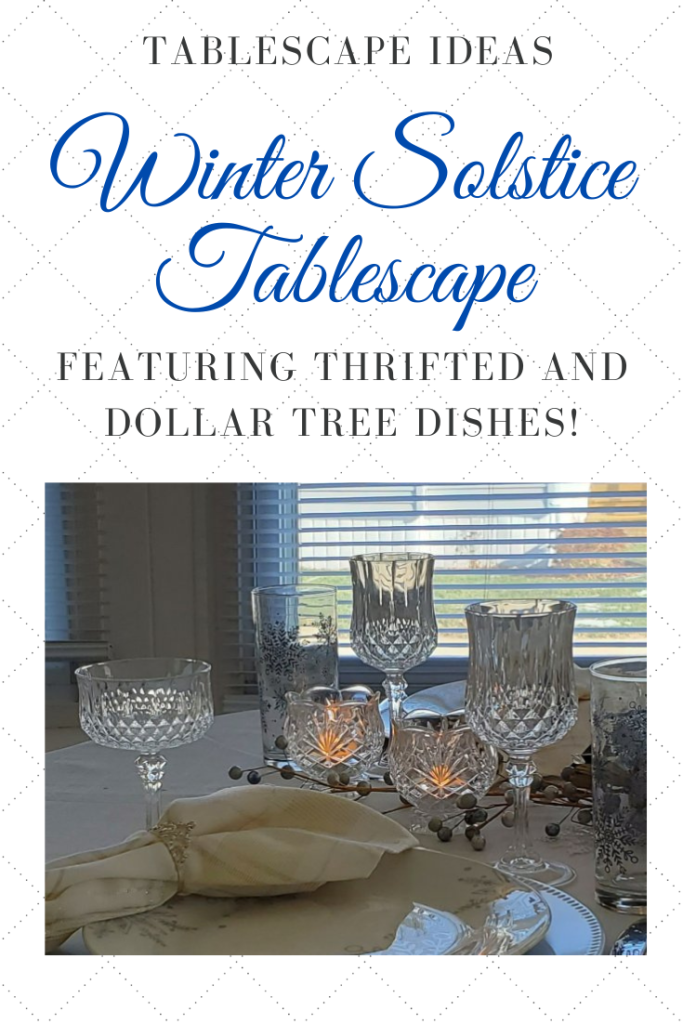 I will be linking to Tablescape Thursday over at Susan's lovely blog, Between Naps on the Porch – be sure to click through for more tablescape inspiration!
For even MORE inspiration in setting lovely tables on a budget, join my Facebook group, Thrifty Tablescapers! Lots of friendly folks over there sharing their amazing thrifty tablescaping ideas!