All through the year I set pretty tables with a lot of different vintage dinnerware patterns. But for a Christmas tablescape, I always seem to gravitate back to my all-time favorite, Old Country Roses by Royal Albert of England. Although my collection of this pattern is indeed secondhand, I don't collect it in thrift stores because I never see it in those shops – it just doesn't get donated, at least in my area! Over the past 20 years, I've collected dinner and bread plates from Ebay, always looking for the oldest possible backstamp. (This pattern was introduced in my birth year, so I like to think that my set is at least almost as old as I am!)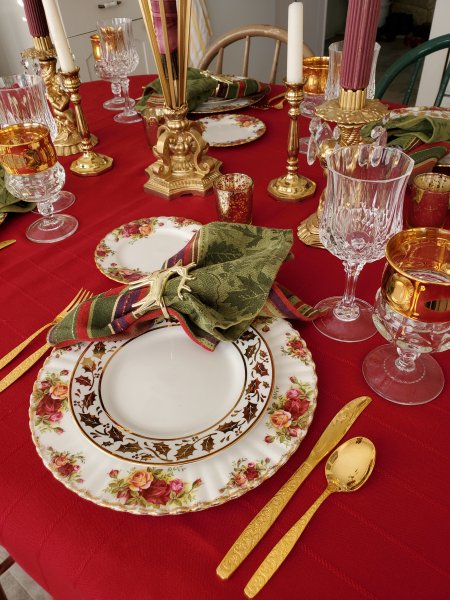 Now if you have read much on my blog, you might recall from my Tablescaping 101 series (which is still not finished yet, by the way!) that one of my "rules" is that the centerpiece should not block guests' view of each other from any angle. For that reason, I keep my centerpieces shorter in height.
But… guys…
…seriously…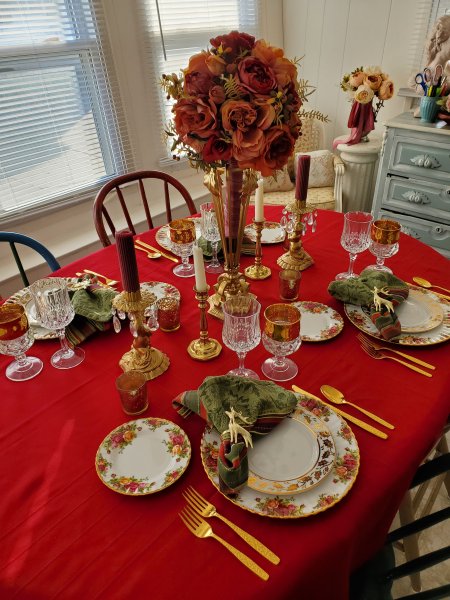 So here's the thing: I found a metal base for pillar candles over the summer, and in Fall I found the most beautiful fully-assembled bridal bouquet. Both in thrift stores, less than $10 total for both items!
For my Christmas table this year I wanted to do an epergne-style centerpiece using that candle base with a pineapple on top – I had read that pineapples at one time represented the epitome of wealth and status – if you had one in your centerpiece, you had made it! And so I tried perching various bowls or other dishes on top of the candle base to hold a pineapple, but nothing looked quite right. At that point I began shopping the house, and my eye fell upon the bridal bouquet which was in a vase in my office and… well, I ditched the pineapple and suddenly my centerpiece was fabulous!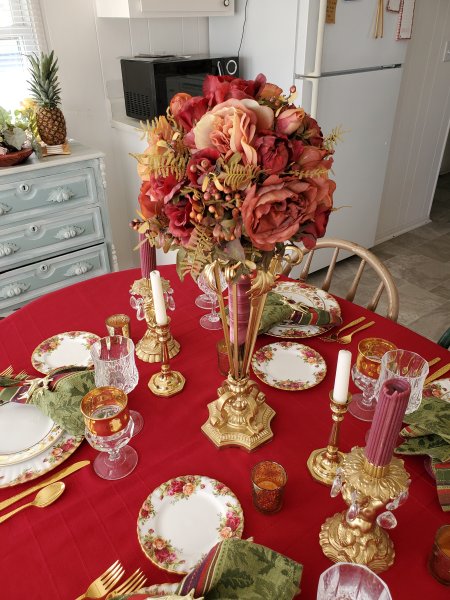 I know it's too tall. I know it breaks a rule. But it is so worth it! (I feel like such a rebel) Now in my defense, I would leave the centerpiece in place until guests are seated, and then remove it to the sideboard during the meal. It's just too beautiful to leave it off completely.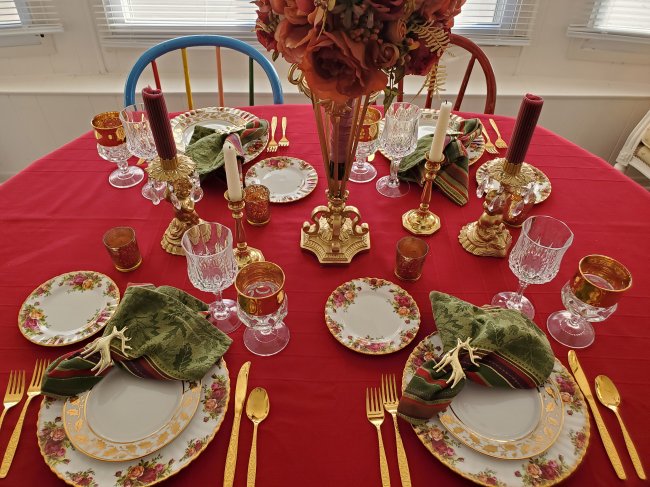 Okay enough gushing, let's take a quick tour around the table! Dinnerware as I mentioned is vintage Old Country Roses, and the salad plates are not marked – I found dinner and salad plates in this pattern at my favorite consignment store last year. Of course I bought four of each – less than $10 for all!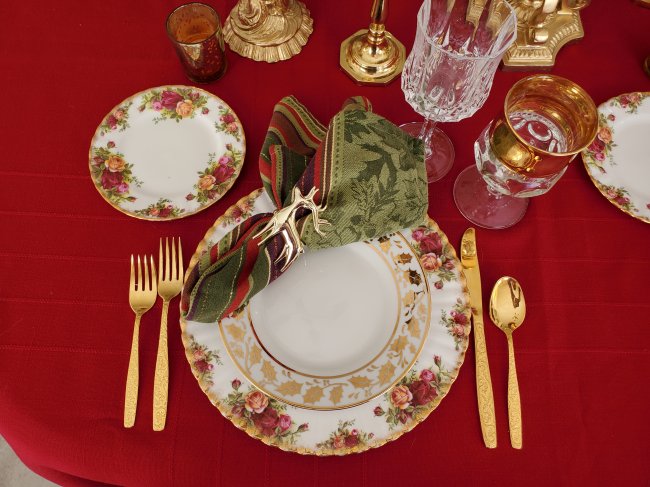 Flatware is Americana Golden Heritage by International Silver, an antique store find several years ago – also a bargain at $12 for service for four plus a few serving pieces!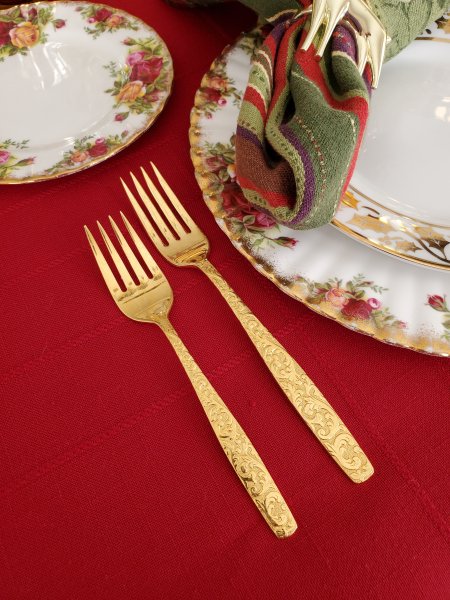 Glassware is Longchamps crystal by Cristal D'Arques and antique King's Crown "Thumbprint" by Indiana Glass. LOVE that wide gold border!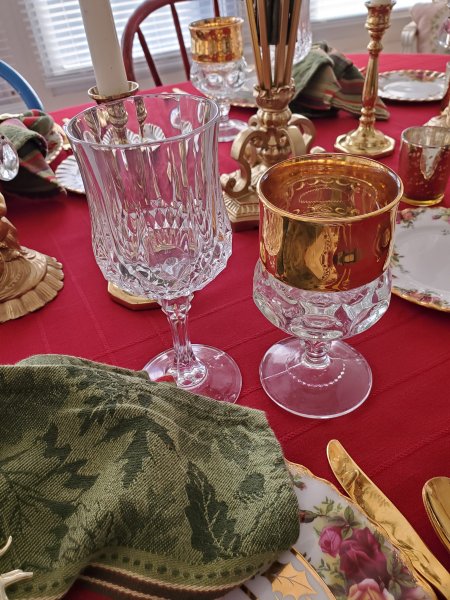 Napkins and napkin rings were thrift store finds many years ago. I use these deer almost every year for Winter and Christmas.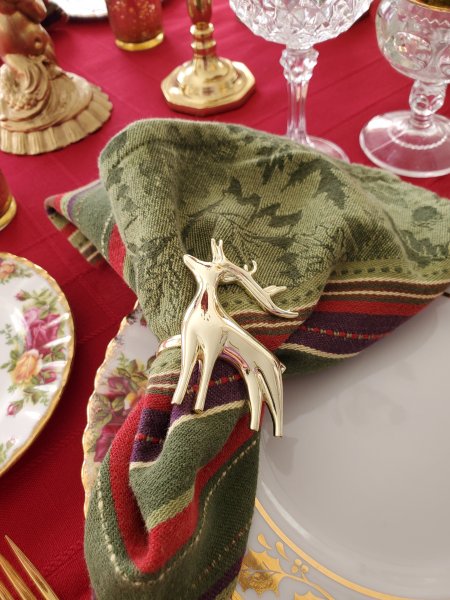 There are candles included in the centerpiece as well, because I do believe that candlelight creates a special kind of magic in any tablescape – especially at Christmas! There are thrifted votive holders and a pair of brass sticks, but also these amazing thrifted figural taper holders – the character is like a mer-creature… a cherub, but with tentacles!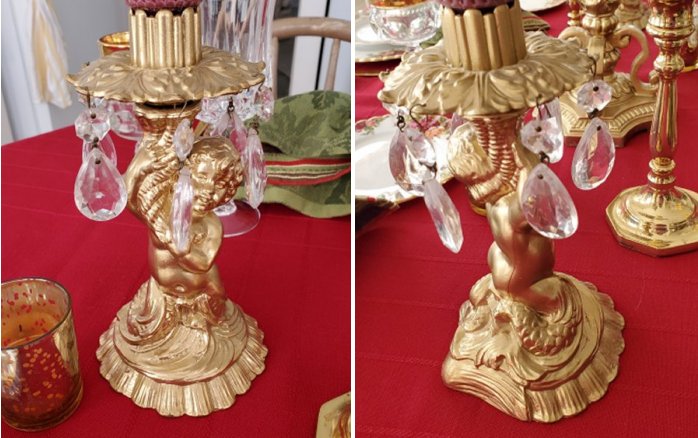 Here are a few more views around the table…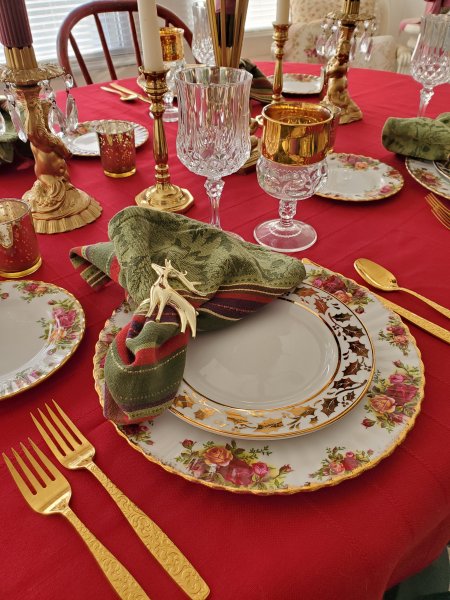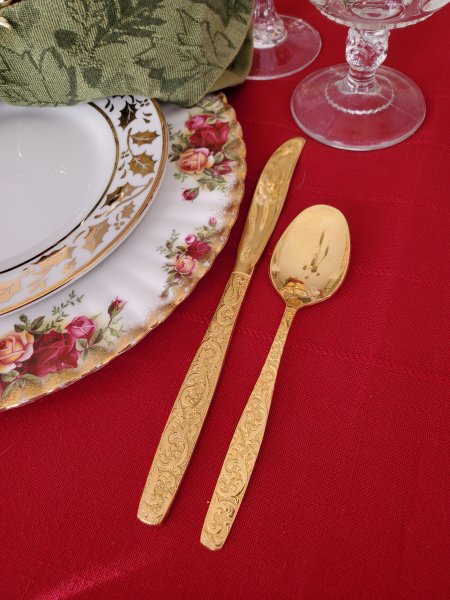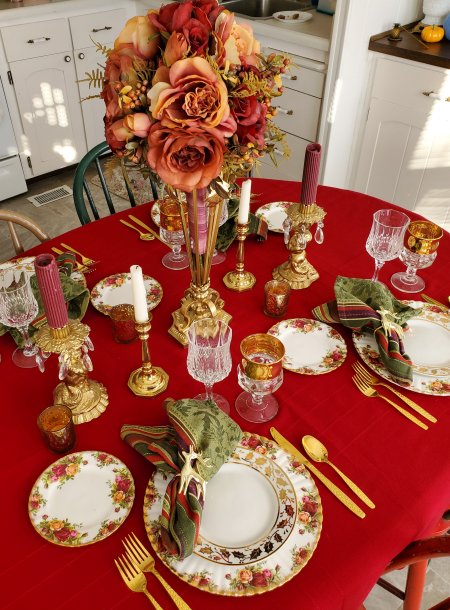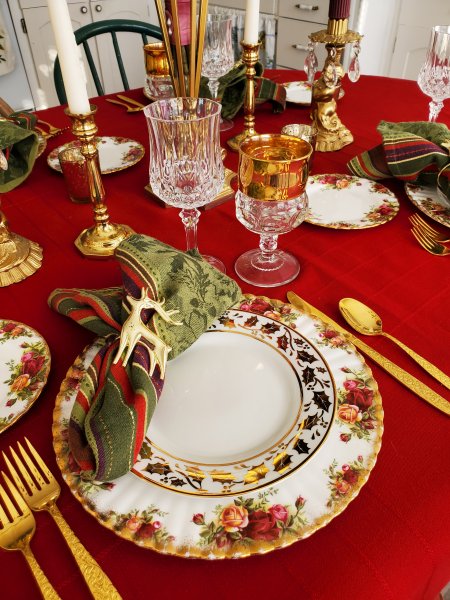 … a few pictures of candlelight magic…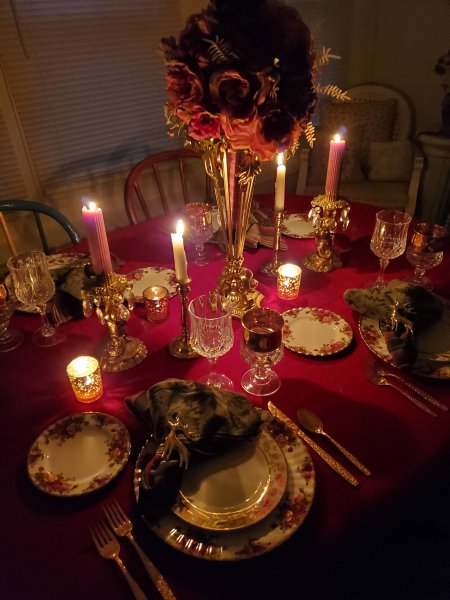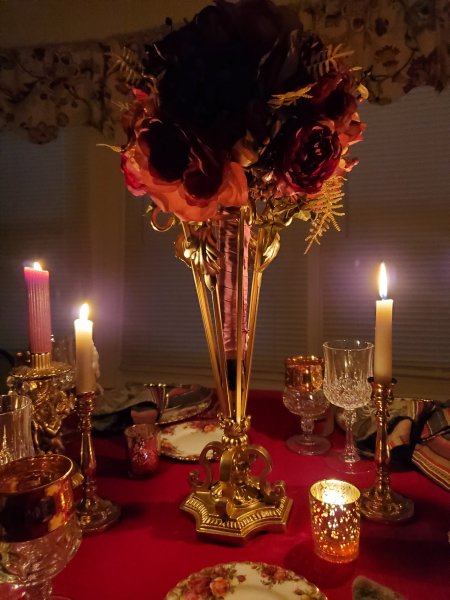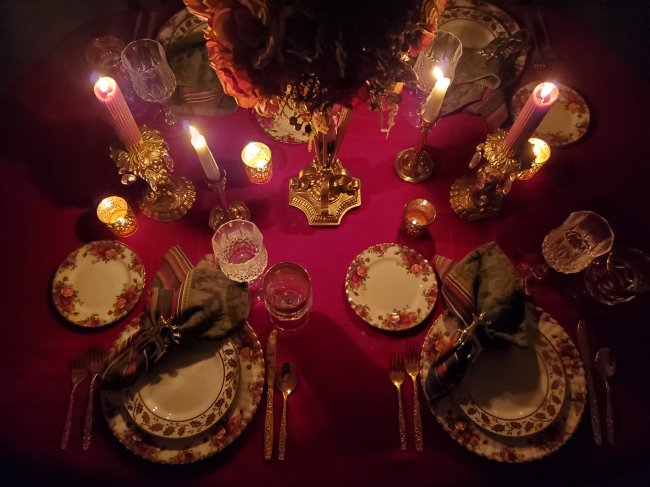 … and finally, one more centerpiece view plus the put-away shot!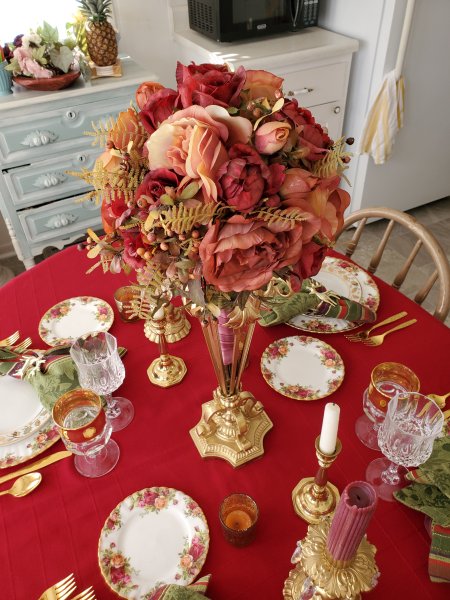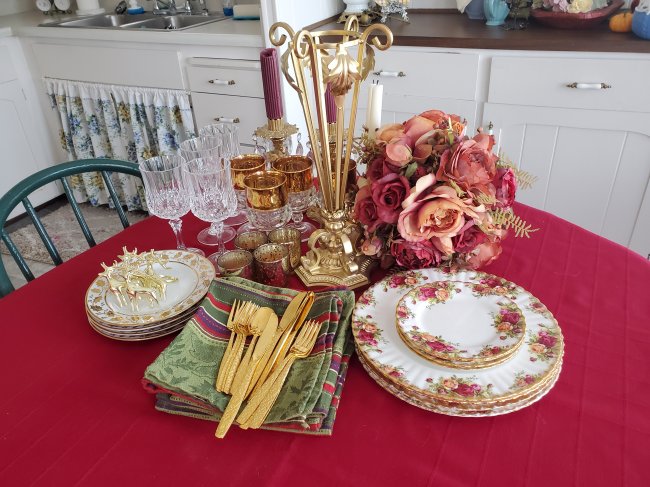 I'll be sharing my Christmas table over at Tablescape Thursday on Susan's amazing blog, Between Naps on the Porch.
And, here's an image to Pin in case you'd like to save this post for future inspiration: