I can't believe it's been a month since I last posted – I mean seriously, I thought it was just like, a couple weeks ago!
Anyway, in the last month I've been insanely busy… Greg and I closed up our booth at the antique mall, so we had to haul some of the stuff home. This was in addition to all the stuff we had hauled home over the last few months that had not sold. It was a lot, and it was all in my basement. So the plan was to have a big blowout garage sale on June 2-3 to get rid of all the "smalls" and a bunch of other stuff.
Of course, this comes with all the requisite moving stuff around, hauling it up from the basement, unpacking, pricing, etc. I actually kind of enjoy that part – however, I must point out that Greg did virtually ALL of the heavy lifting. If I had had to haul all this stuff by myself, I simply could not have done it. Unless perhaps I had started in January.
Anyway, here is just a portion of it – there was a lot household decor and glassware in the back (not pictured), to the left of the garage. Sale days were to be Friday and Saturday.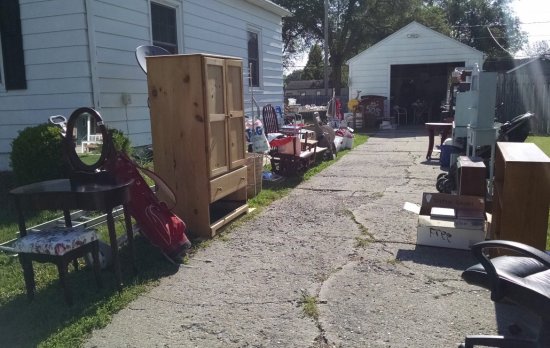 Friday was a very active day (but really hot – 90's and sunny), and we sold a lot. Saturday morning was also busy, but it was sooo hot… we made the decision to close up early, so at 1 pm Saturday, we put the remainders out on the curb: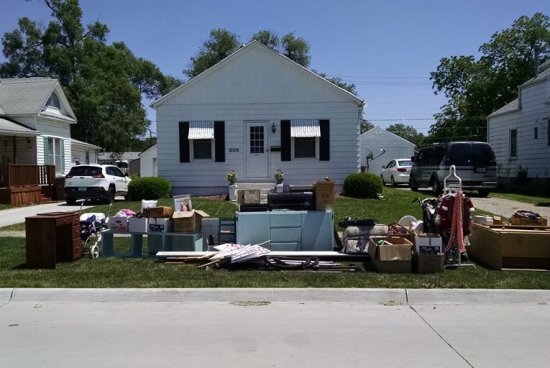 This was pretty good strategy on our part, because starting Monday was to be curbside cleanup day in the neighborhood. So the rest of the weekend, the curb pickers were out in full force, collecting up what they wanted. And by Sunday afternoon our leftover pile looked like this: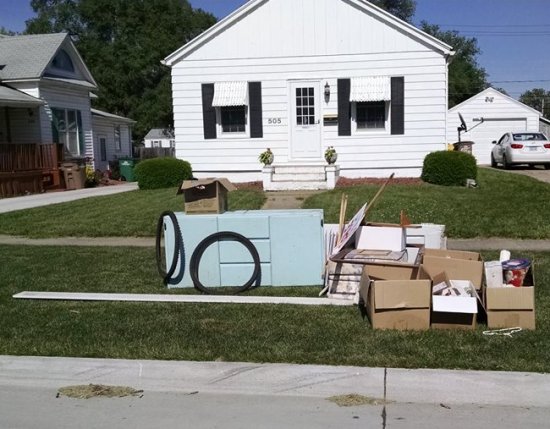 On Sunday afternoon, I was doing a little container gardening at the back of the house and I heard some thumping coming from up front. I came around to find that it was this young skinny gal from down the street, trying to shove that big blue cabinet into the back of her SUV all by herself. I told her to hold on a minute and I went and got the two-wheeled dolly, and I pushed the cabinet down the street for her. (And the useless men she lives with were waiting for her at the house – no help at all. Yeah that's okay, young bucks, leave her to fend for herself with only her grandma to help. Dicks.)
And on Monday morning, it was down to literally just a couple of boxes and the big ottoman they were sitting on. The solid waste crew came and took the rest away before I even left for work. I feel VERY good about the miniscule amount of all that stuff that went to the landfill.
With all the "smalls" gone from our antique booth business venture, I felt like I had literally lost weight – physically and mentally. My basement and garage are finally mine to reclaim! More about that soon!