Do you know where I spent Mother's Day last year?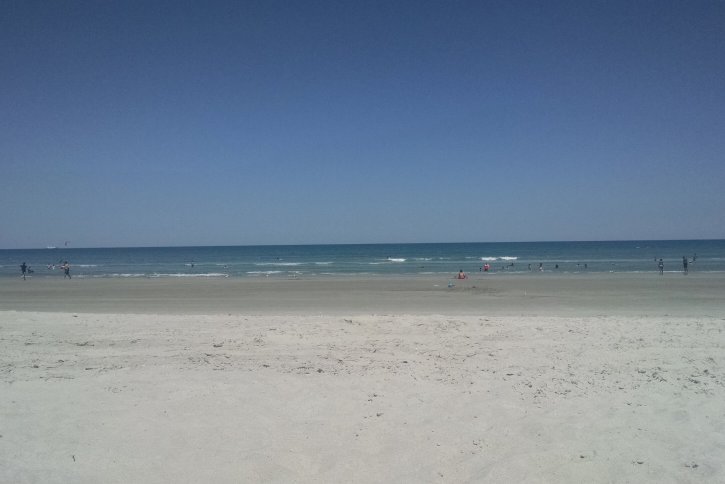 Also, here: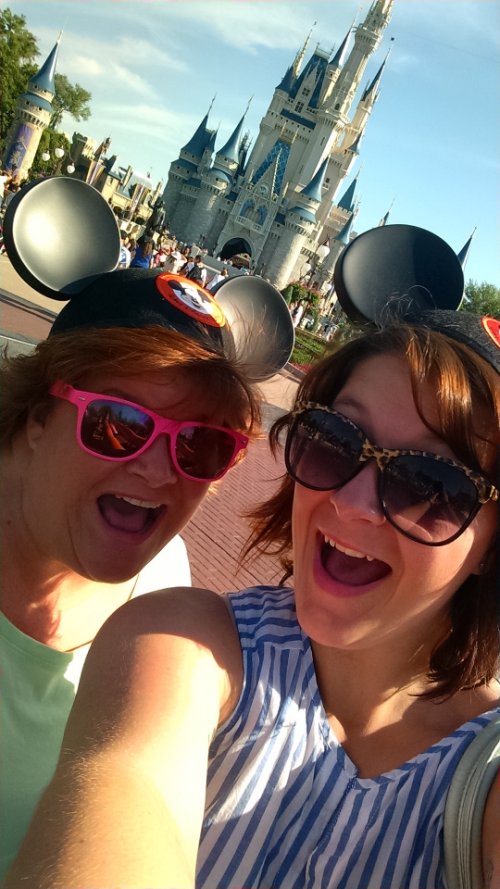 This is because my daughter was working at Walt Disney World in Orlando through their College Program. (If you know someone who is interested in that program, please read Stephanie's blog, Waiting for Walt, which chronicles her experiences. She is a superb writer and storyteller, if I do say so myself.)
Through a series of miracles she managed to get two days off in a row, one of them being Mother's Day, so I traveled down from Iowa and we spent Mother's Day at Cocoa Beach and then the next day at Magic Kingdom. It was one of my favorite Mother's Days in all of history.
This year, do you know where I will be spending Mother's Day?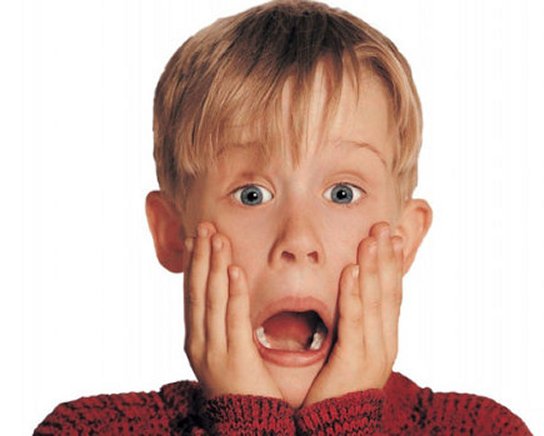 Yep, home alone. Which is a long ways from Cocoa Beach, and Disney World, let me tell you. The reason I'll be home alone is that Stephanie is actually back in Florida for another round at Disney – she just left on Monday of this week.
Of course, I'm happy for her and wishing her every success – but if she could spend Mother's Day with me, I like to think we might sit down to this cute table and enjoy a Springtime breakfast or brunch.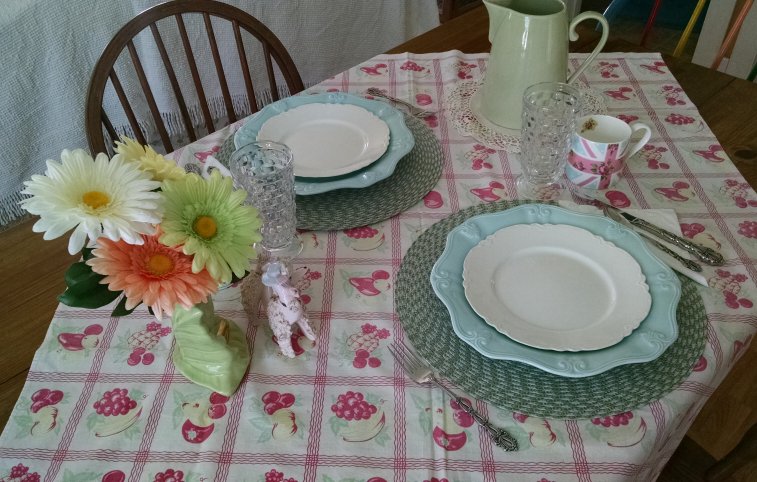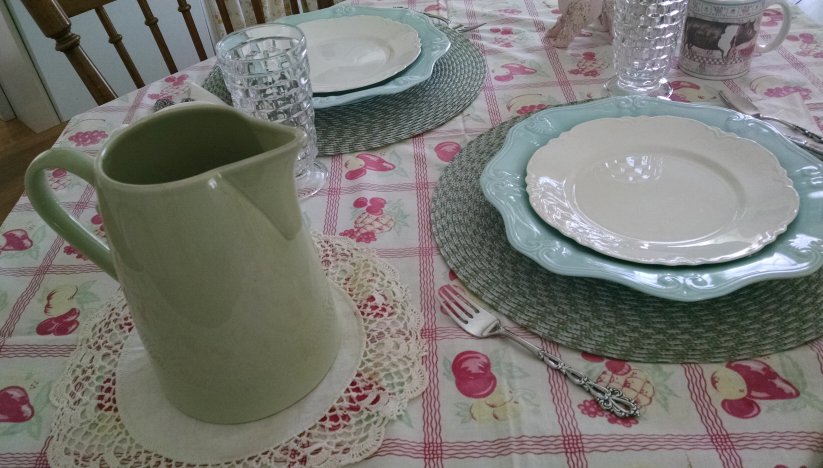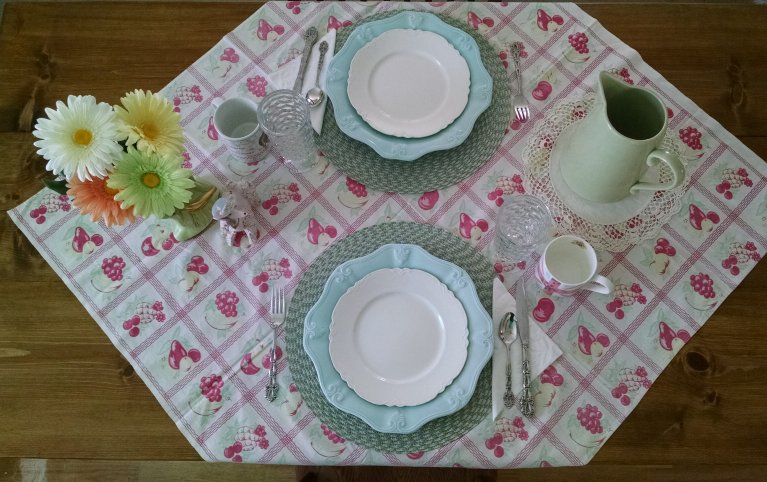 Our table starts with a wonderfully faded vintage tablecloth and then tableware in soft tones that echo that fading: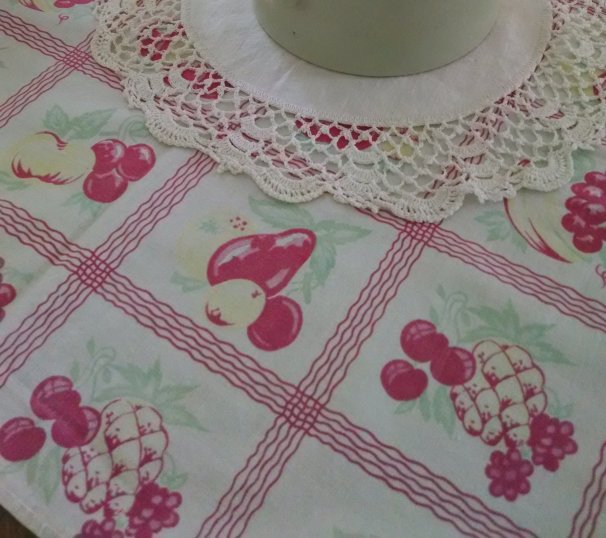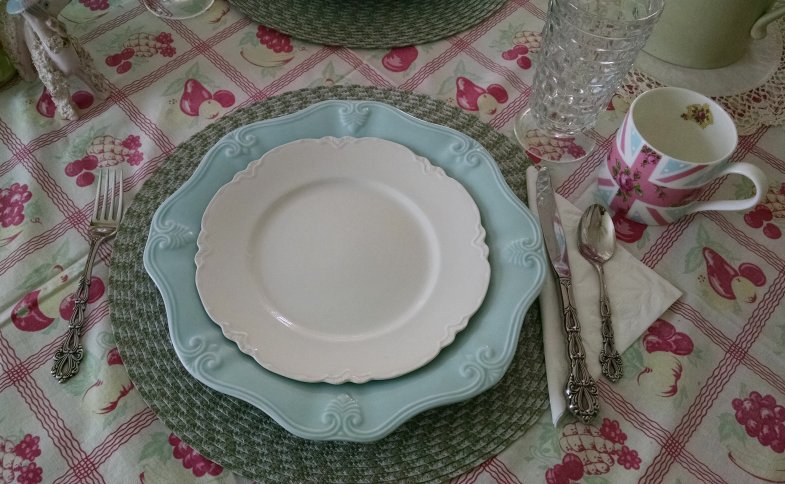 The place setting includes pale blue Lenox "Butler's Pantry Gourmet" –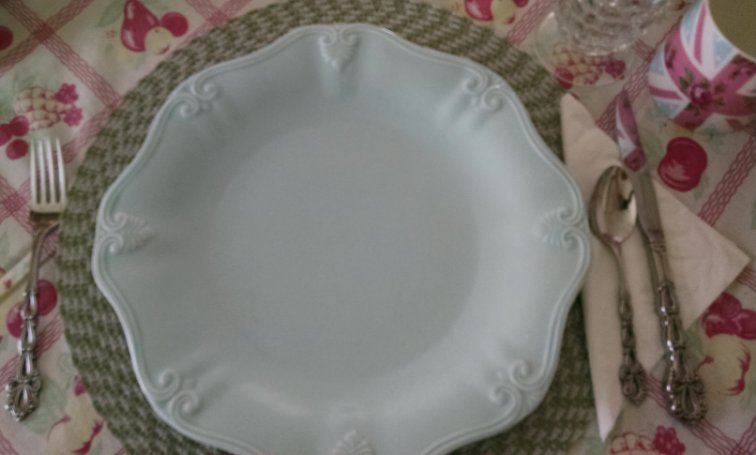 … topped with a plain Johnson Brothers (England) plate in ivory: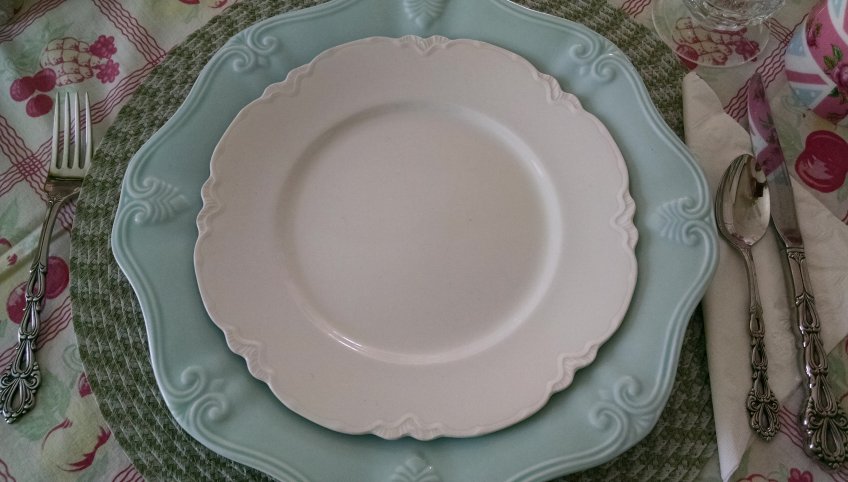 Love the two scalloped edges!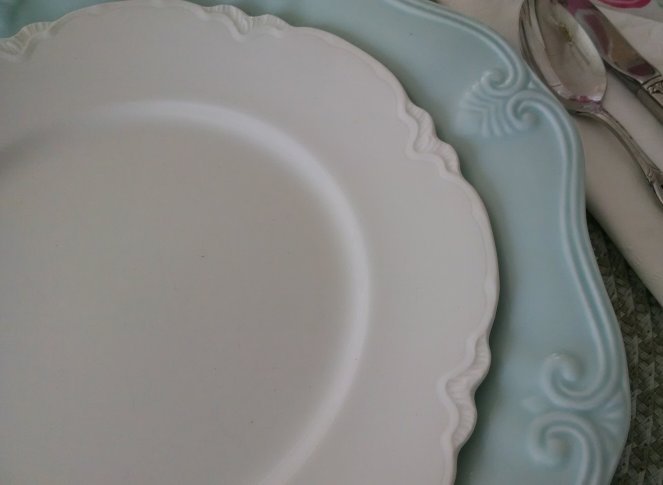 For beverages we're keeping it simple with ice water and coffee – these Whitehall tumblers by Indiana Glass are my absolute favorite for iced drinks due to the fact that they hold plenty of liquid even after you put the ice in.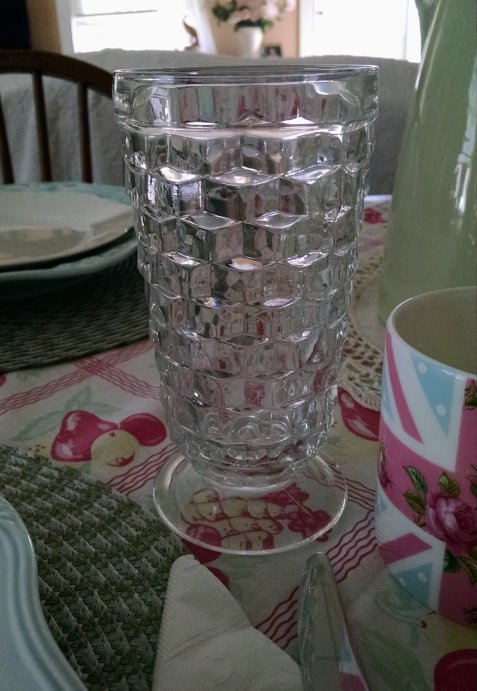 We'll keep plenty of water on the table in this pretty pitcher by Martha Stewart Everyday.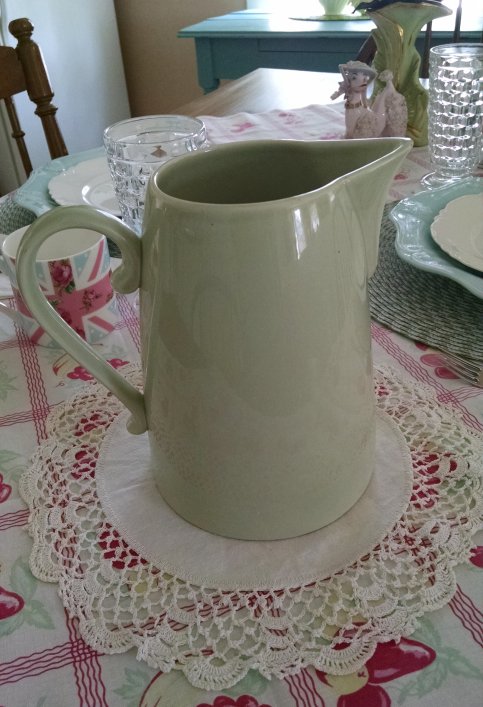 And for coffee, I would share my Royal Albert "Cheeky Pink" mug with Stephanie –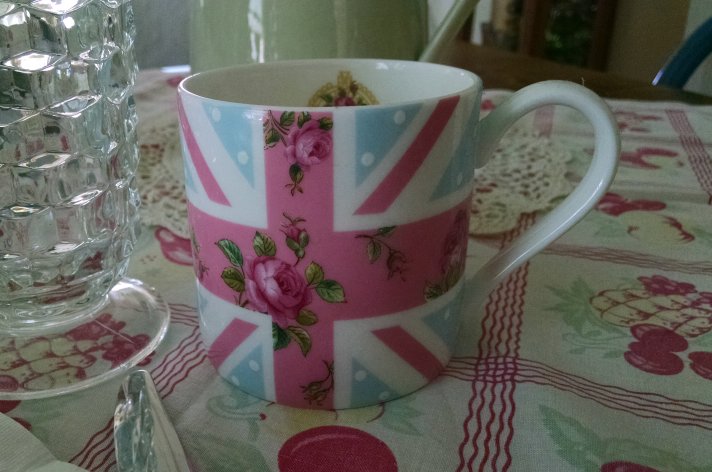 … and I would use the cute mug she gave me proclaiming "To eat is human, to pig out is divine!"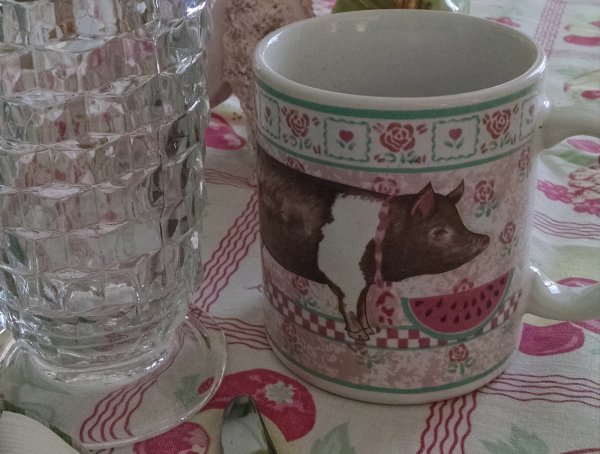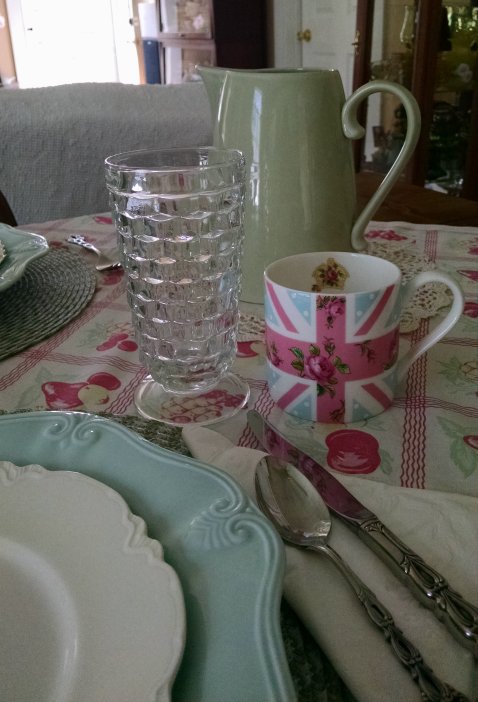 Our centerpiece features pastel Gerbera daisies in a vintage vase, and a sweet pink "spaghetti poodle" which – coincidentally – is a little treasure that Stephanie found in the ditch on her way home from school one day many years ago!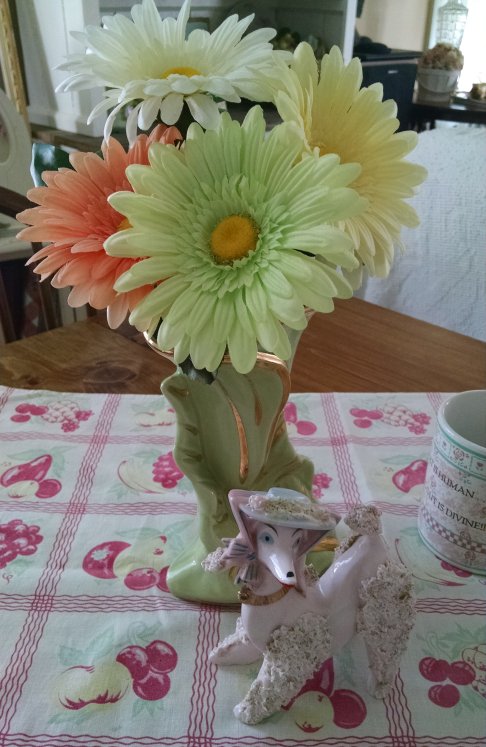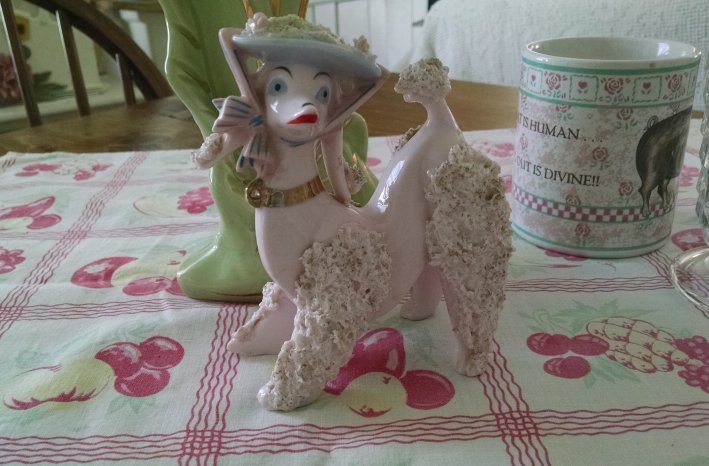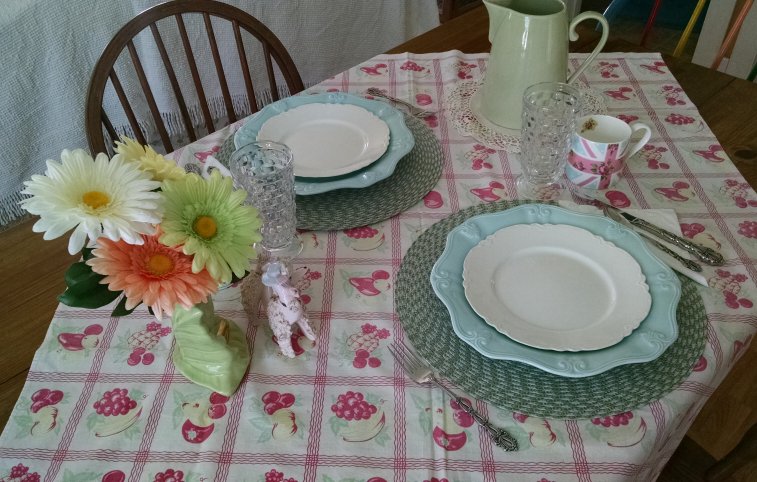 Now, before you start feeling sorry for me because I will be "home alone" on Mother's Day, let me just say that this young lady is amazing – I will miss her, but I am so proud of her, even though I'm pretty sure she won't get Mother's Day off this year. 😉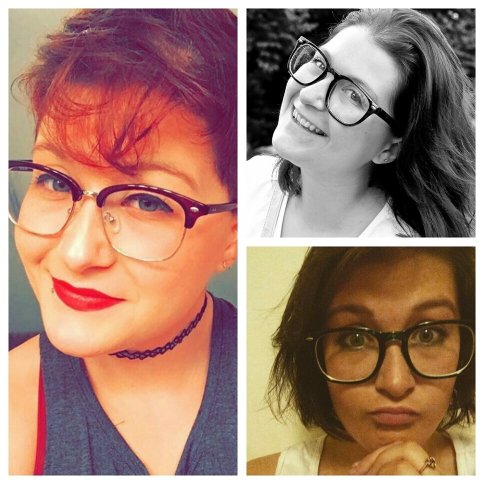 I'm sharing my (our) Mother's Day Brunch table at Tablescape Thursday at Between Naps on the Porch! 
Here's a Pin-able image for this Mother's Day tablescape!