Have you ever got "stuck" with something on Ebay because people were bidding against you and darn it, you just weren't going to let them have it cheap?
No? Maybe it's just me…
Anyway, recently while scouring a flea market I came upon a Christmas tree figurine from Precious Moments that plays "Silent Night." Now I am not a collector of Precious Moments figures – but I did like this tree: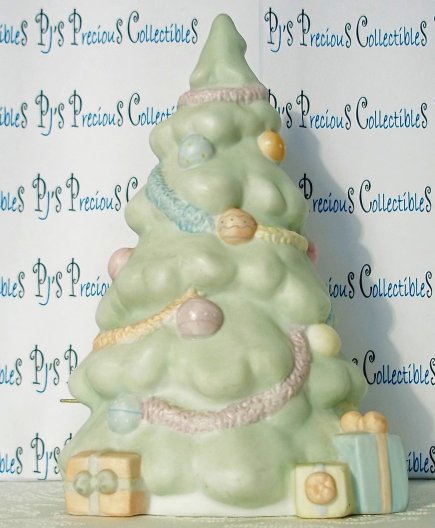 The color palette was soft and "shabby," if you know what I mean. And I thought, maybe I could just collect one piece of Precious Moments – even though I didn't currently collect it.
(The photo above is courtesy of PJ's Precious Collectibles on Ebay – who by the way is a wonderful seller of Precious Moments figures if you are looking to buy them.)
But the asking price was $25, and this was a thrifting trip, and that was just too much money.
So I came home and looked it up on Ebay, and watched a few auctions. And while I was surfing Ebay, I came upon this little piece: a little car with a Christmas Tree tied to the top, and a worrisome little puppy anxiously looking out the car window.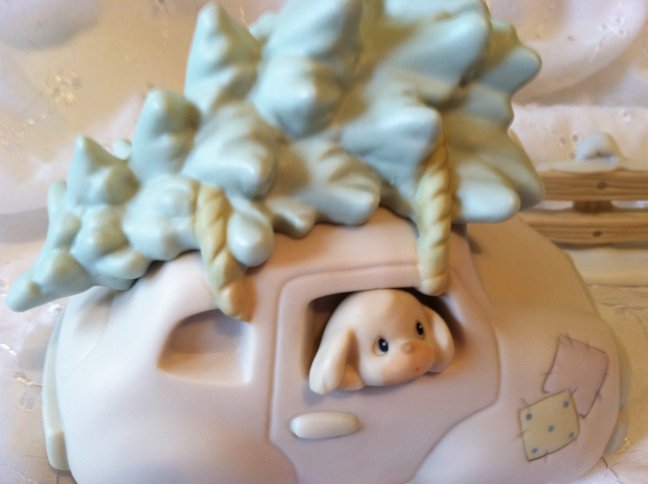 It wasn't $25, and it featured free shipping. And, seriously, I really thought it was adorable. So – against every fiber of my being, I bid on a Precious Moments figurine.
And was immediately out-bid. Well! Not about to let someone snatch this out from under me so cheaply, I entered a maximum bid just to be sure that the other bidder wouldn't get such a grand bargain. Only this time, I became the high bidder at $15. And over the next few days, I stayed there, wondering if someone would come along to outbid me. To save me from myself.
They never did.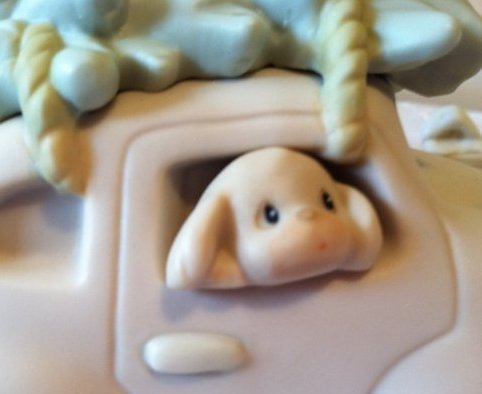 I did use my penance time wisely, by researching the piece I had bid on. I learned it is part of a Christmas Village series called Sugar Town, pieces for which were manufactured in the mid-80's through mid-90's. I decided that it didn't really make sense to own just a car from an entire Christmas Village, and that if I won the auction, I would need one more piece to put with it so at least I would have a little scene.
The Sugar Town series is not short on pieces – I narrowed my options down to something under $10, which meant I would get a mailbox, railroad crossing sign, fire hydrant, split-rail fence, or other small item to suggest that the car was part of a larger universe.
The day I won the auction for the car (at $15 with free shipping), I also did a "buy it now" for the split-rail fence ($9.75 with free shipping).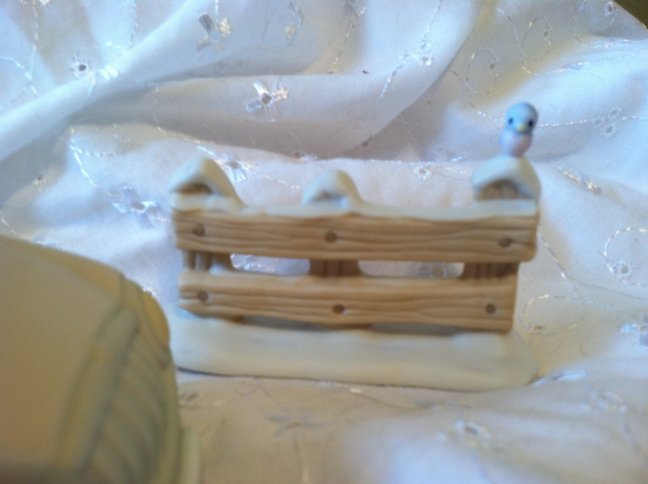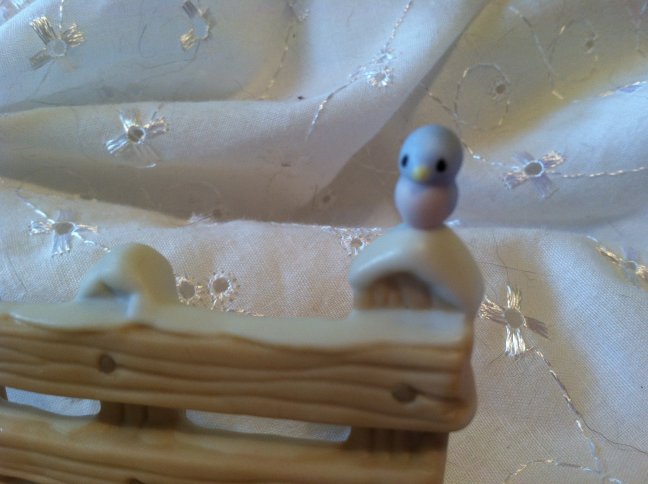 So if you are doing the math, you have just realized that I spent $25 on Ebay on two pieces of something I do not collect, all because I did not want to spend $25 at the thrift store on something I do not collect.
Fortunately, my pieces arrived safely (both on the same day!) and they really are adorable.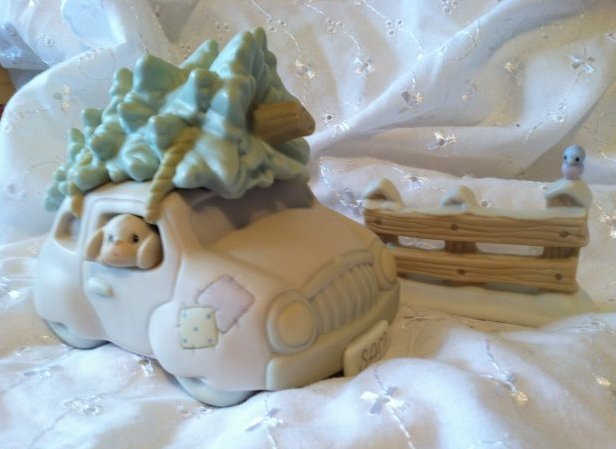 I still do not collect Precious Moments, but now I have two pieces. (Update 3/24/13 – um, make that five pieces.)
Maybe I need the little lighted Sugar Town Chapel, so that Sam the Puppy has a reason to be driving his little car.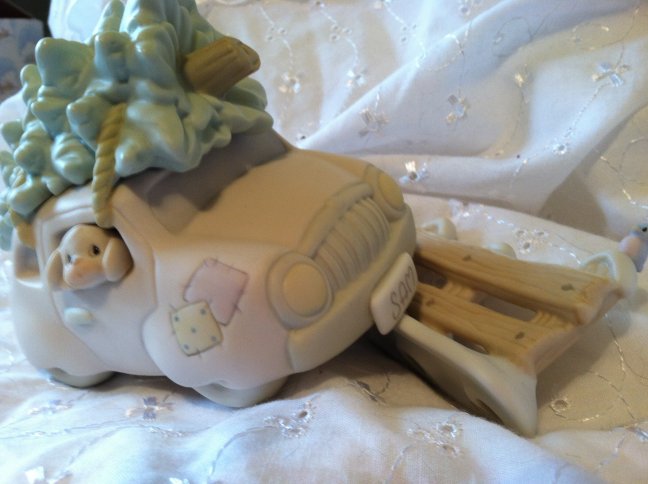 (Update 1/9/14 – what can I say, it takes a village.)