Okay I am sort of not really thinking of my table settings as "tablescapes," because honestly, all I do really is set the table. But you have to understand, using a tablecloth and clearing the table of electronics before eating is really special in our house and only happens maybe twice a year. So it feels monumental, like a major tablescaping effort has occurred, even when most people would say it's just a centerpiece and tablecloth.
Still, because such a monumental effort did occur, I feel compelled to share. 🙂  I was able to use my new-to-me Old Country Roses dinner plates and many other thrifty bargains to set a lovely little table for Christmas lunch.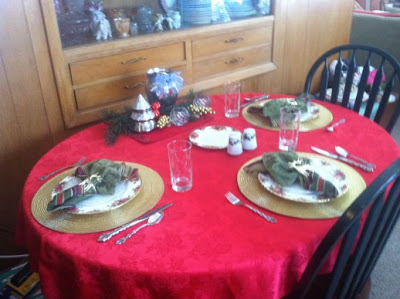 The place settings are made up of a sparkly gold round placemat, Old Country Roses dinner plate, Anchor Hocking gold-rimmed bread plate, and cloth (gasp!) napkins with a gold-tone deer motif ring.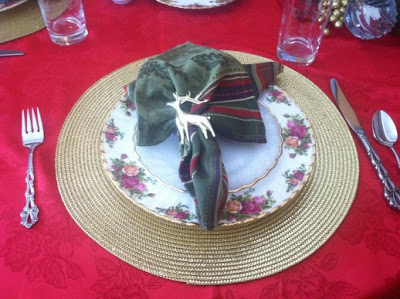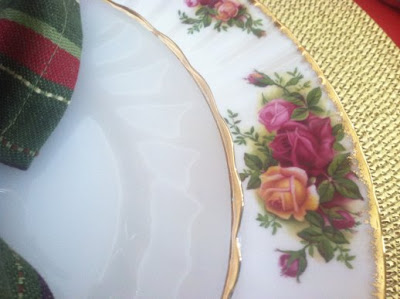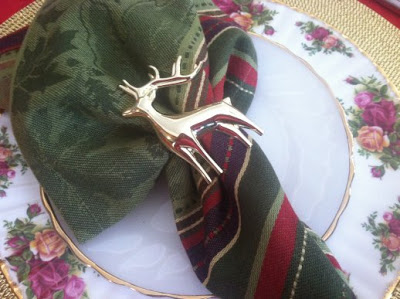 My sweet daughter, not realizing I had purchased the gold charger mats, gave me a set of four pretty red sequined placemats for Christmas. The photo doesn't capture the scarlet color – they look more orange-red in the picture, but they are a beautiful deep red, a close match to the tablecloth.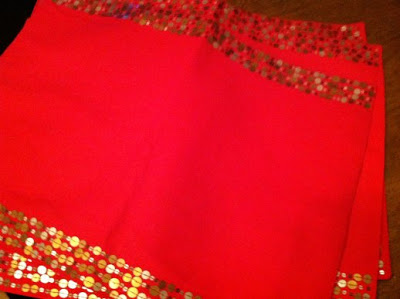 I used the gold as planned under the plates, but I did use one of hers to anchor my centerpiece. The centerpiece incorporates the free greenery I found at a tree lot, my faux mercury glass attempts, and two pretty, heavy crystal votive holders I found on a recent thrifting expedition.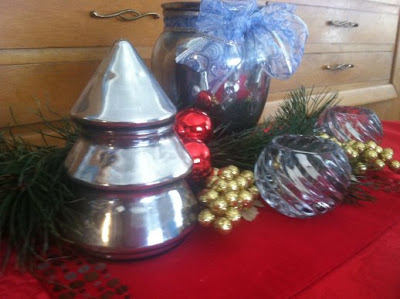 Drinkware is vintage from my grandmother Verdie, flatware is vintage Oneida Chandelier from my great-Aunt Hazel, and the S&P set is vintage from my mother-in-law. All of these delightful ladies have passed on, but I love using pieces from their collections.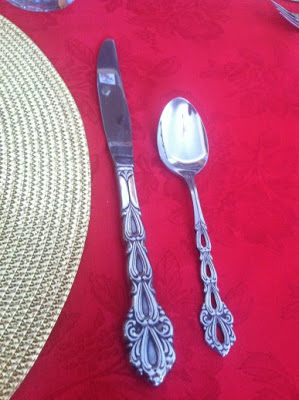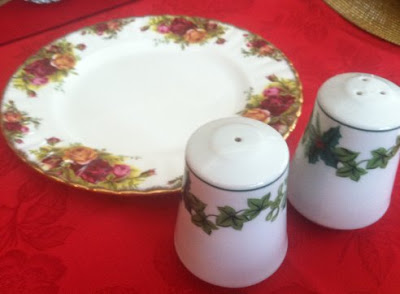 Finally, here are the OCR pieces I used on the table, all (hand-) washed up after lunch and dried with a cheerful vintage dishcloth.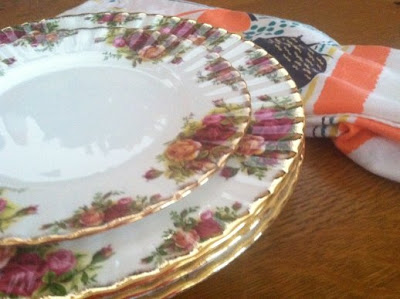 I have a hard time explaining why it is that having family dinner on Old Country Roses seemed so special to me – I suppose because it took me a long time to get enough pieces together to be able to do it. At any rate, our lunch was delicious and certainly this was the prettiest table we'd enjoyed together for quite a long time.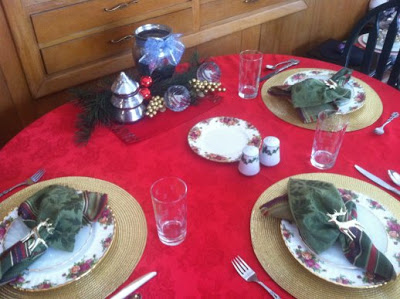 I'll be sharing my sweet Christmas table at Tablescape Thursday (even though this is really just a table setting – LOL) at Between Naps on the Porch, as well as Let's Dish over at Cuisine Kathleen.
I hope your Christmas was as lovely as mine!