I'm so excited about this silly little plate of fudge that I am linking it to "Making Monday Marvelous" over at C.R.A.F.T. Click through for loads of wonderful recipes and crafty projects! 
Quick, easy, amazing… those are the three key ingredients that inspire me to try a recipe. I was digging through the box of clipped recipes that I got from my dear mother-in-law, and came upon this little gem from the "Quick Cooking Collector's Edition. The clipped recipe was submitted by Mrs. Kenneth Rummel of Linglestown, PA. I decided to try this and it is simply outstanding, so felt I had to share. The photo shown here is my own.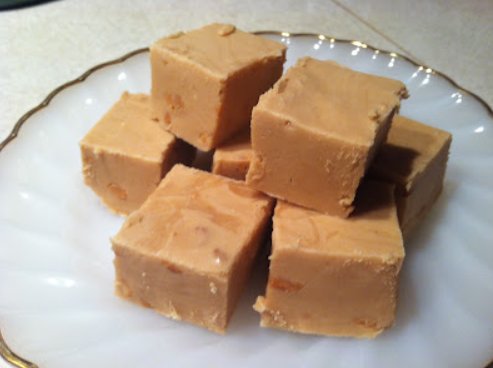 Peanut Butter Fudge
2 cups sugar
1/2 cup milk
1-1/3 cups peanut butter, creamy or chunky
1 jar (7 oz.) marshmallow creme
Butter the bottom and sides of an 8-inch square pan; set aside. In a saucepan, bring sugar and milk to a boil; boil for 3 minutes. Add peanut butter and marshmallow creme; mix well, blending thoroughly. Quickly pour into the 8-inch buttered pan; chill until set, about 2 hours. Cut into squares.