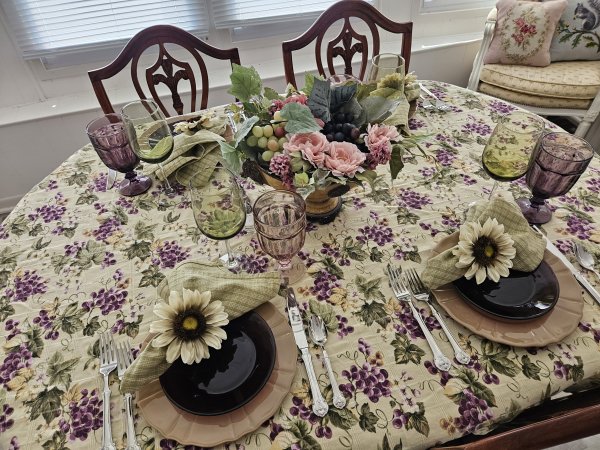 Time for a summer tablescape! I'm not much of a wine drinker, but I do love grapes and recently acquired this lively tablecloth at a thrift store and decided to go on a stash-busting hunt for purple glassware to put with it. I had a few options, but most notably the amethyst glass salad plates.
By the way, this post may include affiliate links to Amazon. If you follow a link and make a purchase, it costs you nothing extra but I do earn a small commission. Thank you for supporting my blog!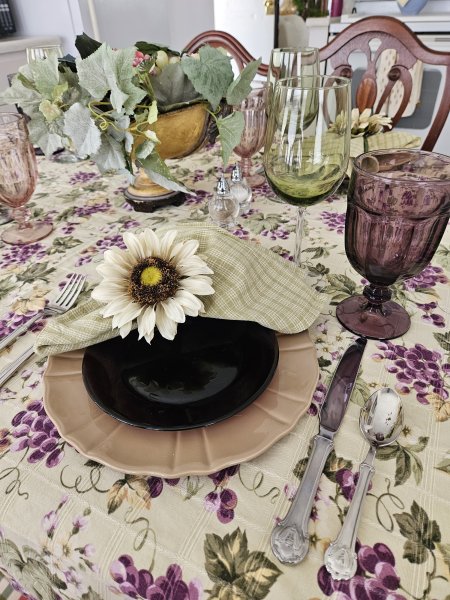 It's admittedly very hard to see that beautiful amethyst color when the plates are stacked. I tried a white dinner plate, which did allow more of the purple to show, but the white plates themselves didn't quite look right on the tablecloth. So I decided to stay with the tan. Here's a better look at the glassware: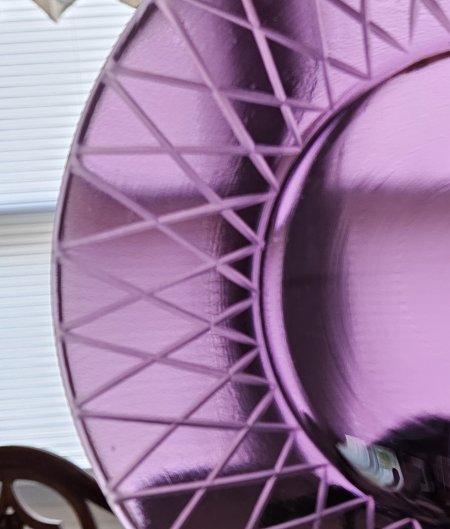 Our place setting includes these awesome tan scalloped dinner plates in a style I call "chunky pottery." These are the J.C. Penney house brand called "Home." I found them at a thrift store. I would have guessed the amethyst glass salad plates (also thrifted) were by Hazel Atlas, but initial research didn't confirm that.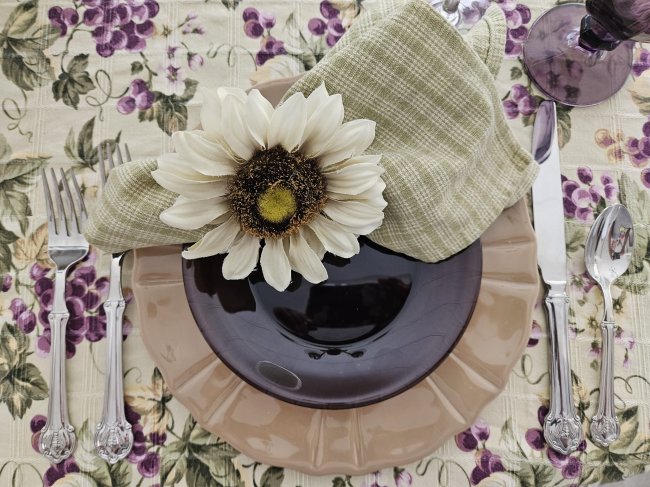 The napkins (thrifted) are a soft green cotton check, and fluffy floral napkin rings were on clearance from Pier 1 a few years ago. I just think these add drama and look fabulous in a summer tablescape!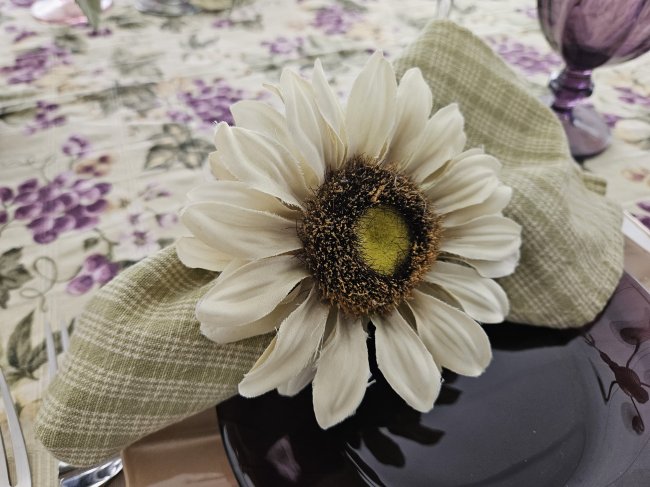 Glassware for this table is vintage "Duratuff" by Libby – not a very elegant name, but a lovely tumbler-style water glass. Because I shop in thrift stores, I'm limited by what I can find so I've only got two of these in the purple. I've alternated them with the same style in pink, which I think also works well with the color scheme on this table. The green wine glasses are from Dollar Tree.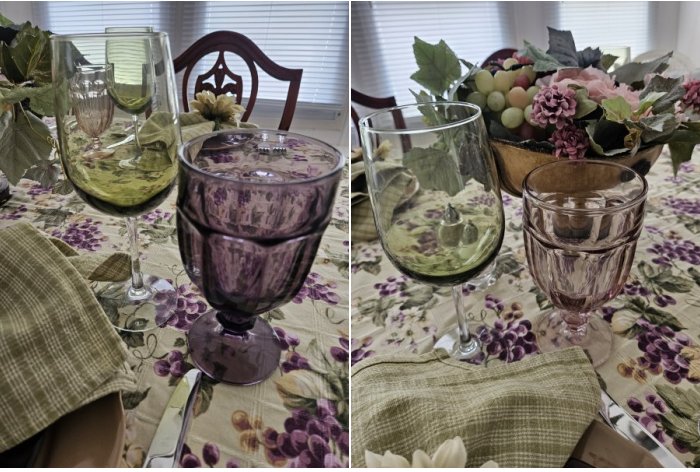 The flatware is one of my all-time favorite splurges – it's "Napoleon Bee" stainless by Wallace, acquired from Amazon.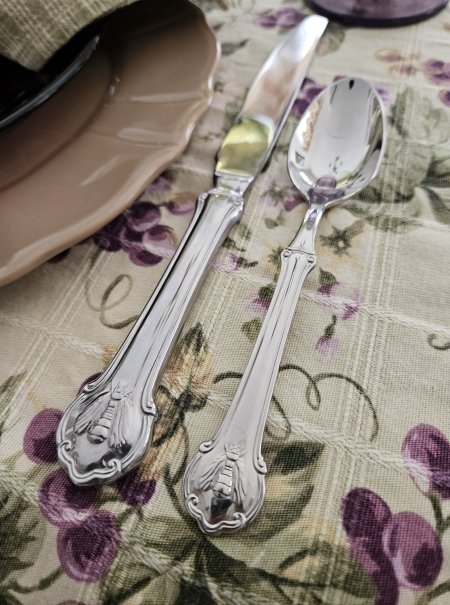 For the centerpiece on this table, I had recently thrifted a sort of Italian-looking compote that definitely gave "old world" vibes – perfect for the grape motif – and I even had a couple bunches of faux grapes to include with silk grapevine greenery and soft-hued roses.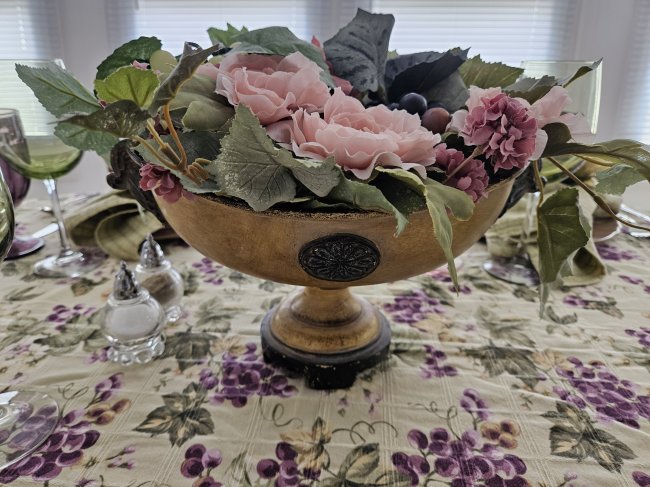 Here's a place setting with the pink water glass –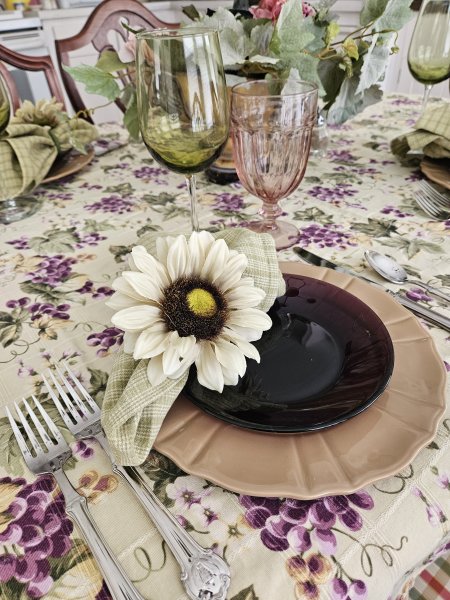 … a little more of the Wallace flatware –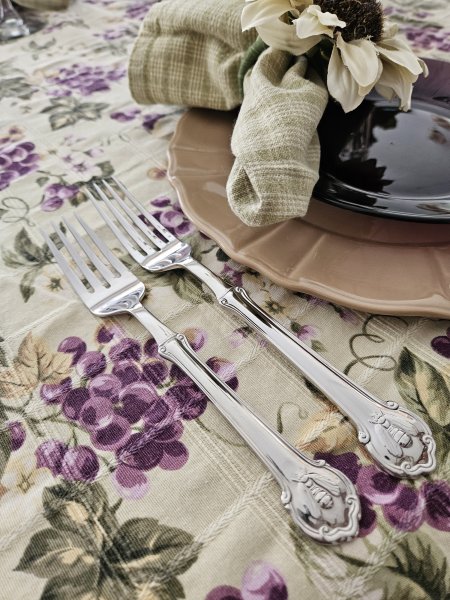 … and a bird's-eye view in case you are wondering what it looks like when perched on the chandelier!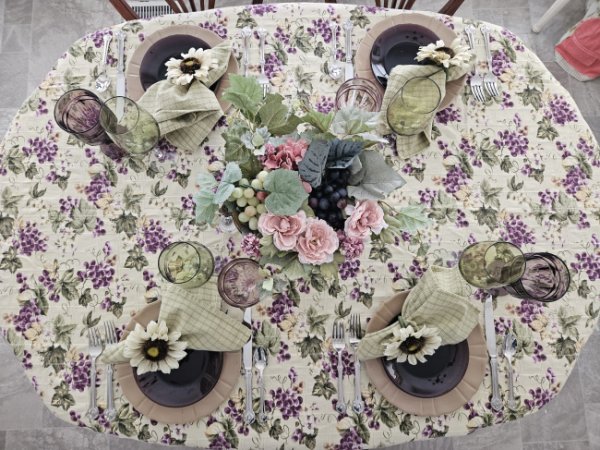 Finally, of course, the "put-away" shot where everything is gathered up, just looking lovely before going back into the cupboards.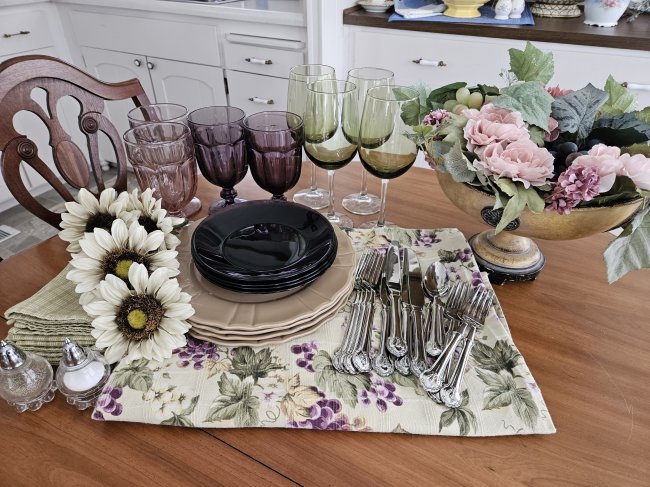 I hope you took some summer tablescape inspiration from this post! Here is an image suitable for Pinning in case you'd like to save it for future reference!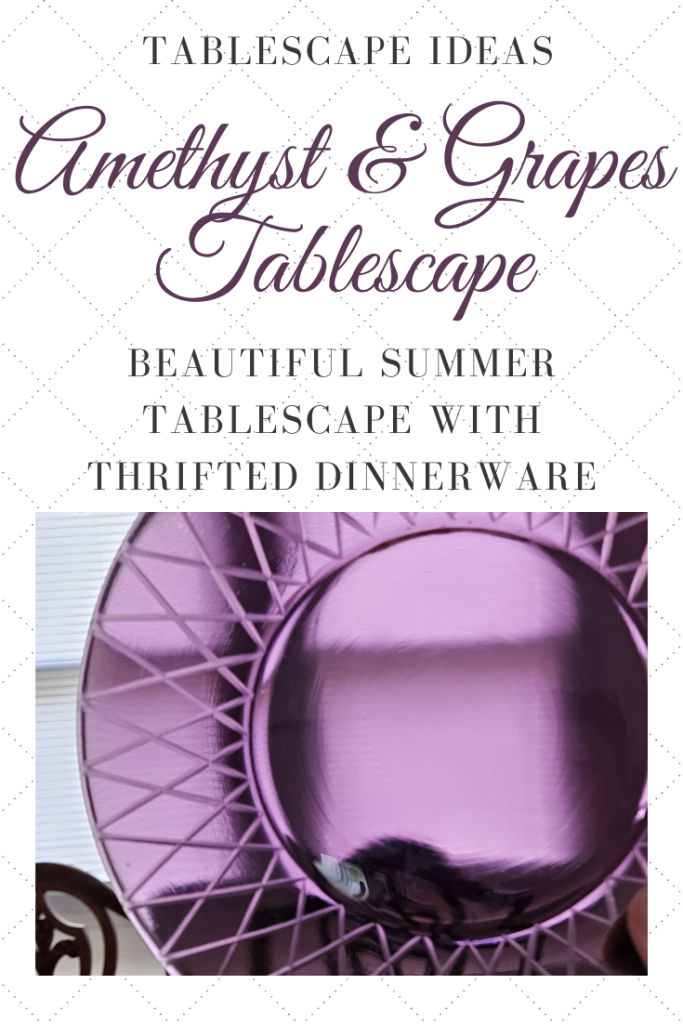 I'm sharing my summer tablescape over on Susan's amazing blog, Between Naps on The Porch. Guys – "Tablescape Thursday" has been happening for nearly FIFTEEN YEARS!! Susan will be celebrating 800 weeks of this feature before the end of 2023 – I can't wait! Please click through for more tablescape inspiration, and be sure to join my Facebook Group, Thrifty Tablescapers, specifically for budget-friendly tablescape ideas!