I can't believe it's already August! Here in Iowa we were chugging along fairly reasonably, weather-wise, then we hit a hot, humid brick wall a couple days ago that brought us triple-digit heat. My poor garden is trying to maintain its enthusiasm, but I haven't been outside to enjoy it for a few days now and it's needing some attention.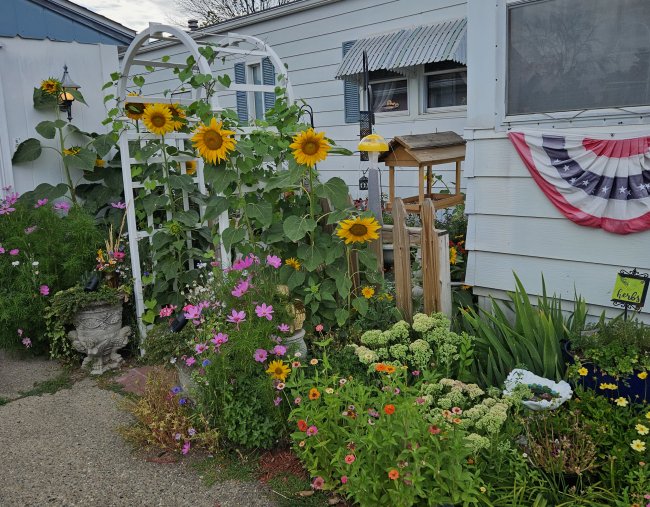 Fortunately, with August comes one of my favorite times of year even if it is still hot out – actually, because it's still hot out:
Faded Summer!
What is Faded Summer? Well, it's my self-proclaimed and entirely unofficial Fifth Season! That period from August through September that bridges the gap between "Summer Brights" and "Fall Bolds." It's when we're hot, and reluctant to admit we're a bit tired of being hot… but not quite ready for chunky sweaters and Fall boots.

If you watched your social feeds flip instantly on July 5th to Fall decor, Halloween crafts, and even (gasp!) "101 Merry Christmas Ideas"… and you were looking around going, 'Wait – it's still summer!' – well then, you are a Faded Summer Friend, and you will love this free offer I've got for you!
I'm giving away my mini-publication, "It's Not Fall, It's Faded Summer"!
What's inside, you ask? Why, it's chock-full of tips, tricks, and thinky-thoughts to help you fully enjoy the Unofficial Fifth Season – of course!
Best of all, receiving your free copy of the guide to Faded Summer is super-simple – just click the graphic at the top of the right-hand sidebar here on the blog, pop in your email address, and your FREE guide to Faded Summer will be on its way to your in-box! You'll also receive future updates from the blog via email, including a whole series specifically about how to enjoy this most beautiful "Unofficial Fifth Season" of Faded Summer!
I hope you'll take a moment to request your free Guide to Faded Summer – it will help you slow down, appreciate this amazing time of year, and savor every single day!