(Update 2017: This post was written when I lived in a previous home. I no longer have the fruit trees, but it is easy enough to create little habitats that welcome certain animals and other critters.)
We've got two fruit trees in our front yard, one apple and one pear (and a second apple tree in the sideyard); this year, we are having a bumper crop, though the pears are not yet ripe. This morning I saw two young deer enjoying what had fallen to the ground. (This is a tad remarkable considering that we live in the city.) I had been thinking about trying to make some apple butter, so I decided I'd better get out there and pick some fruit before it was too late.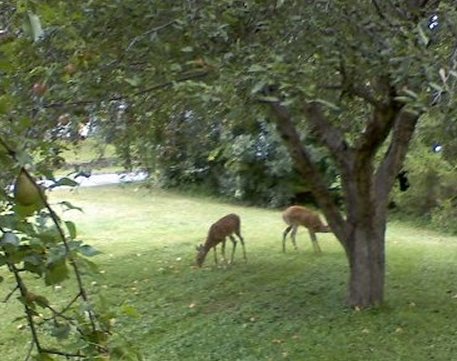 As I spent time under the trees, it occurred to me that they really are quite a gift, and as I collected a tub full of apples I thought about the many benefits of the trees and their fruit. In the Spring, they bloom profusely and are quite simply stunning. I wish I had thought to snap a photo at that time! They also provide a home – this nest had robins in it earlier in the year.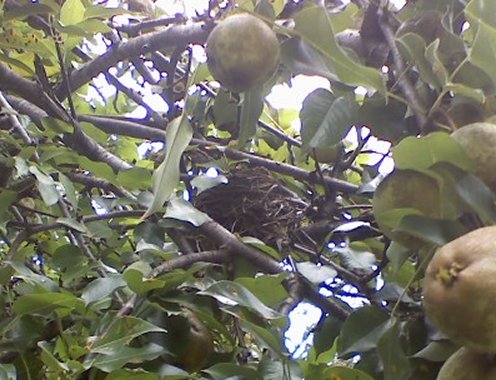 Under their canopy, they offer shade and opportunities to quietly observe. They're also quite the gathering place, for sunning or feeding.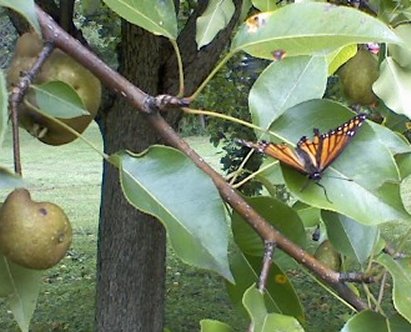 As the fruit matures, some of it falls to the ground before it's ripe. The deer aren't the only ones who enjoy it – it quickly begins to ferment and the bees and wasps cannot resist it. Since part of the pear tree hangs over the driveway, we have to quite literally shovel the smashed (run over) fruit back into the yard so we can get in and out of our cars without disturbing our stinger-bearing friends.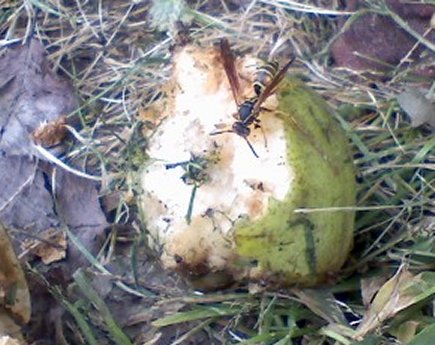 Finally it's time for we humans to enjoy the bounty. I'd been leery of using the fruit since we hadn't sprayed it with anything all year – most of the apples have dark spots covering them. I quickly learned, however, that this is a surface fungus. I washed and rubbed a few of them clean, and took a bite – they are wonderfully tart and a little sweet. I'm not certain, but I think they are Honeycrisp.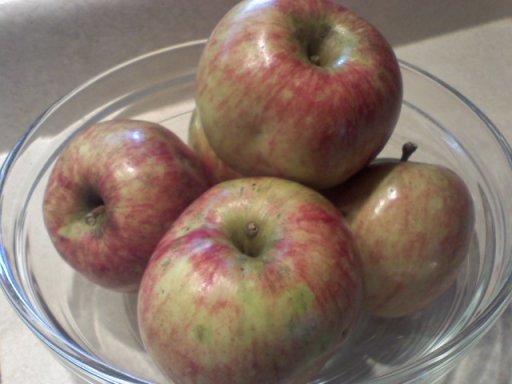 And speaking of 'crisp,' that's just what I made tonight, from apples picked fresh from the yard. Funny how the day led me to some really good apple crisp (recipe below) – and plenty of apples left over to make butter!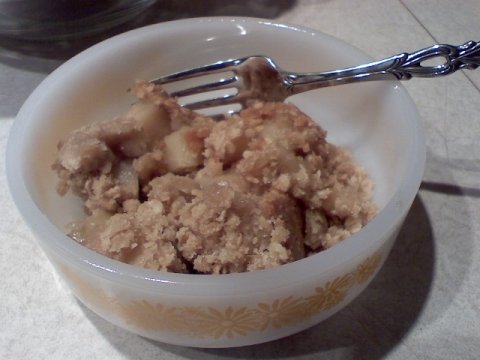 Easy Apple Crisp:
1 cup brown sugar
1 cup rolled or quick oats
1 cup flour
1/2 cup butter, melted
3 cups of apples, peeled, cored and chopped
1/2 cup white sugar
2 tsp ground cinnamon
Preheat oven to 350F. Lightly grease 8 inch square baking pan. In a large bowl, combine brown sugar, oats, flour and butter.. Mix until crumbly. Place half of the crumb mixture in the pan and spread evenly around the bottom. Spread the apples evenly over the crumb mixture. Sprinkle apples with sugar and cinnamon, then top with remaining crumb mixture. Bake in the pre-heated oven about 45 minutes or til golden brown.