Okay so right away I have to admit, I don't have a fireplace. Therefore, I don't have an actual mantle to decorate. But what I do have… are cabinets! About four of them, in fact… and because each of them has a fine flat surface across the top, I use them as stand-ins when I feel like decorating a mantle. So even though I don't technically have a mantle, I wanted to show you how I was able to do some Fall mantle decor using mostly just items I had on hand.
This "mantle" is actually the top of my three-tier barrister bookcase, which sits near my front door and has a large vintage gold mirror above it – off center, due to challenges finding a stud.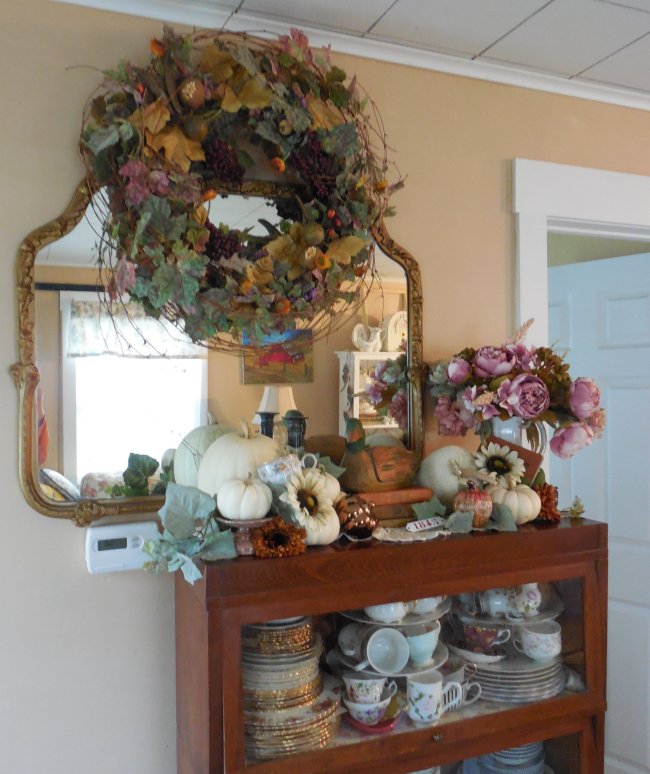 So my main goals were to create something rather opulent… lots of layers, and lots of details to look at and enjoy… and to avoid traditional Fall colors of red, orange, and yellow. I wanted to capture that "Faded Summer" look, rather than straight-on Fall. The large wreath was a beautiful starting point – it had a bit of yellow-gold, but otherwise its colors were faded greens, deep plum, light brown, and even a dusty mauve.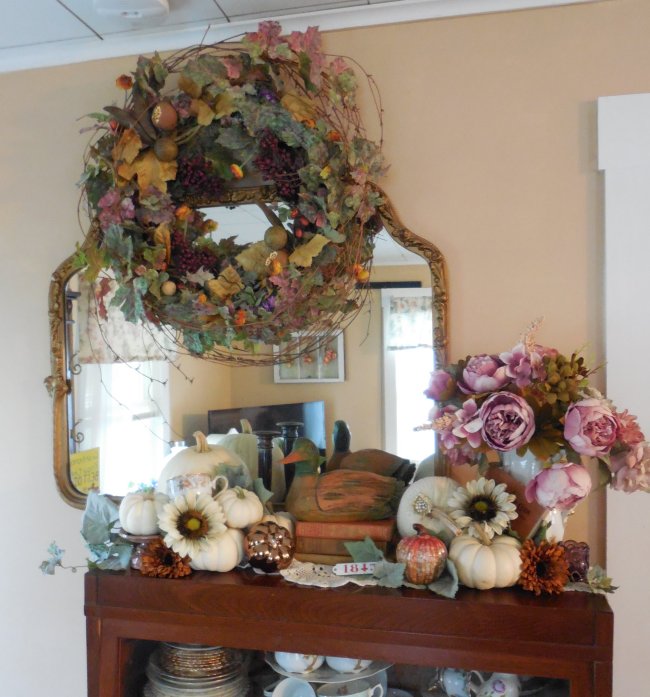 The only items I bought new for this vignette were the white pumpkins… about $8 worth from the local pumpkin patch. Everything else was already on-hand from prior visits to Goodwill and other second-hand stores.
I started my design over on the right – because the mirror is hung off-center, it left a bit of blank wall on that side and I wanted to fill it in a bit. So a tall Limoges coffee pot filled with silk peonies in "Faded Summer" colors was set in first. I then placed the real pumpkins, spreading them out across the surface.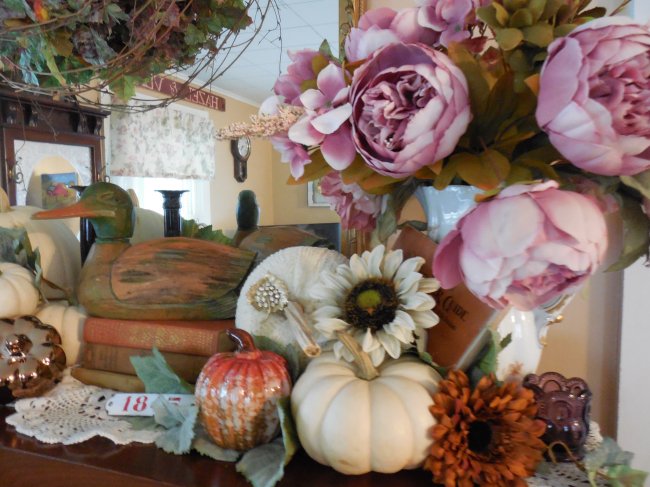 On the left side I used the largest of the pumpkins, then filled in all around with faux grapevine greenery. After that I just started tucking in random Fall-themed things wherever they seemed to want to go – Dollar Tree ceramic pumpkins, a hand-made sweater pumpkin in ivory, a pretty Noritake teacup with a pear motif, silk sunflower napkin rings, and other items of various textures.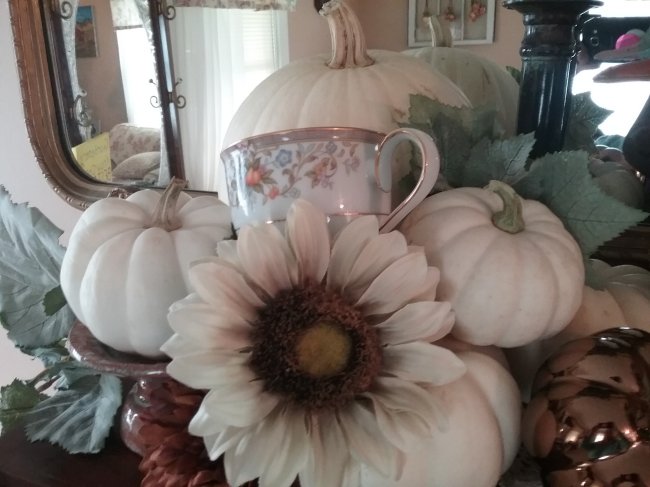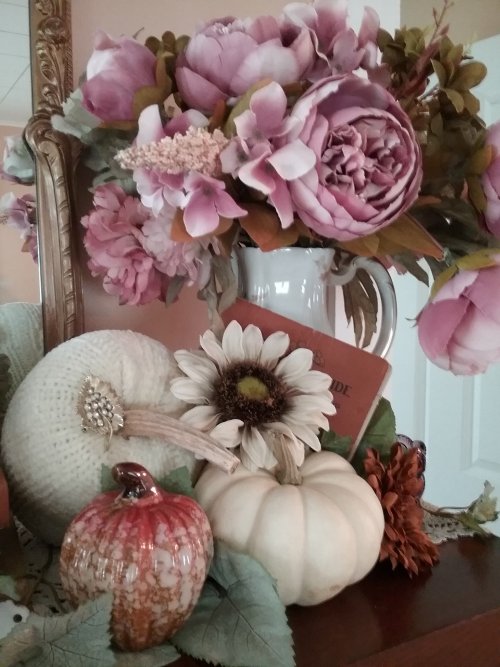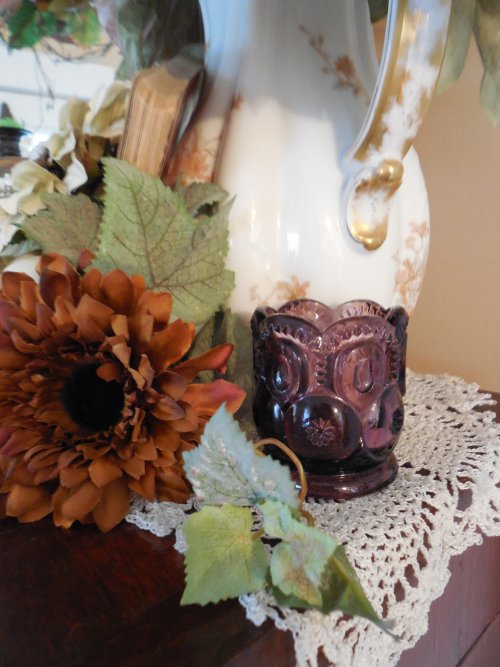 I tried a number of things on top of the small stack of books in the  middle, but the hand carved wooden duck seemed most at-home there.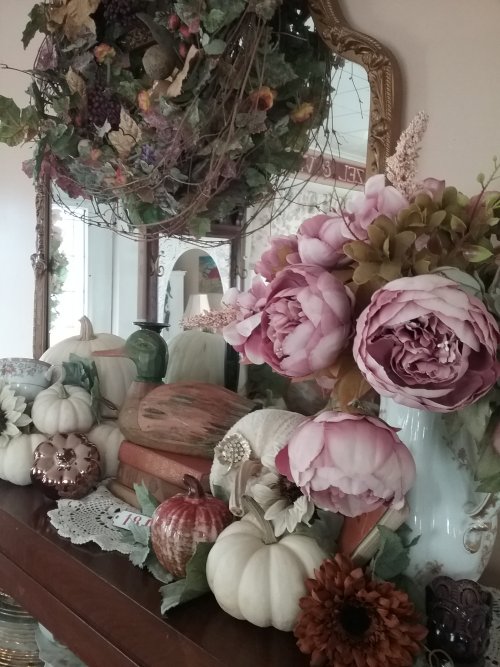 I created this bit of Fall mantle decor around the end of September, so I've been enjoying it for several weeks now. I'm keeping a close eye on the real pumpkins in case they start to go bad, but I love this so much I'm hoping to actually transition it into the Christmas season.