I'm so far behind on blogging… if I were any good at being a lifestyle blogger I would probably be posting about Valentine's Day decor right now! LOL BUT, I would like to share one more Fall-related thing with you and then we will at least move on to Christmas, okay? 
Last year Thanksgiving was a challenge for me – my (adult) daughter was far away working at Disney World (actually Animal Kingdom), and it was the first time ever that she would not be around for the "holiday season." I struggled with both Thanksgiving and Christmas last year, a lot. But this year, she is back and finishing school and while she spent most of Thanksgiving day with her dad, she did come over in the late afternoon and we fixed a "Whole 30"-friendly meal of roast turkey, mashed sweet potatoes, stuffed mushrooms, and a mock-pumpkin pie that was really delicious!
Apart from preparing and enjoying the meal with her, my favorite part of the day was setting the table. I asked her what she wanted to use for dinnerware, and she requested Old Country Roses. This pattern can go a lot of different directions, but until this year I hadn't really considered it a Fall or Thanksgiving pattern. I took that as a challenge – to set a table using this gorgeous fine bone china that looked like Fall!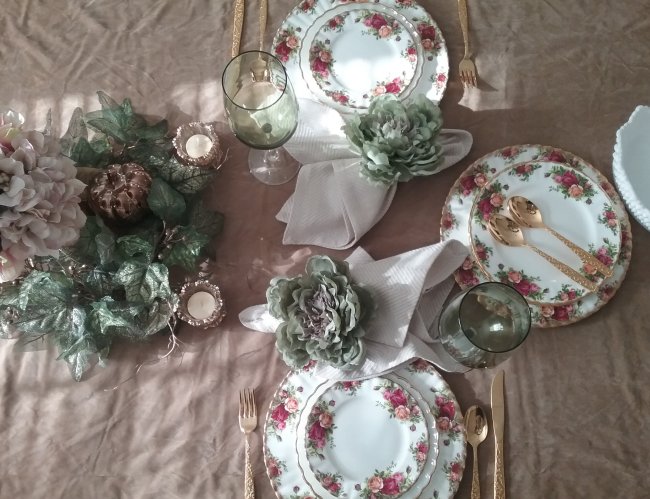 Here's the place setting I ultimately decided on… I used a lot of gold in my Fall home decor this year, so instead of trying to play off the pink and yellow roses in the plates, I pulled the softer greens and the gold.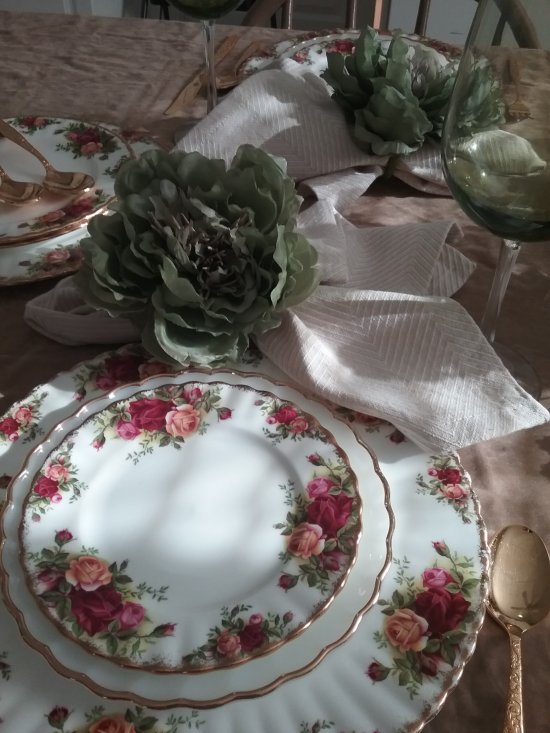 Big fluffy faded green peony napkin rings, and the light tan herringbone napkins, are by Pier 1.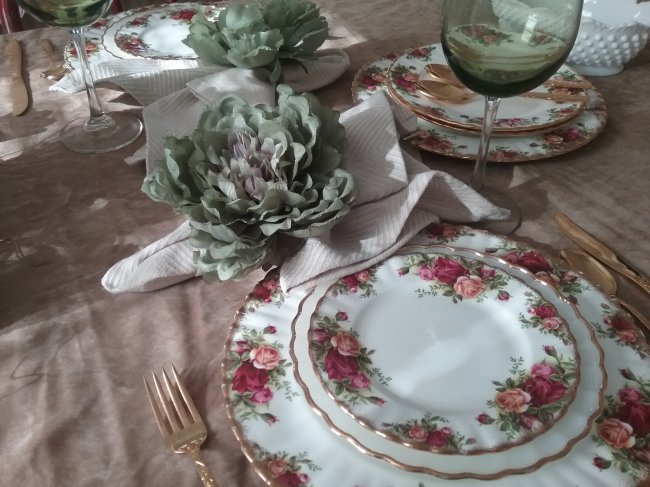 Flatware was my electroplated Americana Golden Heritage by International Silver, acquired last year secondhand around Christmastime. Green drinkware is by Dollar Tree.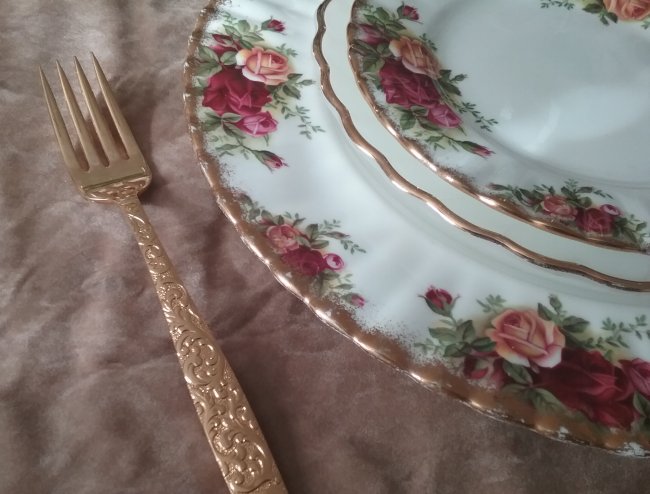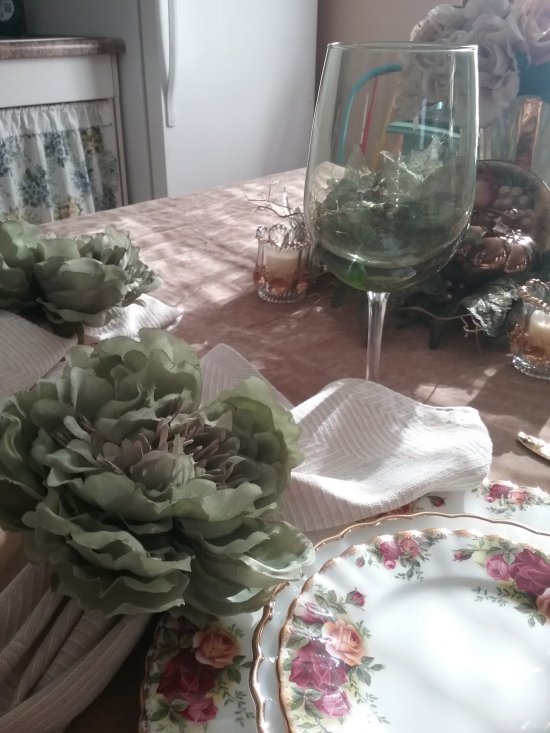 The tablecloth is also a nod to Fall – it's a suede drapery panel I actually used in the Thanksgiving tablescape I created last year using Johnson Brothers Windsor Fruit and Harvest Time.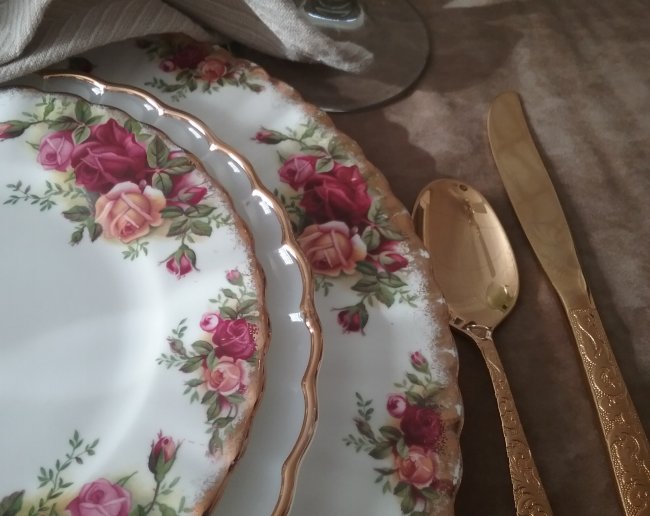 The centerpiece is, I think, where this all comes together… the greens and golds pulled from the china, and the faded pinks and purples of the silk flowers… even the brown tones of the found goose feathers… I love the way it all works together and makes Old Country Roses absolutely perfect for Fall!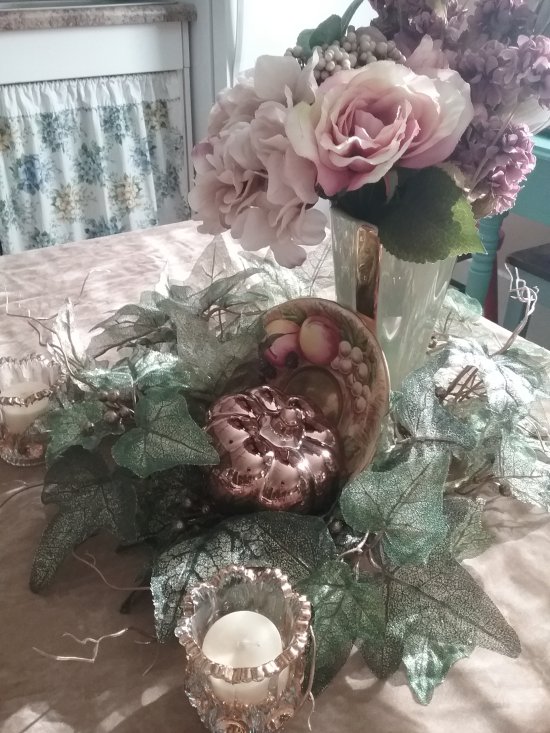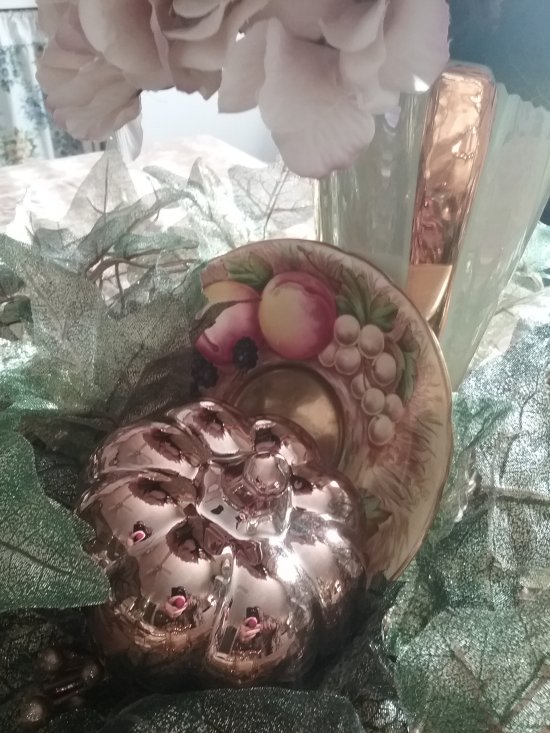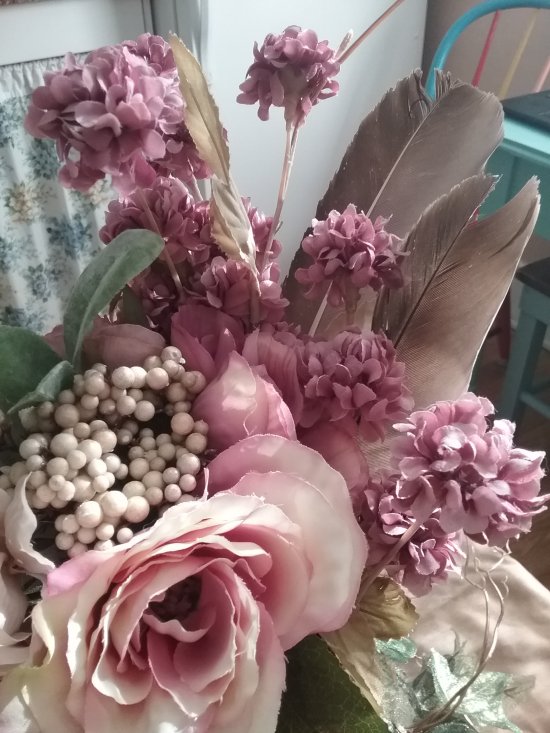 Of course, my tablescape post wouldn't be complete without a put-away shot… all the elements pictured together, ready to go back into the cupboards for next time!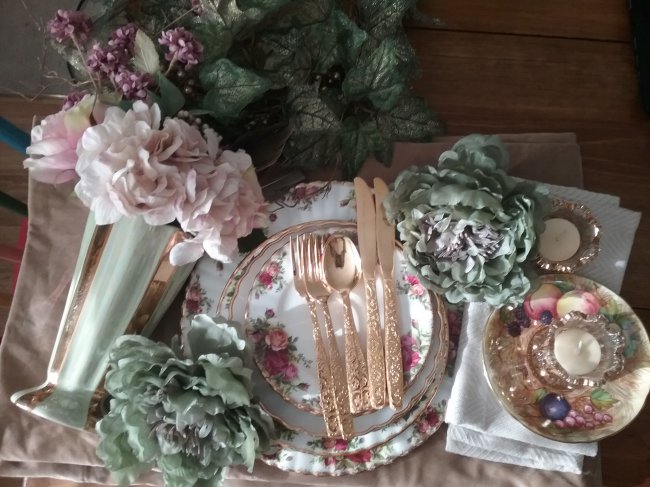 How was your Thanksgiving? I hope it was lovely!
I'm sharing my Thanksgiving table (a little late) over at Tablescape Thursday, at Between Naps on the Porch. 
Here is an image to Pin in case you would like to save this table for future ideas!