Last year I had the opportunity to meet a woman whose parents had collected thousands of pieces of Haviland Limoges in hundreds of different patterns, including many large and full sets. She had spent several years helping them sell the pieces individually on Ebay, but when I met her, they had both passed away and she was undergoing a massive effort to liquidate the collection. They owned a small house with three 2-car garages all connected to each other, insulated and finished inside, and lined with industrial shelving, which contained the massive collection.  I visited her three times over several months, and did my part to help lighten her load 🙂
Part of my haul was a few pieces of this pretty pattern featuring gold edging and a shamrock border – I purchased four dinner plates and four salad plates, and have waited for this week to use them, just in time for St. Patrick's Day. I decided to set the table with a theme of "Wild Irish Rose," since these fun silk napkin rings brought such happy color to the scheme.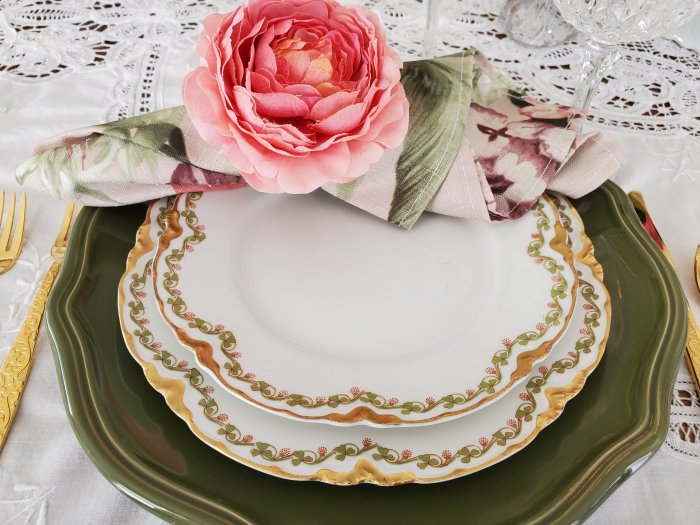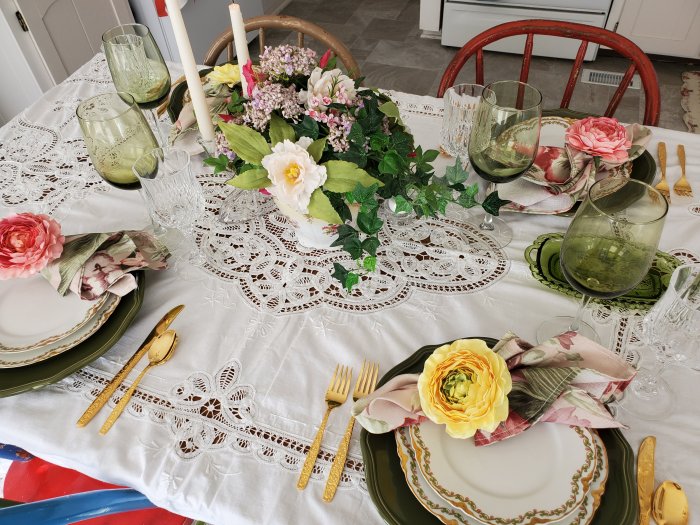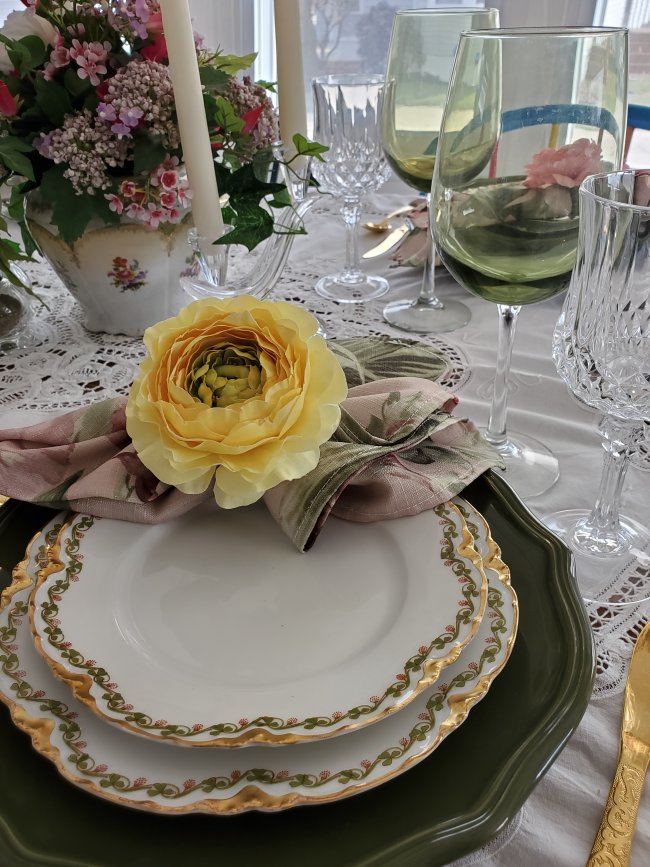 The solid green dinner plate is by Home Trends, which I think was originally a Target or WalMart house brand – mine of course came from the Goodwill.
The gold flatware and white cutwork tablecloth were also secondhand finds, as was the crystal glassware. The green glassware is from Dollar Tree.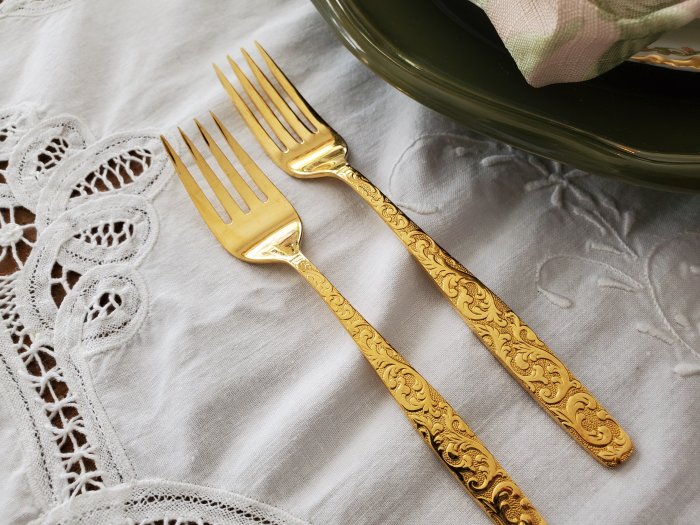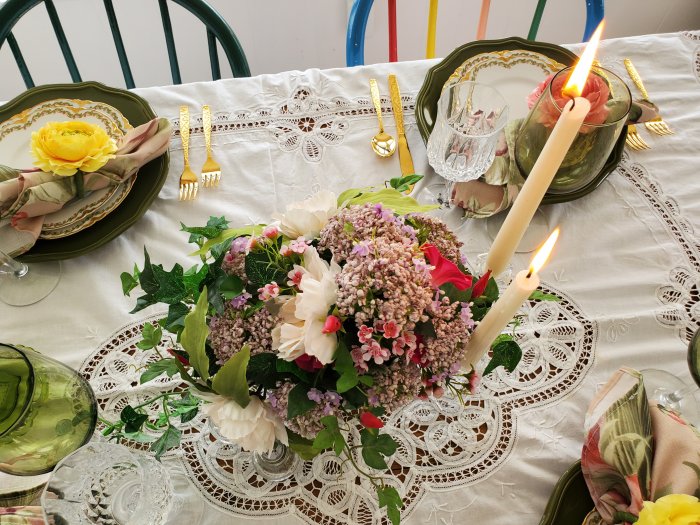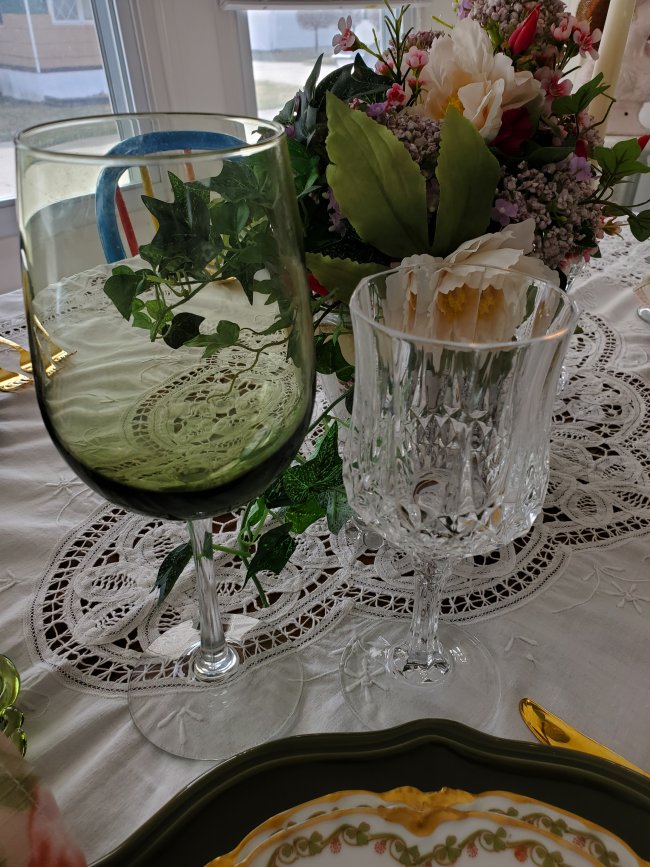 The centerpiece is a thrifted collection of pretty silk florals rounded up into an antique biscuit jar – an auction find.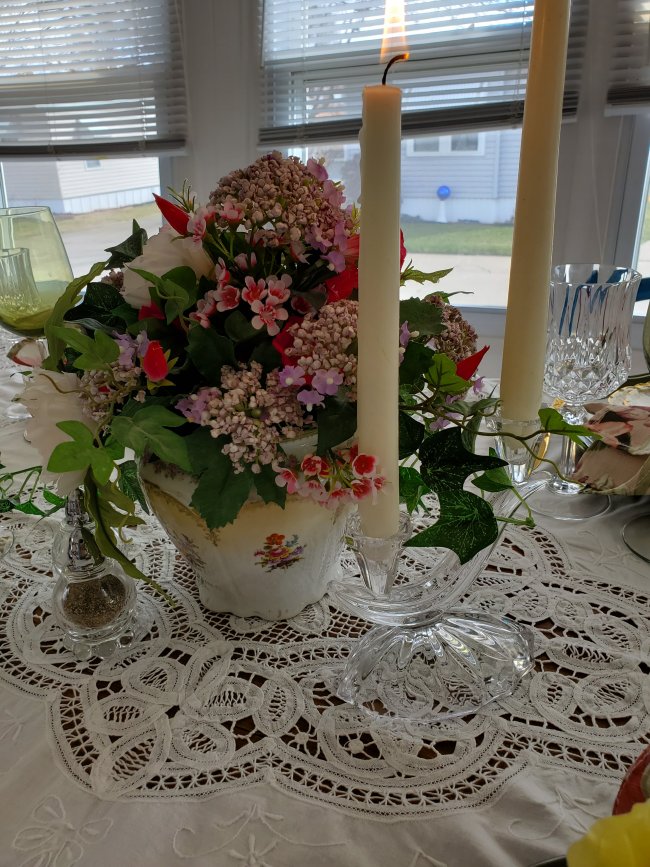 I just love these pretty edges!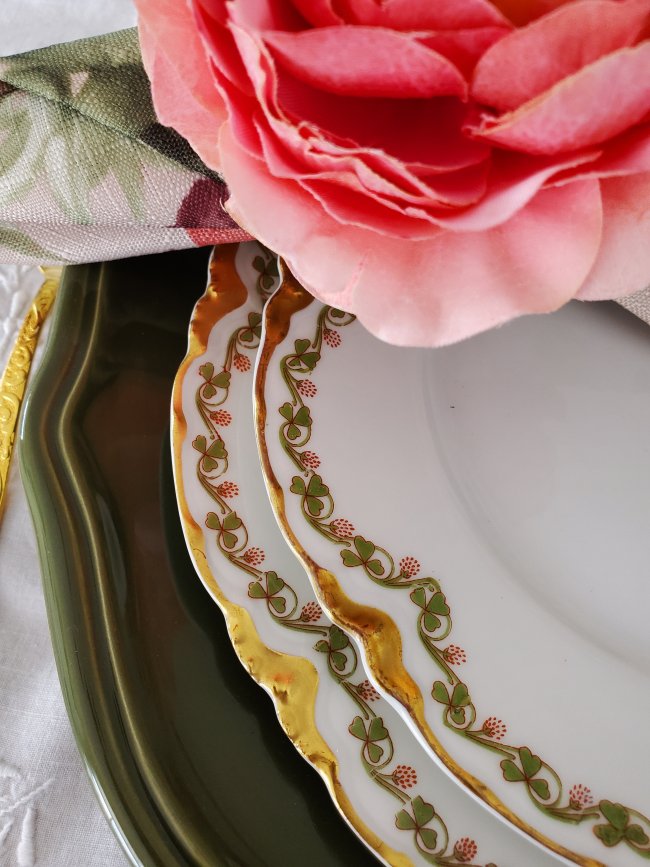 Here are a few more views around the table.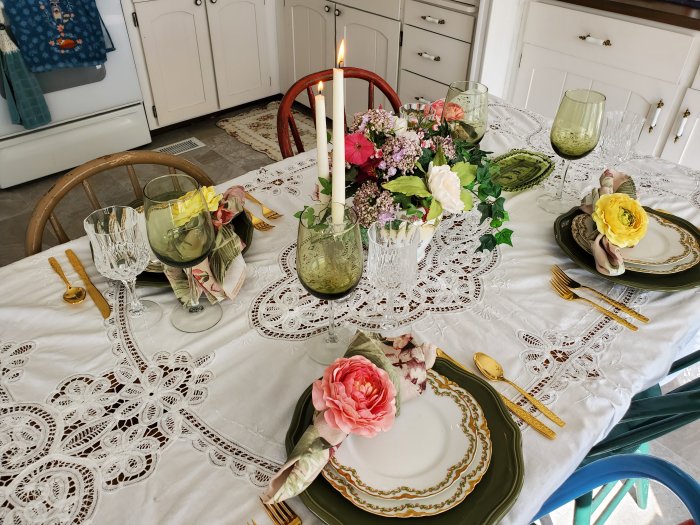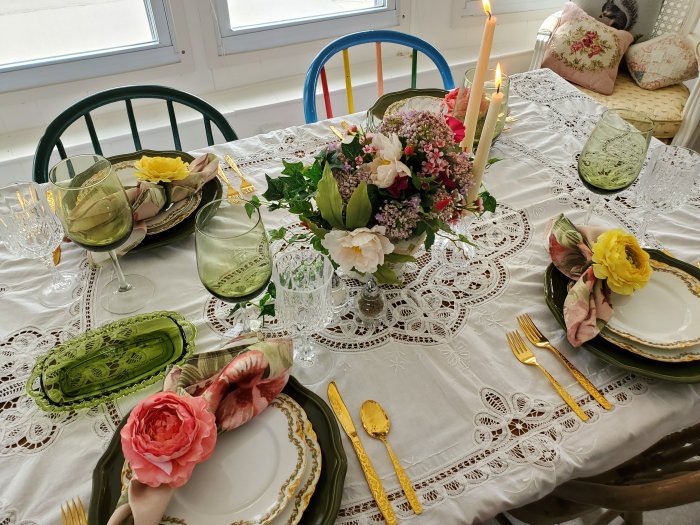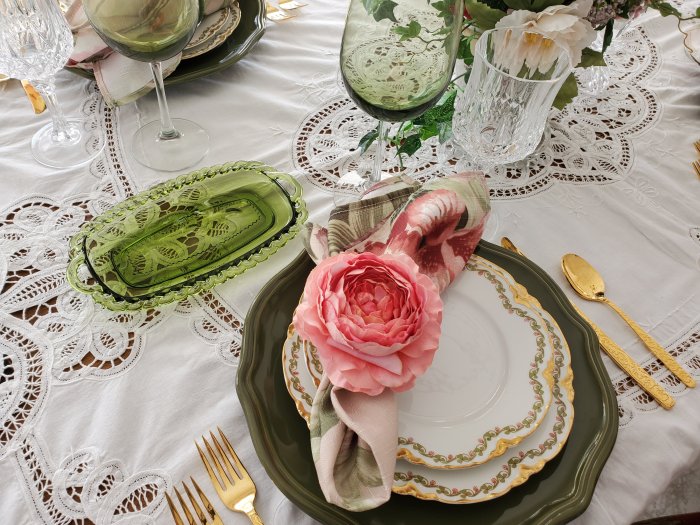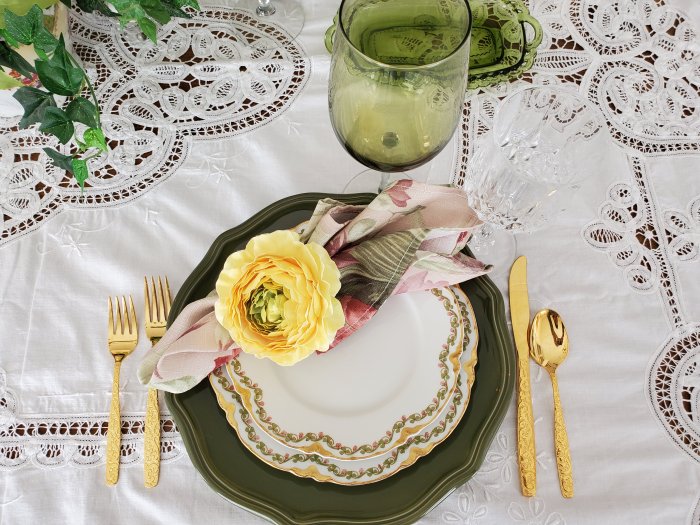 … and here is the "put-away shot" – all gathered up and ready to be put away.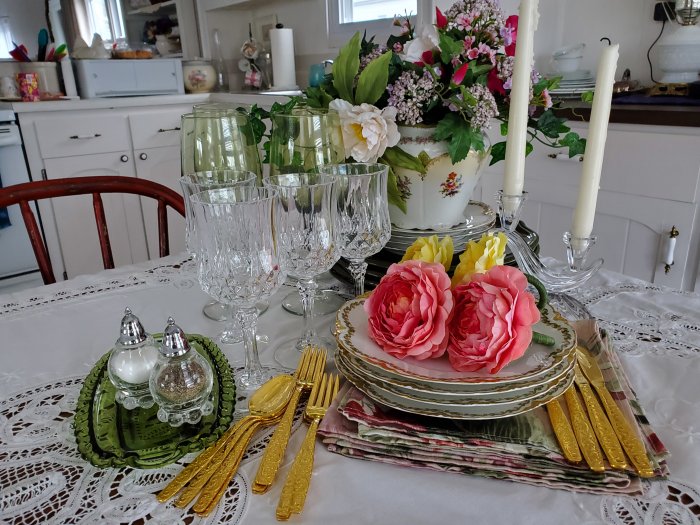 Finally, here's an image to Pin if you'd like to save this table for future ideas –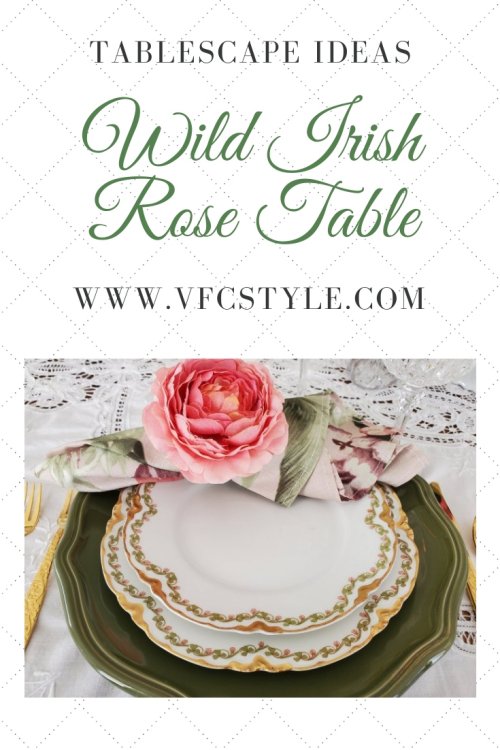 I'm linking my Wild Irish Rose tablescape to the 600th edition of Tablescape Thursday over on Susan's lovely blog, Between Naps on the Porch! Check it out for more inspiration!