Awhile back I purchased a handmade girl's skirt at the Salvation Army thrift store, not because it would fit me or because I have a little girl (my little girl is almost all grown up!)  – but just because I liked (okay – LOVED) the sweet lavender fabric with the pretty violets.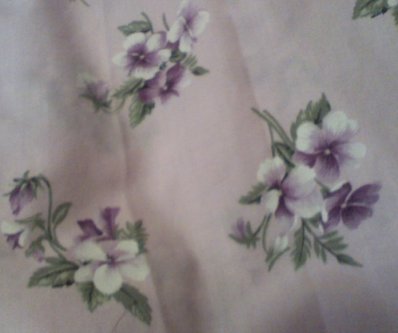 This week I decided to use another of my great-grandmother's hand-stitched pillowcases, and pair that with my violet fabric to make another of my vintage flap pillows (click here for the tutorial!). I have several of these pillow cases, but on most of them the front side of the fabric is badly stained from years of use. This pillow design allows me to preserve the pretty stitching. For this pillow, I was able to also use the back of the pillowcase as backing for the pillow itself, making this one extra-vintagey! (I swerved slightly off the path on this one, too, because I stuffed it with loose fiberfill rather than a pre-made pillow form.)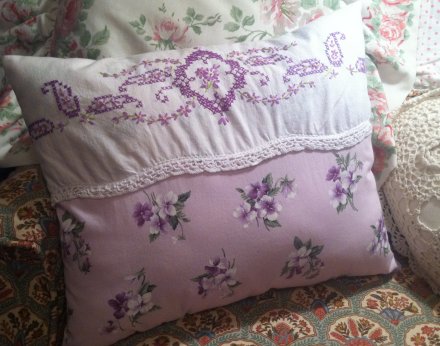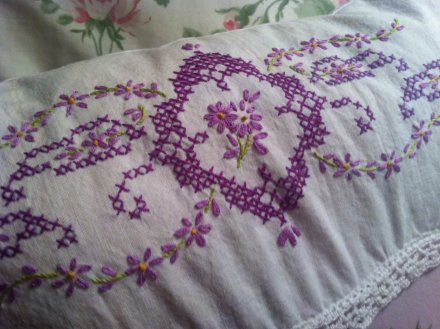 I do have some other pillow ideas in mind, but this one turned out so sweet and allows me to enjoy Great Grandma's handiwork. And, bonus: I only used the front panel of the skirt, so I still have enough violet fabric to make something else.
Update: Linking this project – one of my personal favorites! – to the "Oldies but Goodies" link party at Nancy's lovely blog, Do Small Things With Love. Hope you'll click through and see all the "oldies'! 

I'm linking this sweet little project to Saturday Night Special over at one of my favorite blogs, Donna's Funky Junk Interiors. Please click through for a ton of wonderful ideas!