I really don't blame you if you thought this blog had been abandoned… I mean, who doesn't post for an entire year? Me, apparently! Because I did indeed take a whole year off not only from blogging but even from setting pretty tables at home. Instead I spent my year going through the exhaustive learning process of a new job, and when that wasn't using every last remaining brain cell, I was outside enjoying my patio and working on my cottage garden. Greg and I also took a lot of wonderful road-trips this year, including one to the Gulf Coast area of Mississippi with side trip to Pensacola Beach in Florida.
2022 has started off with a snowy bang. Weather at Christmas was very mild for Iowa, but it started snowing on New Year's Day and we got six inches in about 4 hours. January 2nd dawned bitterly cold but with a bright blue sky, so the day was… picturesque, if not "beautiful" in the traditional weather-sense of that word.
For this year's "new year" table, I decided to go with a theme of sunshine because … well, it was -9 (yes, MINUS NINE) overnight and a high of 7 above today so, I was craving a sense of warmth.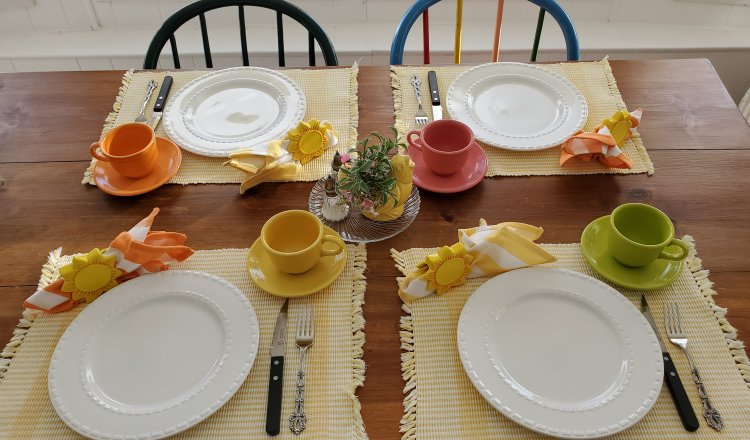 Back in March I had changed my kitchen over to a yellow and orange color scheme, and in my thrifting adventures I've lately found several sets of yellow and/or orange placemats. I decided to also use Fiestaware coffee cups in what I call "breakfast citrus" colors of lemon, orange, lime, and grapefruit, so in my mind this became a breakfast table.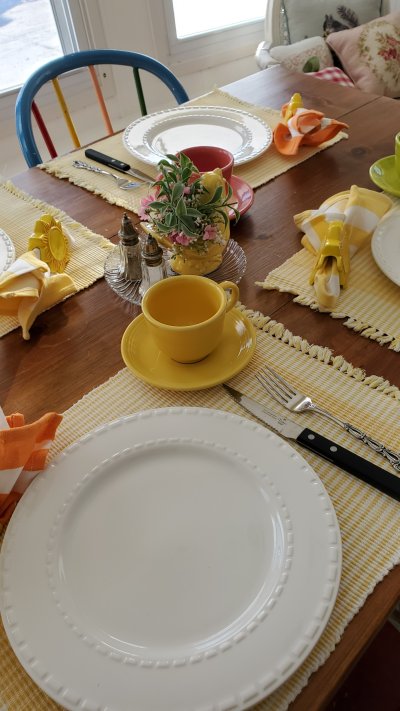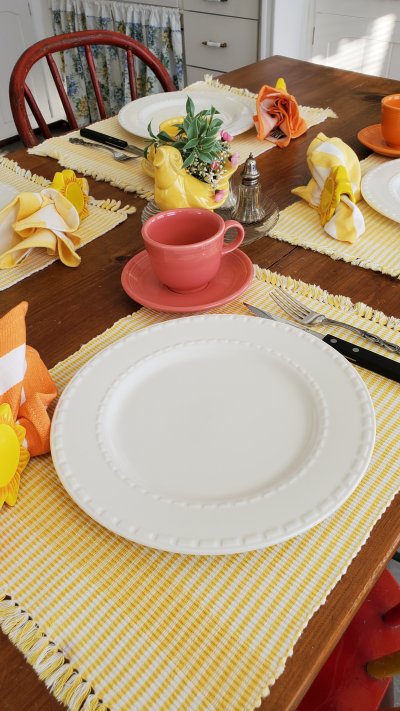 Dinner plates were a deep-discount find at Home Goods a few years ago – I love the sculpted "stitched border" pattern and these go with so many other casual pieces!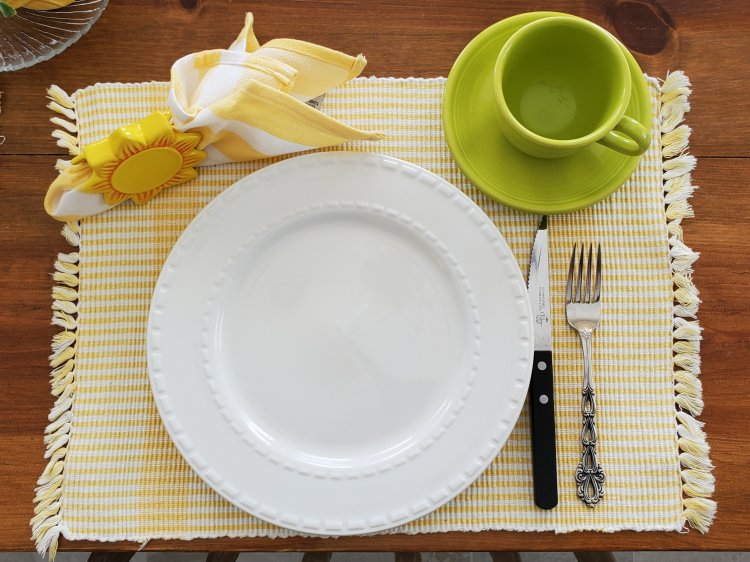 I found these adorable napkin rings – I popped them into my cart one day thinking they were suns… but on second thought I wondered if they were supposed to be sunflowers. No matter, to me they will always be little individual rays of sunshine, perfect for my yellow and orange "rise and shine" breakfast table. The napkins are actually dishrags, on clearance at TJ Maxx several years ago, but still brand new because I've never used them.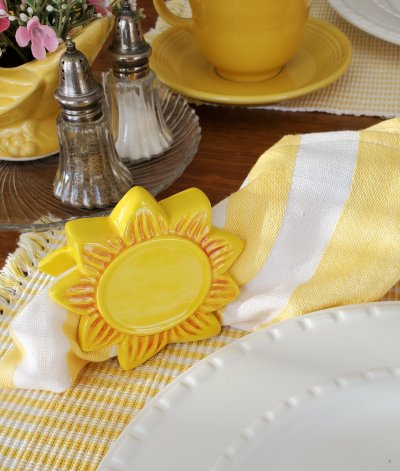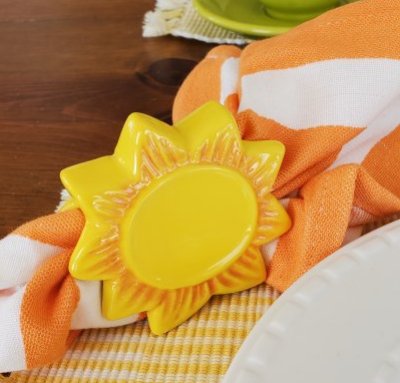 Forks are my handed-down Oneida "Chandelier," and the steak knives (for cutting our breakfast ham, of course!) are a brand called Palm. The centerpiece is a small yellow container used for holding a pot scrubber at the kitchen sink – though mine has flowers in it – in the shape of a chirping bird. He's corralled onto a small salad plate along with the salt and pepper.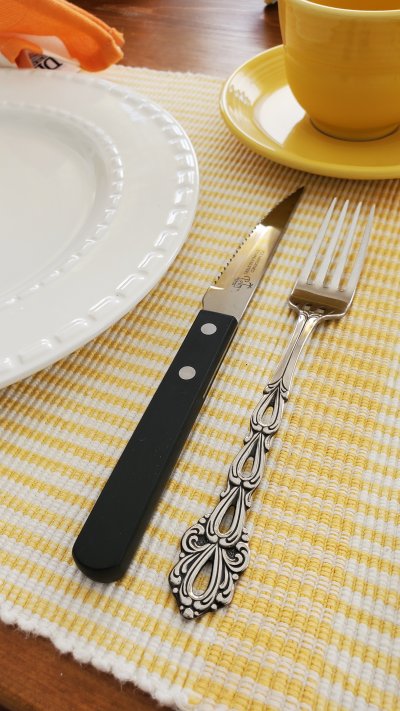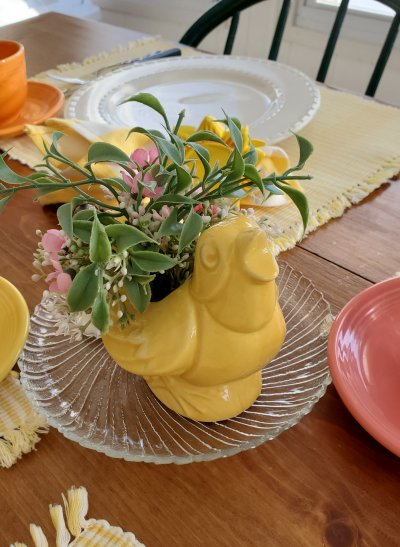 Here are the Fiestaware colors – back when I was in the antique mall booth business, I bought a large collection of cups and saucers in many of the newer Fiesta colors from a person who was selling them dirt-cheap. I kept all the citrus colors for myself, and sold the rest in my booth over time.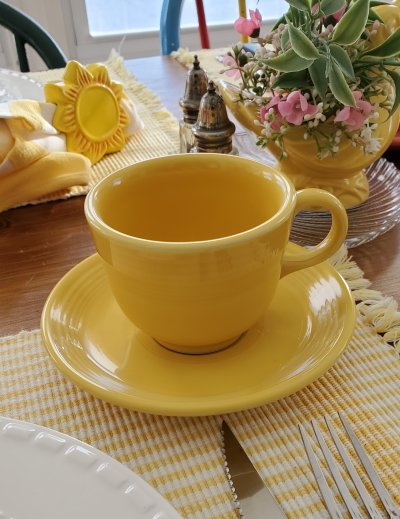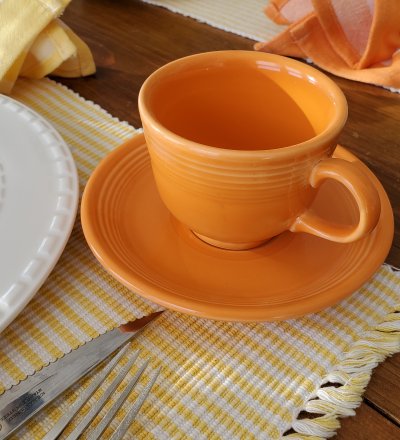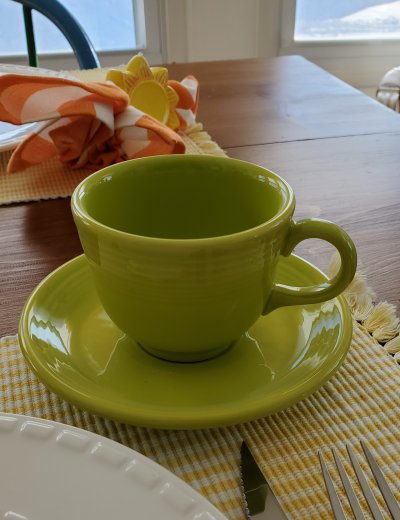 Here are a few more views around the table…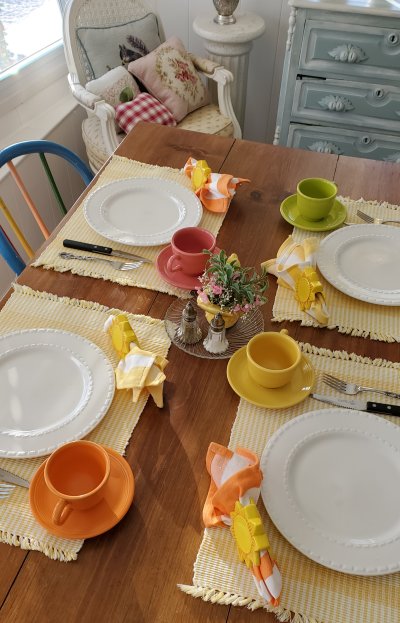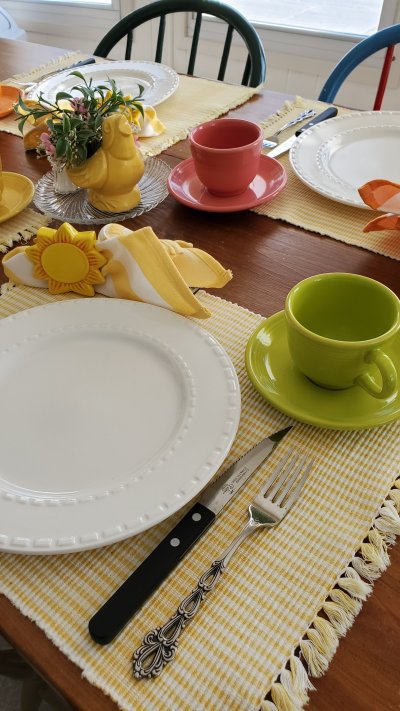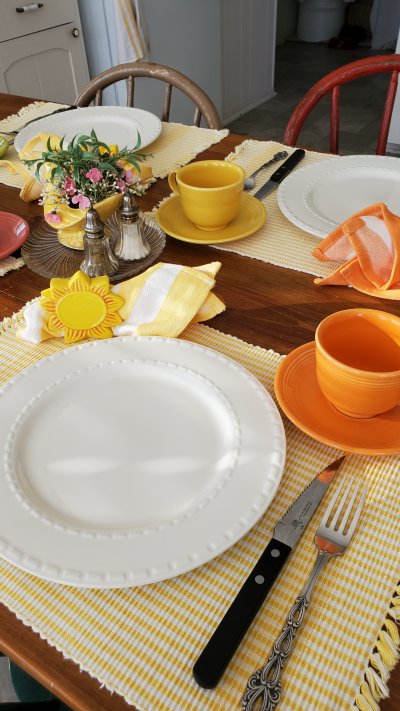 Here's the birdseye view – you didn't think I would photograph a pretty table without climbing up on the step-stool, did you? 🙂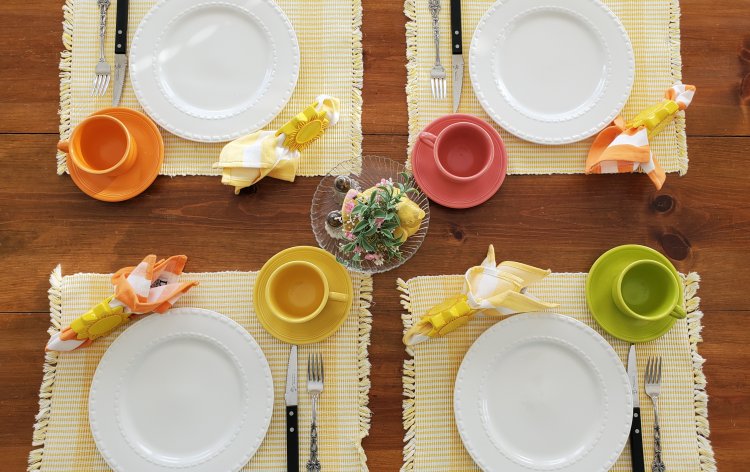 And the put-away shot, with everything gathered up and ready to go back into the cupboards.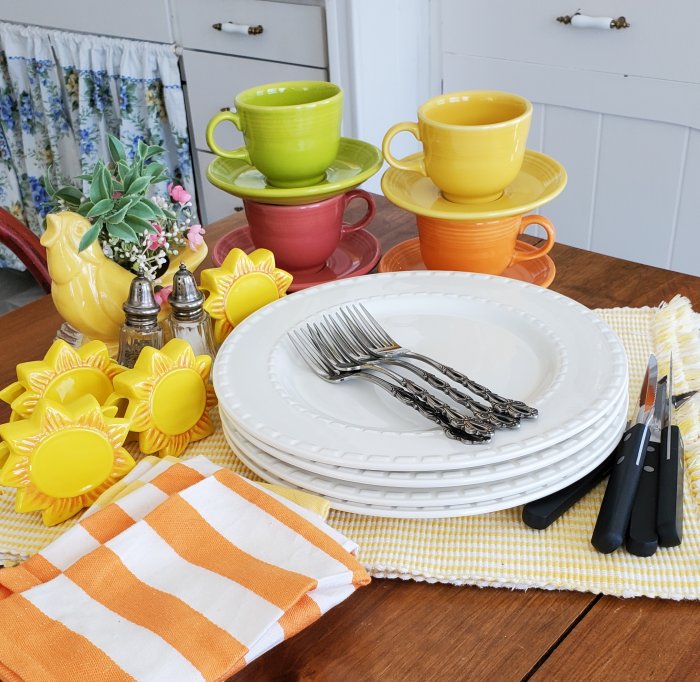 And finally, here's an image to Pin in case you would like to save any ideas for this post 🙂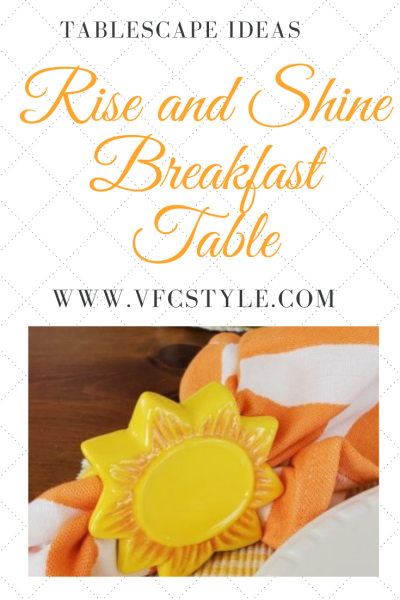 Hope your new year is off to a great start!