With Thanksgiving and Christmas quickly approaching, I thought it would be great to share some tips for helping reduce the holiday stress of hosting meals for those who love hosting but sometimes get overwhelmed by everything that needs to be done when having a large (or even small) number of guests for dinner.
I have my own tip I'll share at the end of the list, but for help with this post I turned to the wonderful members of my Facebook group, Thrifty Tablescapers!

I asked the group members to share their top tips for managing the preparation of a multi-dish meal for a group of, say, 10 people. They did not disappoint – and their responses are useful no matter the size of the group!

Many of the tips boiled down to the central idea of advance preparation. Or to put it another way, plan and do as much in advance as possible to eliminate day-of chaos and stress!

Plan-Ahead Tips:
Plan the meal ahead! Make out your menu and a grocery list, and and check the pantry for supplies for each dish. Shop for groceries as soon as possible. Set a reminder for the day that a frozen turkey needs to be moved to the fridge for thawing!
Make/bake what you can the day before to free up the oven. Desserts are a good candidate for make-ahead dishes. One member said she cleans and preps the entire turkey the day before, then refrigerates it overnight. Another member makes her cornbread ahead, and even plans a cornbread supper for a day or two before Thanksgiving so she makes a large batch covering both occasions.
Plan and set the table ahead. One member added that she sets her food on a buffet table, and she uses "sticky notes" to lay out where each dish is going to sit. She places an appropriate serving utensil on each spot as well.

Other tips:

You don't have to do it all yourself! Assign dishes for guests to bring, and assign some of the pre-holiday house cleaning chores to family members.
Buy a turkey breast instead of a whole turkey. Can confirm, I did this one year and it was perfect! Roasts in less time and fills the house with the same wonderful aroma. Or, as one member put it, "No waste at all and our family loves it, (including) sandwiches later!"
Make and mash the potatoes early in the day, then set aside in a crock pot to keep them warm. A group member said she was skeptical of this idea when it was suggested to her, but she said her potatoes kept perfectly.

And finally, my own best tip:

Create a "schedule" to guide you in what goes into the oven at what time. I started doing this for Christmas dinner many years ago (since I rarely hosted on Thanksgiving) and it saved me so much guesswork. I started with the time I wanted lunch to be served, and worked backwards from there, calculating the roasting/baking time for each item and assigning it a time to go into the oven. (This tip might just impress your guests! One member said she does this, and a guest once saw her list and said, "I always wondered how you did it!")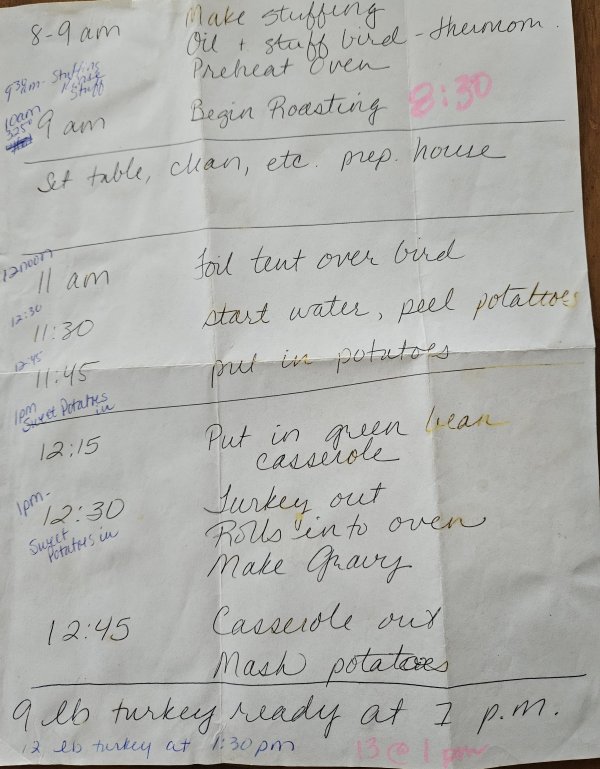 Now it's your turn! I would love for you to share your best "holiday chaos control" tips in the comments!