I am participating in Vintage Thingie Thursday at ColoradoLady's lovely blog! Be sure to click through to see many more treasures!
(Please note that the photos in this post are watermarked by my previous blog, Painted Piglet.)
Today I'm sharing two very special Depression Glass creamers. Special because, not only have they survived many, many decades of use and display, but they've been handed down through my own and my husband's families – so they've not just survived, they've remained in the same family hands all this time.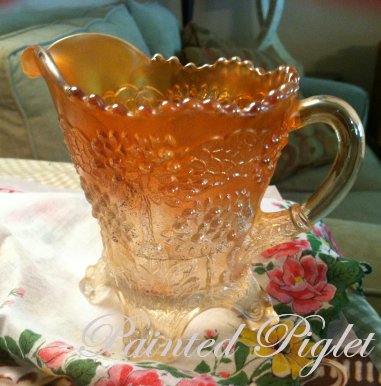 The first creamer is a Fenton piece in the Orange Tree pattern. This pattern was introduced in 1911 and was one of Fenton's most popular over the many years it was produced. It features an iridescent finish in the marigold color. Apparently, many footed Fenton pieces of this era suffered damage to the feet, even just coming out of the mold during production. I'm amazed that this piece, which was passed down through the paternal side of my husband's family, has no damage whatsoever – to the feet, the scallops, or anywhere.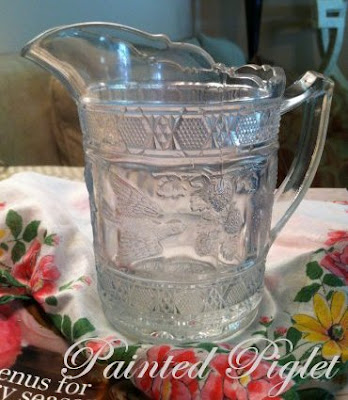 The second piece was made by Indiana Glass Company in the Bird & Strawberry pattern, which was introduced around 1916. My grandmother passed this piece to me when I first professed an interest in Depression Glass as a young adult. She told me it had been purchased new by my great-grandmother. Since Great-Grandma had married in 1905, and had children in 1906, 1908 and 1910, I imagined her purchasing this for her young family's breakfast table. It, too, has survived the decades with virtually no damage – a tiny nick in the spout is the only imperfection.
Both of these little creamers have long been retired from daily service and today sit in the built-in hutch in my dining room alongside several other pieces. I'm delighted to have the opportunity to share them!