Spring has sprung (finally!) and I've been eager to set a small luncheon table to celebrate. I've used several pieces from my previous "speedset" table, but also some new items. Let me give you a tour of the table before we enjoy our lunch!
First, you can see that our dining spot is situated at one of my favorite spots in the house: next to the large bay of living room windows. I've set the table with an emphasis on pink and Spring.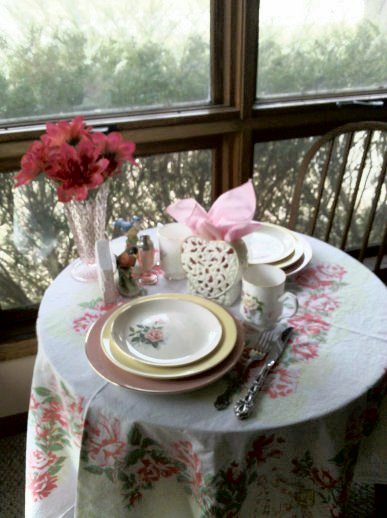 Here's your seat – you can watch the robins hopping around on the lawn by looking out the window to your left. We'll be using these first pretty plates for dessert, so we can move them off to your right while we enjoy our salad. I don't know the name of this pattern, but I love the creamy white background, gold edging, and pretty roses. (Update March, 2014: I discovered that the rose plates are called "Summer Rose" by Taylor-Smith-Taylor!)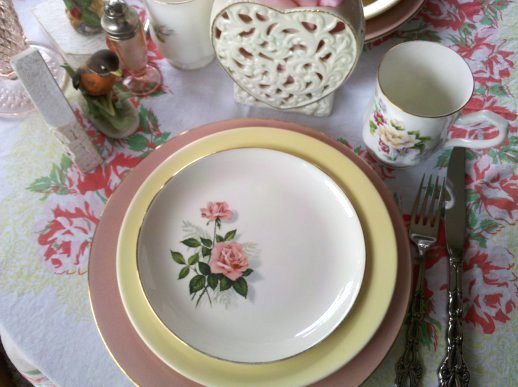 Our salad plate is a soft yellow. The wide rim and pastel colors remind me a lot of a vintage brand called LuRay, but these are marked "MSE – Microwave and dishwasher safe." A moments' research revealed that MSE means Martha Stewart Everyday, so the fact that I got a pristine set of 2 dinner plates and two salad/lunch plates at the Goodwill, for a grand total of $2.99, makes me very happy!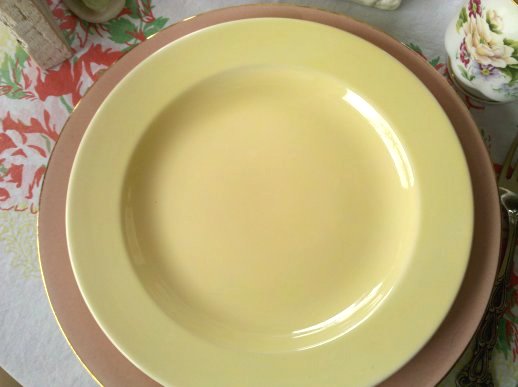 At the bottom of the stack, our entree will be enjoyed on beautiful Homer Laughlin Glenwood. I acquired these plates through Ebay; the other two plates shown above were Goodwill finds.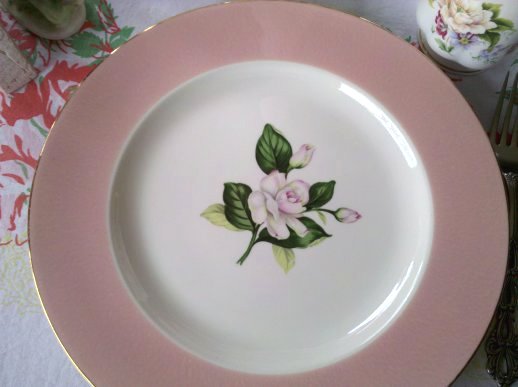 Our beverage mugs are mis-matched, but they are from the same series. Your mug echoes the pale yellow of the salad plates…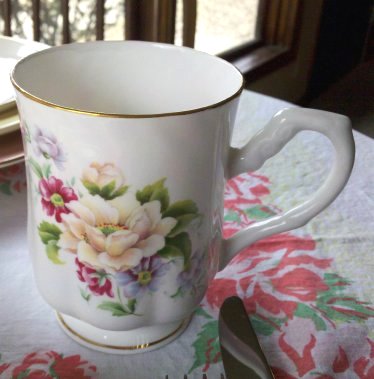 …and mine repeats the pink theme around the table. I have a third mug in this series, too – together they are one of my favorite sets, and I don't even drink coffee!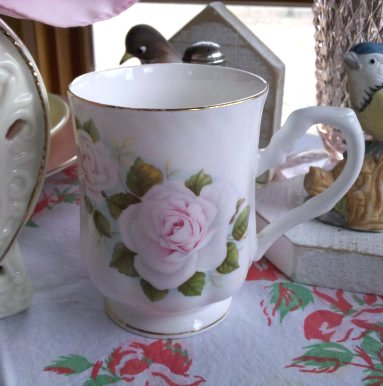 Here you'll find we are again using my Oneida Chandelier stainless flatware – believe it or not, this is the only set of flatware I own! It was a long-ago gift from my Aunt, and I've decided there's no sense in saving it for special occasions – I love to use it every day! You can also get a much better view of the pattern on our vintage tablecloth – very Springy!
Feel free to pluck a pink napkin from this scrolly heart, another Goodwill treasure…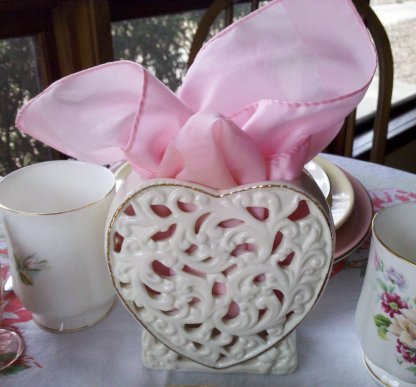 …and shoo away this visitor if you wish, she is only here to watch the birds!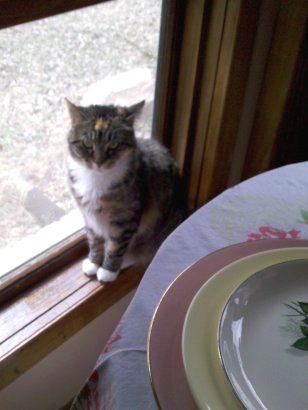 Here's the view from my side of the table.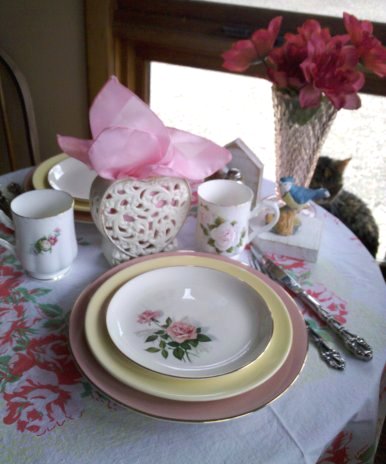 I'll be happy to pass you the salt in this pretty pink Depression Glass shaker. (Sorry, no pepper with this meal as I don't have any kind of shaker that complements this one!)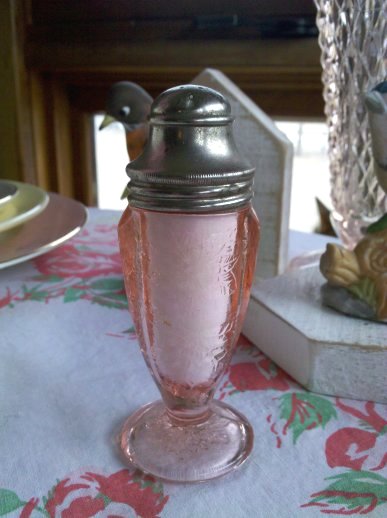 Oh! And I want you to meet our seatmates – our Spring-time friends Rob & Jay. Rob is a hand-painted Lefton figureine, and Jay hails from The Whitehall Society. Robins and Bluejays are among my favorite birds. Don't they look right at home with the rustic white picket tops? (You might remember that I won those picket tops recently from Donna's give-away over at Funky Junk Interiors! My little birdies love them!)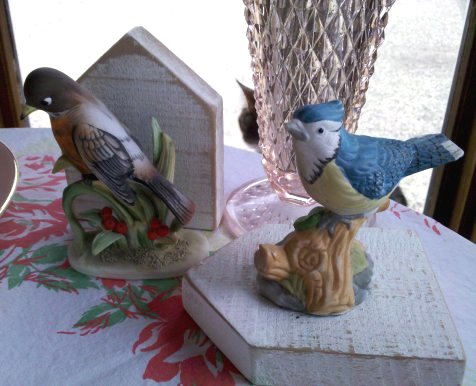 Here's a peek at our floral accompaniment – a vintage pink Diamond Point vase by Indiana Glass Co., filled with a simple silk stalk from elsewhere in the house.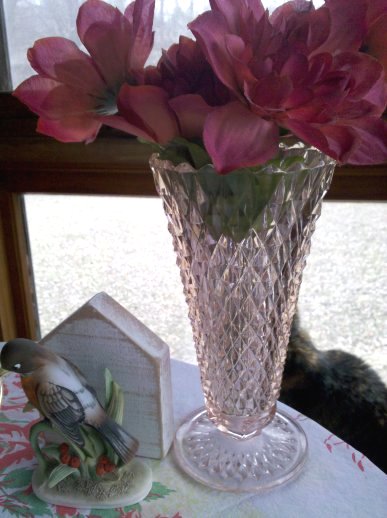 Finally, the table where we're seated is extra special to me: it is an antique that sat in my grandparents' home for decades, and I kept it after they both had passed away. I've included below a full view of the table without the covering and dishes.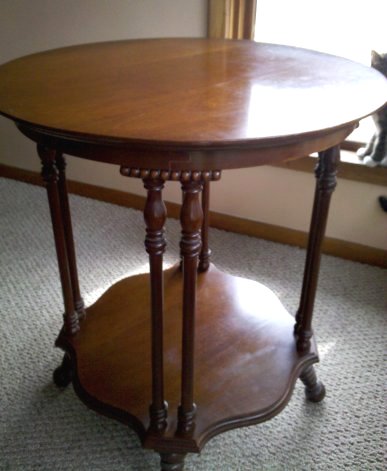 Now let's enjoy our lunch and this beautiful Spring day!