I'm so excited to be able to share this little project with you! It's one of the elements of the Mom Cave that really needed to be brought in line with the look of the room, but I wasn't sure how to go about it. In the end, I just love how it turned out. It's my office chair – a thrifted bargain at $8, with good back support and one stray wheel that sometimes slides across the floor rather than turning.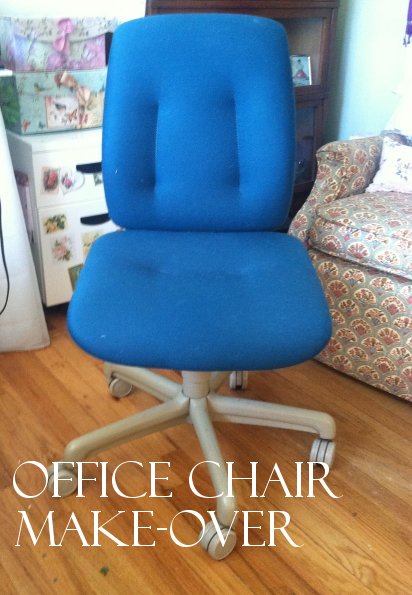 After considering a tailored re-upholster where I would actually remove the padded parts and recover them, I decided instead to go with the "slipper chair" look of a slip cover. Advantages: removable, washable, and a whole lot less frustrating than trying to figure out how to take this chair completely apart.
After thinking and studying on this for quite awhile (we're talking MINUTES, people!), I decided that I would further simplify by doing a two-piece outfit where the top and bottom just easily slip into place. Here's the result:
Isn't she just super-cute? She looks like she's wearing bloomers!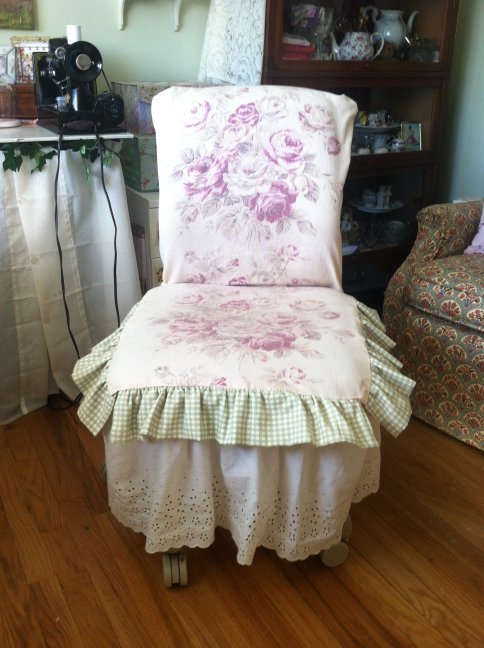 Fabrics were all from my stash: a beautifully aged patio cushion cover…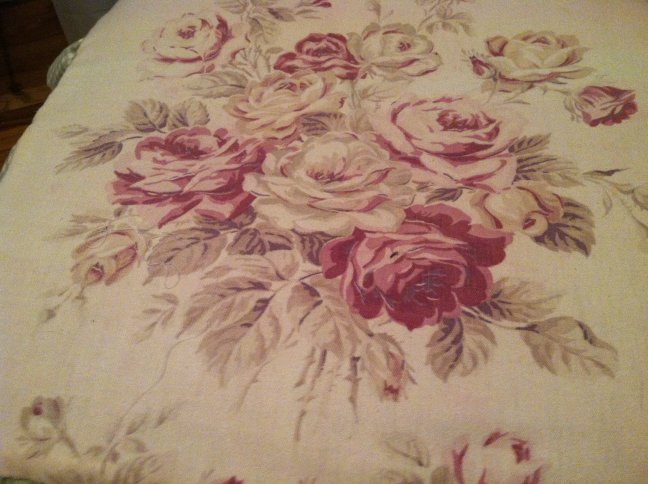 A standard pillow sham, deconstructed and the fabric turned into a pretty ruffle…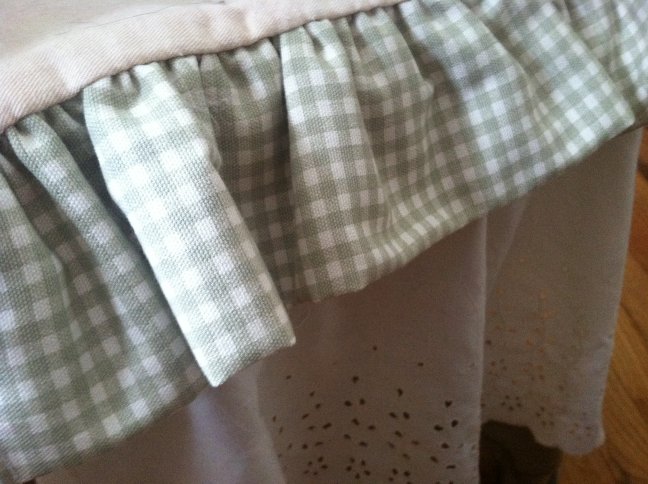 …and an ivory colored eyelet bedskirt.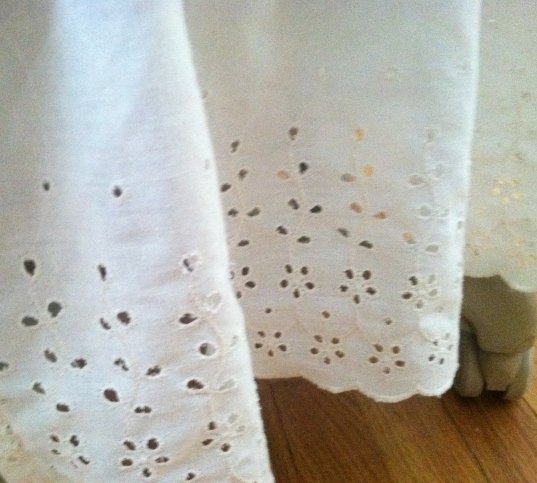 Her top is a section of the cushion cover, sewn with slightly rounded corners like the cozy I made for my can opener in the kitchen. I sewed a bit of the bedskirt to the back. This piece, of course, fits by just slipping it over the back of the chair.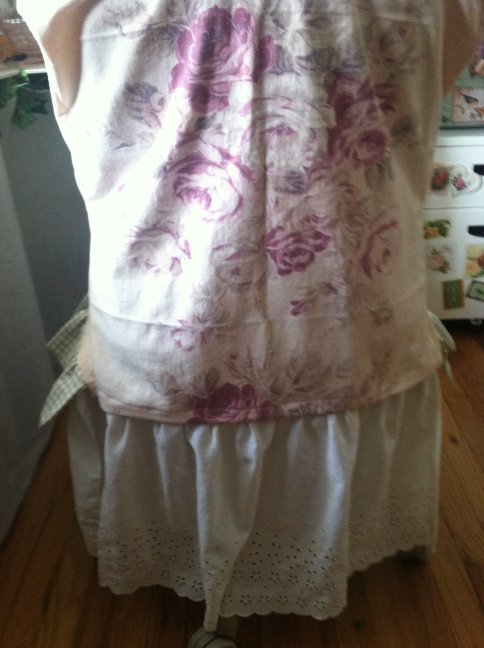 The new seat cover isn't even enclosed – it's just a flat piece, with the ruffle and bedskirt sewn around. It fits by just tucking it in to the junction between the existing back and seat of the chair.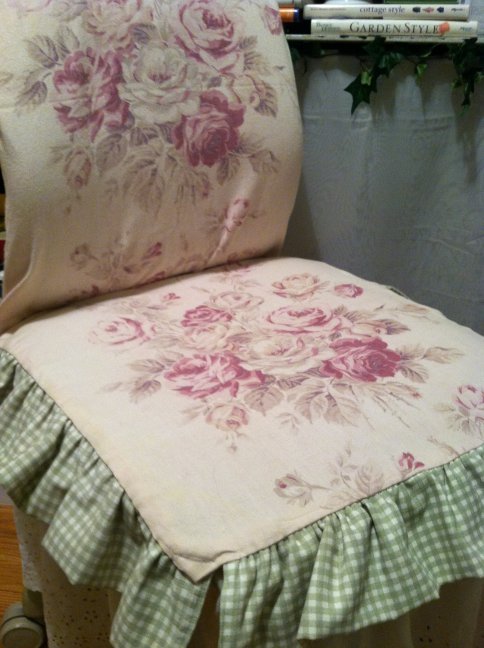 Now make no mistake, I think Little Miss Fancy Pants here is adorable… but the true test is whether all this new finery has impacted her functionality as office furniture. My helper assures me it has not.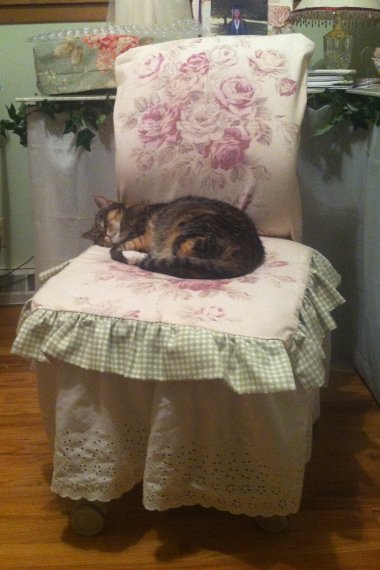 (Gratuitous cat picture: doesn't Lily look pleased that I have disturbed her slumber?)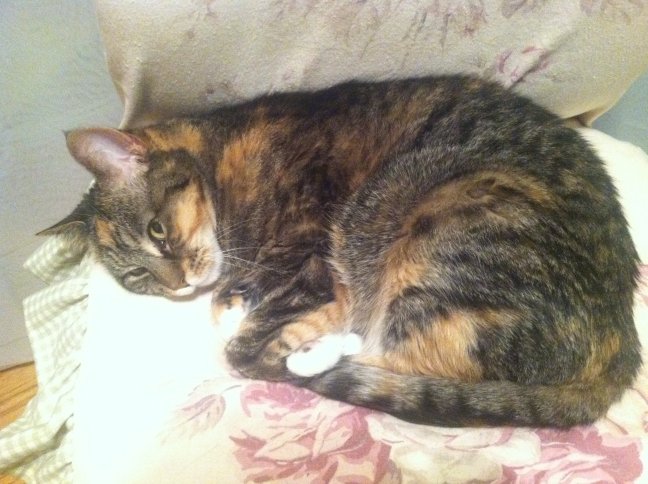 Doesn't it just make you want to sing, "Three Little Maids From School?"
No?
Maybe that's just me 🙂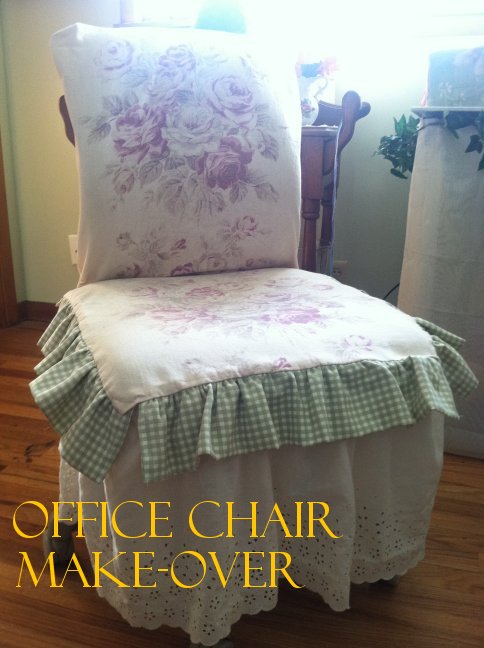 I'll be sharing my sweet little office chair makeover at these lovel parties:
Feathered Nest Friday over at French Country Cottage
Show & Tell Friday at My Romantic Home
Saturday Night Special at Funky Junk Interiors
Sew Cute Tuesday at Better Off Thread