In 2013 I hosted my first-ever Christmas cookie exchange party, and although it took me four years to do it again, I'm so glad I did! Seven lovely ladies joined me this past Sunday to sample cookies, share recipes, and socialize. Everyone also took home heaping helpings of the cookies and treats to share with family and friends.
I set up the cookie table, the drink station, and a prize display prior to the ladies' arrival. Guests knew they were each to bring three dozen "homemade and holiday special" cookies – some to sample and some to share.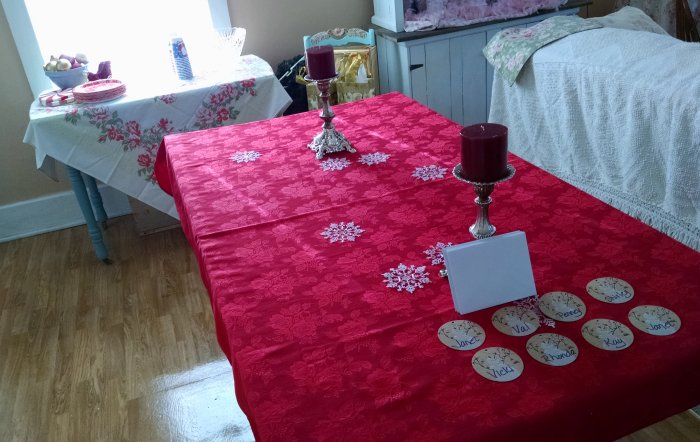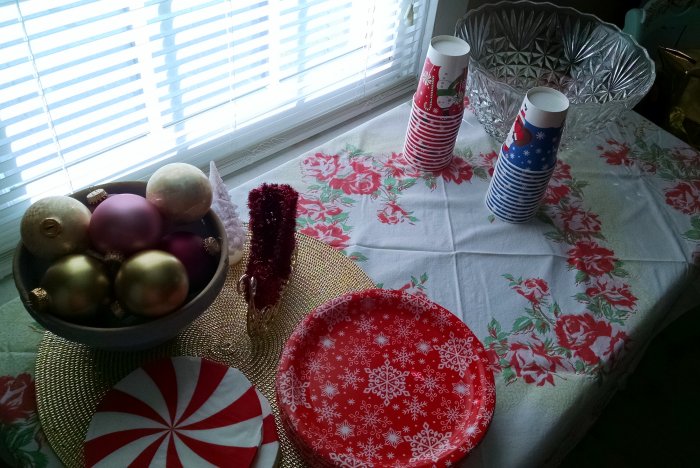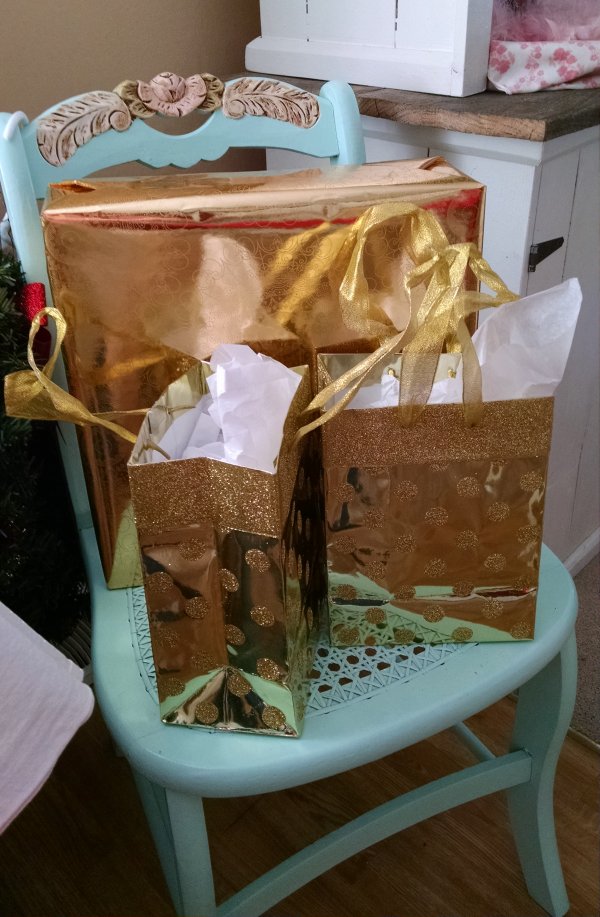 As guests arrived we added their cookies to the table and they received tickets good for prizes later on… when everyone was gathered we went around the room and introduced ourselves and our cookies, then played a game where they had to match up the cookie or treat with who brought it. Winner of this game chose a prize.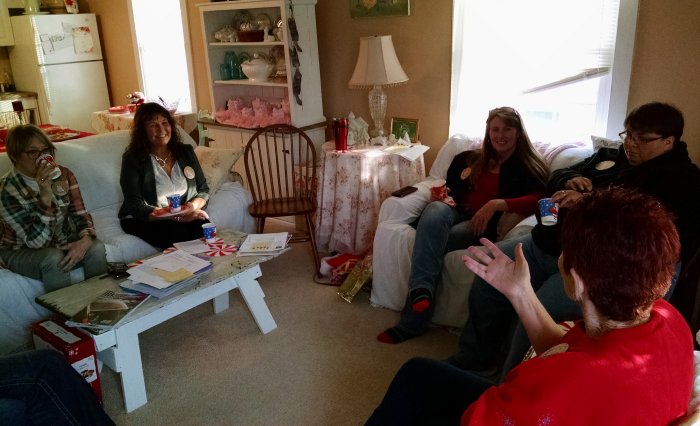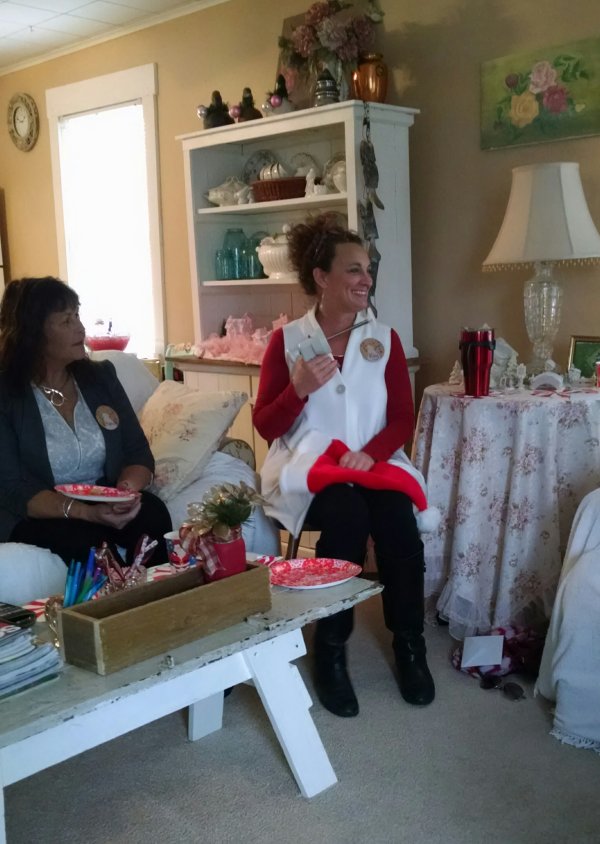 Next we all went to the table and loaded our plates with cookies to sample and enjoyed some holiday punch. Here's our cookie table before we dug in: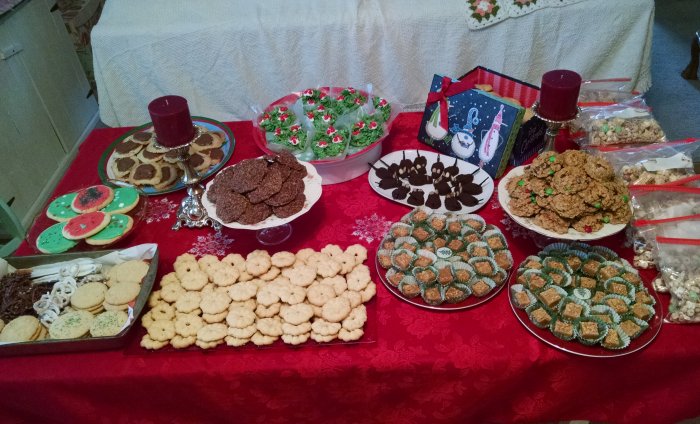 When the sampling seemed to be winding down, we played another memory game where I brought out a tray loaded with Christmas items. The girls had one minute to study the tray, then two minutes to write down all the items that they could remember. The winner of this game also chose a prize! These first two prizes were a small ceramic holiday-themed cheese plate, and a set of four "warm vanilla" scented votive candles.
We then drew randomly for two additional prizes – homemade wreaths – plus the "grand prize" in the gold-wrapped box. Penney was the lucky winner of a holiday-themed ceramic chip-and-dip that could double (if turned upside down) as a cake plate.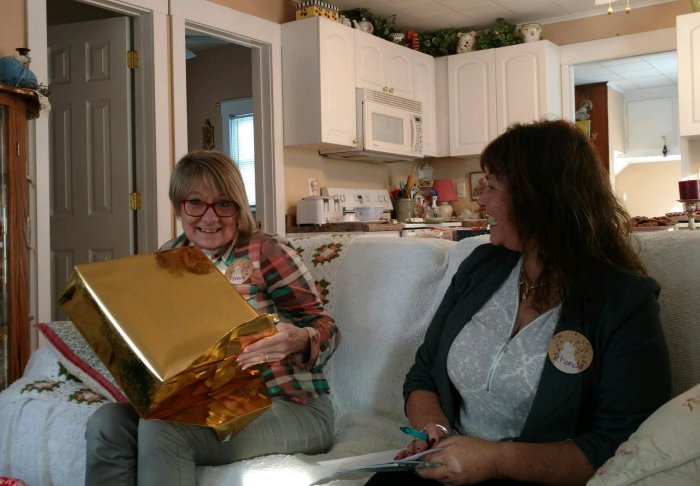 Finally we handed out copies of our recipes, and everyone took turns taking more and more cookies off the table and loading up their own containers to take home. Cookies included: Twix cookies, Christmas mice, no-bake chocolate oatmeal cookies, Kringla with eggnog, Spritz cookies, Christmas Monster cookies, Peanut Butter Fudge, Lemon cookies, and more!
We had a great time, and everyone took home cookies to share plus new recipes to try in plenty of time for their own holiday baking.
I had great fun throwing this party – I'm going to try to do more in the coming year!
Here's a Pin-able image if you'd like to save the Cookie Exchange for future inspiration!