Almost five years ago, we moved into our present home. It was a rather horrid mixture of busted walls, dog-pee carpets, and other peoples' smells. So, painting the entire thing was in order. But I have to admit, after five years, I just never fell in love with the color I chose for the 3rd and smallest bedroom – the room I commandeered as my dressing and craft room, a.k.a. the "Mom Cave." It was kind of a peachy color… not as orange as "tangerine" but not pink.
I tried for a long time to force it into becoming my little cottagey retreat room, but this year I finally gave up. It just wasn't working.
These two "before" pictures are a few years old but they are pretty accurate as far as showing the wall color. It's pretty, but I didn't love it: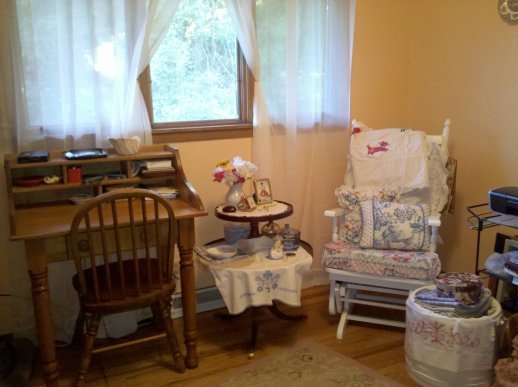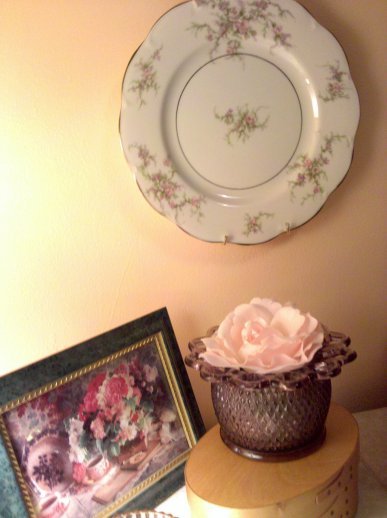 So I decided recently to do a make-over in the Mom-cave – mostly just changing the paint color, but also a few small projects that would help achieve the garden style I wanted for the room. The challenge was, I had built a large glass-top desk in the room and there is really no way remove it completely – it's just too big. Plus, I didn't want to have to empty the barrister bookcase of all its contents. So, over the course of a week, I spent my evenings shoving the furniture around into various corners of the room (like a heavy game of Tetris!) while I taped then painted the walls one at a time. Here's a glimpse of what the mess of that method looked like: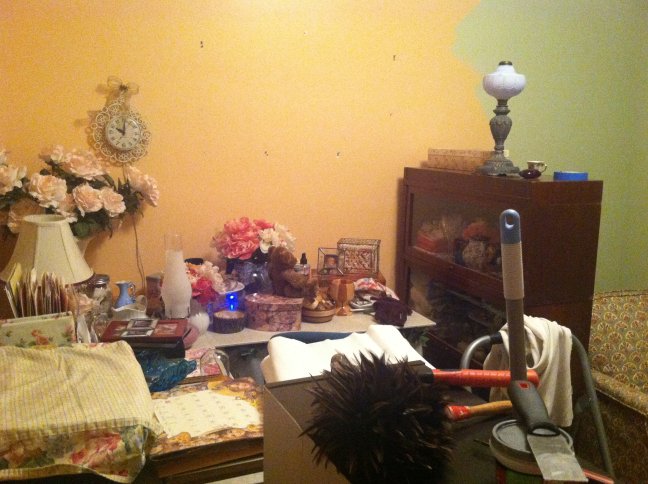 And here, just for fun, are shots of my original gallery walls. You can see they're kind of a hodge-podge: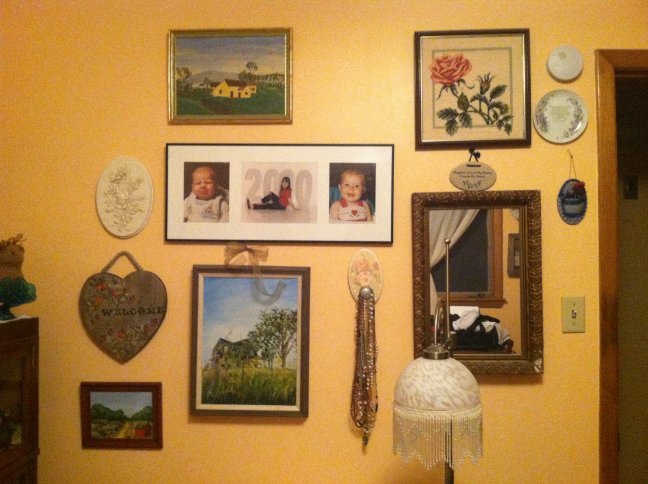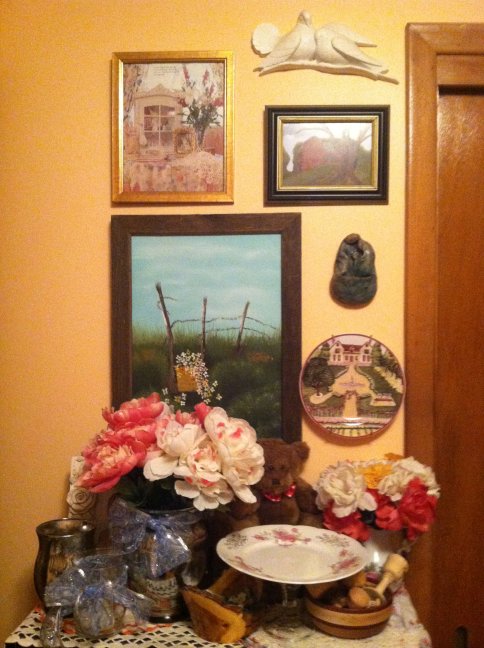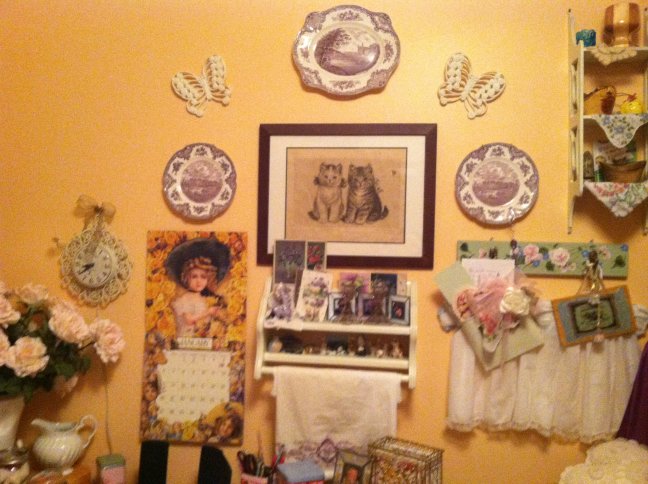 My new color is a soft botanical green. You can see the difference here: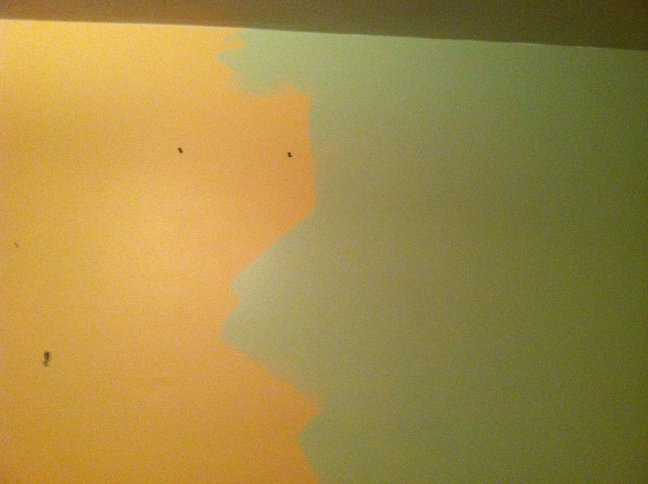 For each wall, I of course started by removing all the picture-hanging hardware and patching the holes. I taped off any wood trim, did the cutting in with a brush, then "filled in" with the roller. It took two coats. Here's a good representation of the new color: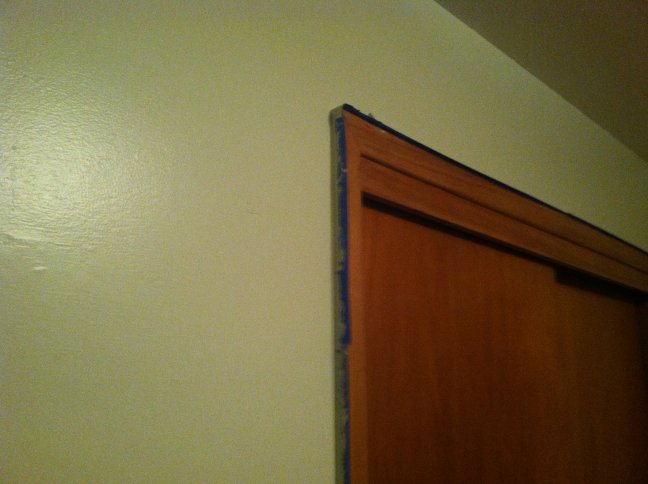 And here is my helper: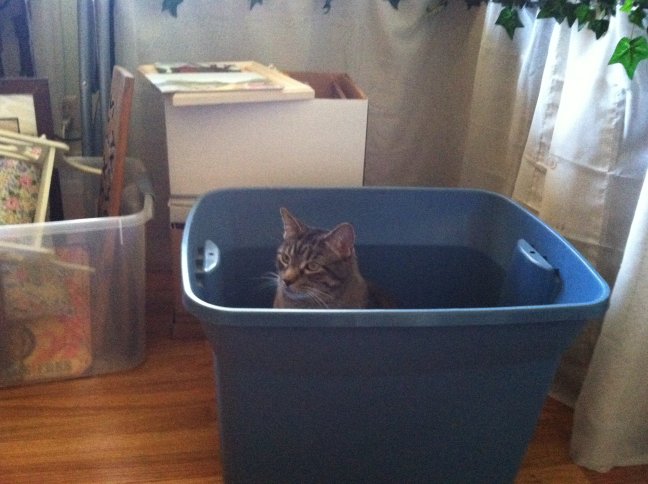 My secondary goal in the room, next to painting, was to simplify just a bit. To cull a few of my collected items, and make room for items that I really liked but had in storage. That meant the gallery walls were ultimately going to look a little different. They are still a work in progress, but here are some after shots of the finished space. (You might see my other helper lurking on chairs or other flat surfaces.)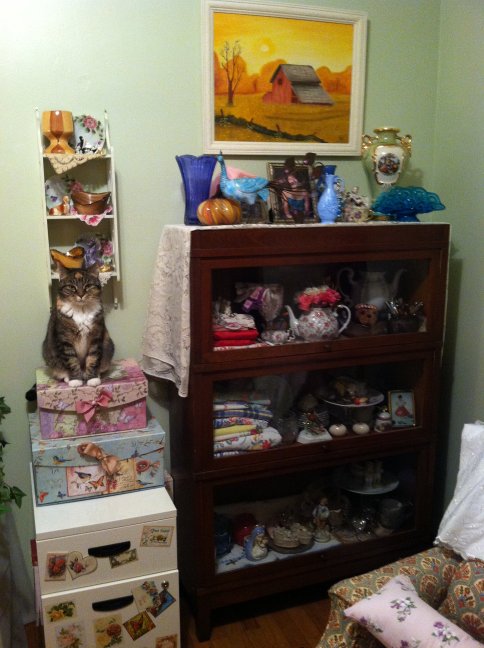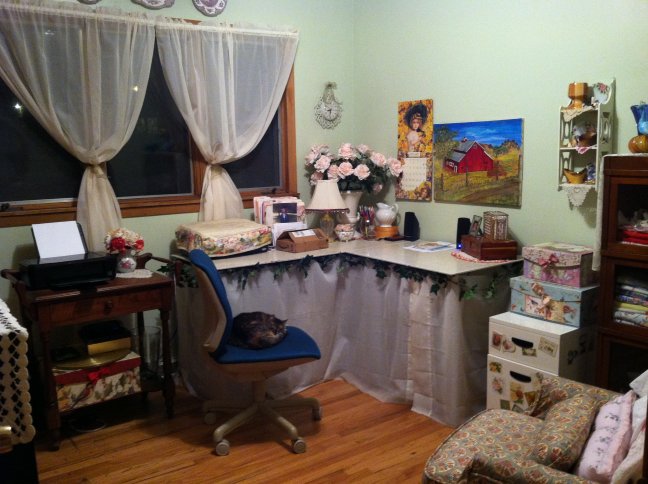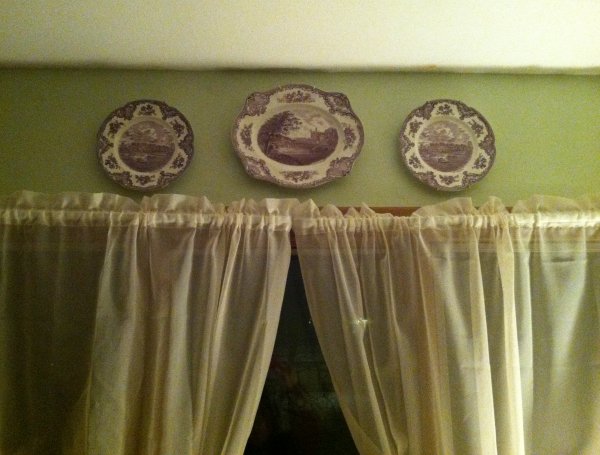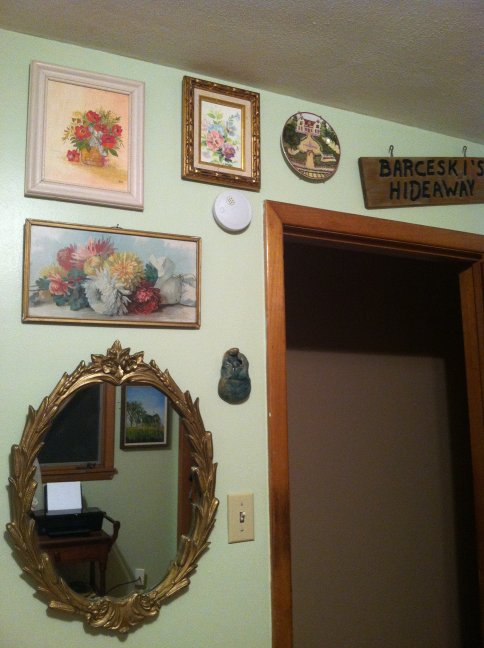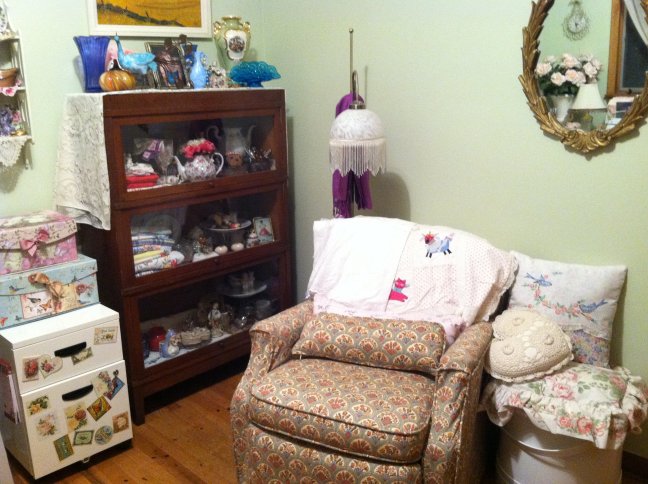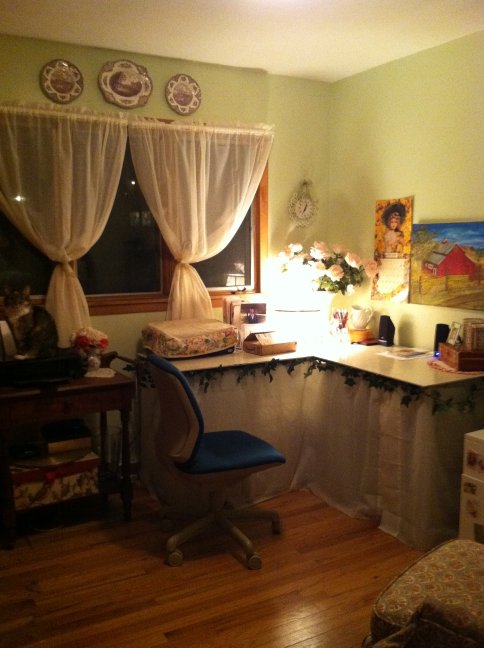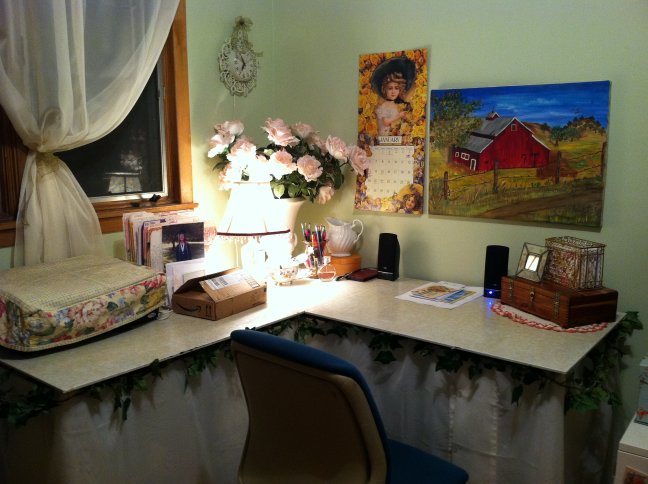 I am truly in love with this color. It's my intention to use an off-white/ivory as the accent color, although a few items in the room are already bright white so they'll probably stay that way.
I'll share the before-and-afters of a couple additional small project here in future posts, but here's a hint: there were two objects in the room that really needed a little "shabbifying." Here they are: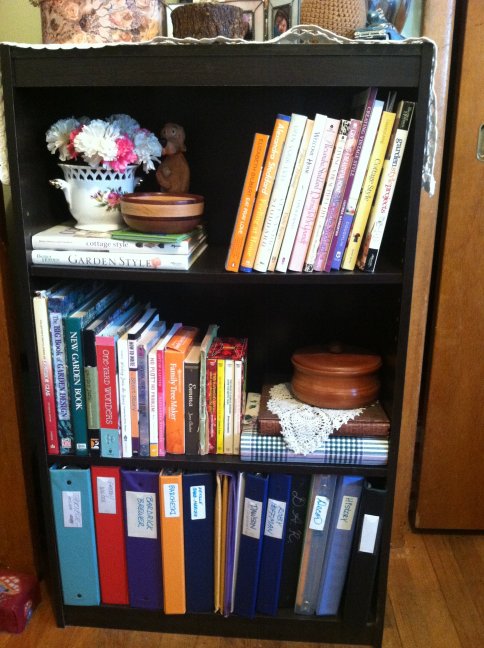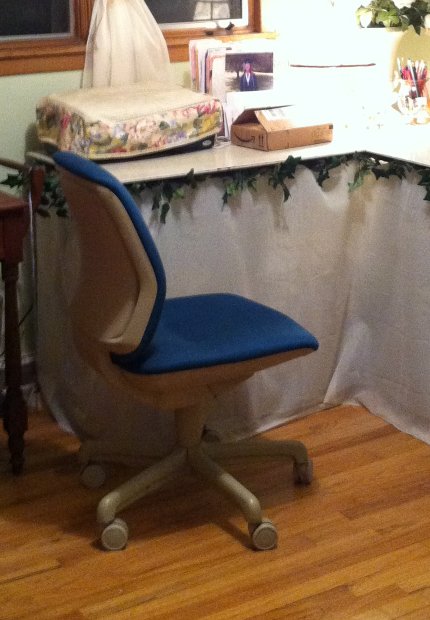 You'll see more of those soon! This re-paint was a pretty big project for me and I really love the way it turned out! How about you – have you done any painting lately? Did your color choices turn out the way you wanted?
I'm linking my re-painted Mom Cave to Jill's A Round Tuit party! Be sure to click through for SO much beautiful inspiration!