I've made several good buys on Ebay recently, but this week my favorite is this lovely porcelain plate. It is real Limoges, about 8-1/4 inches across, and based on the marks was apparently made sometime around 1900-1920.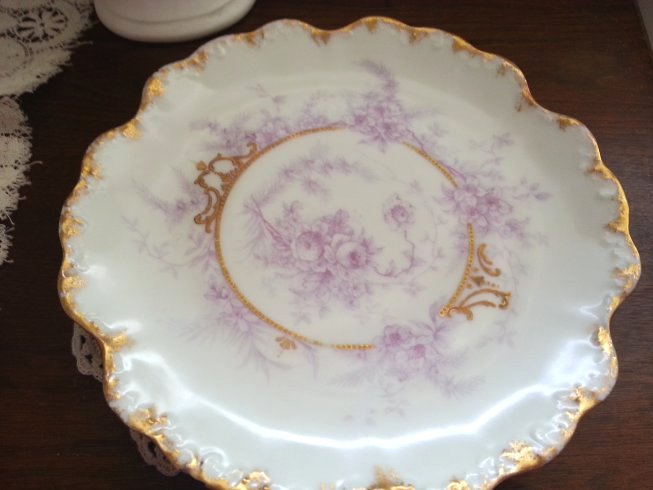 The design is one of hand-painted lavender florals with beautiful gold accents.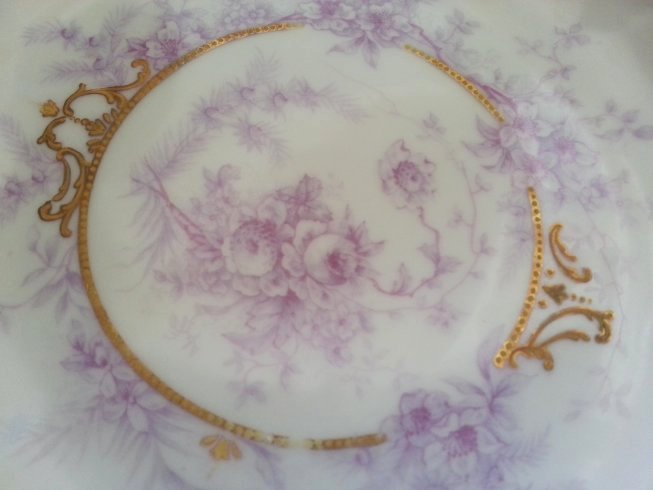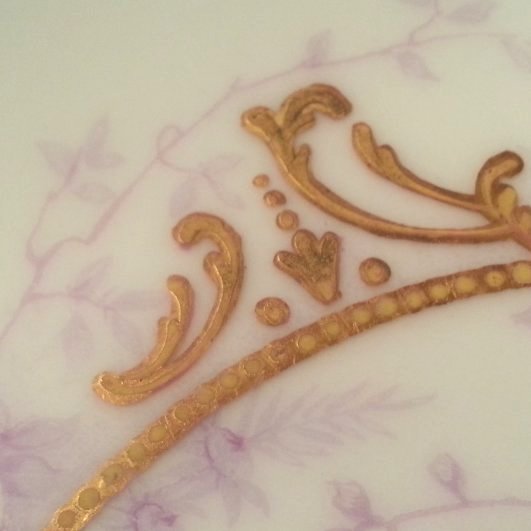 It is interesting to note that the plate has a very detailed embossed border around its scalloped edges, but the gold has been daubed around and over that edge instead of it being precisely painted.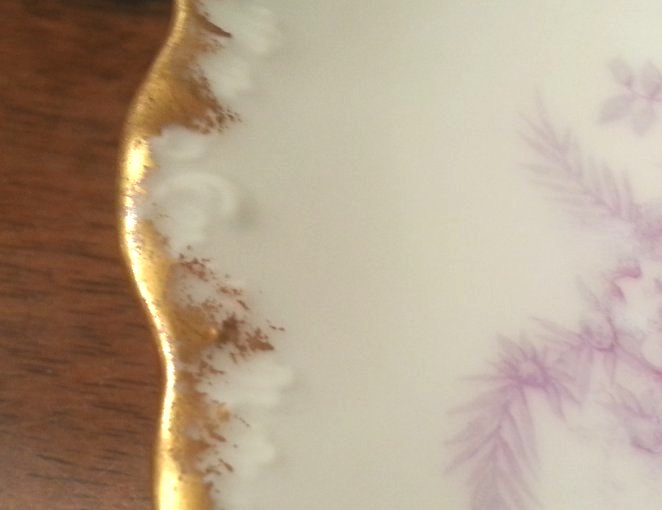 My pretty plate is not in the best condition (a couple of chips and cracks, which I expected) but boy was it a bargain – just $5.50, which included the shipping! Just the type of thing that if I found it in a booth at the antique mall and it was marked $5.50, I'd snap it up just because it's soooo pretty – and Limoges!
I've been reading up a bit on Limoges and learned that the name Limoges refers to the region in France where dozens of manufacturers produced beautiful fine white porcelain beginning in the late 1700's, when the substance of kaolin was first discovered in the soil of the region.  Prior to 1842, companies produced mainly white blanks – which were then shipped around the world for hobbyists and professionals alike to decorate them with elaborate hand-painted designs. Then in 1842, an American named David Haviland opened a factory in the Limoges region to produce dinnerware for the U.S. market – which caused quite a stir among the French decorative painters who were hired to paint the pieces, because they did NOT want to paint the designs that Haviland knew Americans would love. Haviland further fine-tuned and pioneered in-house firing and decorating techniques that ensured beauty and uniformity in his pieces, and soon Haviland China became the must-have dinnerware for American brides.
Of course, there were many companies producing Limoges pieces besides Haviland. My piece is from the factory of Elite, which was established around 1890 by the American importer Bawo & Dotter of New York. Fine Limoges porcelain continued to be made and exported until around 1930, when international economies and tastes began to shift.