Do you know what the only thing is that I dislike about French Toast? It's the fact that I, as the cook, am still dipping bread slices and cooking them up while the rest of the family is enjoying their meal. Seems like a small thing, I know – but it has driven me nuts for years. YEARS, people!!
Same with pancakes – "What do you mean, you guys are done already? I'm just sitting down with my plate!"
And that's where baked French toast comes in! This stuff is seriously wonderful and I found it… where else – on Pinterest! The original pin came from Rach's Blog. She shared the recipe, plus suggestions for alterations, and her readers have commented in droves over the past few years with their tips, successes and challenges. For my first attempt, I followed Rach's original directions except that I left the crusts on and I did cover the dish with foil for the first 25 minutes or so of baking.
I decided to make this for New Year's Day brunch for our small family, so, because it had to refrigerate overnight before baking, I assembled it on New Year's Eve. It turned out great! I didn't take step-by-step photos, but this picture is how it looked after baking. (You can't see all the goodness in the middle and bottom of the pan – it's perfectly coated with egg mixture and there's a layer of butter and brown sugar on the bottom.)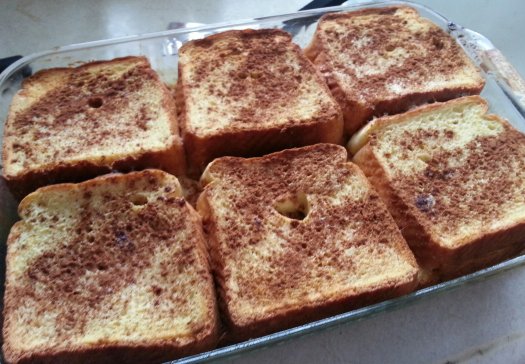 And here's the recipe, using the steps I used.
Baked French Toast
Ingredients
1/2 cup melted butter
1 cup brown sugar
1 loaf Texas toast (uses 12 slices)
4 eggs
1 – 1/2 cups milk
1 teaspoon vanilla
Powdered sugar for sprinkling, if desired
Evening before serving:
1. Melt butter in microwave.
2. Mix brown sugar into melted butter.
3. Pour butter/sugar mix into bottom of pan and spread around to evenly coat the bottom of the pan.
4. Beat eggs, milk, & vanilla
5. Arrange a single layer of Texas Toast in the pan
6. Spoon and spread half of the egg mixture on the first bread layer
7. Add 2nd layer of Texas Toast
8. Spoon on and spread remaining egg mixture
9. Cover & chill in fridge overnight
On serving day:

1. Sprinkle cinnamon on top layer of bread.
2. Bake, covered, at 350 for 25 minutes. Remove cover and bake 20 minutes more.
3. Sprinkle with powdered sugar if desired.
4. Serve warm with butter and maple syrup
Over on Rach's blog, some readers' dishes came out too soggy in the middle. I don't know why, or how you would fix it if it happens… I just know that in the dish I prepared, the texture ranged from crunchy/toasty on top to soft and moist in the middle, to a bit gooey near the bottom – something for everyone!
Hope you get a chance to make this. If you do, report back here on the results!
More soon,