Spring is arriving slowly this year… it's April 2 and we are still having mostly gray skies with cooler temperatures, and there is that dirty four-letter word in our forecast even this week!
Turns out the sprained ankle I thought I had was actually broken – in two places! So I had out-patient surgery on March 9, which turned into an overnight hospital stay, so I haven't been too mobile AND my right foot is still non-weight-bearing. That means I haven't even been able to do my usual puttering around the house, except for whatever I was able to do by rolling around on my new best friend, a used knee scooter I scored on Facebook marketplace. I'm on the mend, with about 3 weeks left on the scooter.
Here's a peek at what I was able to do just to freshen things a bit, using a lot of silk florals and awesome thrift-store finds.
I worked up this pretty Easter basket, not with candy but with vintage post cards and a delightfully aged paper mache bunny.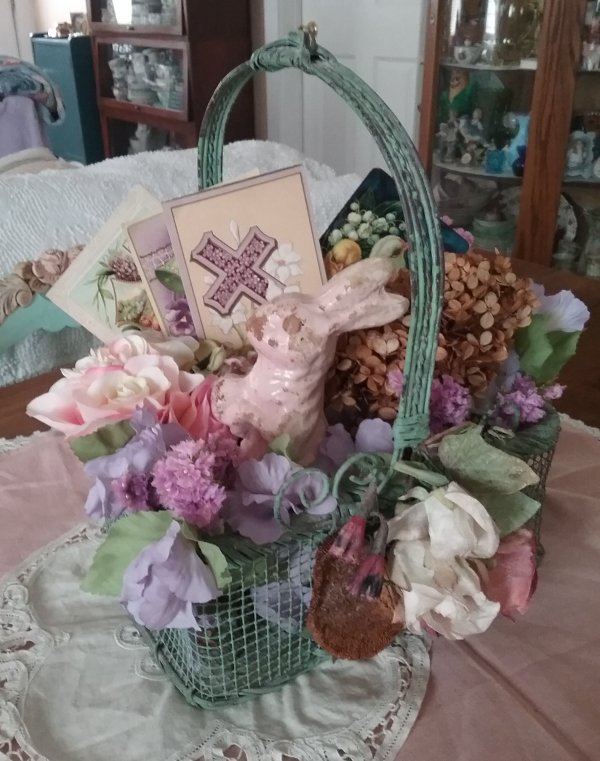 I created this pretty little vignette on my farmhouse table, using a beautiful hand-painted ceramic egg to capture the spirit of Easter. The egg is one of my favorite thrift-store finds from the past couple of years – it actually came encased in a clear plastic dome (which I removed for this vignette) and a fair bit of provenance: the newspaper obituary, and a photograph, of the woman who painted it. Turns out she was a longtime painting instructor here in our area. I love the little chapel and the way she has framed it with flowers and embellishments.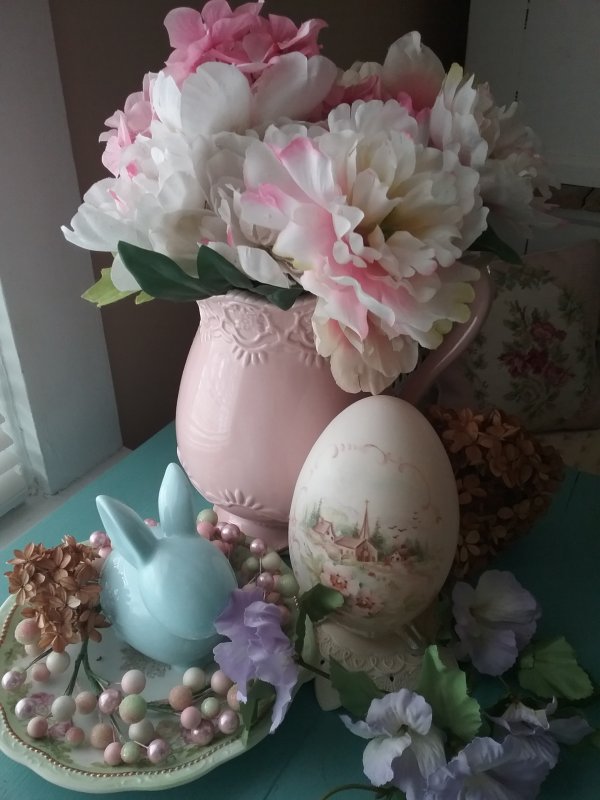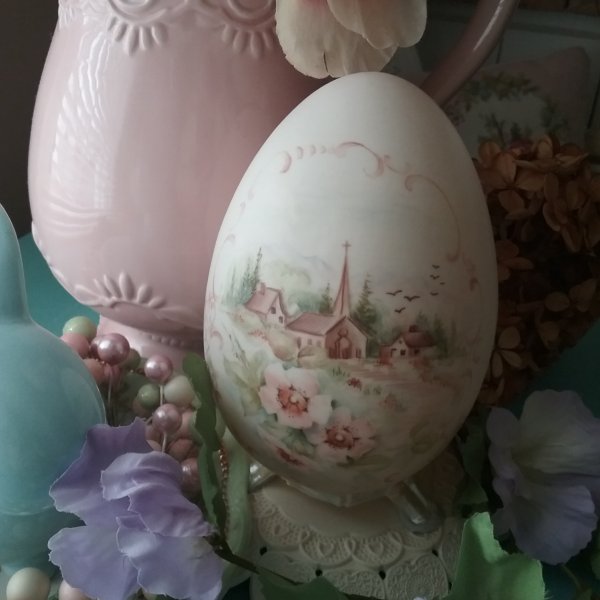 And, I did manage to go on one short junking visit recently – I let Greg push me around the antique mall in a wheelchair. Don't get me wrong, it was great to get out, but it sure made browsing a challenge. The pretty hand-painted bowl below was one of the treasures I found. I styled it with some floppy silk peonies, my great-aunt's now-antique field guide of wildflowers, and a newer deep pink bit of glassware that picks up and intensifies the lovely color from the painted bowl.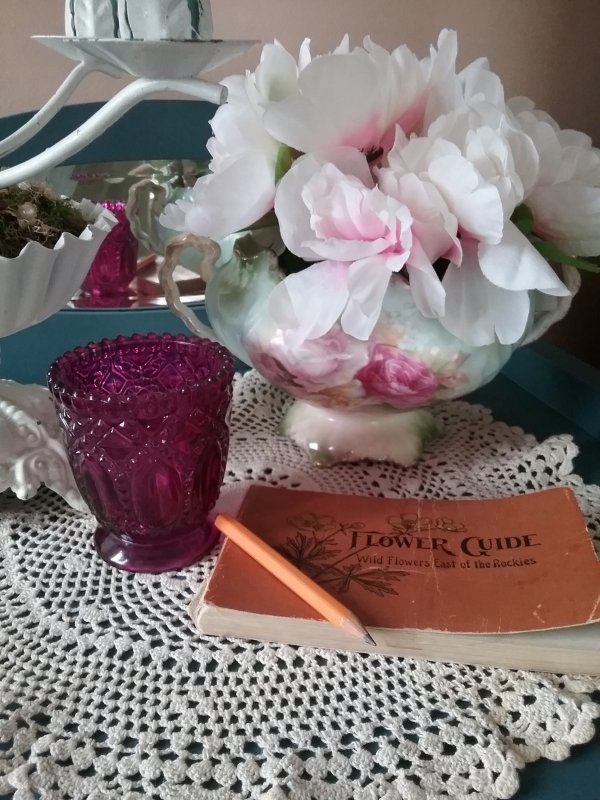 So much of my decorating seems to be centered around styling vignettes… but I do have some truly room-changing ideas that I'm working on, and hope to be sharing them soon once I'm getting around a little easier. Meanwhile, I'm arranging pretties when I'm able and just taking time to enjoy some of the objects I've collected. And I'm hoping the weather changes soon!
Just for Pinning!